For Kids Musician Andyroo, A Dire Diagnosis Was a Call to Action
Artist's new record encourages children to take care of themselves 'and our planet.'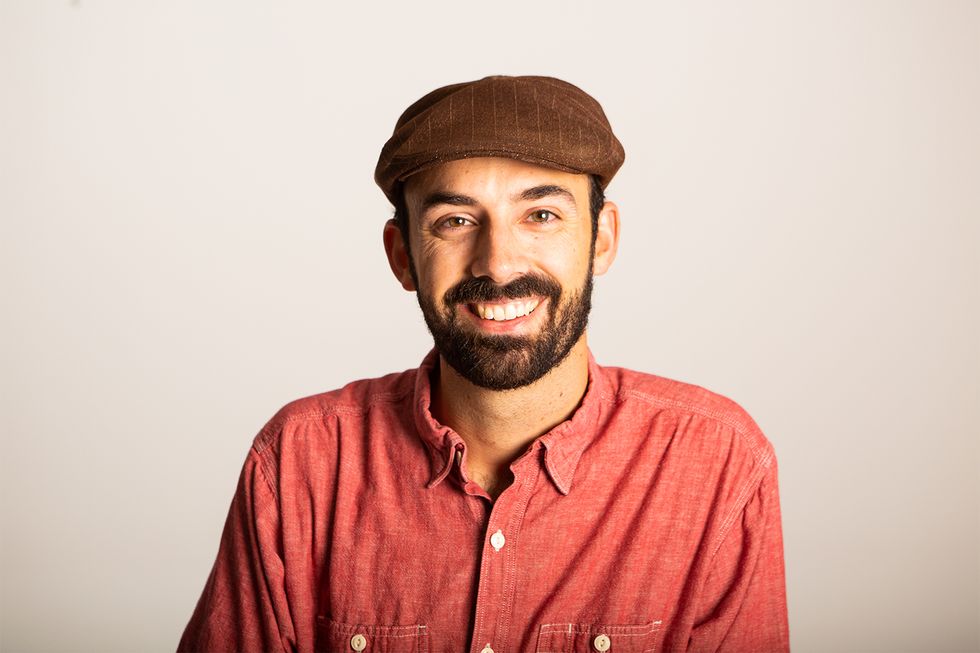 Andrew Karnavas has been a popular, well followed local singer-songwriter in Houston for years — both as the frontman for popular blues-rock outfit Runaway Sun, and more recently for his kids-music alter ego Andyroo and the Andyrooniverse, who released a new album last month.
---
But not long ago, all his success seemed in jeopardy, when a frightening medical diagnosis of Multiple Sclerosis changed the artist's life.
"I thought it was a carpal tunnel problem from playing guitar and typing all the time," says the 36-year-old musician of the time his right hand when numb in August 2015, "but then in September, my whole body from the neck down started going numb, and by October, I couldn't play guitar anymore."
He recalls having a big show for kids at Discovery Green that fall. "It was a huge show," he says. "There were kids everywhere. I had to palm mute my guitar, strum it like a drum, and sing my way through it. I was smiling and singing, but I couldn't feel my feet or my hands. I couldn't tell if I needed to go to the bathroom or not. And when I wore a seatbelt in the car on the way home, my chest would tighten up like I was in the clutches of a boa constrictor. I was sad and scared.
"Months later, after many tests, I was diagnosed with Multiple Sclerosis, a disease with no cure that I knew nothing about," the musician says.
Karnavas says the shocking news forced him to change his musical style — none of his beloved guitar strings — and his lifestyle. "If I wanted to keep performing, I needed to create a new sound," he says. In his new work, he uses paper, foot stomping and found objects found around Houston to make sounds, and to add richness and meaning to the music.
He also committed to a healthier, veggie-heavy diet and a less demanding work schedule. The results so far have been promising: "I was amazed at how much my mood and my health improved," he says. "The numbness is almost completely gone, and I am happily strumming my guitar!"
The lessons learned inform the new album, called Roocycle — a play on recycle, which Andyroo challenges his young fans to do, on the track called "Reduce Reuse Recycle." (There's just a bit of his guitar playing on the song.) Much of the record is a call to action for youngsters. "Let's take care of ourselves and our planet," says the artist.
Songs encourage kids to read more, to stay active and exercise, and just to have fun, as in the danceable "Tippy-toes." In the lovely, upbeat "Paper Airplane," kids are asked to make their own fun with a handmade toy, and use their imagination to "fly away" to Mexico or Cameroon or France. Roocycle began streaming Aug. 1.
Karnavas first got into to kids music when his sister told him her children loved his music, but that some of the adult themes he covered weren't kid-friendly. "When I heard that, I felt compelled to write some songs for the kids that they could listen to with their mom without driving her crazy," he told a Houston Press reporter in 2015. "A few songs turned into an album, and then I turned into AndyRoo and the AndyRooniverse. I didn't know that writing music for kids would end up being the most enjoyable songwriting that I do and my primary focus in my music life."
The busy Karnavas' other projects include his Just Add Beats after-school programs and summer camps, which teaches kids the basics of sound design, podcasting and other real-world careers. And, making use of a "Let Creativity Happen" grant from Houston Arts Alliance, he's just launched the Houston Sound Library that he recorded all over the city; it's free for anyone to use in different creative projects, from podcasts and interactive art to movies and video games. He's also working on new music for a solo adult-music project later this year.
Art+Culture