Meet the 15-Year-Old Art Prodigy Who Painted the New Lina Hidalgo Mural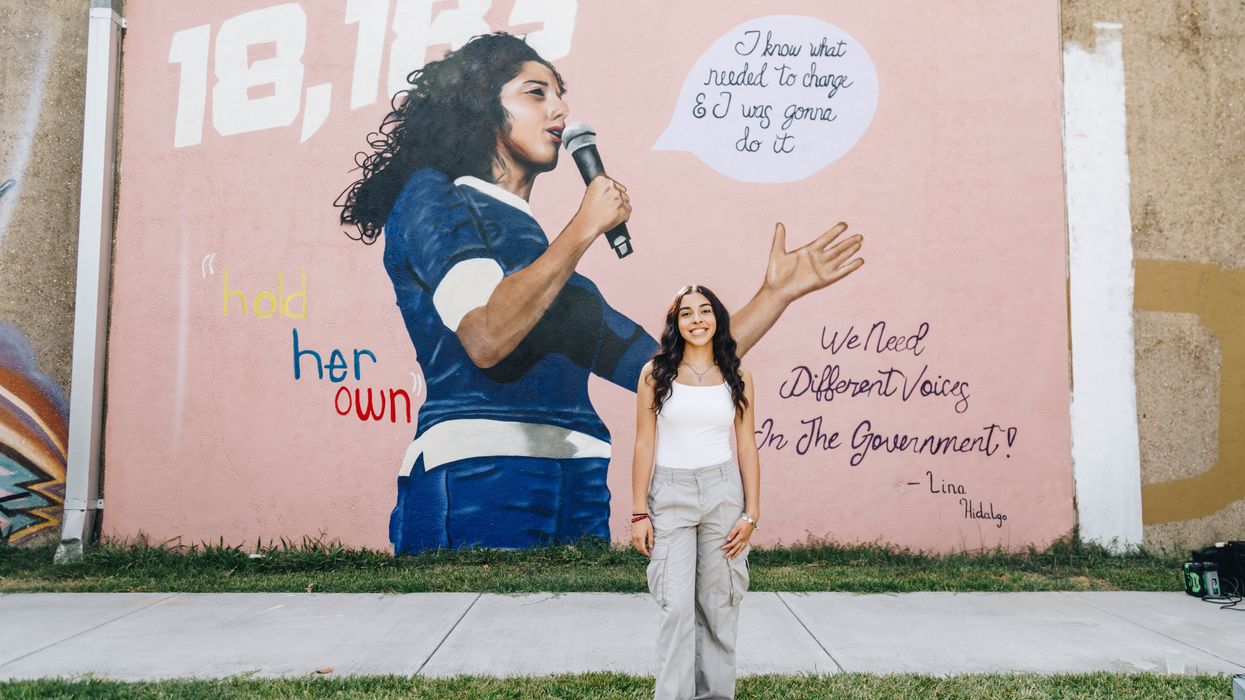 ON THURSDAY, JULY 27, 15-year-old artist Abby Guerrero, who just completed her freshman year at North Shore Senior High School, unveiled and dedicated her mural Free of Judgement to Judge Lina Hidalgo. Among those present to celebrate the unveiling were County Commissioner Rodney Ellis; Guerrero's art teacher and mentor Alex "Donkeeboy" Roman Jr. and his mother and Sylvia "Donkeemom" Roman; and artist Franky Cardona. Judge Hidalgo was also there and was clearly moved by the sight of such a powerful work of art realized by a young and talented Houstonian. "To hear Abby say she's inspired by me is so touching," said Hidalgo, who is the first woman and Latina to hold office as Harris County Judge. "We're lucky to live in a place where young minds feel empowered to express themselves in larger-than-life ways."
---
Roman Jr. began teaching Guerrero in 2019 at the Break Free Hip-Hop School: Houston, helping her refine her already formidable talents and drive to realize a singular and collaborative vision. When Roman Jr. challenged his students to create "something meaningful to them," it was Guerrero who proposed the idea to create a mural of Hidalgo. "I was really impressed she knew exactly what she wanted," says Roman Jr. "I knew that her vision was ambitious, but that's exactly what sets her apart. I'm so proud of her achievement."
The 16-by-23-foot mural is an awesome portrait of Hidalgo: Dressed in blue and white, she stands in profile against a pink background, microphone in her right hand, her left hand open and extended, delivering a speech to the city and to the world. The numbers behind her jet black hair, 18,183, is the exact number of votes the judge won in the 2018 election. A quote from Hidalgo, "We need different voices in the government," is written in her favorite color purple, and the words "hold her own" are written in yellow, blue, and red, the colors of the Colombian flag, a reference to the judge's heritage. Guerrero completed the mural over the course of 40 hours between February and May 2023, and the cost of materials and the wall space were entirely crowdfunded.
Throughout the challenging months of the Covid-19 pandemic, a time when preteens and teenagers were bravely attempting to navigate schoolwork as well as their health and the health of their families and community, Guerrero took great comfort in Hidalgo's leadership as a strong, Latina woman.
"I chose to depict Judge Hidalgo as a strong, composed leader because that is what I saw in her every time I looked at the TV during the brutal times of COVID," said Guerrero. "The mural represents my gratitude for her."
Free of Judgement can be seen at 2647 Crawford Street, near Axelrad Beer Garden.
Art + Entertainment