Mother-Son Artist Duo Donkeemom and Donkeeboy to Celebrate New Mural with Group Bike Ride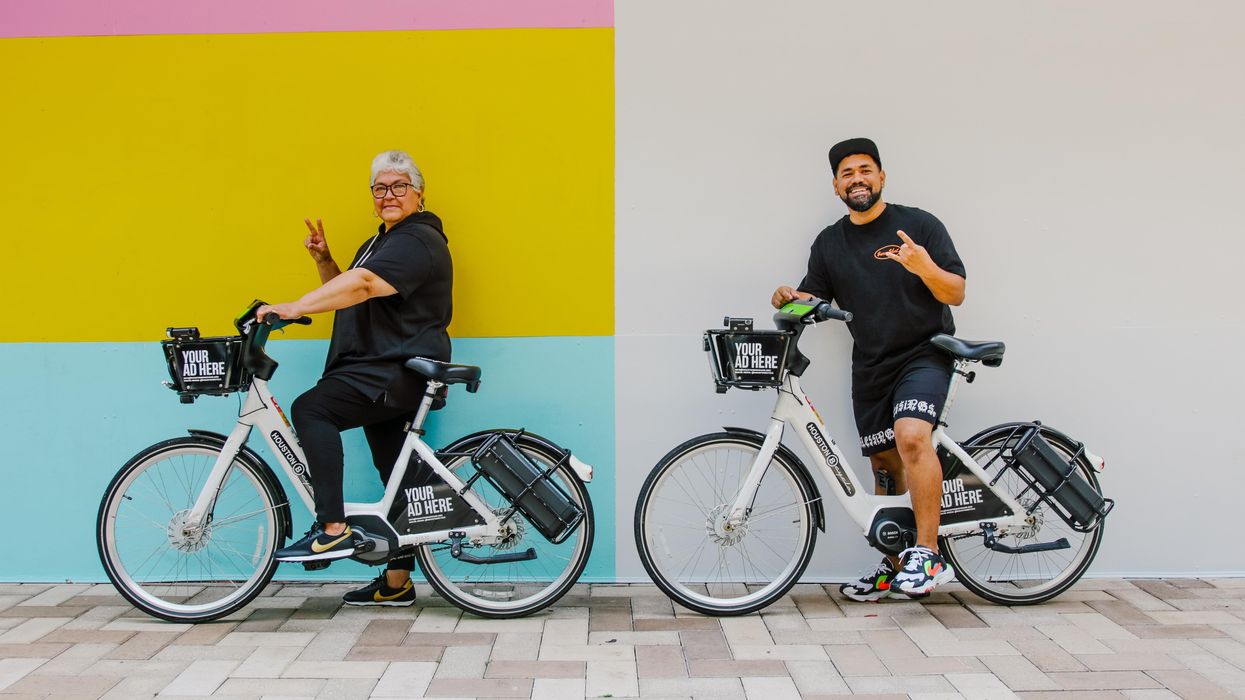 HOUSTON-BASED MOTHER-SON artist duo Sylvia Roman (she goes by Donkeemom) and Alex Roman, Jr. (Donkeeboy) will unveil their latest mural, "Bike Through H-Town," on Wednesday, July 7 at Downtown's GreenStreet, the new four-block, mixed-use district where the mural is located.
---
Donkeeboy and Donkeemon — who have been featured on The Kelly Clarkson Show, Univision's Despierta America, and on CNN — have painted more than 30 murals together and have collaborated with a range of organizations including the Houston Astros, Houston Dynamo, the UFC, Fender, Jameson and Porsche. While Donkeemon is known for an artistic style that reflects the influences of her upbringing in Mexico, Donkeeboy is known for his remixing of pop art — often also inspired by his Mexican heritage — into pieces that often consist of puns, mashups and double entendrés.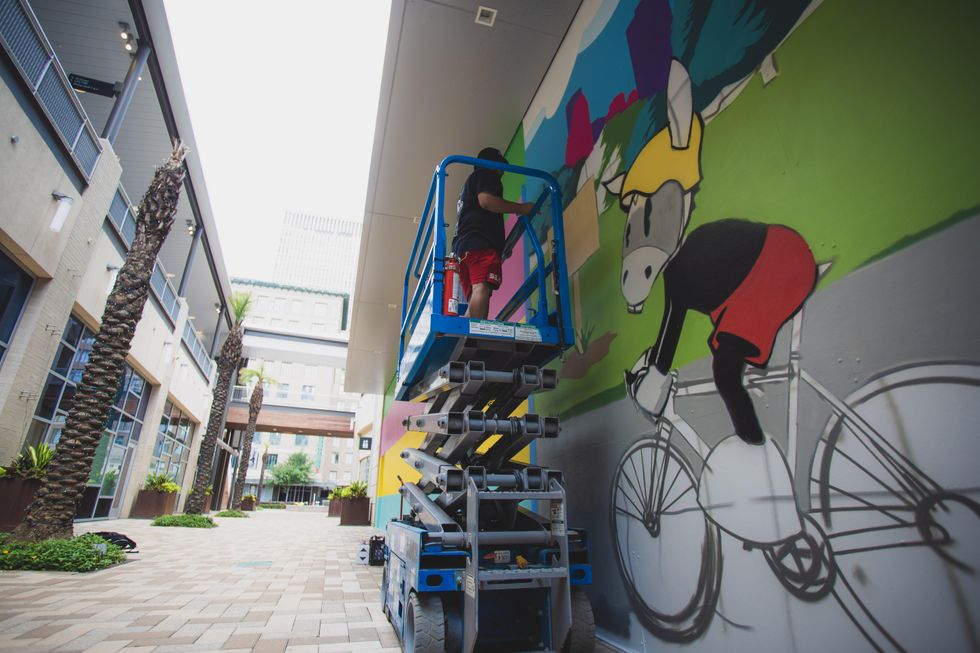 Donkeeboy, mural in progress (Photo by Lenard Smith)
The duo's colorful new mural for GreenStreet — it combines vivid hues and color blocking with a cartoon donkey on a whimsical bike ride — was made in partnership with electric bike makers Bosch eBike Systems, which are the makers of the electric drive systems available in BCycle stations throughout the city, including the GreenStreet station near the new mural. "We're excited to partner with Bosch and GreenStreet to promote the 'Bike Through H-Town' initiative," said Donkeeboy in a statement. "Houston is such a bikeable city, and cycling is a healthy and sustainable way to get around it."

"Cycling has always been a big part of getting active and mobile in Houston," added Bosch's Doogie Roux, who will be speaking with Donkeeboy and Donkeemom at the mural unveiling. "The recent 'bike boom' along with other key efforts in the city have made cycling and the infrastructure available and accessible to more of Houston's diverse population. This mural is a celebration of that, and we hope it encourages even more people to get out, go further, and bike through H-Town!"
Following the 7pm unveiling will be a celebratory, six-mile group bike ride through Buffalo Bayou Park from GreenStreet to Reil restaurant in Montrose, where riders will be provided with Red Bull and nibbles.
Art + Entertainment