Duos, Trios and Teams: 'Mutual Respect and Trust' Key at M Penner
Al Torres
HOW DID THIS duo come about? We're a husband-and-wife team in a family business. We met in 5th grade at Kolter Elementary School and became lifelong friends. For the record, we didn't start dating until a few years later — and we just celebrated our 40th anniversary!
---
What's unique about your team and how does the relationship benefit the business? Our team is part of our family; many of us have worked together since we were in our twenties, so we've literally grown up together.
Throughout the year we have many events where our brand representatives come to the store. Without exception, they tell us that our team is the best they've seen. This sentiment is validated often by customers who send notes of appreciation (and occasional bottles of tequila) for an experience that exceeded their expectations.
We are very proud of these accolades and credit our staff for their expertise, professionalism, and commitment to excellence. They love to share their interests beyond the fashion world, too; so, if you want to know anything about biking or scuba diving, great vacation spots, or dining recommendations, just ask. On top of that, they're just a lot of fun to be around.
Tell us about your business. What's special about what you do and how you do it? In a nutshell, we help men live their best lives in style.
We are unique in Houston by offering a curated collection of both established and artisan luxury brands, along with best of class casual offerings, all together, under one roof. We have been experts in the custom business for over 40 years and offer made-to-measure services from the most sought-after brands in the world, including Zegna, Kiton, Isaia, Brunello Cucinelli, Santarelli, Sartorio, and more. We have what many consider to be the best tailor shop in town, and we offer complimentary alterations, closet consultation, private appointments, style advising, and local delivery.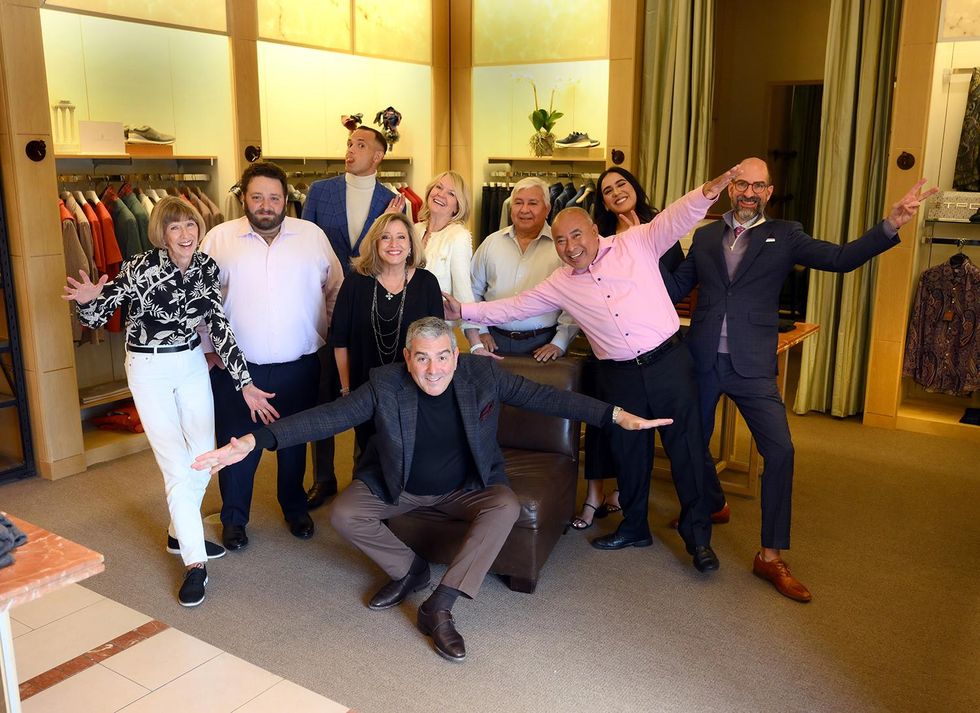 The M Penner Team: Judy Penner, Jeremy Penner, Cody Sever, Karen Penner, Belinda Hillhouse, Jesus Alfaro, Joel Choney, Andrea Irizzary, Whitney Wiggins, Murry Penner (not pictured – Javier Aceves)
What would you be willing to share with others about the secret of success as a duo? We are often asked how we can be married, work together, and not kill each other — how that works. The easy answer is we trust each other. We share great satisfaction in seeing the business and our employees grow and prosper. On occasions where there is conflict, the answer is simple. The buck stops with Murry … at the store. At home, it's a … well, another interview!
And what makes for an effective team in retail? Everyone on the team works together, so a culture of mutual respect and trust is fundamental. We're fortunate to have great synergy here that enhances the experiences of both our team and our customers.
Our team works hard, and they are really talented. To keep things fun, we like to have contests that involve games like winning poker hands and "stealing the $20." We also set team goals, and it's wonderful to see how the team always pulls together and encourages each other so everyone wins.
What's up next? What can you share about your plans for 2023? After 17 years at this location, it's time for a refresh and we're embarking on a renovation early next year. We're also planning something special next year to celebrate 50 years in business. Stay tuned!
From Your Site Articles
Related Articles Around the Web