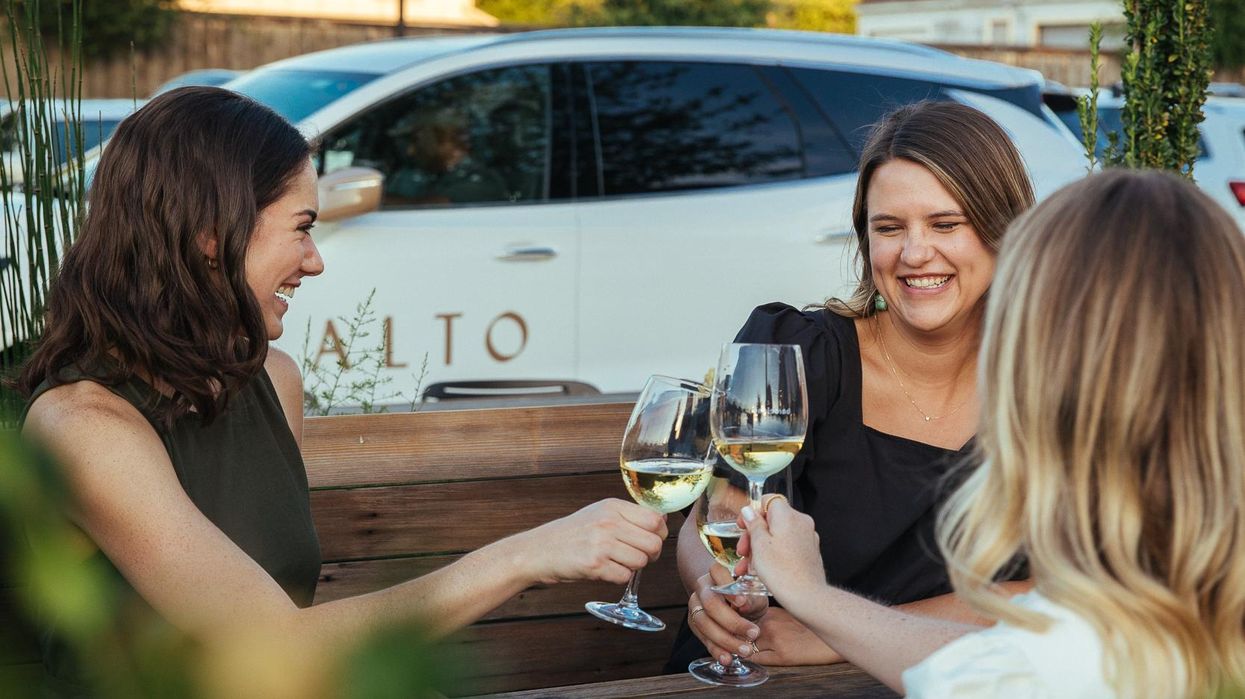 HOUSTON FOODIES ARE out this month, and those in the know are getting from restaurant to restaurant in the rideshare service that has taken the industry by a storm.
Alto started driving in Houston in late 2020, and it has quickly become a favorite way to get around. The experience is unparalleled. Think luxury SUVs with leather captain chairs, thoughtful amenities like complimentary water and umbrellas, and even curated playlists to choose from in the Alto app. Those who have ridden know that Alto is more than a ride from point A to B, but a journey to be enjoyed — because the recap of every dish on the ride home should be just as good as the dinner.
Community is at the heart of Alto. Rather than hiring independent contractors, Alto has hired W-2 employee drivers who are trained and supported by a local Houston team. The service also offers a Membership that unlocks Alto benefits as well as unique offers from Houston partners. Those who join Alto's exclusive Membership gain full access to the Alto fleet during the busiest "Members Only" hours, savings on every ride, and Alto's prescheduling feature for booking rides in advance (Pro tip: Lock in your ride when you lock in your dinner reservation!). Join a community of adventurous, in-the-know Houstonians, at only $12.95 a month.
Alto shared the top pick-up and drop-offs that make up their Members most recommended spots — and also happen to be celebrating Houston Restaurant Week! — so you can plan the perfect night out.
Trattoria Sofia A top drop-off among Alto Members, we recommend Trattoria Sofia for authentic Italian with the perfect atmosphere.
The Annie Cafe Another frequent destination, The Annie Cafe and Bar serves classics, totally reimagined.
MAD Houston A spot as innovative as your Alto. Book a ride to MAD for a night of tapas with a twist that are sure to be a new adventure.
Ouzo Bay The Alto team's go-to modern Mediterranean spot for a perfect night out.
B&B Butchers and Restaurant This upscale steakhouse and traditional butcher shop is a classic Alto favorite.
FLORA A must try this month — FLORA is a culinary journey through the small towns of Mexico with a Texas touch.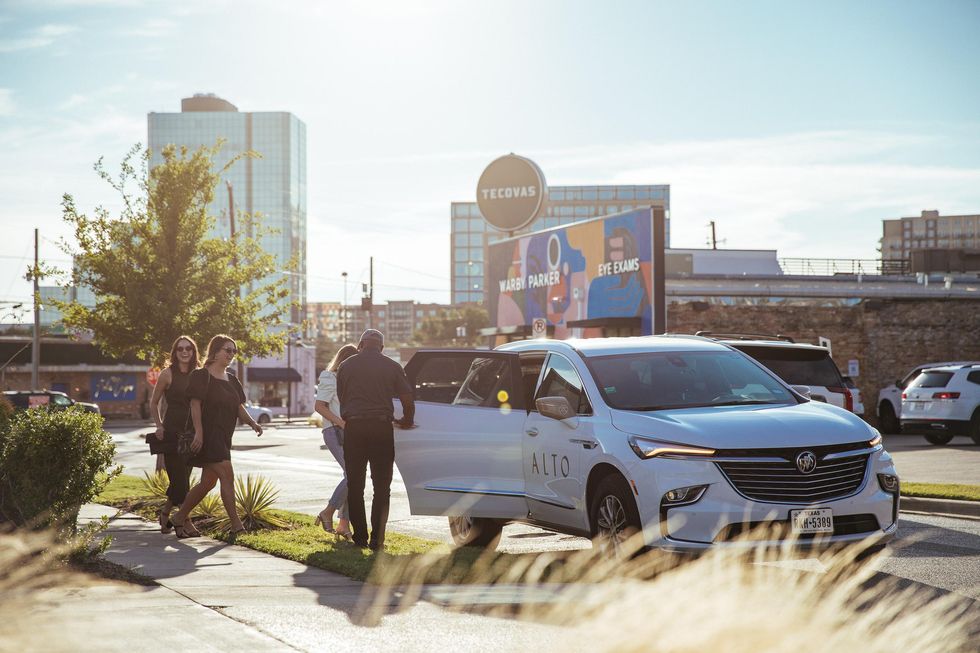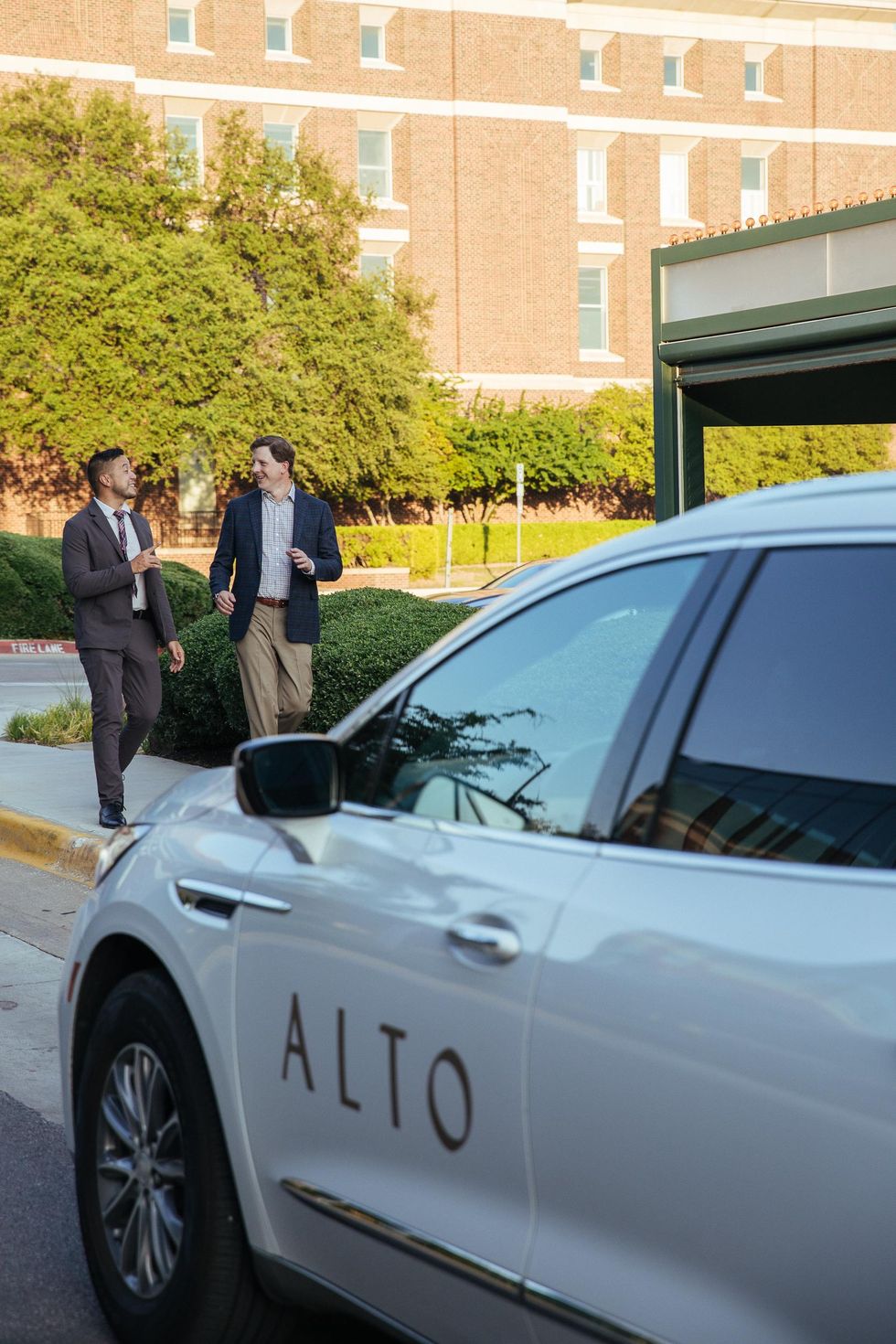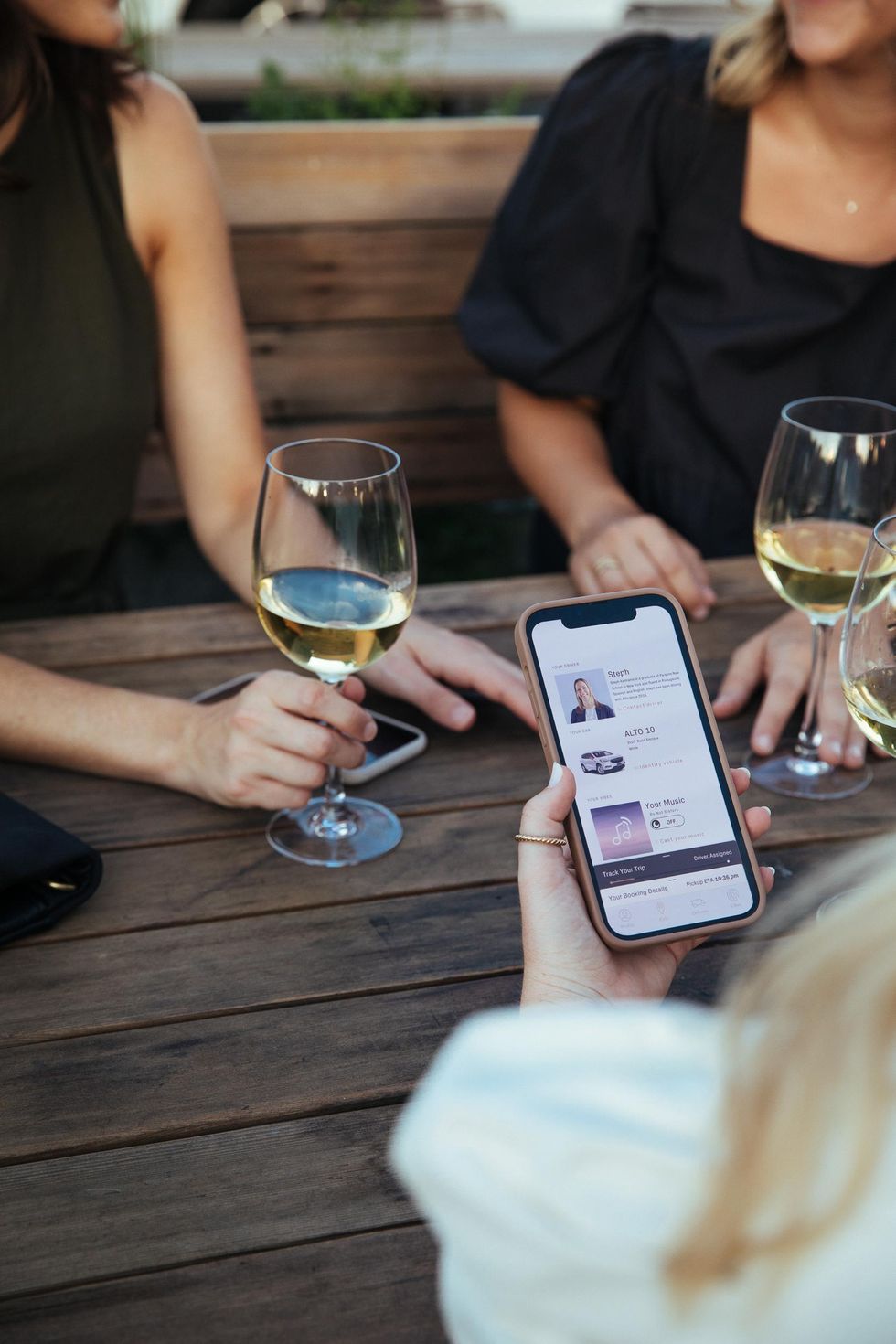 THE NEW FALL Issue of Houston CityBook is hitting newsstands and mailboxes all over town now, featuring identical twin models Johnathan and John Calton. The unique cover highlights the return of one of the magazine's best-loved recurring features: Duos.
Editor Jeff Gremillion describes the Duos concept: "This is our version of the 'Power Couples' stories that were so common in city magazines in the '80s and '90s," he says. "I always loved the idea, but, for CityBook, we wanted to make it a bit more inclusive and contemporary. So our Duos includes couples, yes, and also siblings and business partners and parent-child combos. This year we have two sets of identical twins!"
The Caltons, repped in Houston by Neal Hamil Agency, were photographed by Jhane Hoang, who also shot several other "power pairs" for the issue. Her subjects include Armando Palacios and Cinda Murphy of Armando's restaurant fame, who are expanding their empire in Houston and the Hill Country — and beloved twin-sister philanthropists Tama Lundquist and Tena Lundquist Faust, founders of Houston PetSet.
TV co-hosts Courtney Zavala and Derrick Shore make an appearance, along with the mother-son artists known as Donkeeboy; sibling lifestyle-brand purveyors Mario Tort and Vanessa Tort Pagel; and the beautiful betrothed couple of Olympic medalist Nichelle Prince and rising-star band front man Adrian Michael.
"It's a great group," adds Gremillion, "of folks who know well the power of two."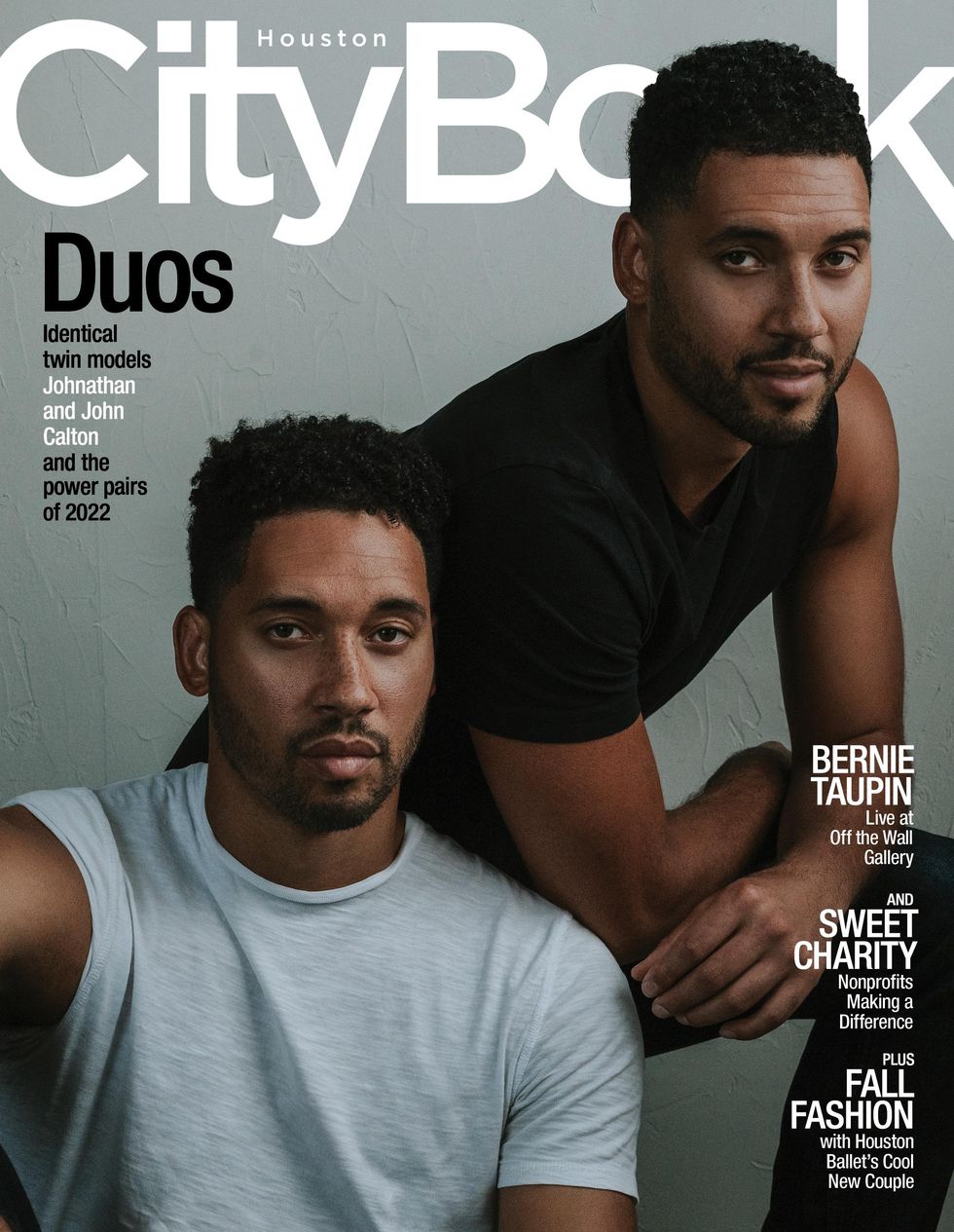 Art + Entertainment
HOUSTON CITYBOOK WASN'T the first to describe Houston ballet dancer Lauren Anderson as a legend, as we did in 2018, nor shall we be the last. And now her compelling story — a rise and fall and rise again — is a highly anticipated new show at Stages.
It's a tale worth telling. At age seven, Anderson began training at Houston Ballet's Ben Stevenson Academy, and joined the company in 1983. In 1990, Anderson became the first African-American Principal dancer of a major ballet house in the United States, winning over audiences with her breathtaking stage presence and powerful technique as she danced the lead roles in such beloved classics as Cinderella and Swan Lake.
Throughout the 1990s, Anderson continued to break ground as a pioneering, internationally renowned Black artist in a performance field choreographer Trey McIntyre has described as "being stuck in another time period." But at the height of her fame, the pressure of being a legend became too much, and Anderson began a struggle with drug and alcohol addition, a struggle she would overcome, but which nearly derailed her career. Much like a ballet, Anderson's story is an archetypal journey of a singular individual.
In 2019, Houston poet and librettist Deborah D.E.E.P. Mouton contacted Anderson to see if she might allow Mouton to tell that story. Three years later, their friendship and collaboration has borne fruit as Plumshuga: The Rise of Lauren Anderson, a cross-disciplinary theatrical work written by Mouton and co-directed by Mouton and Eboni Bell Darcy comes to life Stages. The unique show brings Anderson's story to life for audiences both familiar with and new to her accomplishments. Plumshuga begins previews Oct. 7, premieres on Oct. 15, and runs through Nov. 13.
You would think Mouton, Houston's third Black poet laureate — whose resume includes collaborations with the Houston Grand Opera, and onstage presence in competitive poetry slams is formidable — would be the ideal person to tell Anderson's story. But surprisingly, Mouton was a bit intimidated by the prospect.
"I was petrified," laughs Mouton when asked about her first meeting with Anderson. Her nerves were eased when Anderson expressed how surprised and flattered she was to hear Mouton wanted to write about her life. "She actually knew my work and was really kind of excited about it!"
They decided Anderson's story would be told in a stage production, incorporate poetry, and avoid the tropes of biographic monologues. "It wasn't going to be a documentary of her life in dance," says Mouton.
Nevertheless, Plumshuga features members of the Houston Ballet dancing to original choreography by Harrison Guy and Stanton Welch. All of the named roles in the production, except for "Lauren," who is played by Dequina Moore, are performed by dancers, including one with the chilling moniker, "Addiction." "It gave us a great palette to show you all the places that addiction may have entered Lauren's life, or may have lingered where we wouldn't imagine it did," says Mouton of having a dancer embody the condition of addiction.
"It was always there," says Mouton, "and it's going to be something she wrestles with for the rest of her life. But she's determined to keep wrestling."
Lauren Anderson and DeQuina Moore (Photo by Claire McAdams)
For a show so steeped in Houston history and culture, and the product of some of the finest talent the city has to offer, it may be hard to imagine how Plumshuga would translate before audiences outside of Texas. Mouton has no worries about that. "I hope it travels! I hope it makes it to Broadway!" says Mouton, whose believes it's time for theater to tell stories beyond the sidewalks of New York. "I hope it opens the door widely for people to see that Houston is equal in its ability to celebrate and create excellent art. There are brilliant stories here, and wonderful talents that are able to tell them."
Art + Entertainment