Mayan Miracle
In the jungles of the Yucatán, a new spa resort mixes ancient waters with modern architecture — and primitive medicine with really good tequila. By Lisa Holthouse.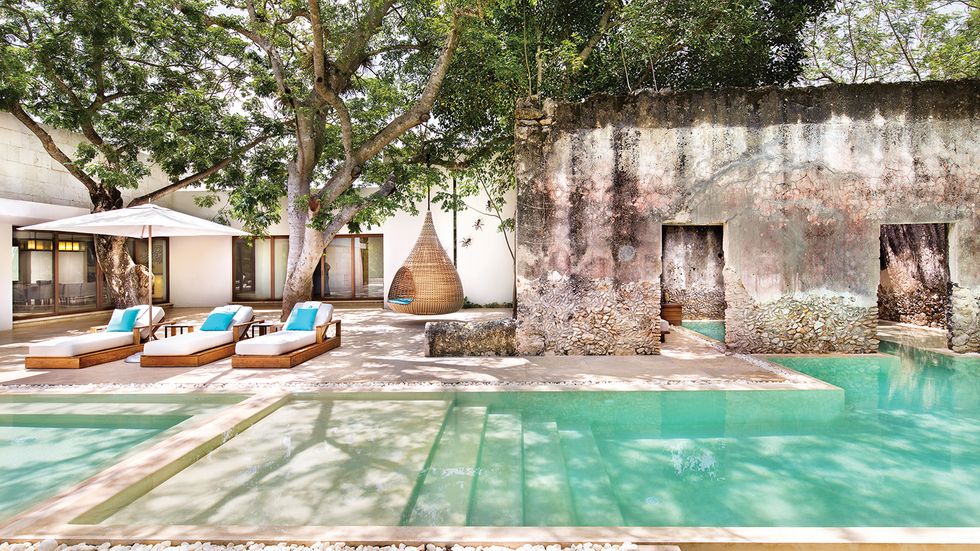 When someone begins planning a vacation to the Yucatán, thoughts of sandy beaches and bikinis come to mind, places like Cancun, congested with high-rise hotels and rowdy bars. But there is another way to experience the area, a visit to the center of the Mayan forest. It is a secret surprise that absolutely must be experienced in your lifetime. The new Chablé Resort is a jungle retreat experience — no beach in sight — that guarantees a reset.
---
From the second you enter through the magnificent gates of an ancient wall, the pace slows and you immediately feel the blend of history, luxury and a sense of place. Spread across 750 acres of the Yucatán Peninsula, the hotel sanctuary honors the natural surroundings, blending the ruins of an old hacienda with modern architecture.
Built in the 16th century as a cattle ranch, the property later became a hacienda dedicated to making henequen, also known as sisal, from the fibers of agave plants. Mérida, the nearby cultural capital city, was once among the richest cities in the world, its wealth due to the sale of products made of this "green gold" — ropes, bags, hammocks.
At the end of a pathway lit by stars above and fireflies in the grass below, Chablé's fine-dining restaurant Ixi'im celebrates another wonderful product made from agave — tequila! The eatery features the largest private tequila collection in the world, showcasing 3,175 different bottles (clearly proof that not all wellness retreats promote abstinence). As the only direct Houston flight — just 90 minutes to Mérida — arrives early evening, it's the perfect time to sample a sip.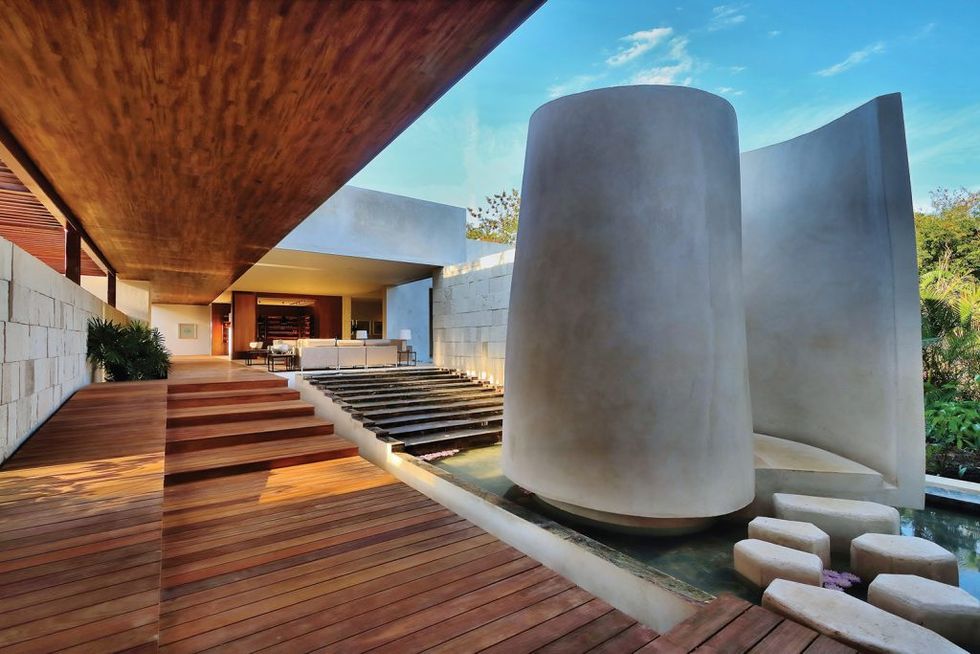 The spa at Chablé features a 'conch' meditation chamber.
Jorge Vallejo, whose Mexico City restaurant is often named among the best on Earth, trained the culinary team here. The cuisine is world-class and elegant, with a tailored wine list, innovative cocktails and, of course, tequila. The chef serves organic seasonal cuisine primarily sourced from the expansive onsite garden. Baby Mayan Octopus, with sauce made from its ink and served with lentils tocsel, or Suckling Pig with recado negro and pickled Ixchil onions, are on offer.
Chablé has 38 casitas and two large villas, each purposefully nestled within the lush gardens throughout the property. A private dipping pool, hammock and outdoor lounge furniture create the ideal setting to savor the surroundings. The casitas are spacious, and come with double indoor and outdoor showers.
These are beautiful spaces to wake up in, and sunrise is delightful at Chablé. The "eye opener" is part of the daily ritual for all guests, which consists of delicious local coffee and fresh baked bread and pastries delivered to your terrace, waiting for you once you rise and open the expansive wooden sliding doors to bring in the morning glory. Birdsong is the wakeup call, almost on cue. Some of the most ardently tangerine-colored birds you've ever seen live at Chablé.
Your morning activities may include biking, meditation, yoga, energetic breathing or weight training. There is a daily juice that is made available in abundance all through the day, in pitchers throughout the spa and beyond. Antioxidant-rich jugo del dia is a high favorite with orange, blueberry, blackberry and raspberry.
More healthful yet decadent smoothies, juices and milkshakes — mostly from produce grown onsite — await at the pool restaurant. Depending on which part of your body you are looking to nourish, they are customized to benefit the respiratory system, for purifying, for anti-flu, the central nervous system, liver detox, muscle relaxing, diuretic, fat burning, antioxidant or just a typical green. If you just want an all-American breakfast, fear not. There are pages of huevos and other standard fare that will knock your socks off.
Lunch is just as enjoyable at Ki'ol. And at midday, when you get a Tex-Mex craving, just ask for some nachos and guacamole! It feels very "at home" on the Chablé grounds. The staffers are all wonderful and accommodating and will prepare anything to your heart's desire.
Late afternoon is the perfect time to experience the spa, most certainly considered the heartbeat of Chablé. The natural cenote is the focal point and energy center of the "healing journey." There are more than 6,000 cenotes in the Yucatan alone. Many times they are large open pools, but many come in the form of underground natural swimming holes.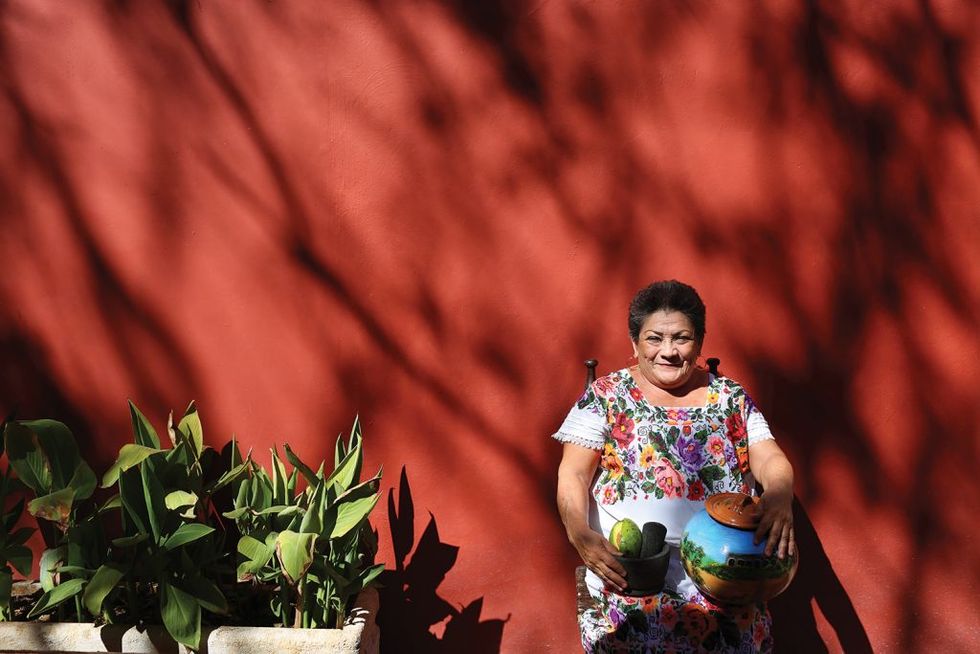 Doña Eneida is considered one of the region's best chefs
The cenote at Chablé is an almost holy site and a source of restoration for the body and soul. Because the Mayans had such a deep reverence for cenotes — the word translates to "sacred well" — the spa's philosophy draws from the ancient culture, offering a wide range of Mayan-inspired treatments, alongside modern amenities. The brochure speaks of "that eternal dance between two opposing forces which strengthen each other … shamanism combined with luxury, ancient healing techniques with modern science."
A visit to the in-house botica hut begins the spa experience. It is explained that in Mayan times, a botica is where medicine men and women kept their healing herbs and spices. You are then asked to follow "guardian angels" into a beautiful structure referred to as the "conch," that reminds you of a larger-than-life conch shell, open above in order to bring the grounding properties together with the heavens. After a prayerful moment, you're off to your treatment, which might be a visit to the therapeutic temazcal, an ancient type of sweat lodge.
The temazcal itself has the look of a clay igloo on the outside and a pizza oven on the inside. Once participants are situated in a circle — having been welcomed by a lovely lady shaman with a hug and the greeting, "Welcome to your rebirth" — volcanic rocks heated to thousands of degrees are brought one by one until the doors are closed. There is chanting, music, learning, sharing, discarding negative energy, and a lot of sweating. The practice will undoubtedly affect everyone in a different way, but one common outcome for anyone daring enough to trust this incredible and revitalizing therapy: Your skin will never look better!
Rebirth, rejuvenation, tranquility, peace, elegance, beauty. These words are synonymous with Chablé, where nightfall again brings a vast dark sky with twinkly stars. How many times does one go on a vacation only to return in need of a vacation? This is not one of those times.
AT TOP: Enjoy ancient architecture and a mod pool at Chablé.
Food+Travel