MFAH Installs Two Provocative Paintings in its Foyer, Presenting Them Together as a 'Portrait of Courage'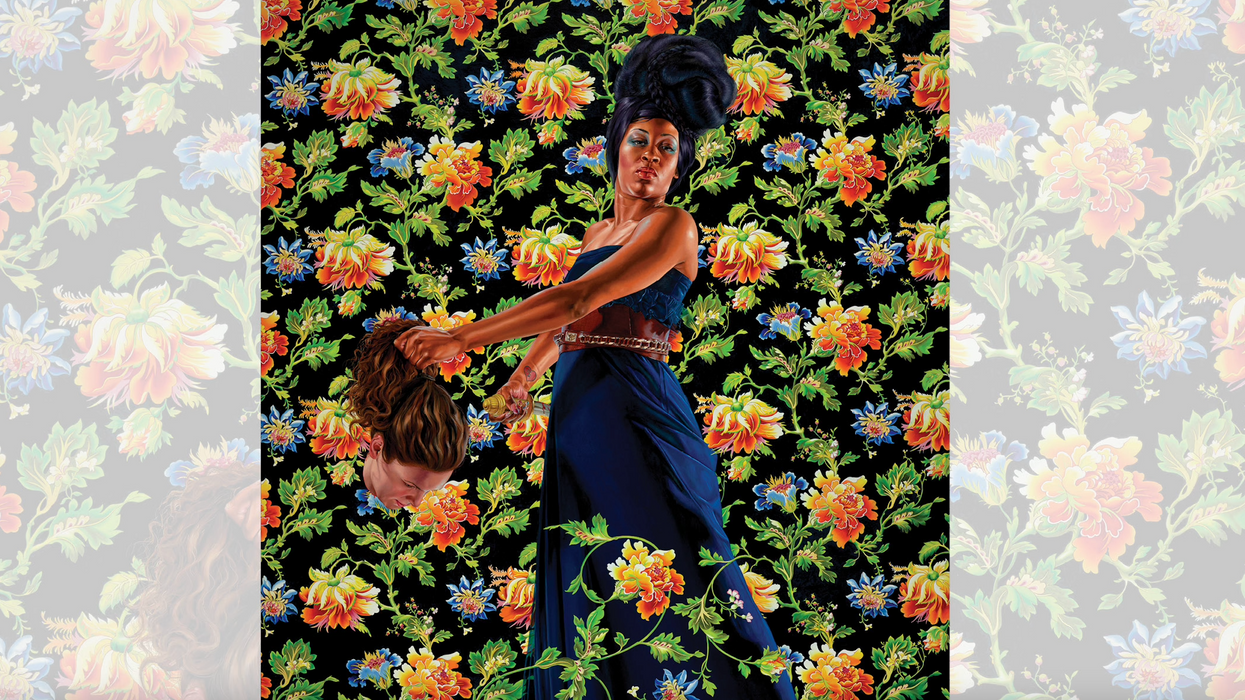 THE ENERGY IN the foyer of the Museum of Fine Arts, Houston's Caroline Wiess Law Building is quite lively, thanks to the installation of two provocative paintings, painted 400 years apart — one by Artemisia Gentileschi, an Italian 17th-century female artist, the other by Kehinde Wiley, a contemporary, Nigerian-born queer Black artist. Each depicts the grisly climax in the Old Testament Book of Judith, in which the widow Judith decapitates the Assyrian general Holofernes, thus saving her besieged Jewish city of Betulia.
---
Presented together as Portrait of Courage and installed on opposite walls, each painting is a masterpiece in its depiction of violence made all the more shocking perhaps because the subject with the sword is a strong, beautiful woman. Portrait of Courage opened Jan. 26 and is on view through April 16.
MFAH associate curator of European Art, James Anno, and associate curator in the Department of Modern and Contemporary Art, Anita Bateman, were tasked with the installation of the paintings, both titled "Judith and Holofernes." "There are many layers and narratives that any particular object proposes," says Anno of his and Bateman's roles as curators. "We get to choose what aspect we want to put our finger on and say, 'Let's follow this story.' This is a case where we're doing that. We're selecting aspects of the work that dialogue with each other in a sense that's relevant to us right now."
Wiley, whose portrait of President Barack Obama along with Amy Sherald's portrait of First Lady Michelle Obama exhibited at MFAH in Spring 2022, is well known for his heroic portraits of Black men and women, who are not professional models, posed in historical settings and exhibiting gestures appropriated from Old Master paintings.
In Wiley's "Judith and Holofernes," Judith is modeled by Treisha Lowe, dressed in a blue gown, its color close to that of the dress worn by Judith in Gentileschi's painting, her left arm at a downward diagonal clutching not the head of a marauding general, but that of Wiley's studio assistant, who is female and white. Including his assistant may be another allusion to the complex role of an artist assistant during the Baroque era of painting, but Lowe's dramatic hairstyle, carefully applied makeup, and tattoo are thoroughly contemporary. She stands with just a hint of onstage theatricality, the colors of her ensemble and fingernails complemented by an opulent backdrop of flowers and traces of blood on a sheathed sword.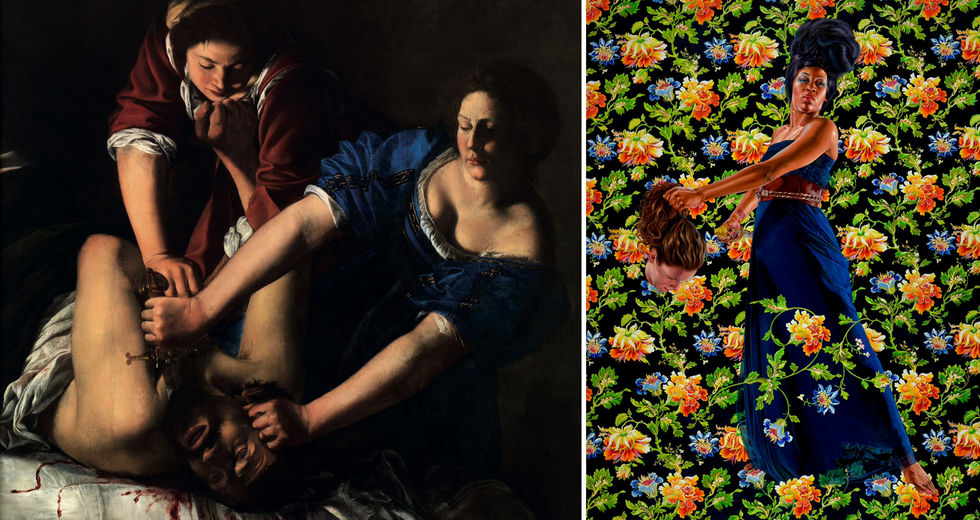 'Judith and Holofernes' by Gentileschi, left, and Wiley
Meanwhile, there's nothing understated about Gentileschi's Judith; this is a woman who is not afraid to get her hands bloody. With a little help from her maidservant, Judith holds the struggling Holofernes firmly by his hair with her left arm while using a sword in her right to calmly saw off his head. Gentileschi's Judith may be a self-portrait; Gentileschi painted this after she had been raped by a family friend, who was brought to a trial in which Gentileschi was tortured with thumb screws to ensure she was telling the truth.
It is heartening to see museums stepping up via their curatorial decisions to challenge the male, Euro-centric narrative of the history of art and societal definitions of whose bodies are "beautiful" and worthy of being painted. But Anno, Bateman, and MFAH director Gary Tinterow all point out that this is something artists throughout the ages have always done.
"You have these artists who have always been at the vanguard of what they've been doing, whether they be African American contemporary artists or a 17th-century woman painter, then you have these people who may not understand what they're doing in the moment," says Bateman. "But culture catches up to what they're doing,"
Art + Entertainment