Make Microwave-Savvy Truffles for a Fun Snow Day Project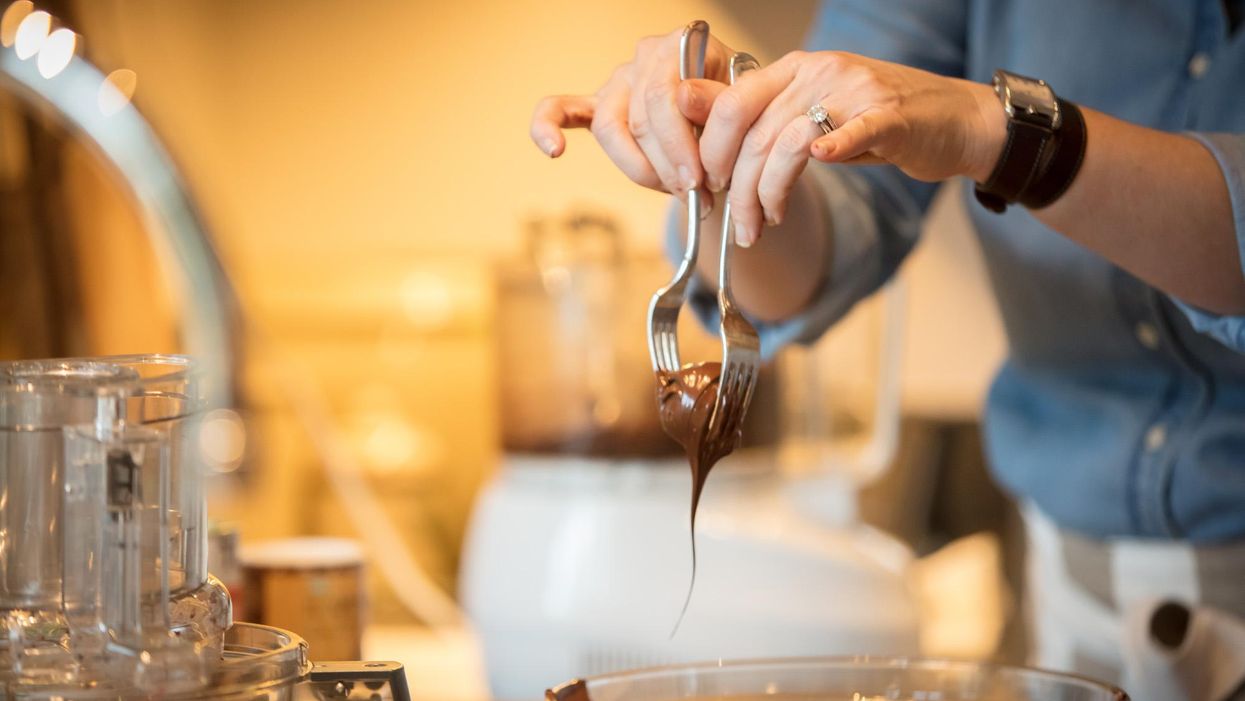 MY KIDS LOVE the flavor of Nutella, and I can see why. The nutty combination of rich hazelnuts and chocolate combine to create a classic combo. My hazelnut chocolate truffles aim to achieve that same crave-worthy affect without the unhealthy oils and blood sugar spikes. They are decadent and satisfying, and you can truly be satiated with just one.
---
The perfect homemade treat for your Valentine, these flavor bombs are full of phytonutrients, antioxidants, fiber, protein and heart-healthy omega-3a. But let's be honest, I wouldn't share the recipe with you all unless they were good. To make life easier, use good-quality chocolate chips for the coating and just melt them in the microwave. I typically use Sharffen Berger or Guittard brand chocolate. And I don't temper the chocolate here — a process of heating and cooling that makes chocolate shiny and shelf stable. But that's ok since they disappear so fast!
6 Medjool dates, pits removed
3/4 cup hazelnuts, skins removed
2 Brazil nuts
3 tablespoons unsweetened cocoa powder
1 tablespoon cacao nibs
1 tablespoon coconut butter
2 tablespoons water
1/4 teaspoon kosher salt
3 ounces semisweet or bittersweet chocolate, roughly chopped
Garnish: Flaky salt, such as Maldon, or unsweetened shredded coconut
Using a food processor with a metal blade, pulse the dates, hazelnuts, Brazil nuts, cocoa powder, cacao nibs, coconut butter, water and salt until a thick ball forms. This should only take about 30 seconds to a minute, but you want the mixture to be smooth. If necessary, break it up with a wooden spoon and then pulse again.
Line a baking sheet with parchment paper. Roll roughly 1 tablespoon of the mixture into a ball (I use a cookie scoop) and place on the baking sheet. Repeat until you use up all of the mixture. This should make about 12 truffles.
Using a microwave safe bowl, add the chocolate. Microwave in increments on high for a minute and then 30 seconds at a time, stirring in between to check if chocolate has melted. If not quite melted, continue to heat the chocolate in 30-second intervals. Work quickly to melt the chocolate without getting distracted, as chocolate can be temperamental.
One at a time, place a truffle in the chocolate. Using a spoon or fork, rotate the truffle around so that it is completely covered. Lift each truffle out of the chocolate, allowing excess chocolate to drip back into the bowl.
Place the chocolate-dipped truffle on the lined baking sheet. Add a pinch of flaked salt to the top of each truffle, or sprinkle with shredded coconut. Let the truffles cool until firm.
You can store in the refrigerator. If you pack them in glass storage containers, add a layer of parchment between layers of truffles.
Marcia Smart is the owner of Smart in the Kitchen and its digital spinoff, Smart in the Kitchen School. Follow her on Instagram at @smartinthekitchen or in Facebook group Smart in the Kitchen, or email her at marcia@smartinthekitchen.com
Food