Modern Families
With neutral palettes and sleek style, superstar designer Lucinda Loya customizes two family homes — both as warmly mod-minded as they are perfectly practical.
Julie Soefer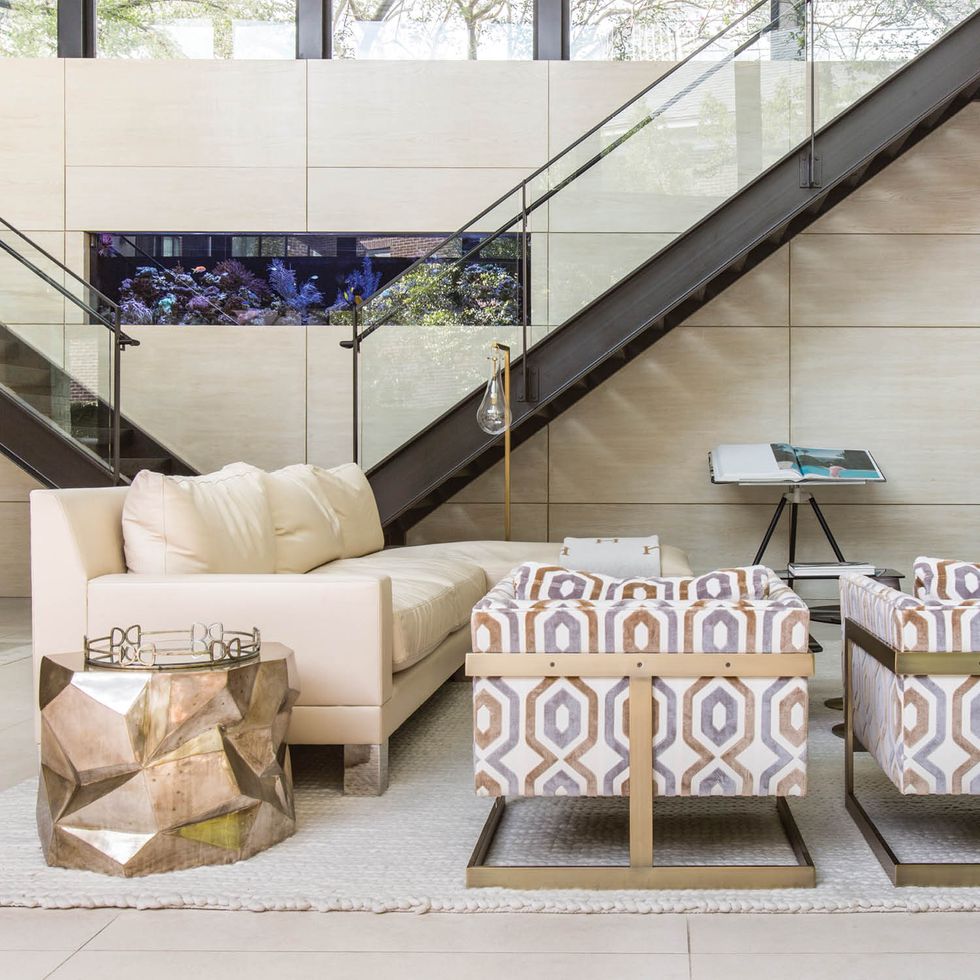 Editors Note: We've all gotten very familiar with our own homes lately — every nook and cranny, and everything we'd like to fix, upgrade and redesign! For inspiration, may be offer these two beautiful projects by one of Houston's finest interior designers, Lucinda Loya, whose work we featured in our October 2018 issue.
---
It's hard to believe this all started out as a hobby," says interior designer Lucinda Loya, reflecting on a 20-year career that has taken her from Houston to Manhattan to London and beyond. Lately, the widely published designer has been spending time in Boston, designing the interiors for the Boston Celtics' new 80,000-square-foot training facility, and the office of team owner Wycliffe Grousbeck.
But "no project is too big, too small, or too local," she says, noting how important Houston is to her and her oil-exec husband Javier. They are part owners of the Texans NFL team, and lynchpins in the social scene, thanks to not only their great style, but their philanthropic efforts.
Not far from their home in Stablewood sit two of her latest projects, each catering to a family's unique specs.
The first, nestled in the heart of River Oaks, is a 4,500-square-foot, two-story property, home to Shelley and Richard Daly, who withstood a lengthy wait to secure their perfect plot in the neighborhood.
"The first call we made was to Lucinda, not an architect or builder," says Shelley, a former magazine and newspaper editor who now devotes her time to volunteering and serving on myriad boards. "I wanted Lucinda involved from the beginning of the build process, from architect selection to deciding where the outlets should go."
Shelley, along with her husband Richard, a former Denver Broncos player who is an attorney with Daly & Black, wanted a home that would be beautiful and symmetrical — but completely functional and practical. "The quote 'Form must follow its function' from Ayn Rand's novel The Fountainhead, founded my philosophy on this project," says Shelley, who believed if something didn't have a purpose, it didn't belong in the home.
For example, in Shelley's office, which overlooks the property's verdant courtyard full of stately oak trees, a sophisticated space of monochromatic cream — much like the rest of the home — is lined wall-to-wall with cabinets and drawers. Inside, every Sharpie and stapler has its own perfectly built place. The Alexandra von Furstenberg clear acrylic coffee table fits beautifully, not just from a style perspective, but positionally. It is situated within a precise and balanced space, accompanying a petite nude sectional sofa and two walls filled completely with black-and-white family photos.
Even the mailbox placement is intentional, built in to the side of the home and dispensing mail directly into a tray in Shelley's office.
"I measured items, from kitchen utensils to bikes and fishing rods, to make sure every drawer, cabinet and cupboard would fit our family," says Shelley. In fact, the home is built so specifically to the Daly family that the word "resale" was even banned from all contractor conversations to deter standardized design features for future homebuyers.
Next to the office is a powder room, adorned wall-to-ceiling with slightly dark tinted mirrors. A quirky neon-pink light-tube installation placed above the lavatory reads "Hey Y'all" in the opposite mirror. It's a piece commissioned by Shelley from the local Neon Gallery. "I took inspiration from art shows I attended in New York that create their own catch-phrases, not unlike those that eventually end up on t-shirts," she explains.
A love of fine contemporary art is evident throughout the home; pieces from internationally recognized artists such as Damian Hurst and Richard Serra to local Houston creators hang in nearly every room. A piece by Houstonian Paul Fleming features tiny individual blue glass stones traveling in a diagonal line across three walls of the spacious, open-concept living space. Boasting an expansive floor-to-ceiling height of 22 feet, the big room is the heart of the home, housing the kitchen, dining and entertaining space.
Here, large windows are dressed in ethereal cream-colored treatments by Houston's G&S Custom Draperies, and the dining room table sits on a base of four kiln-dried wood posts created by Cooper Meaders with ReCoop Designs.
Impressively, this ground floor space expands even further, opening up into the backyard, with a whole wall of windows sliding and effectively disappearing into the home's brick frame. "I wanted to be able to have the flexibility to fuse two separate areas, creating a space for our family and friends to intermingle, or be independent," says Shelley.
This fusion is made possible by the materials; the same cream bricks and floor tiles flow from the inside out. "The idea was to bring a natural and neutral elegance to the home, while creating warmth," explains Loya, who used no white, instead opting for cream, brown and grey tones.
Inspiration for the project's color scheme derived from one fabric swatch Shelley fell in love with. The material, which was ultimately used to upholster the gold-framed lounge chairs in the living room, is cream with a pattern of copper and pewter.
At the very back of the living space, constructed between the kitchen and living room, is a strikingly symmetrical, V-shaped, metallic-toned wooden staircase, leading upstairs in two directions. In between the lines of the "V" is a built-in 1,000-gallon tank, full of exotic fish — the curator of which cites LeBron James and Elon Musk as clients.
Ascending one side leads to the master wing; on the other side is a Missoni-inspired pink and white apartment for the Dalys' 12-year-old daughter Payton. This vibrant, multi-functional room, which she shares with Conure the parrot, boasts two queen bunks carved neatly into the wall — perfect for sleepovers with friends. A large Missoni floral sofa oozes style in an attached lounge and study space. There's an en suite bathroom, and the walk-in closet with a standout print of crazy-color "Watch" by Michael Craig-Martin.
Creating a home that's modern yet warm can be challenging, but according to Loya, "the key is to maintain balance by focusing on contrast and scale, to complement and not overpower."

Loya applied this same principle to a project in Uptown, an apartment for a notable Texas family, known to many as the stars of the YouTube series Hangin' with Los Henrys.
Thomas, a prominent attorney, and his wife Azteca needed a home away from their home in San Antonio for not only work, but for family trips to Houston with their two children, Thomas Jr. and Maya.
"For this modern, very much on-the-move family, I wanted to create a sophisticated, timeless and functional environment," says Loya, who combined two neighboring apartments to form a 2,860-square-foot, four-bedroom space — save a separate one-bed, one-bath unit for guests. "This has been cleverly concealed with a pocket door," says Loya of the door also fitted with a mirrored panel to disguise the divide on the guest side.
Throughout both units, metallic tones reign supreme. Accents of copper and gunmetal and pops of rich caramel are sprinkled throughout the otherwise light, neutral-toned residence. Feature walls boast geometric patterns or unique textures, and bold art pieces — as in ones by Chuck Close and Nelson De La Nuez — offer both refinement and intensity.
"The dining area is an embodiment of this," says Loya, who used a dark and textured eel-skin wallpaper to offset a minimalist but striking cream and black canvas by Richard Serra. A brass chandelier with agate slices dangles above a metallic slate table, juxtaposed with tan dining chairs and bronze toned dinnerware.
"My approach is to get to know my clients first, understand their needs fully so that every detail, even down to the door knobs, has the functionality that family deserves," says Loya. "I'm honored with the trust my clients put in me to not only get it done, but get it right."
AT TOP: The fabric on the club chairs in the living room was the inspiration for the home's color palette.
Home + Real Estate