Old World Wonder
In Puebla, where grand reflections of 16th century Spain can still be seen, contemporary style and comfort blend with colonial splendor.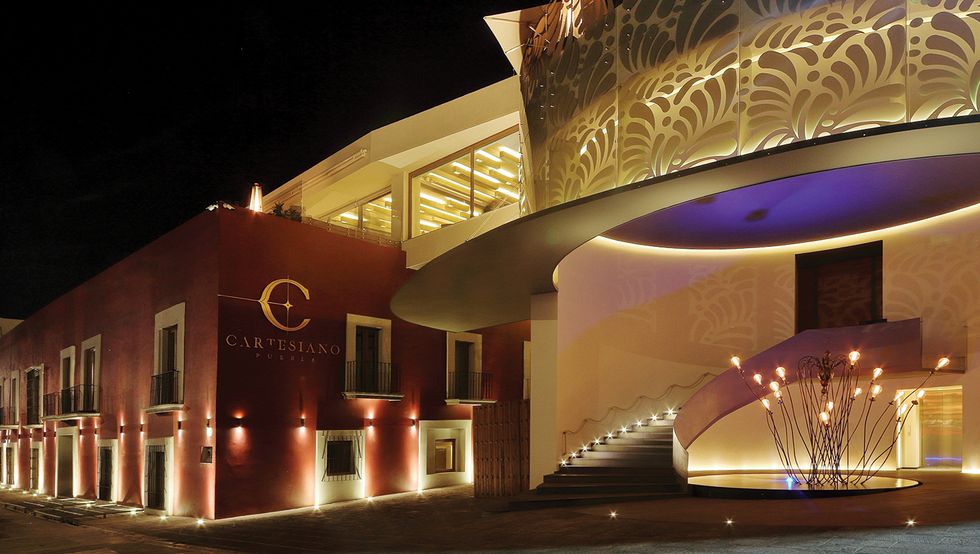 The best way to enter the Hotel Cartesiano, the newest luxury resort in Puebla, Mexico, is to climb the stone staircase that curves around the glowing reflective pool out front, approach the 18-foot-high wooden doors cut into the top of the imposing white walls, and throw them open like the gates to a castle.
---
Inside, you'll find a hidden world of modern splendor, an open lobby of polished oak, glass and stone. Beyond beckon an array of sundrenched Spanish-style courtyards and patios, lined with palm trees, appointed with fountains and decorated with colorful Moorish tiles and tropical flowers. The perfect setting for quiet contemplation after a day of touring the nearby Aztec ruins in the shadows of the Popocatepetl and Iztaccihuati volcanoes — or to sip an afternoon cocktail crafted by the bartenders standing by in the sleek lounge to your right.
Though one enters this hidden jewel through a magnificent edifice built to accommodate the hotel's world-class restaurant upstairs — as well as its spa and rooftop pool — two restored 18th-century mansions form the core of the property's interior and imbue the Cartesiano experience with unmistakable colonial flavor. Guestrooms in this section incorporate the original exposed brick into their décor.
But, of course, the main attraction is outside the hotel, on the streets of Puebla itself. Accessible via a short flight from Houston, Puebla is rich in history and offers up a cultural fiesta to rival that of many European capitals. It was, after all, conceived and built by Mexico's earliest Spanish settlers to do just that.
Nestled in a fertile valley strategically located between Mexico City and the port of Vera Cruz, the city of Puebla de los Angeles was established in 1531 to serve as the capital of New World Christiandom. In the decades that followed, both the Spaniards and the Catholic church spent lavishly, building 365 churches — the greatest concentration in all of Latin America — including the world-renowned Puebla Cathedral and the Templo de Santo Domingo, two magnificent examples of baroque architecture. UNESCO named the city a World Heritage Site in 1987.
Puebla is eminently walkable, with restaurants, shops and markets just a few minutes' stroll from Cartesiano. Cobblestone streets are lined with two- and three-story colonial-era villas, painted blue, yellow, pink and orange, and decorated with handpainted Moraccan tiles and wrought iron balconies. Puebla is renowned for its handicrafts, particularly the hand-painted Talavara pottery, which uses techniques imported by the Spaniards in the 16th century. And don't forget to sample the region's world-famous mole poblano, a delicious sauce made from chiles, spices and chocolate.
Food+Travel