With Fab Fall Menu and Italian Wines Galore, Ostia Chef-Owner Charms Guests Anew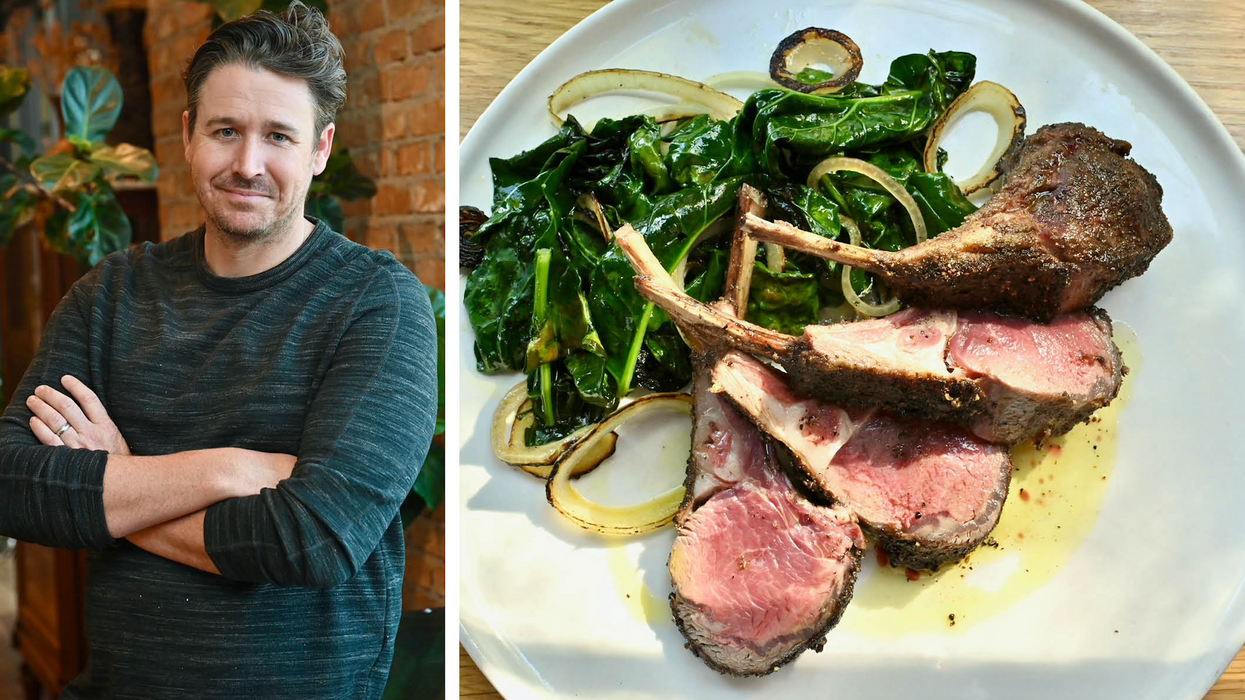 CHEF-OWNER OF
Ostia
Travis McShane knows a thing or two about Italian flavors and which wines enhance each dish. After all, he trained under nationally renownedchef Jonathan Waxman, a Chez Panisse alum and owner of celebrated Barbuto and Baffi Italian restaurants. McShane worked in several of Waxman's kitchens around the country, and visited Italy with his famed mentor, learning about food and wine of the region.
---
CityBook sat down with McShane to chat about his favorite wines to drink right now and how they work beautifully with his fall menu. First, a word about Ostia's ambiance in case you forgot: When you enter this generous window-wrapped space with a flowering patio and enchanting glass greenhouse, it feels a smidge like you are in Italy (or maybe Santa Barbara). Its fragrant wood-burning oven in the open kitchen only adds to the appeal.
While McShane prefers to stay authentic to the Mediterranean Italian-inspired menu, he uses local and interesting national produce and products for freshness and flavor. Although popular for its ever-evolving seasonal menus, Ostia classics stay on the menu — including the chicken with lemon and salsa verde; spaghetti with rock shrimp and fermented chile butter; ribeye with rosemary and fennel salt, and more.
McShane has taken on the role of wine buyer since notable local Master Sommelier Jack Mason (now with Pappas Bros. Steakhouse) created Ostia's first wine list. Seems a natural for McShane since he has amassed incredible knowledge from his education, cooking positions around the country, and food and wine focused travels. One thing is certain: McShane is having fun with his wine list, and wants guests to do the same.
Bubbles are always the perfect kick off to a meal, and Crémant de Bourgogne is so versatile, but less expensive than Champagne and made in the same method in France. "It pairs with just about anything, especially yeasty bread and fried foods," says McShane. "When in doubt what to pair with anything except dessert, choose bubbles." The Marie-Pierra Manciat brut, Crémant de Bourgogne currently on Ostia's list is only $60 a bottle and ideal for 4-6 guests who want an impressive palate cleanser, a.k.a. bubbles! It pairs splendidly with the new fried calamari salad with sauteed bitter greens, herbs, Fresno chile and burnt-onion aioli.
Known for great pastas, Ostia has a new seasonal bone marrow risotto sporting dazzling house-made saffron (yes, they make their own saffron) and a kiss of tongue-tingling espelette. His wine suggestion will open your eyes to the jewels of Italian winemaking. "Gini Salvarenza Soave Classico from Veneto is not your standard Soave — golden and rich like a chardonnay, but with an amazing mouthfeel and notes of lemon peel oil, ripe fruit and orange flower," explains McShane. He first discovered this wine while dining in Italy, so it obviously struck the right note. "A sense of place is important when pairing food and wine."
Expect a few family-style entrée platters this season, including the showy lamb chops with Roman spices and braised broccoli spigarello, a flavorful spinach-like veggie but sturdier. You don't see this on many (any?) menus around town. It is delish paired with Occhipinit 'Il Frappato Sicily, an all-natural bio-dynamic red that is so fresh, it wakes up any dish. Bright with notes of red cherries and a touch of citrus, it goes with anything grilled from fish to meats. Another unique vegetable is the side of Romano beans with ginger, lime and colatura (anchovy drippings). No standard green beans here!
Desserts are a fine mix of savory, sweet and citrusy. "Not everyone wants an over-the-top fancy or overly sweet dessert, so we try to tone down the sugar and focus on great flavor combinations." The new olive oil cake with mascarpone cream and orange zest is perfection. Even if you shun dessert wines, you'll enjoy sipping the Klein Constancia, South African 2021 Moscato Bianco. Notes of quince, candied ginger and stone fruit make everything sing.
The wine list currently includes numerous Italian reds and wines from Burgundy, but Ostia has many cabernet sauvignon fans who seek the big California wines. "We like to introduce them to some of our Italian cabernet blends that marry so well with the food. They are usually pleasantly surprised."
Also expect some beautiful new pinot noir wines emerging from Santa Barbara, Calif., which are silky and begging to be paired with this delightfully complex menu. For something even lighter, the rosé from Liquid Farm was recently added — great for brunch on the patio this fall. Weather alert: next week will be cool!
Food