Patios That Were Worth the Wait
Now that al fresco dining is not only bearable but downright enjoyable, here are a handful of must-try patios.
Summer 2020 was more oppressive than ever, thanks only in part to the heat. But October is here, and — not a moment too soon! — so is patio weather. Houstonians are finally able to enjoy al fresco dining, supporting local restaurants safely while also reconnecting with friends over a meal. Here are CityBook's picks for primo patios this month!
---
Take Sunday Funday outside: The Annie has relaunched Sunday brunch, and this Sunday from 11am-3pm, the patio will be bustling with energy thanks to a new cocktail list — a giant Manmosa, or a Whatamelon margarita, anyone? — and live music! A rotating crew of local DJs will be posted up inside, and outside, mariachis will perform on the patio. Weekday lunch resumes this week as well.
The new-to-Houston concept boasts a 1,500-square-foot patio and 40 (!) televisions in a sports-bar-meets-biergarten setting on Washington at Shepherd. Expect an extensive selection of craft beer, along with weekend brunch, late-night bites and a killer happy hour that incudes half-off pizzas from 3-6pm on weekdays.
Dynamo-star-turned-nightlife-impresario Brian Ching unveils his latest concept, East End Backyard, not far from his Pitch 25 sports bar, next week. Funded through NextSeed, it's been in the works for a year and a half — and the opening, while delayed from Ching's initial timeline, ends up coming at a time when Houstonians are itching to spend all their time outside. The patio bar — 20,000 square feet! — touts a 3,500-square-foot fenced-in dog park, plus food trucks and more than two dozen beers and ciders on tap. There's plenty of colorful seating, along with a few picnic tables and shade-providing trees, in what the bar is branding as "the biggest backyard in Houston."

East End Backyard opens to the public next week
Houston native and rising-star chef Travis McShane helms the kitchen at Montrose's newest neighborhood restaurant. Italian for "host," Ostia is an indoor-outdoor oasis for farm-to-table-inspired Italian and Mediterranean eats. The terracotta-and-stucco-bedecked patio feels worlds away from Houston, and is a nice place to post up and enjoy a cocktail. The spot is also now serving lunch!
The modern-Indian go-to in Upper Kirby recently renovated and expanded its patio, making it a perfect date-night or brunch spot. Fall flavors are currently working their way into the mouthwatering menu. Might we suggest the new baked fenugreek sweet potatoes, topped with toasted spices — or making a reservation for Fried Chicken Tuesday? Plus: Happy hour is every day from 3-7pm, and upstairs, the Bake Lab now offers entirely vegetarian and plant-based dishes.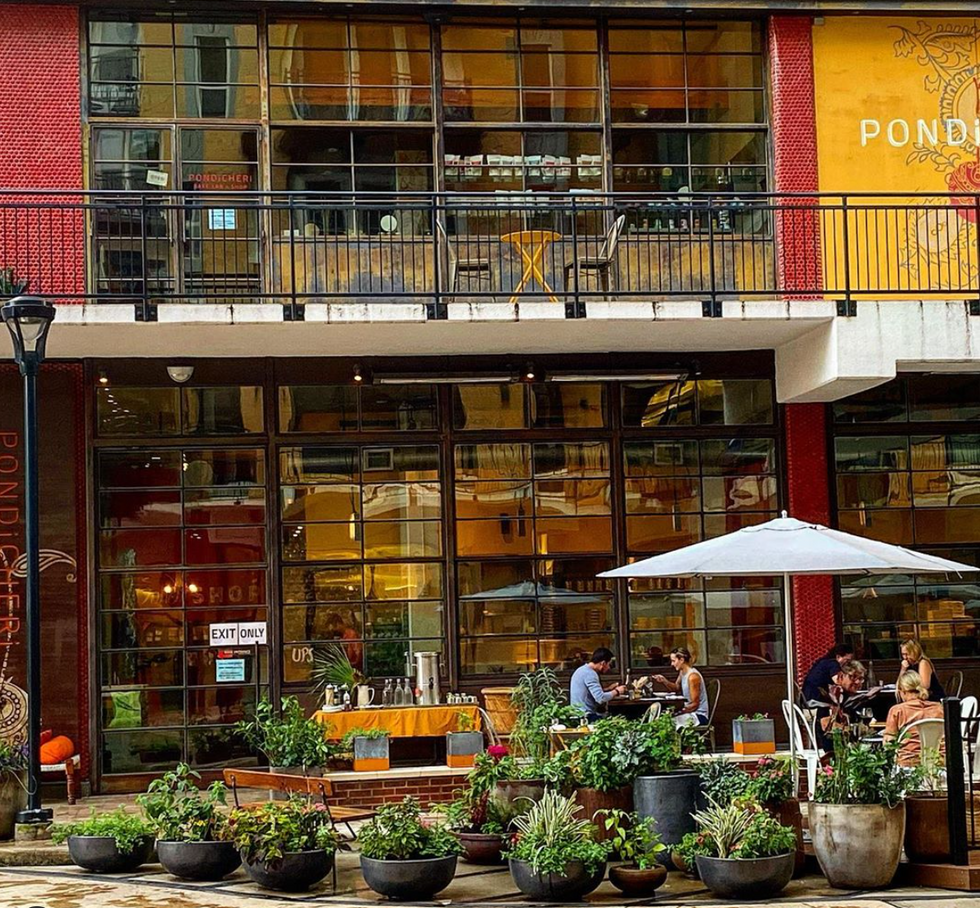 Pondicheri expanded its patio into the parking lot
Sustainability is on the menu at Sixty Vines in Rice Village, where the second-floor terrace (with an indoor-outdoor private dining space) is highly in-demand. The wine-centric restaurant has several initiatives and promotions throughout October, which is National Sustainability Month. Customers can help Sixty Vines reach its goal to reach a zero-carbon footprint simply by imbibing. This week's special: Order a 750-milliliter carafe of wine and receive a complimentary order of hummus or zucchini. Next week, enjoy half-price wine-on-tap!
AT TOP: Brunch cocktails at The Annie, by Kirsten Gilliam
Food