Requiem for Big Floyd
Before his killing inspired a worldwide movement, George Floyd was a Houston hip-hop star and DJ Screw collaborator.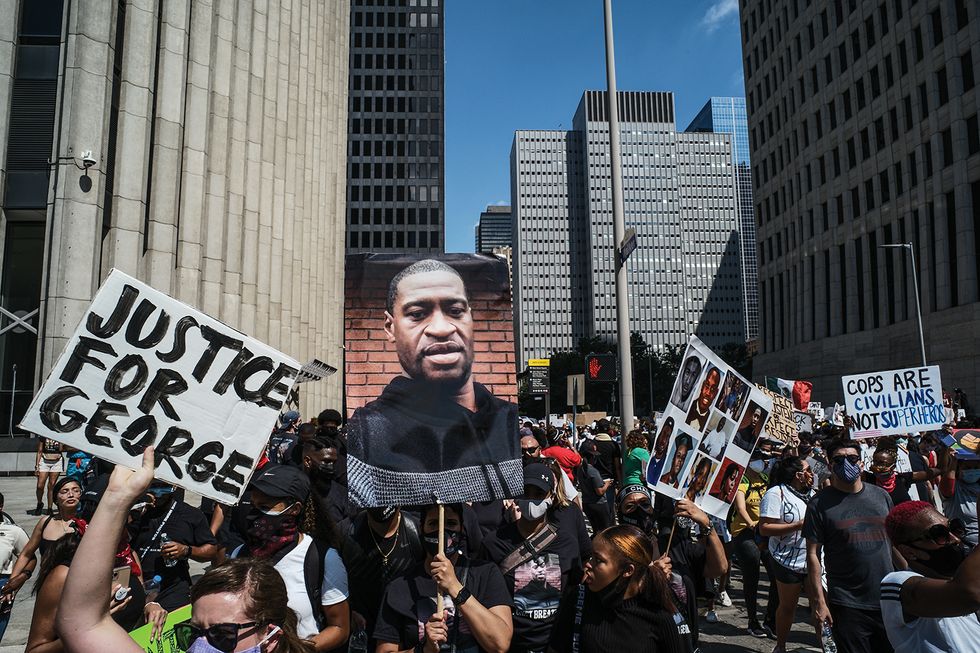 Thanks to a graphic bystander video, widespread reportage by news outlets around the world, and a surge of protests across the country and beyond, the details of the shocking killing of Houston-raised George Floyd by a Minneapolis police officer are now well known. As of this writing, large protests continue around the U.S. and the world, keeping issues of racism and police brutality in the public conversation.
---
Indeed, much has been said about the death of George Floyd. Less is widely known, however, about his life, which included something of a music career in Houston. Floyd, a rapper, collaborated fruitfully with the legendary DJ Screw, whose immense contribution to hip-hop is becoming increasingly clear lately, some 20 years after his death.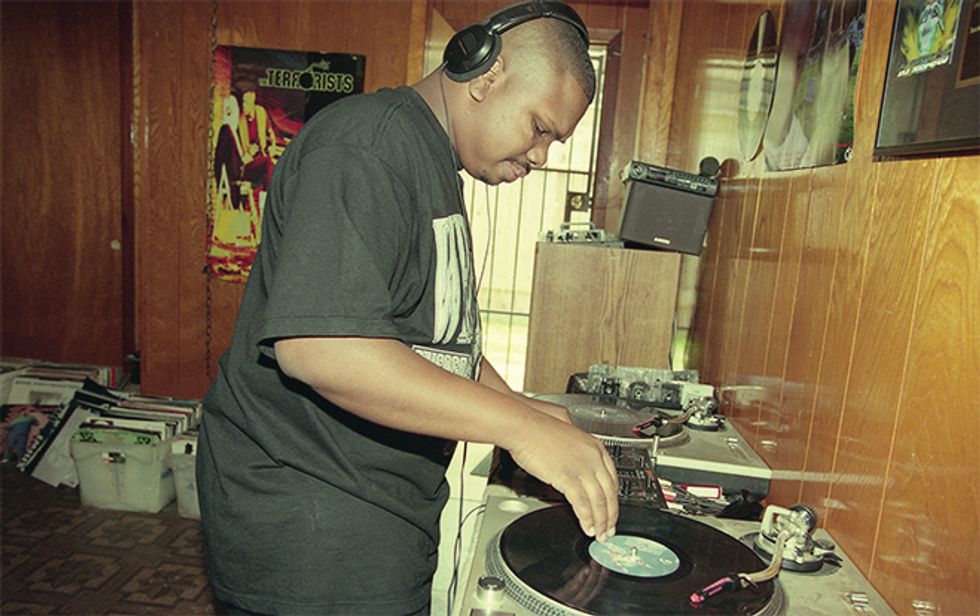 DJ Screw photographed in his home studio by Ben DeSoto in 1995
For his part, Floyd, a former football and basketball standout at Jack Yates High School, stood 6-foot-6, and was often called a "gentle giant." But "Big Floyd" was the name he used as a member of the "Screwed Up Click," a collective of rappers recorded by DJ Robert Earl Davis Jr., a.k.a. DJ Screw, in Third Ward.
In the mid-'90s, hip-hop was arguably America's soundtrack. And while Screw "chopped and screwed" tracks by some of the biggest names of that era, his focus was on Houston talent. Enter George Floyd, a gifted rapper who freestyled on a total of six "Screw tapes" (cassettes produced and, famously, sold out of Screw's South Park home), improvising boasts, inside jokes and shout-outs "off the top of the dome" for minutes at a time.
Floyd also knew how to swing, and he delivered his raps with inspiration drawn from Southern hip-hop, from Houston to Atlanta, as well as Texas blues and early rock 'n' roll. "H-Town, watch us come up, everybody shinin'," goes one of his flows. "You need one more chance in the game to get right. Everybody gotta stick together, mane, know what I'm sayin?"
Houston music writer Brandon Caldwell, on assignment for the national music website Pitchfork, describes Floyd's stream-of-consciousness poetry as at times moving "from paranoia to positivity in 60 seconds flat" and chronicling "personal setbacks, dope game traps, and sugar mamas who drive candy-coated pink Hondas." Caldwell adds of Floyd: "He was young, joyful, and in his element as a neighborhood superstar who could do seemingly everything."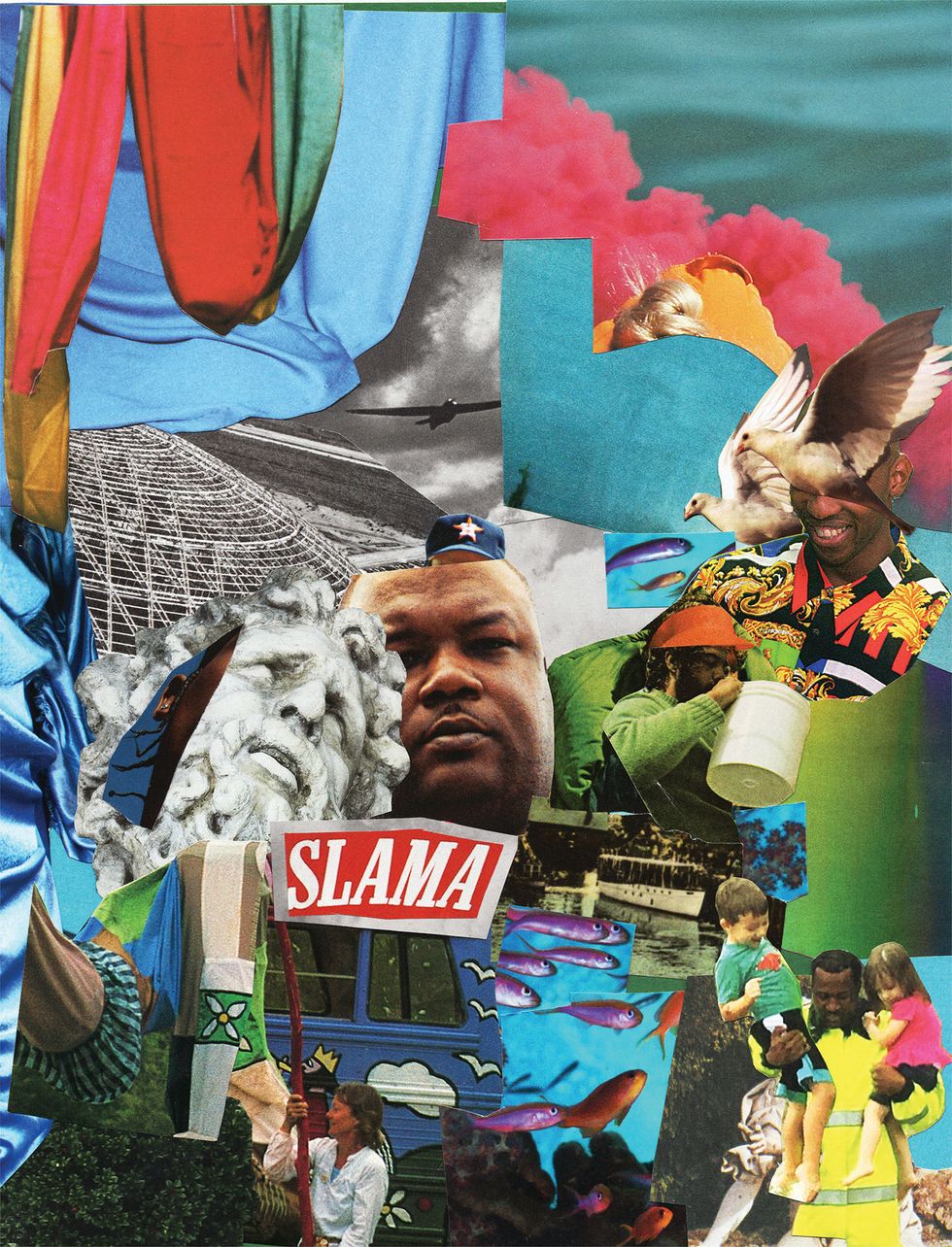 'SLAMA' by Tay Butler is part of the CAMH's DJ Screw show 'Slowed and Throwed'
The Contemporary Arts Museum, Houston's exhibit Slowed and Throwed: Records of the City Through Mutated Lenses, a complex meditation on the connections between visual art and the sonic aesthetics of the late DJ Screw, which opened in March and closed soon after when Covid-19 shut down the city, has taken on new layers of meaning in the wake of Floyd's death.
"The fact that we are seeing a collective movement surrounding the public execution of a black human being … means we are a step closer to treating black people as if they are actually humans," says Slowed and Throwed research advisor Rocky Rockett. When the CAMH eventually reopens to the public, Slowed and Throwed will be on view for its originally scheduled 14-week run. In the meantime, related programming continues on the museum's Instagram and YouTube channels, with a focus on "community efforts on urgent matters of social justice."
And so George Floyd — reputed again and again to have been a source of strength and inspiration to his many friends and, especially, to up-and-coming hip-hop musicians — continues to make an impact on Houston's artistic community.
AT TOP: A moment at Houston's Black Lives Matter protest on June 2, by Daniel Ortiz
Uncategorized