River Oaks' New Number
With contemporary flair and a sexy, scene-seeking following already secure, River Oaks District's new Steak 48 is already the top of H-Town's must-hit list.
Julie Soefer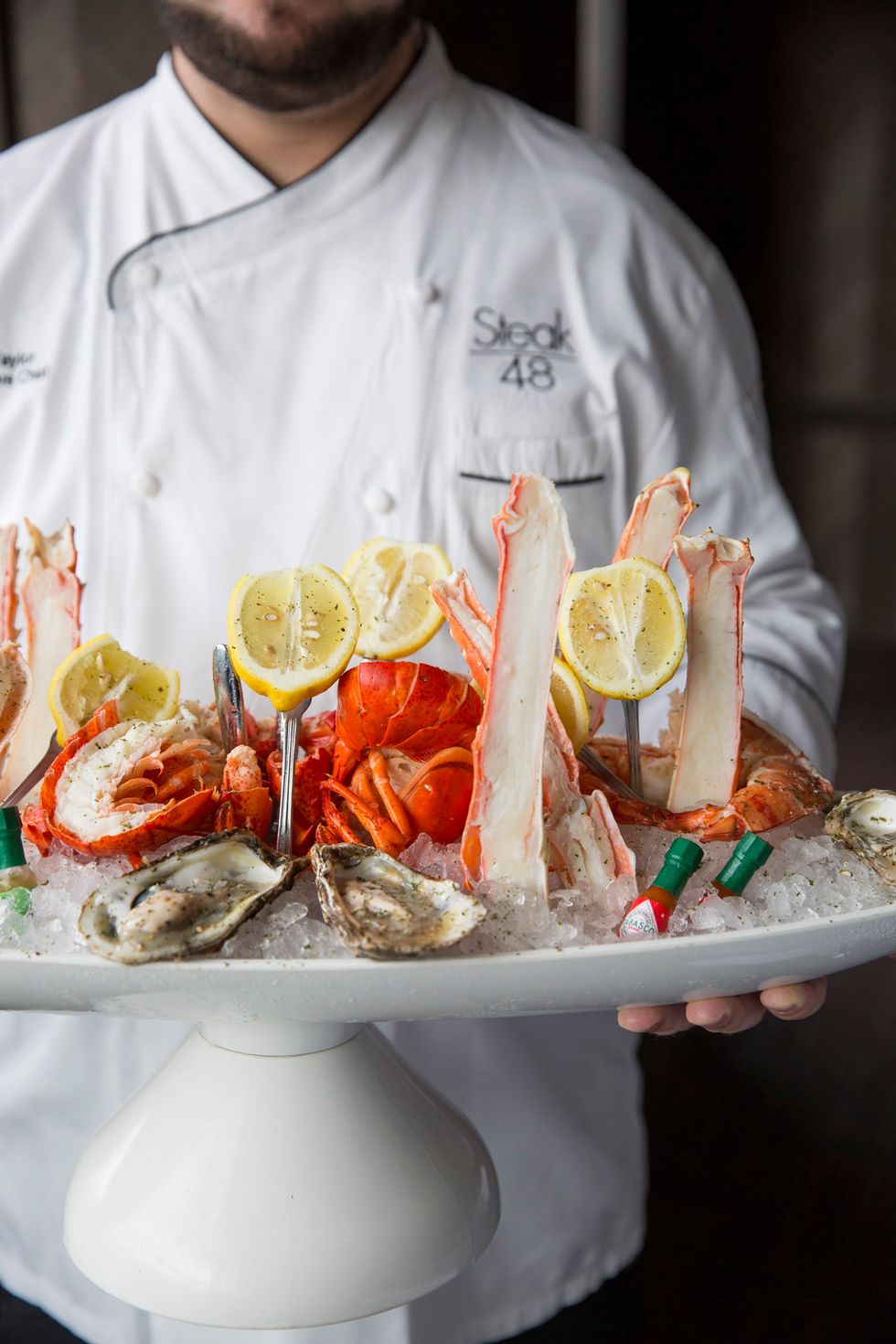 COMING TO HOUSTON DIRECT from Arizona, the 48th state — courtesy of brothers Jeff and Michael Mastro, who sold their own Mastro Steakhouse concept to Tilman Fertitta's Landry's Inc., which plans to open up its own Mastro's in 2017 (yes, it's complicated) — Steak 48 stands out among the city's already crowded steakhouse scene by offering up appetizers, sides and desserts that do justice to the restaurant's mouthwatering steaks. In other words, Steak 48 is more than just another steakhouse.
---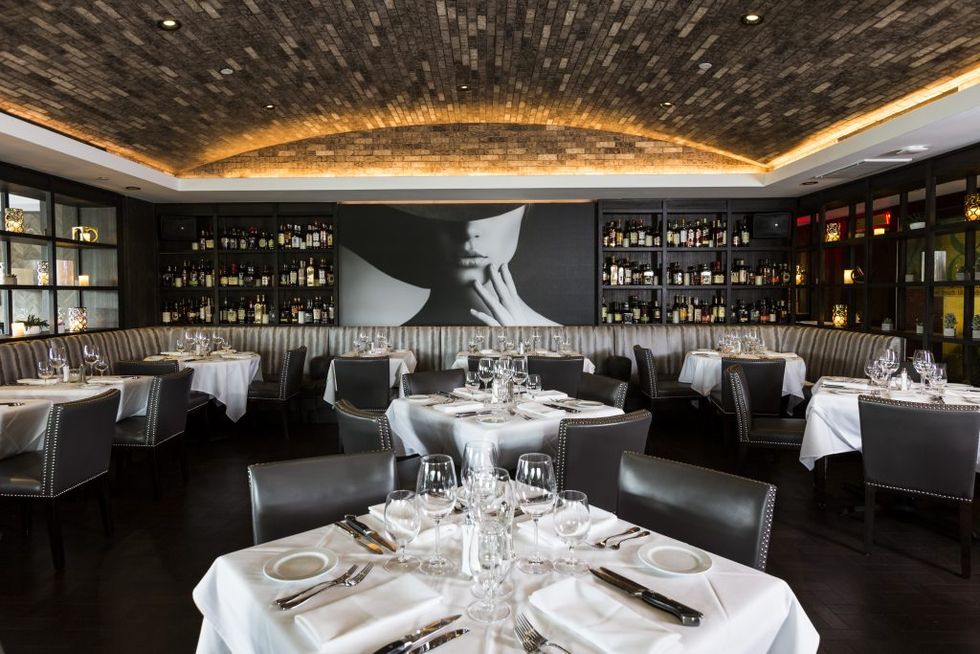 The glitzy dining room at Steak 48
It's a steakhouse, though, that fits perfectly into the River Oaks vibe, as evidenced by the well-dressed, well-heeled crowd inundating the restaurant's sprawling floor space, filling the room with the sound of a raucous Thursday night in Houston. (For those looking for a more quiet space, call ahead and reserve one of the windowed private rooms overlooking the kitchen, which, after all, is where the action really is.)
Take the appetizers for example. Sure, there are the usual wedge and Caesar salads, shrimp cocktails and the like. But why not start with something a bit more unusual, perhaps deep-fried deviled eggs — crunchy on the outside, still creamy on the inside, and just as decadent as one might imagine — served with sriracha aioli? The crispy little fried shrimp, tossed with sweet Thai peppers and a luscious garlic aioli, are good, too. (An added bonus? Both dishes can be ordered as a small or large plate — perfect for sharing, no matter the size of your group.)
The pork belly is even better. Perfectly braised thick slices served on a bed of sautéed spinach, finished with a glaze of honey and Thai chilies. Rich and meaty, and spicy and sweet, and bitter from the spinach. It's everything you could want from an appetizer.
As for the main courses, there are dishes like an intriguing prime steakhouse meatloaf (really!) and assorted chops and seafood dishes — but when a restaurant is called Steak 48, one feels obliged to eat steak. And the restaurant's steaks do not disappoint.
Those with a smaller appetite might want to order the rarely seen bone-in filet mignon. Yes, bone-in filet. As a general rule of thumb, anything cooked on the bone is more tasty than anything cooked off the bone, and Steak 48's filet just confirms the rule. Filets can sometimes be lacking, but not these beauties, which have a huge depth of flavor combined with all the tenderness one could want.
And for the true carnivores, nothing will do but Steak 48's signature cut: an 18-ounce Kansas City strip, which, truth be told, could convert even the most indifferent diner into a dedicated steak lover. A well seasoned char combined with the rich beefiness of a wet-aged steak (hand-cut in-house) pushes this strip into the upper echelon of Houston steaks.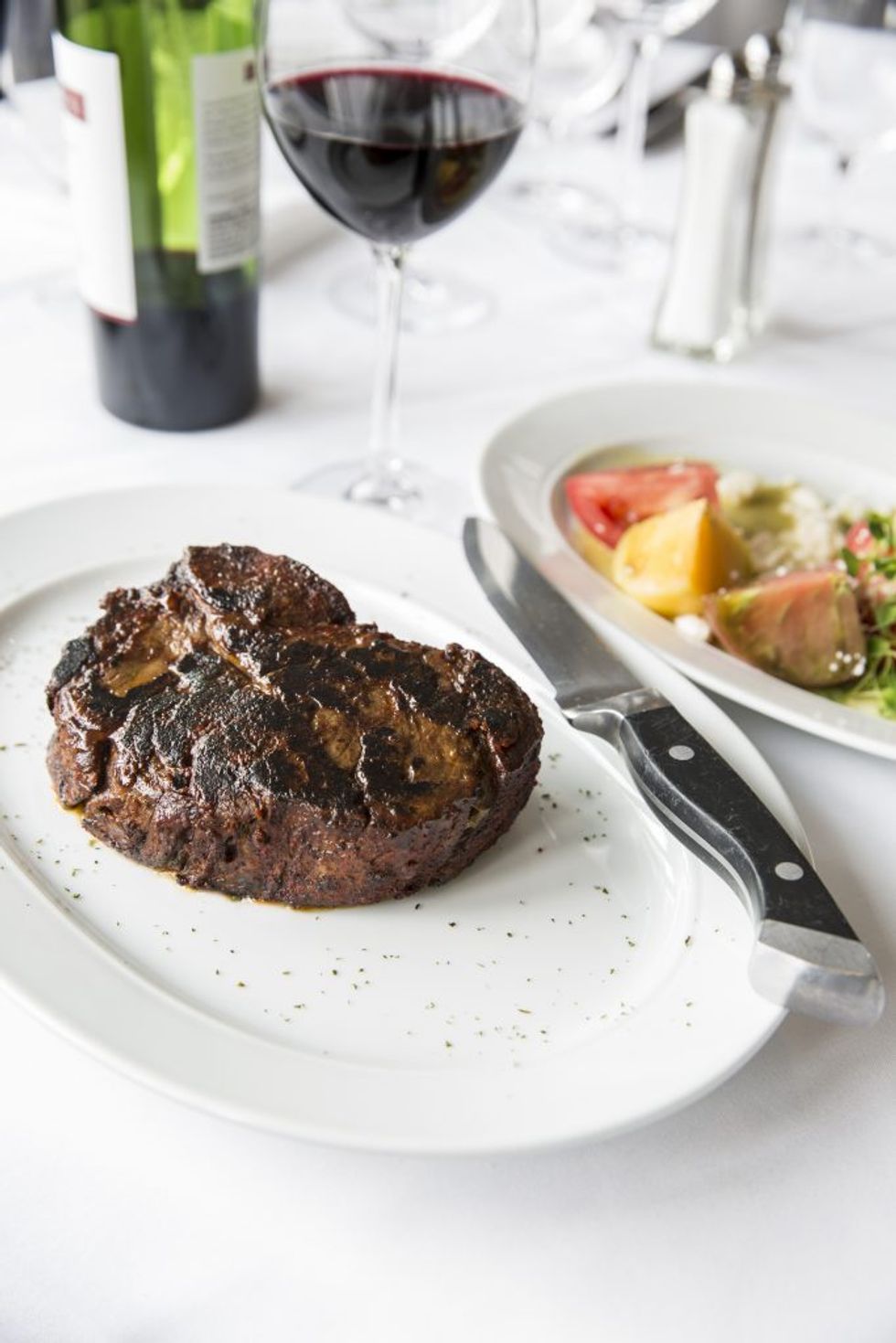 The restaurants prinme steaks and chops are wet-aged 28 days, and are supplemented by sides like the crispy Hasselback potatoes.
The restaurants prime steaks and chops are wet-aged 28 days, and are supplemented by sides like the crispy Hasselback potatoes.
Of course, a great steak demands great cooked sides, and it is here that Steak 48 stands out among the crowd. Consider, if you will, Chef Jeff Taylor's au gratin potatoes — layer upon layer of thinly sliced potatoes, caramelized onions, gouda and mozzarella. Or the spectacular-looking Hasselback potato that appeared on many a table, like a regular baked potato at a glance, but crispy-skinned and salted and segmented for easy sharing, with garlic and truffle butter and chive cream cheese on the side for slathering.
Or, should you want to shoot the moon when it comes to rich decadence (and why not?) it's all about the Alaskan king crab and rock shrimp macaroni and cheese with Tillamook cheddar, provolone and parmesan that, truth be told, tastes even better than it sounds.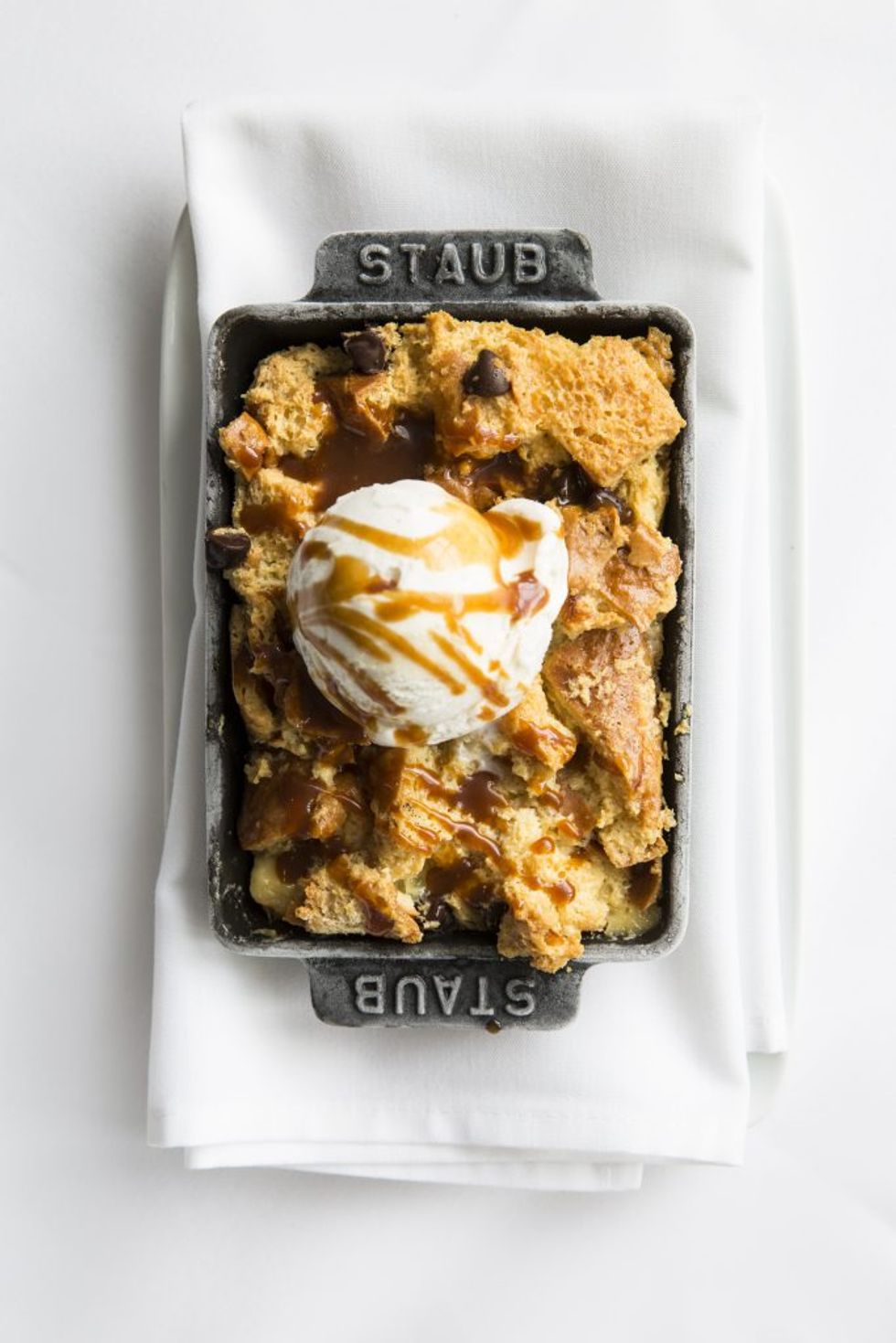 The bread pudding is made with brioche and topped with chocolate chips and vanilla gelato.
Dessert may be the last thing on your mind after a meal like this, but you really mustn't skip the brioche-chocolate-chip bread pudding. Or go for the "ultimate" warm vanilla-caramel cake topped with vanilla gelato, whipped cream and house-made pralines.
It's rare that a steakhouse gets the kind of "buzz" that Steak 48 has already achieved. But in this case it's well deserved. The combination of high-energy atmosphere and top-end cuisine makes it "not your daddy's steakhouse," an appreciated addition to the burgeoning River Oaks restaurant scene.
Food+Travel