Roll Over Beethoven
With a fresh spin on date night — they've got food trucks! — UH prof Rob Smith and his cohorts are making chamber music cool.
Phoebe Rourke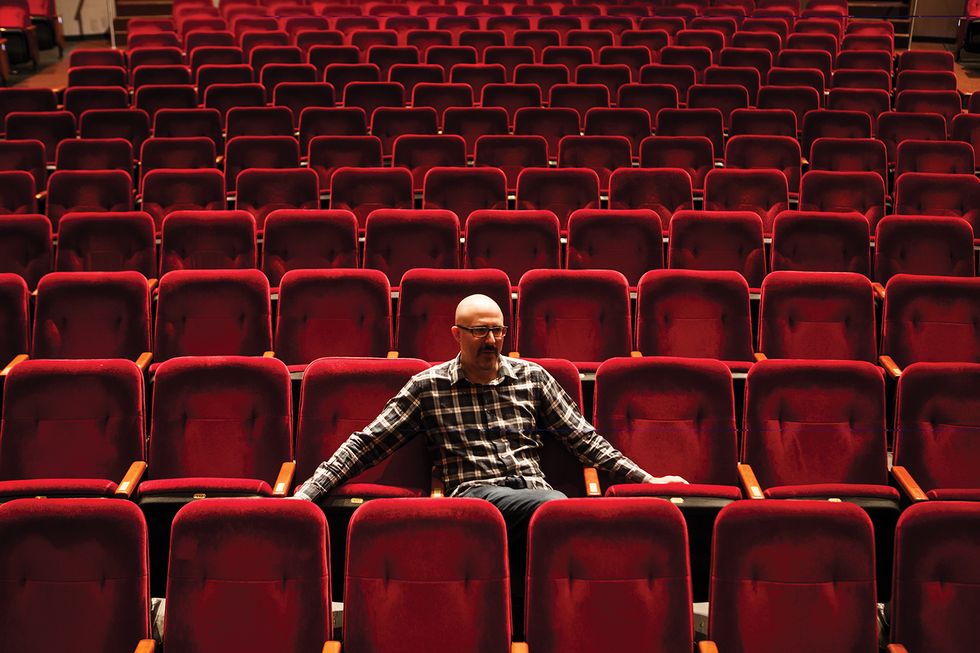 With an apologetic shrug, Houston composer and UH Moores School of Music professor Rob Smith, 49, shifts to make room on his lap for the family dog Truffles, a freshly groomed white toy poodle his pediatrician wife Shea Palamountain adopted from a local shelter. On this late-summer afternoon, Hurricane Harvey still hovers in the Gulf of Mexico, and the longtime musician has less pressing matters than storm prep on his mind. "I don't know about these," Smith says, gesturing to a pair of red bows tied into the dog's hair. (Flooding would narrowly miss Smith's home in Willow Meadows, south of Bellaire, and the UH performing arts facilities likewise would escape Harvey mostly unscathed.)
---
In the living room is a grand piano on loan from the university, and a music stand for Smith's 10-year-old daughter, who plays cello in the Houston Youth Symphony. Scanning the walls, it's hard to miss the Beatles posters.
As a kid, Smith, who grew up in Syracuse, N.Y., got his start as a musician by copying classic-rock riffs on a basic Casio keyboard in his room. After he mastered "Stairway to Heaven," he picked up the trombone and joined the marching band. By the time he graduated, he was good enough to be accepted by the Crane School of Music in Potsdam, N.Y. He made his way grad school at UT, where he received a Ph.D. in composition and won a Fulbright grant to teach in Australia. Finally, he moved to Houston, where his wife was raised, and joined UH.
Today, he unabashedly admits that the joy and energy found in rock and pop songwriting is the main ingredient he feels is missing from modern chamber music. Cue the Lennon and McCartney. "I love the energy of pop music, and I am always looking for ways to infuse that into contemporary classical music," he says.
This open-minded approach to composition keeps the oft-commissioned musician busy traveling, performing and conducting. Smith not only teaches composition and music theory at UH's new Kathrine G. McGovern College of the Arts, which, thanks to a $20 million endowment last year, unified the school's visual and performing arts under a single roof. Smith also directs Moores' professional-level Aura Ensemble. Following in the steps of the Kronos Quartet, the cutting-edge student company specializes in 21st-century composers. Aura will be one of the featured performers at a new, weekly UH concert series called simply Friday at Moores.
Though Harvey forced the delay of the season's first concert, Friday at Moores already had its successful launch with the UH symphony orchestra performing Tchaikovsky. "The idea was to expose audiences to all our different ensembles," says the opera program's veteran director Buck Ross of the series. "In the past, there was really no rhyme or reason to our schedule. Now people will know there's almost always a [UH] show to see on Friday."
Aura joins the Friday at Moores party with its debut performance on Oct. 6. — a multimedia presentation dubbed "Roadshow," featuring music by a variety of composers. Charles Halka is scheduled to attend Aura's performance of his Por la Fuerza las Tierras, which concerns the Mexican Revolution. On the same bill, Smith is excited to present a live performance of Grab It! by red-hot Dutch composer Jacob ter Veldhuis — also known as Jacob TV — that incorporates voices and film of prisoners on death row in the U.S.
"I have something a little bit out of the ordinary in each of my performances," says Smith. Come March, Aura will return to the Moores for an interactive musical mystery, Murder at MOH. Part of the Friday series, the springtime concert will feature stage actress Susan O. Koozin, as well as folk ballads written by Bryce Dessner, a bona-fide rock star who plays guitar with the National.
Other UH ensembles will offer similarly compelling fare on Fridays through April. On Oct. 20, Buck Ross directs students from UH's top-ranked opera program in Prokofiev's The Love of Three Oranges (with four additional performances through the weekend, and one on Monday, Oct. 22). In November, the UH jazz ensemble tackles a suite of songs by Duke Ellington's longtime arranger Billy Strayhorn.
Besides great music, series organizers have another treat for concertgoers: Food trucks will be parked on the nearby plaza, which Smith and company hope will make the concert series a date-night destination for curious culture vultures across H-Town.
"We're a world-class school, but we have not always done the best promoting of what we have," says Smith. "So the idea is to let people interested in music know that there is a place they can go on Fridays, have a bite, grab a drink and hear something great."
AT TOP: UH's Rob Smith and his Aura Ensemble will be among the featured groups at the new Friday at Moores series.
Art+Culture