Tonight: First Two-Screen Rooftop Cinema in the World Debuts in Uptown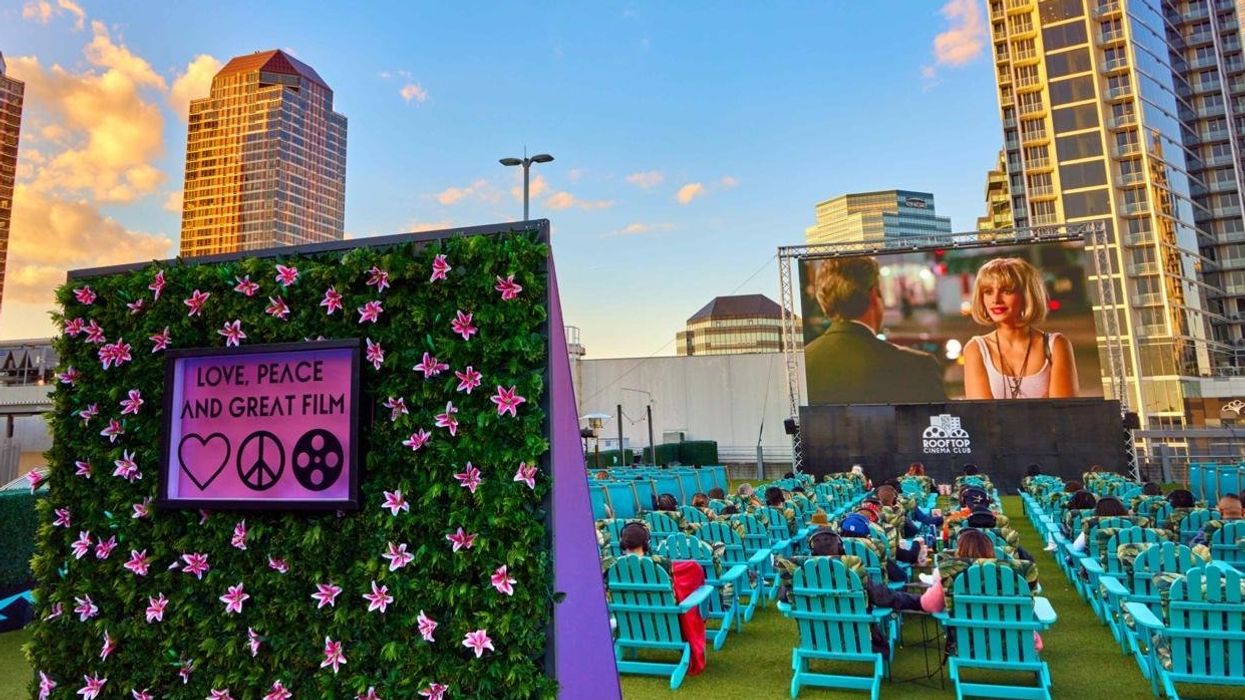 ATTENTION MOVIE BUFFS: Starting tonight, grab a show — or two! — under the stars. Rooftop Cinema Club, the global concept popular for its ultimate outdoor cinema experience, reveals Houston to be the first city in the world with a two-screen rooftop movie theater.
---
"Houston has always been a special place to us, so I am excited to give this vibrant city our first ever installation of a second screen," says Gerry Cottle, founder of Rooftop Cinema Club. "After working on this project for many months, this new development will allow us to bring new content and opportunities to Houston's dynamic entertainment scene."
Cottle is the son of the famous Circus owner of the same name, who took his experience in entertainment with Cirque Du Soleil, Amnesty International, Disney and Girls Aloud and paired it with his passion for film to create Rooftop. The first Rooftop debuted in London and the brand went on to expand in the U.K. before crossing the pond.
Houston's Rooftop Cinema Club is located in Uptown. While Screen 1 operates as a vibrant LED screen, Screen 2 will debut movies via a state-of-the-art DC projector, and films on this screen will start after sundown. This exciting new installation means cinemagoers can expect to see newer releases that are still in theaters within the Uptown program. Tickets are on sale now for Screen 2's opening weekend, featuring a lineup of two 2023 releases, the frightfully goofy M3GAN and star-studded heartfelt comedy 80 for Brady.
Rooftop Cinema Club Uptown's skyline atop BLVD Place will transform to reflect the arrival of the second screen dividing up the venue by Screen 1 and 2. The second screen area boasts 186 seats, and the first screen dedicated area boasts 198 seats. Both areas will have Adirondack chairs and Adirondack loveseats (for two, of course), and share a revamped lounge area where guests can enjoy all the rooftop amenities — lawn games, skyline views, and classic cinemagoers' concessions. Expect snacks, plus an extensive menu of beer, wine, and canned cocktails.
In addition to launching opening weekend tickets for Screen 2, Rooftop Cinema Club Uptown has released its March and April movie lineup for Screen 1 paying homage to momentous moments in the film industry. Anticipate celebrations such as Awards Week, with the most celebrated titles of 2022; Women's History Month featuring films by influential female directors, producers, writers, and artists; Y2K Tuesdays with nostalgic movies that defined the era, and more.
To purchase tickets, visit the website and view the full movie program through April 30. What a fun way to watch a movie!
Art + Entertainment