Star Is Born
Top restaurateur Lee Ellis takes a dive — into the deep coastal waters of seafood-savvy Star Fish. In the Ellis way, this is fun food done well.
Julie Soefer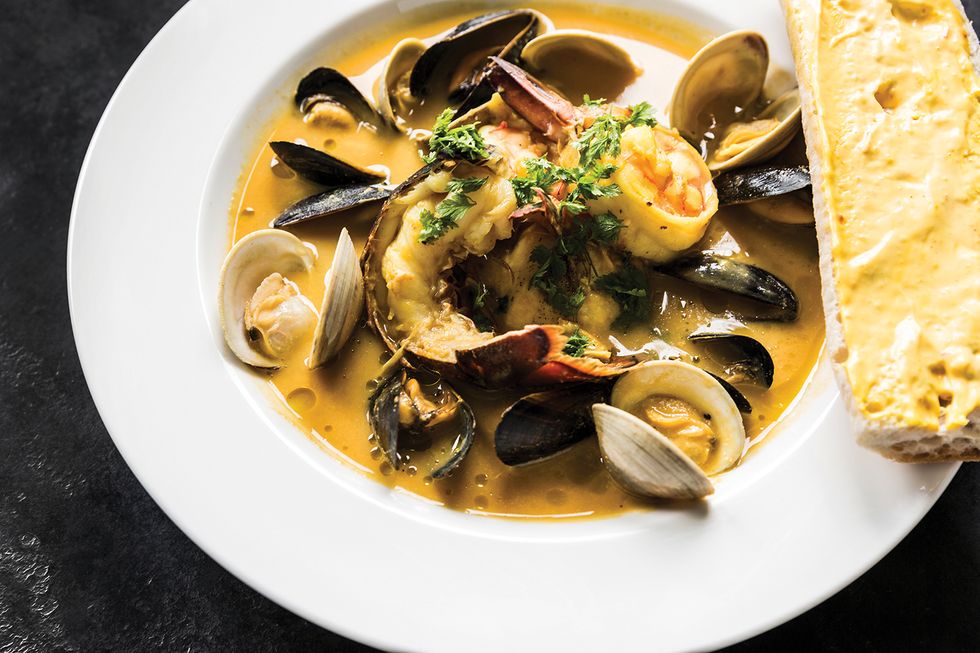 It's good to be a friend of Lee Ellis. One of the most prolific restaurateurs in Houston, Ellis — also a prolific beard grower in the style of the ZZ Top guys, for whom he's sometimes mistaken — loves to introduce friends to his new eateries as they open. And they've been opening at a pretty good clip lately, and they're all pretty damn good.
---
The latest, Star Fish (191 Heights Blvd., 832.831.9820), ostensibly a seafood place but actually just as much a draw for its accomplished artisan bar and several stellar turf dishes that hold their own with the place's surfier selections, follows a string of other openings. At his State Fare Kitchen & Bar in Memorial City, Frito pie is elevated to haute cuisine. His Lee's Fried Chicken & Donuts in the Heights combines the two great loves of many a Southerner's life. Pi Pizza, where you don't have to order a side of ranch because it's baked in with the bacon and other toppings on one signature pie, is at the other end of the same strip center from Star Fish.
In case you missed it, the theme in all of Ellis' restaurants — and the thing that makes his friends and fans so eager to keep up with his new projects — is fun. Previously, when he owned BRC and Liberty Kitchen, he was dubbed the godfather of the comfort-food-chic trend. You could easily get the idea that he doesn't take his menus all that seriously. But coming up with whimsical, often nostalgic ideas for dishes, and then executing them at a high level, consistently, is serious business. And nobody does it better than Ellis.
At Star Fish, the crisp, brasserie-ish space is kind of like the food — thoughtfully put-together with colorful accents. There are white subway tiles aplenty, wide-plank wood-type floors and brightly painted fish and seascapes for decoration. There's a 300-gallon aquarium at the entrance, and a big bar, all mirrors and marble, along one side.
It's the latter, that shiny bar, from which hail some of Star Fish's most officious offerings. The extensive list touts numerous martinis for serious martini drinkers, as in the Oyster Shell number that has vodka, dry vermouth and house-made "ocean water tincture." There's also a whole collection of "Gin & Tonica" — the Celtic Kavanagh has elderflower tonic and "torched" rosemary sprigs — as well as rum-happy tiki drinks. Plus, the wine list highlights bubbles, with nearly 40 sparkling wines.
If the drinks have something in common — clean, bright — that's because they're intended to go well with the meal, which probably ought to start with something from the raw bar. Raw oysters from the Gulf and the Atlantic can be had, and sampled with fresh horseradish, a bracing mignonette and an array of other sauces like Meyer lemon pesto. Oysters also come wood-grilled with butter, lemon and Parmesan.
Other early courses might include the very slightly sweet, crispy-fried-shallot-topped steak tartare meant to be uniquely American in style, a perfect complement to butter-fried (yes, they are deep-fried in butter) French fries.  There's also excellent shrimp and Andouille gumbo — the mahogany roux is rich without being heavy — and a composed vinegary-citrusy Japanese cucumber salad, laden with avocado and lump crabmeat. A shared pasta course is in order, as well; the "garlicky" noodles are just about as simple as pasta can come, spotlighting the fresh, punchy seasoning and the roasted shrimp that get tossed in.
Highlights among the entrees include the whole red snapper, which can come either grilled or fried and which looks at you as you dig in as if to day, it's ok, I get it, I'm delicious. There are also masterful takes on grilled lobster, seared tuna and — another boldly flavorful stew — bouillabaisse. But Star Fish may be most impressive in that even its non-seafood dishes are expert and memorable: the steak frites, which utilizes thick-cut local filet mignon and, again, those decadent fries, is among the best in town. And, speaking of steak, the cauliflower "steaks," hearty slices of whole cauliflower sautéed in lemon butter and made sweet-and-sour with dates and capers, points up a list of inventive veggie sides.
And dessert is a must. Ellis tapped cohort and pal Susan Molzan to reintroduce vintage dishes from Houston's '80s and '90s dining scene. The strawberry "bomb" is a gorgeous shimmery dome filled with cake and cream and covered with glazed berries; the white chocolate bread pudding is what they'll serve for dessert in heaven.
Ellis' quirky, fun style is on ready display at Star Fish, as he proves his sui generis approach works just well at sea as on land. Which, for his grateful friends, comes as no surprise at all.
ABOVE: The bouillabisse, with mussels, clams, shrimp, halibut and lobster 
Food+Travel