Star Man
While astronaut Scott Kelly's new book chronicles his record-setting stint in space, it also celebrates the importance of keeping your feet on the ground.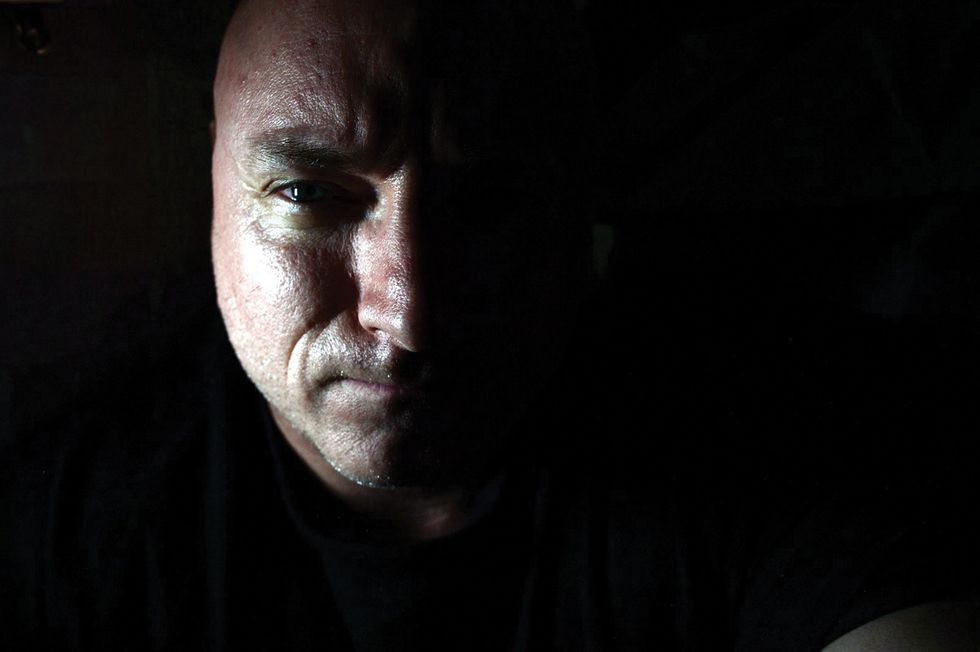 Retired astronaut Scott Kelly shares a Downtown address at One Park Place overlooking Discovery Green with several Houston celebrities. "I hear James Harden lives here, but I've never seen him," says Kelly one Saturday afternoon in mid-summer, sitting at the dining table in his modest apartment. If they were to bump into each other, it would be an odd sight of two very different heroes to Houstonians: "The Beard," who stands a lanky, towering six-foot-five, and Kelly, famously bald and a stout five-feet-seven. "Contrary to news reports, I did not grow two inches during my year in space," he says, referring to his most notable mission, a record-setting 340-day tenure aboard the International Space Station in 2015 and 2016.
---
Kelly, 53, relocated from Clear Lake to the high-rise after retiring from a highly decorated career at NASA in March 2016. The views suit him; after all, Kelly spent more than 500 days in orbit and accumulated more than 18 hours of space walks. His life as an astronaut, and in particular his year in space, is documented in his new book Endurance.
A large glass case holding — what else? — a space suit dominates one wall of his flat. It's the one he wore on his first long-duration flight in 2010 and 2011. That was just 159 days.
Scott Kelly, in a spacecraft simulator in Russia in March 2015, a few weeks before taking up residence on the International Space Station for his record-setting mission
Pulling off the front of the case, Kelly says, "It's still off-gassing and smells a little like space" — a scent he describes in Endurance as something like "burnt metal." It's just one of many surprising facts that Kelly serves up in his memoir; another is that the Russian-made space suit is sealed against the vacuum of space with a couple of rubber bands. "It goes back virtually to when Yuri Gagarin made his first mission. The Russians are ingenious and very committed to the idea that if something works, it doesn't need replacing."
Kelly notes that the suit, which is entered through a zipper in the chest, can be a bit snug. "In the absence of gravity, especially after a year, our bodies do reconfigure and expand. These things can be kind of ball-crushing after awhile."
Speaking with him, a visiting journalist makes the one mistake he'd hoped not to, calling him "Mark," the name of his twin brother. After hearing a quick apology, Scott says: "It's okay, it happens all the time, for obvious reasons." Mark Kelly, too, is a retired astronaut, Houstonian and author. Mark is also known to many as the husband of Gabby Giffords, the former Arizona congresswoman. When Giffords was nearly assassinated in 2011, the news reached Scott in space, which he recounts in the book.
It's just one of the moments that brings the high-flying memoir down to Earth. "I wanted Endurance to give people a sense of what it was really like to live on the Space Station ... to get across that life on Earth doesn't stop for you just because you're in orbit," Kelly says. "In fact, your connection to daily life on Earth becomes all the more important."
Kelly writes lovingly of his partner Amiko and describes the rigors of maintaining an Earth-to-space romance. This ranges from prosaic tasks, like explaining how to connect the speaker to their stereo, to the emotional issues of a long-distance relationship.
At the time of Kelly's final mission, Amiko was working in public relations for NASA, and the couple bonded, in part, by collaborating on social media. They promoted a viral video of Kelly chasing a shipmate while wearing a gorilla suit — and posted photos of different environmental and climate events as seen from the ISS, sometimes against NASA's wishes. "You can see a lot of pollution from space," Kelly says. "[And] from the first time I went up to the last, I could see the deforestation of large parts of South America, smoke from fires across Asia, that sort of thing." Kelly became something of a celebrity for his photos, which won him more than a million followers on Instagram, the moniker "The Kim Kardashian of the ISS" from Stephen Colbert, and another book contract — for a forthcoming album of his photos.
International relations play a part in Endurance, too, as the Space Station is, crucially, a collaboration among the space agencies of Russia, Japan, Canada, Europe and the U.S. Russia is especially important. Since the retirement of its space shuttles, NASA is dependent on Russians to fly Soyuz rockets to and from the ISS. Throughout the book, Kelly emphasizes his intimate relationships with his Russian colleagues. He also describes their preflight rituals — walking past a row of trees, each one planted by previous cosmonauts and astronauts, and stopping on the drive to the spacecraft to urinate on a rear tire of the bus. (Women participate in the latter by carrying a vial of urine to pour on the tire.)
"The Russian references make the book feel very timely," Kelly says, referring to the ongoing controversy surrounding President Trump and suspected Russian tampering with the last election. Kelly is concerned that Russia's leader Putin will retaliate for any new U.S. sanctions against Russia by limiting or ending NASA access to the Russian program. "This would effectively end the mission of the ISS," he says.
As for reaching Mars, Kelly believes that humanity will make it to the Red Planet some day, but it will take a worldwide effort. And though he regrets that he won't make that mission, his hope is that his book will inspire future generations to make the journey. "When I read Tom Wolfe's The Right Stuff as a college student, it changed the course of my life," he says, "and I hope that the same will happen after some young person reads Endurance."
Having already achieved so much, Kelly wants to set one more record, as the author of the bestselling space book of this century. His competitive side is summed up in an anecdote from Endurance in which Kelly confesses, on social media, to struggling with growing some flowers on the ISS. Someone taunted him on Twitter, saying Kelly's "no Mark Watney" — a reference to the horticulture-savvy main character in Andy Weir's novel The Martian, played by Matt Damon in the movie adaptation. Kelly took it as a personal slight and doubled down on his efforts, eventually succeeding in getting his zinnias to bloom.
So it's no surprise that when, upon hearing a passing reference to Chris Hadfield, the Canadian astronaut who became a celebrity after posting a video of himself doing an acoustic version David Bowie's "Space Oddity" on the ISS, and who has since penned several bestsellers, Kelly replies, stone-faced: "Never heard of him. Is he an astronaut?" Then he adds: "Oh, you mean that guy who can't sing?"
Outselling other writers might be a personal best he'll defend mightily. But, perhaps ironically, he's not so concerned about keeping his current title as the American who's spent the most consecutive days in space. "Those kinds of records are meant to be broken. That's why I did what I did … so someone can come behind me and break that record."
Uncategorized