Summer Place
It's summertime in New Zealand, where spectacles of natural beauty are commonplace, and a trio of posh resorts has unexpected Texas ties.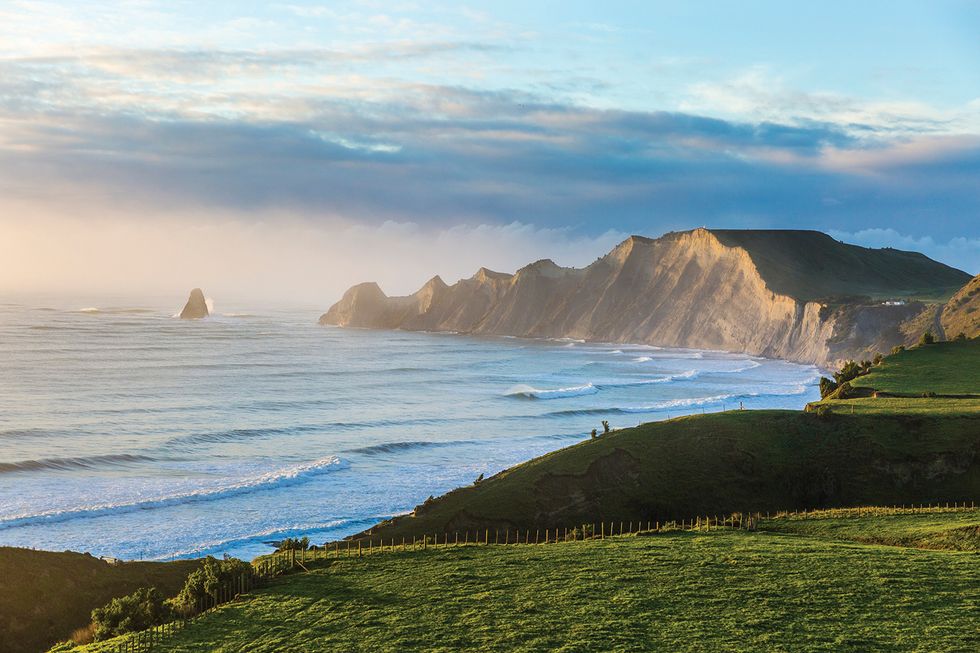 Editors' Note: We might not be able to travel right now, but there's no harm in reading about fabulous destinations! Our piece on all parts of New Zealand a few years back is still one of our favorite travel stories ever — and the gorgeous photographs are everything! Happy dreaming.
---
As the Can-Am, an ATV that seats four, zips up a hillside, an emerald field dotted with puffy white sheep, and glossed with the golden light of the magic hour, appears up ahead along the path. It's the type of pastoral splendor usually reserved for nursery rhymes.
Then, as the driver moves forward purposefully, the scene morphs and grows before your eyes. There's another field rolling into view in the further distance, this one filled with the black dots of Angus cattle. Here, in the 6,000 acres of the resort called The Farm at Cape Kidnappers in Hawke's Bay, on the east coast of New Zealand's North Island, a patchwork of paddocks — a tapestry of land and light — is forming. Your mind tries to decide what to focus on, and you glance upward to find yet more sheep, these strolling an impossibly high ridge, silhouetted against a deep blue sky. Is this even real?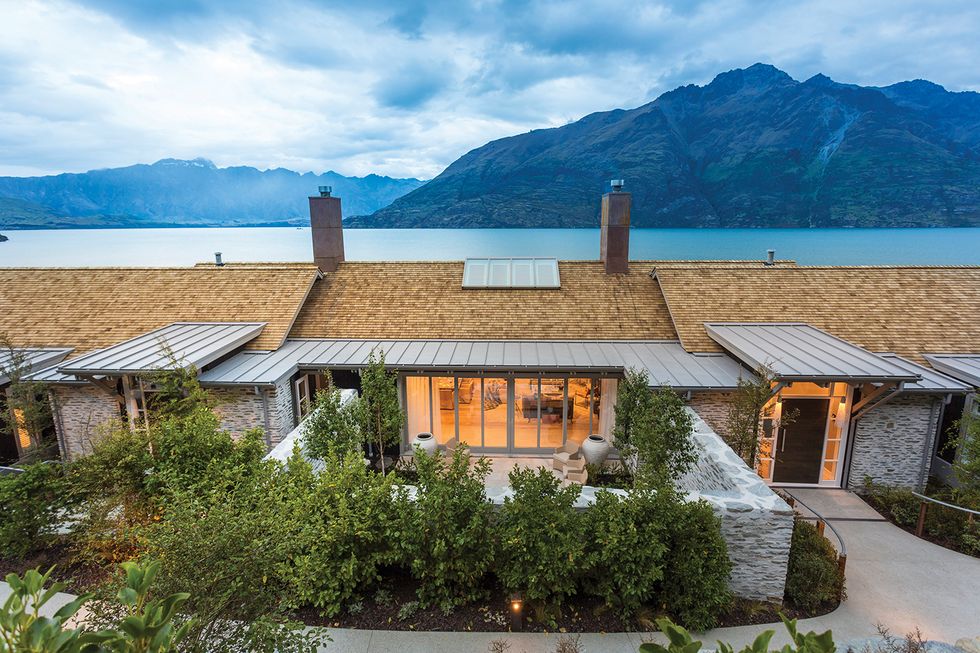 Villas at Matakauri on the banks of Lake Wakatipu, near Queenstown
The buggy rounds a corner, and the whole scene, the sheep and cattle and rolling green paddocks and towering ridges and soaring skies and the lot, is joined by a small inverted triangle of even darker blue, a glimpse of the sea, framed on the edge of perception, at the end of the road, with steep mountains on either side and heaven itself above. It's the Pacific, and now the driver, Stan, is racing to it, eagerly, aggressively, and that glistening, watery triangle is growing, filling the horizon, as he goes.
Suddenly you realize that now you're in that sheep's meadow you'd previously observed from far away, whizzing through as sheep dart quickly across the path before you, but not as quickly as the rabbits, hundreds of them, scampering in all directions, roused by the whirring motor.
At last, Stan stops, at the edge of a cliff perched above the ocean. The world is mostly still, and the vista remains constant, an endless shimmering tide.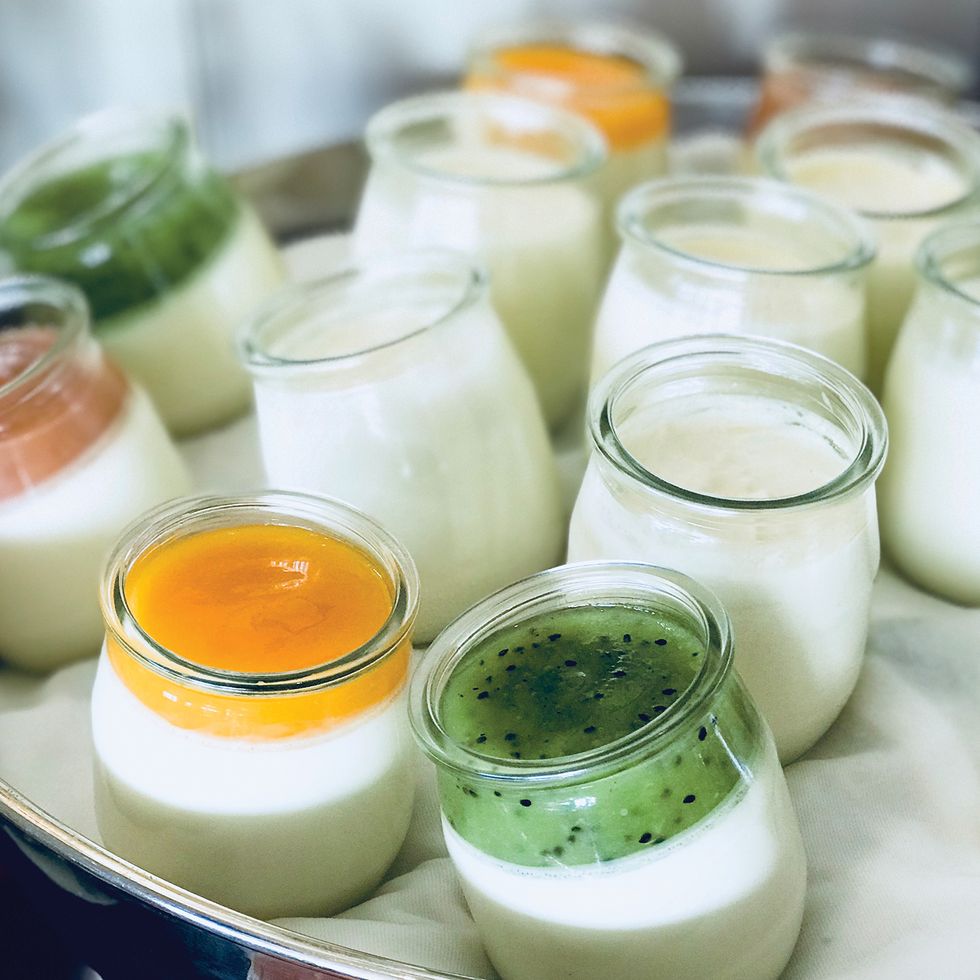 Yogurt with kiwi-fruit puree at Kauri Cliffs
Then you get it, after beholding one magnificent wonder after another, as they present themselves in rapid succession. New Zealand isn't about seeking out a beautiful moment in a perfect spot. It's about immersing in layers of epic beauty and accepting that it's become your home. For a while.
It should be said that Cape Kidnappers may just be uniquely gorgeous, even by Kiwi standards. It's one of the mega-luxury resorts that senior American hedge fund multibillionaire Julian Robertson, 85, owns here. They are large properties in terms of acreage, but pointedly intimate, with room for just a few dozen guests at a time. Accommodations are villa-style and posh at all three, with over-the-top "owner's cottages" for the Robertsons at each — which can be reserved when the family isn't on property.
As it happens, Robertson is from North Carolina originally. His late wife Josie, who collaborated with world-class interior designers in decorating the resorts, grew up in San Antonio.
Kidnappers celebrates two of Julian's passions — golf and conservation. The golf course, much of which is situated on cliffs over the ocean, is consistently ranked among the best courses on Earth. And the conservation ethos here, which aligns with a similar preoccupation shared by all of New Zealand, is even more impressive.
The property, which sits inside the country's largest animal sanctuary, is an active participant in efforts to restore bird species infamously lost to or threatened by predator pests like possums and stoats introduced to the island by European immigrants in recent centuries. There's an 8-foot fence that runs nearly seven miles around the property to keep the little beasts out. Of chief concern is the awkward little endangered Kiwi, a flightless, nocturnal bird with a long beak and brown feathers that actually look more like fur.
In one of the most unique resort activities anywhere, Kidnappers guests can go out into the sanctuary with a scientist-guide, in search of rare Kiwis to hold for a moment. The guide uses radio antenna to find faint pings emanating from transmitters attached to the birds' legs. One recent group found a bird the staff had named Mr. Pitt (as in Brad, because he's so cute) sleeping under a pile of pine needles in a darkly shaded forest.
Kiwi hunting, as it were, is only one of the fine-feathered exploits here. The Cape is also home to the largest mainland Gannet colony in world, and guests are welcome to walk among the beautiful white sea birds. The Can-Am driver can get you there.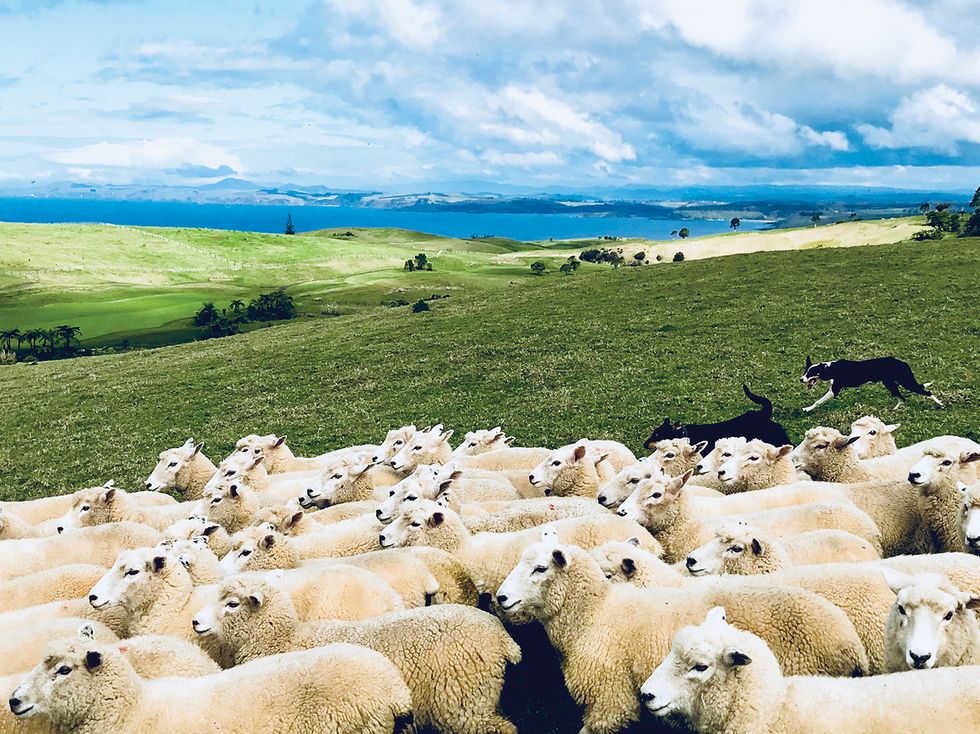 Running with the sheep at Kauri Cliffs
Back at the lodge, less exotic pursuits are also lovely. The spa, white-on-white and farmhouse-chic, uses simple blue-and-white quilts — and the odd Picasso sketch — as wall art. And dining truly is an experience.
At dinner, gentlemen must wear jackets for an evening that starts with canapés and cocktails and ends with lamb-savvy tasting menus in an atrium-style dining room that, naturally, is fixed upon a meadow atop a mountain hovering above the sea. Local wine pairings are a must, as Hawke's Bay is one of the country's most important emerging wine regions; Julian Robertson himself owns a winery nearby.
The warmly rugged environs in the restaurant — and in the suites, where white barn doors lead to bathrooms with tubs boasting views of hills cascading down to the water — might seem familiar. That's because the interior designer is an American, from Aspen.
For its part, Julian's resort to the north, near the top of the North Island, offers its own portfolio of memorable moments. Kauri Cliffs lodge, also a vast working sheep station of storybook wonderment, was the magnate's first venture in the country, its main lodge favoring a plantation house, and its golf course also reputed to be among the world's best.
Helicopter tours are available, over the region's waterfalls and fruit farms and verdant volcanic islands off coastlines that, in places, glow red with unique seasonal algae. So are picnics on private beaches, one of which is covered not with sand but rather tiny bits of rose-colored shells that give the whole affair a fantastical pink sheen. But simply milling about the grounds, where you might cross paths with pheasants and partridges on your way to see a huge, prehistoric kauri tree might be adventure enough for some.
Unique among Julian's New Zealand resorts is his most recent acquisition, the smaller and more youthful Matakauri lodge on the South Island. This is the area made famous by the Lord of the Rings films that were shot here, among its fjords and crystal clear deep-water lakes and its clusters of stunning sharp-rising mountains, one of which is aptly known as The Remarkables. The very slightly mod-leaning lodge plants itself firmly at the base of it all, with picture windows aplenty that frame it up like postcards.
Besides having a hopping little city nearby in Queenstown, where the Botswana Butchery restaurant serves tiny New Zealand-delicacy whitebait fish in olive oil with chilis and garlic, and the Bunker bar boasts a surprisingly sophisticated James Bond theme, this is also the birthplace of bungee jumping. Outdoor activities, particularly adventurous ones, are big. A white-knuckle drive up Skippers Canyon Road is fun, as is tooling around the quirky little gold-rush mining village of Arrowtown, a cone of honeycomb-flecked Hokey Pokey ice cream in hand.
And alighting at Matakauri at the end of it all provides one last moment to hit pause, to take a breather from the endless loop of sensational scenery that defines New Zealand. A sip of Sauvignon Blanc, a last look around. A quiet toast to a thrilling ride.
Food+Travel