The Naked Truth About H-Town Burlesque: 'They Come for the Girls, They Stay for the Rex Nightly'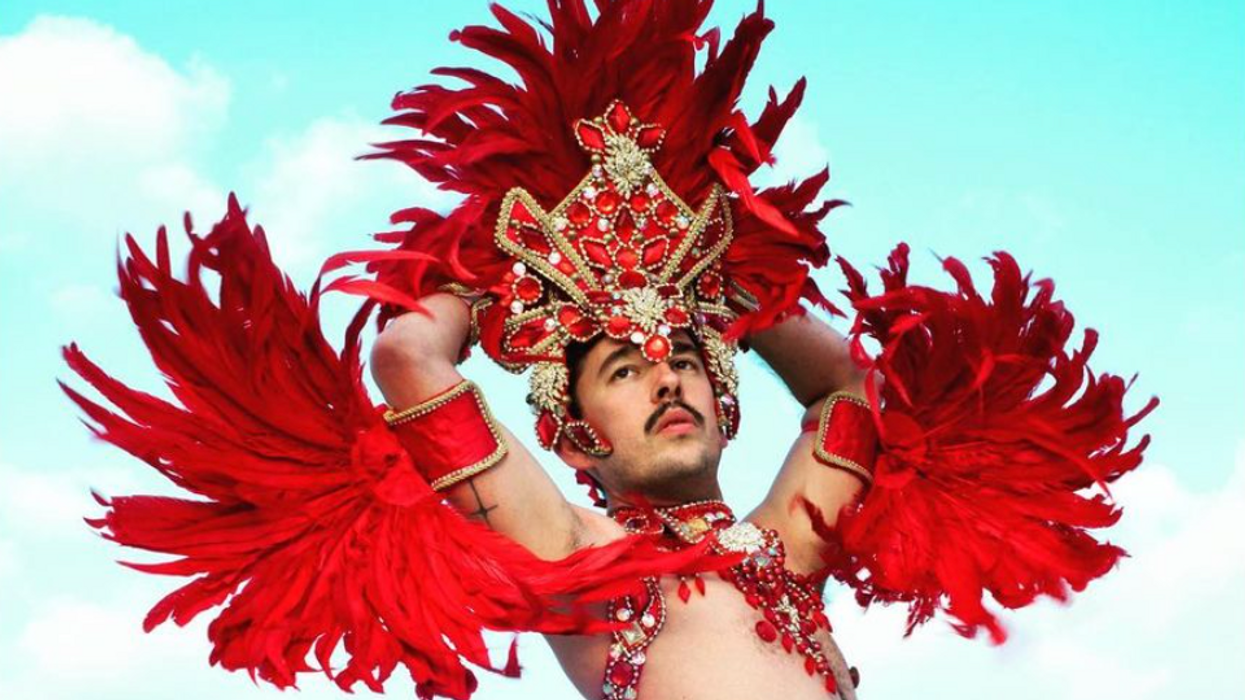 LAFAYETTE, LA-REARED "boylesque" performer Rex Nightly — who goes by his given name of Tyler Watkins when he's not titillating local crowds by the flamboyant and carefully choreographed removal of his clothing — spent the early part of the pandemic building a person-sized and fully openable and closeable clam shell.
---
His new, yet-to-be-debuted burlesque prop, built from materials foraged from Montrose's famously reliable Southland Hardware, is something that maybe everyone needs but doesn't necessarily realize they need until a once-in-a-century pandemic breaks out? "It's kind of metaphorical if you think about it," laughs Watkins, who was first introduced to Houston at age 16 when he moved here by himself from his native Louisiana to enroll in the Humphrey's School of Musical Theatre at Theatre Under the Stars. "The pandemic was hitting, and I was just building this giant clam shell around myself."
Although a post on Watkin's Instagram shows him posing coyly, decked out in a merman tail and gossamer strings of pearls, inside his equal parts lustrous and lusty papier-mâché shell, the boylesque performer is more used to coming out of his shell than staying in one.
Before the pandemic hit, Watkins was performing three days a week — three shows on Fridays, two shows on Saturdays, and one on Sundays — at Downtown's Prohibition Bar as a member of the bar's famous, mostly female burlesque troop The Moonlight Dolls. It was a pretty sweet gig, remembers Watkins, who started with the troop as a dancer before becoming a host of their shows — which eventually grew into a position requiring him to bare more than just his soul while onstage every night.
"It was so cush," he remembers. "They eventually started bringing more boylesque in and started liking what I was doing more, and they said that they felt like the audience wanted me to take my clothes off. So they started adding in more strip-tease numbers for me. But then the pandemic hit and spoiled everything."
Like many burlesque performers, Watkins journey to the artform was meandering, but once he finally tried it out, everything clicked into place.
After leaving the drama school at TUTS at 18, Watkins moved to New York City, where he lived for four years while doing work in regional theater. But he eventually tired of the hustle of trying to make ends meet in a city that can offer as much anxiety to its residents as dazzle. "It was fun, but I didn't get to really experience it in a non-stressful way," he remembers. "I was always dashing to an audition or trying to make money. I eventually left and decided I was just going to go chill back in Lafayette."
Watkins enrolled in adult ballet classes after his return to his hometown and he was eventually approached by someone during one of his classes about auditioning for a local burlesque show. Although he had never done burlesque before, his background in ballet, gymnastics and musical theater gave him the leg up — quite literally — that he needed to land the starring role of Peter Pan in the production.
"It was the moment I fell in love with it. That whole experience helped me realize how much I loved burlesque," he says, noting that the experience inspired him to continue with burlesque after moving back to Houston, where he's been now for seven years. "When you're doing musical theater and stuff like that, you're recreating certain roles that already exist, and you're expected to do it a certain way. With burlesque, it's more of a blank canvas. You kind of get more control of what you're doing.
"I've also always been a bit of an exhibitionist," he offers wryly, "so it went hand in hand with that."
Now that the pandemic is petering out, Watkins, who supported himself during the pandemic by working at Montrose adult-fun staple Erotic Cabaret, is starting to ease his way, one pastie at a time, back into Houston's burlesque scene.
He's just signed on with local burlesque star Valentina J'adore to host and co-produce a new '80s-inspired brunch show called "Risque Business" at recently opened '80s-themed bar Hungry Like the Wolf (920 Studemont St.). And he is also in the midst of planning a boylesque show featuring an all-male cast that he wants to debut sometime this June.
He's eager to mark the official return of his Rex Nightly alter ego after over a year spent off the stage. He's also excited about trying out that new clam shell that he spent much of the pandemic carefully constructing.
"A lot of people want to do burlesque, but they're unwilling to put in the work that goes with it," winks Watkins. "I remember a director once saying, 'They come for the girls, they stay for the Rex Nightly.'"
Art + Entertainment