The Outlaw From Iceland
He conquered the fringe stages of Reykjavík, and then its City Hall. Now quirky performer-turned-politico Jón Gnarr has begun chapter three, as a writer and teacher in Houston.
Phoebe Rourke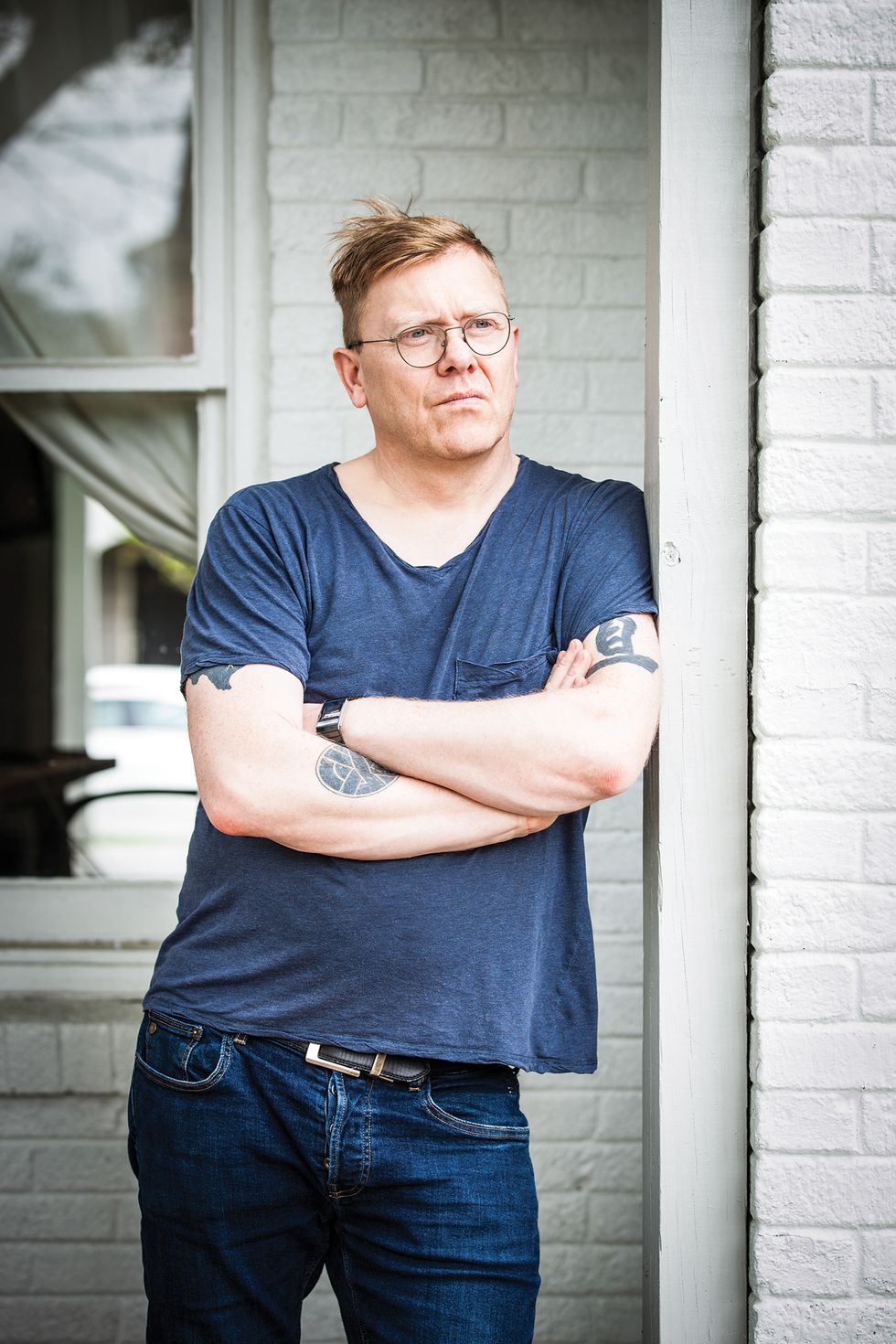 If one were to scour Texas a la Carmen Sandiego, looking for Jón Gnarr — the Icelandic actor-comedian, cross-dresser, punk-rock musician and one-time mayor of Reykjavík — that person may think Austin would be the obvious place to go. But here he is, sitting on the patio of Black Hole Coffee House near his rented home in Montrose on an unseasonably warm February day, looking a little glum, and sipping a Topo Chico. Gnarr, who's living in Houston for the second time in three years, shoots a dirty look to the workers nail-gunning another new townhouse together across the street. "I love this city, but the one thing I forgot about it after being home for a year, was the incessant noise. Iceland, by comparison, is so quiet."
---
So how did Gnarr get here? His obsession started when he realized the first person who followed him on Facebook was a Texan (someone he later met by sheer coincidence in the Faroe Islands). Then he signed on with Deep Vellum Books in Dallas to publish translations of his trilogy of "fictional memoirs" about his wayward youth in Iceland: The Indian, The Pirate and The Outlaw, which is released in English this month. So, when an invitation came in 2014 from Rice University to be a writer-in-residence, Gnarr took a chance on Texas.
At the time, he told Vice News he always thought of the state as "a bit like Mordor, or something." And Texas didn't disappoint. "Houston is a vibrant city — one that is beautiful in its ugliness," he says. "It's a toxic town. America's engine, the dirty little secret no one wants to talk about."
Gnarr spent the first half of 2015 in Houston. He hung out at Athena Gun Club, saw a cougar on his block, developed a fondness for Buc-ee's, turned down offers to run for president of Iceland, and scripted an Icelandic TV show called The Mayor, in which he starred. Last year, back home in Reykjavik, The Outlaw generated controversy for scenes depicting a gang rape and abuse at a state-run school. "People don't want to believe that those things happened in Iceland, but they did," he says. It was so stressful that Gnarr, normally gregarious, hardly left the house and leapt at the opportunity to return to Texas, this time to teach screenwriting at UH, which he's been doing since January.
For Gnarr, who brings his wife and 12-year-old son with him to Houston, the city is becoming a second home. Depending on the teaching opportunities he's offered, he and his family would like to spend half the year here for the foreseeable future.
And while twinning Reykjavík and Houston may seem absurd, absurdity is Gnarr's milieu. It might also make a certain amount of sense: Iceland is infamous for going through boom-bust cycles (the 2008 crash is what got him elected to city hall) and the island's geothermal power is its single biggest resource. The biggest difference is one of scale. Houston has many millions of people; Reykjavík has 120,000 — and Iceland itself? Just 320,000. It's so small and cozy and interconnected that there's an app you must use when you meet someone to see how closely related you are before you, well, get even closer.
One gets the feeling that Gnarr appreciates Houston's own brand of weirdness — he's currently helping a small group of students write a five-episode TV comedy, set in part at the Galleria — as well as a bit of relative anonymity and space to think for himself.
"What can I say," he says with a shrug — and a gesture that shows the dueling tattoos on his arms: the state of Texas, with Houston indicated by a star, on his right, and the crest of the city of Reykjavík, on his left. "I really like it here. I really, really do."
Art+Culture