The Tao of Chic
In its first foray into the continental U.S., oh-so-buzzy Yauatcha matches contemporary teahouse environs with an elevated dim sum menu. This is not dumplings as usual.
Kirsten Gilliam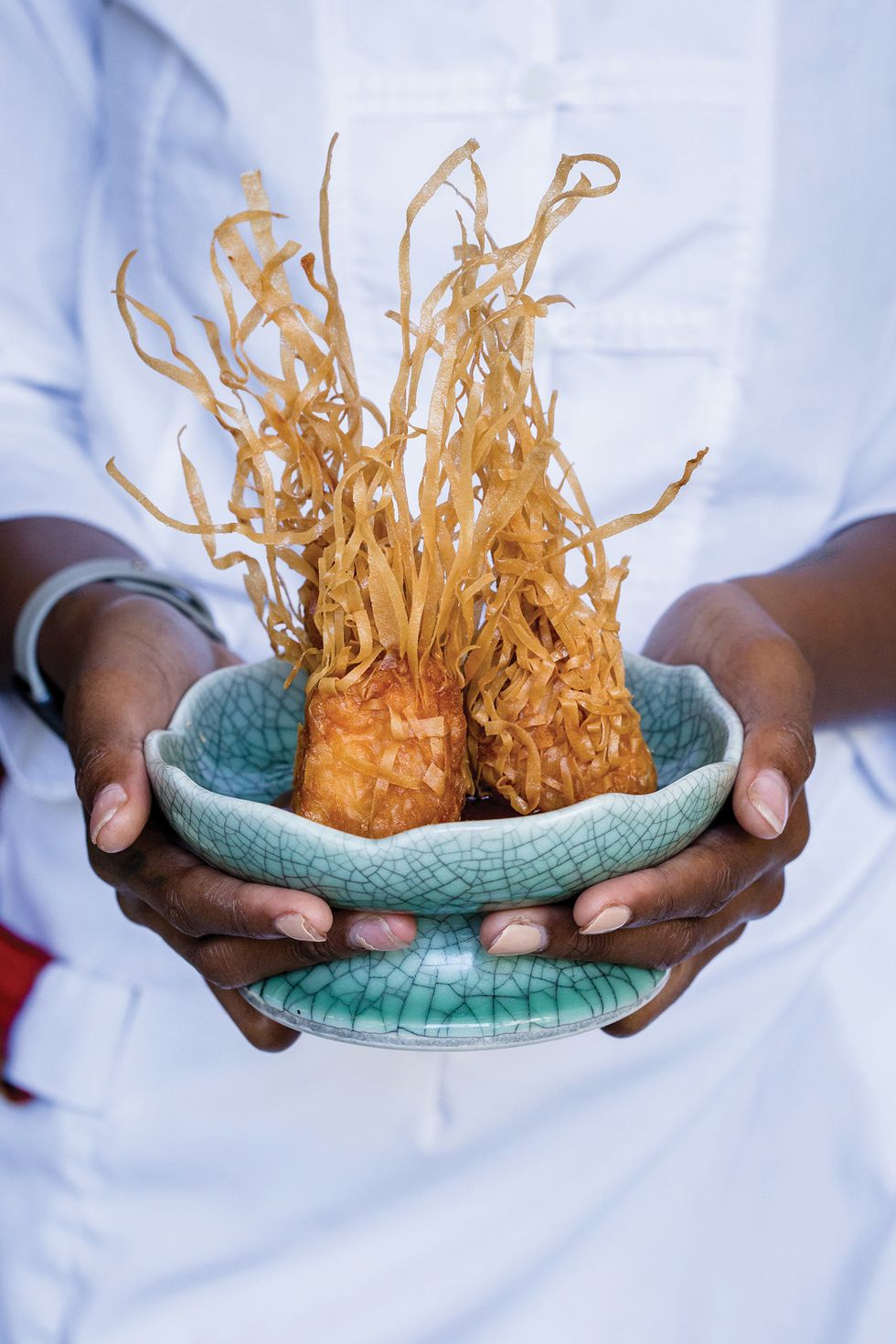 Forget the rickety rolling carts. Forget the kids. Forget counting plates and spilled green tea. Forget what you think you know about dim sum.
---
This one is for the grownups.
Launched in London's Soho area in 2004 and boasting locations in India, Saudi Arabia, and Waikiki, the Michelin-starred Yauatcha has chosen Houston's Galleria as the site of its first venture on the U.S. mainland, sending in Chef Ho Chee Boon and Executive Pastry Chef Graham Hornigold from London to oversee the kitchen.
One can see Yauatcha as a modern take on a traditional Chinese dim sum teahouse, combining classic elements with those unique to Yauatcha, all says Chef Boon, with one goal in mind: serving the best dim sum possible using only the finest ingredients.
Lofty goals. But darned if they didn't deliver.
At Yauatcha, an elegant teahouse exterior opens up to a stylish traditional-meets-modern interior. Picture a lounging-dining area with dark walls and a ceiling lit with twinkling stars, and with banquettes embroidered with cherry blossoms. Picture a larger, brighter dining area with bars on either end — one offering up a wide array of cocktails, including many made with tea, opposite a counter that gives diners a close-up look at the skill and artistry that goes into making their dim sum.
Drinks are divided into three groupings: "Old Friends," listing classics like the Nashi Momo (Grey Goose vodka, peach liqueur, pear, lemon, coconut and guava) and other drinks served at all of Yauatcha's locations; "New Friends," made up of drinks like coolers and tequila cocktails designed with Texas in mind; and a third, "Lucky Friends," made up of luxury drinks for when you're feeling particularly indulgent. The latter includes such tantalizing offering as the "Elemental Fashioned" — El Tesoro reposado tequila, vanilla, burnt caramel, cocoa nib, sour cherries, aromatic bitters, and … sandlewood smoke. There is also wine and beer, of course, as well as more than 40 different kinds of tea.
Two drinks of the alcoholic variety from the "New Friends" list go particularly well with the food. The crisp and refreshing Gin & Tonic 2.0 is Plymouth gin, ginger liqueur, cucumber, yuzu, green apple, tonic and cucumber "Collins" (it's capped on the menu) poured over ice made with cucumber juice to enhance the drink without watering it down. And the Ginger Smash has Virginia Black whiskey, ginger, cardamom, vanilla, lemongrass, lemon and ginger beer.
As with the drinks, the food menu is a mix of Yauatcha's best dishes from its global kitchens and Houston-only originals. Signature dishes from Yauatcha in London, including classic dumplings and steamed buns, all make appearances. "The most essential dim sum," says the chef. The popular spicy shrimp salad with bamboo shoots and "cloud ear" mushrooms also appears.
There's a lot to choose from. But the menu is well organized, which helps. Also, there are several set menus to choose from that will give you a taste of all that Yauatcha has to offer. If you're venturing out on your own, however, don't miss the crispy duck salad, great as a shared starter or a terrific lunch for one. Tender roast duck and pieces of its crispy skin combine with lightly dressed greens and pine nuts, plus pomegranate for little bursts of sweet and pomello for little bursts of tart.
Shui mai normally contains pork or seafood; in this case, the dumpling's  delicate skin is wrapped around one perfect and perfectly cooked scallop that needed just a drop of soy to make it complete. A meltingly tender cheung fun noodle filled with prawn and crispy tofu combines soft and crunchy and savory all in one bit — a standout. And the pumpkin puff — the dough has pumpkin in it, and is shaped to look like an actual pumpkin — is stuffed with duck and tastes like Thanksgiving.
Yauatcha's dim sum selections are the obvious stars of the menu (and rightfully so) and one can easily make a meal of these little packages of deliciousness alone. But if you want something more entrée-ish, nicely cooked slices of Chilean sea bass with a sweet and slightly spicy glaze will do fine. Although, truth be told, the spicy eggplant — with sato beans, okra and long beans with peanuts — is even better.
Desserts are very much in the modern French style: Think a tropical fruit dome over a  coconut dacquoise layered with passion fruit and pineapple filling, or a chocolate brownie drizzled with caramelized white chocolate You're going to want to save room for dessert.
Houston has seen its fair share of high-buzz dining destinations in the past couple years — but a sceney spot with crispy duck salad and soup dumplings is especially worth a visit.
Food+Travel