Turning the Tides
It may seem unassuming and down-home, but the food at the Heights' new Field & Tides — an homage to the region's lands and waters — is cleverly conceived, delicious and fun.
Shannon O'Hara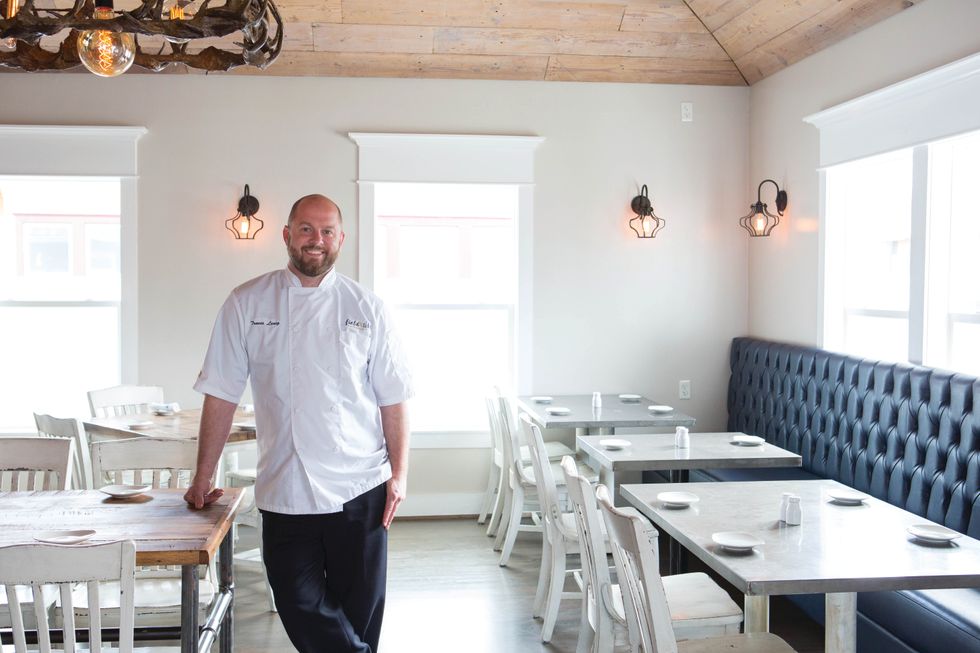 Imagine if you will the ideal neighborhood hangout. A comfortable room with oak tables and well-worn whitewashed chairs along with a few comfortable banquettes. Lighting fixtures featuring antlers and exposed bulbs. Wine-crate paneling wrapping a bar with a welcoming copper-top bar manned by bartenders who know their craft. The kind of place that has food you want to eat on a regular basis, food that all makes sense and tastes good, and filled with locals who've come to enjoy it.
---
Field & Tides, the new Heights restaurant opened in the former Zelko Bistro by Chef Travis Lenig, previously of Liberty Kitchen is just such a place. Its straightforward menu reflects Lenig's culinary roots — Southern, Italian, French and Asian — with the "Field" portion of the name derived from his passion for locally sourced vegetables, pork, poultry, beef and game, and "Tides," of course, from locally sourced seafood, primarily from the Gulf.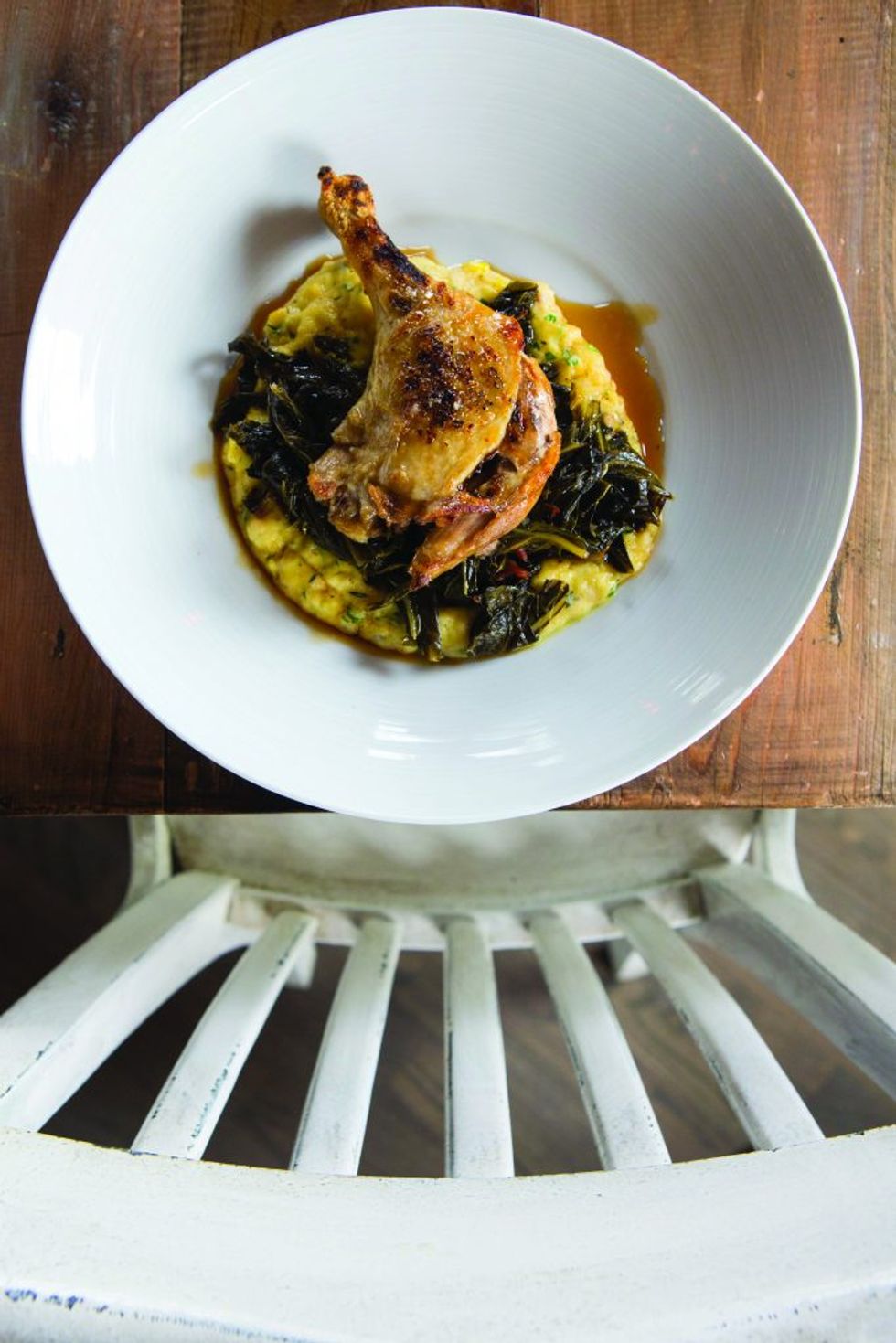 Field & Tides' duck with corn pudding and bacon collards
And speaking of the Gulf, while they're still at their best, start with the crispy fried oysters and Brussels sprouts; the oysters miraculously plump and juicy in their gossamer cornmeal crust play marvelously well with the fried Brussels sprout leaves and a spicy-sweet Asian-style glaze. Or, go for the appetizer that everyone is already talking about — house-made pimento cheese fritters, which take the concept of fried cheese sticks to a whole new and much more distinctly Southern level.
Also highly recommended is the tomato and crab stack, also a direct salute to Lenig's Southern roots. Warm crunchy fried green tomatoes get topped with huge lumps of sweet crabmeat, a little arugula for its peppery bite, all glorified with a Steen's Cane Syrup vinaigrette. The combination of flavors and temperatures and textures here is something you'll find yourself craving long after you've cleaned your plate.
To sip along with the first course or two, I'd suggest one of the nearly 30 beers from a thoughtful selection. Or perhaps try a cocktail such as the El Vaquero with mescal, a mist of green chartreuse and foamy egg whites.
Among the entrees, Lenig's signature dish would have to be the pan-seared scallops served atop a bed of creamy shrimp-and-crab risotto, with chive beurre blanc to finish, but then again the venison is particularly unique. The latter, classically served with red cabbage and a bourbon peppercorn demi glace, is accompanied by poblano mashed potatoes. Clever combo. And the flounder is also first-rate. A massive serving, the fish gets a crunchy yet light pecan crust and some tasso butter for dipping.
By the way, vegetarians can find much to love at Field & Tides as well. The potatoes and peppers — Guajillo chiles and sweet potatoes cooked with sweet peppers, creama and queso fresco — is actually enough to satisfy even the most diehard carnivore.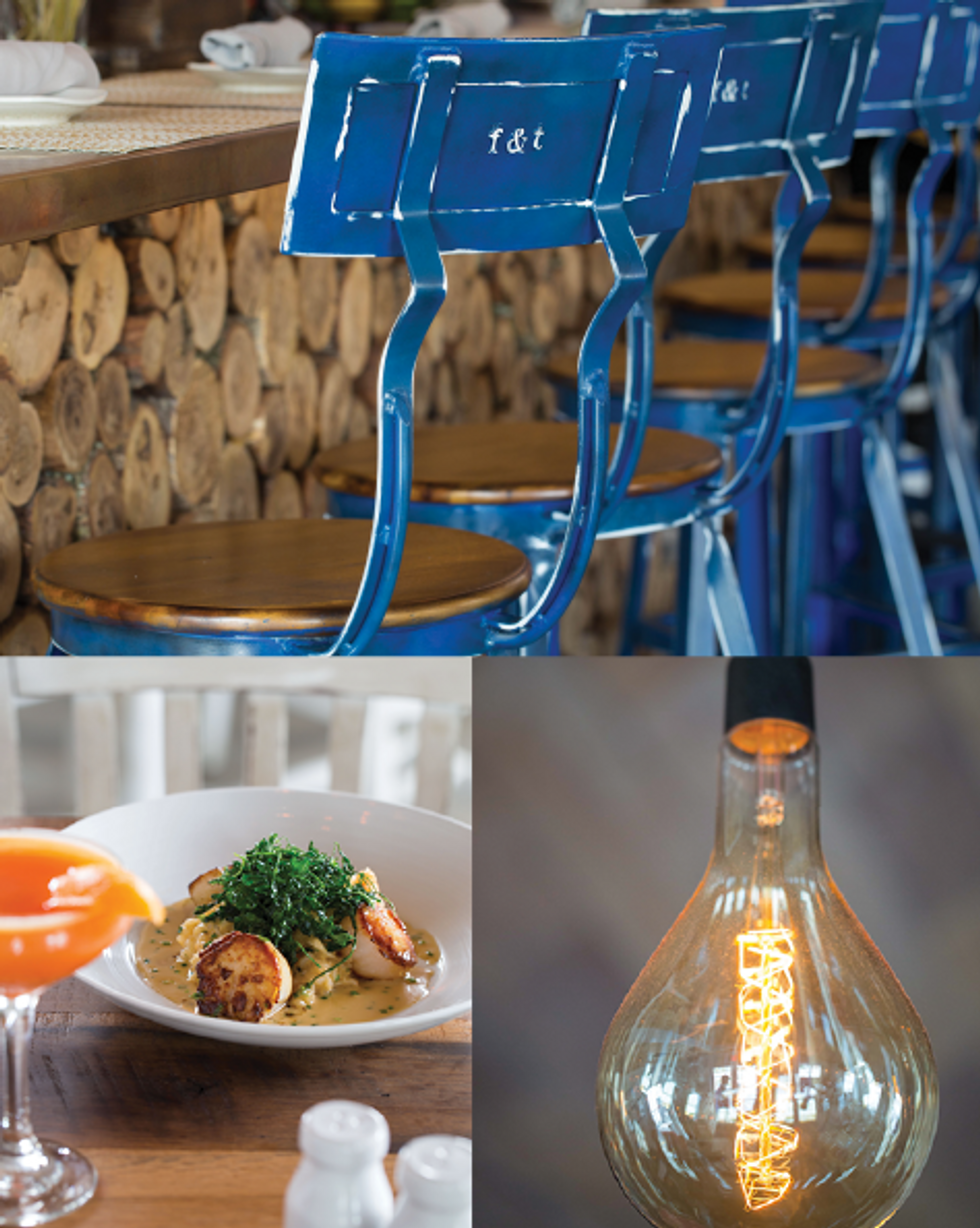 Clockwise from top: Rustic-chic touches at Field & Tides include bright-blue bar stools and exposed Edison bulbs; pan-seared scallops with shrimp-and-crab risotto.
Desserts are made in-house and live up to the high standards set by the rest of the meal. The Chocolate Alabama Stack cake and the pineapple upside down cake are both stellar, but it's the strawberries and cream that exemplifies everything that's great about this place. Mascerated strawberries. Vanilla crème fraiche. Shortbread. And a basil syrup that shouldn't work but absolutely does. As with so many dishes at the unassuming, neighborhoody place, the ordinary becomes extraordinary.
And, as a fun, appropriately down-home bonus, the strawberry dessert is designed to be eaten with your hands: Pick up one of the shortbread cookies on which everything else is piled and go for it!
Top Photo: Field & Tides chef Travis Lenig
Uncategorized