Van Leeuwen Ice Cream Bows in Montrose with Wild New Chef-Driven Flavor — You'll Go Bananas!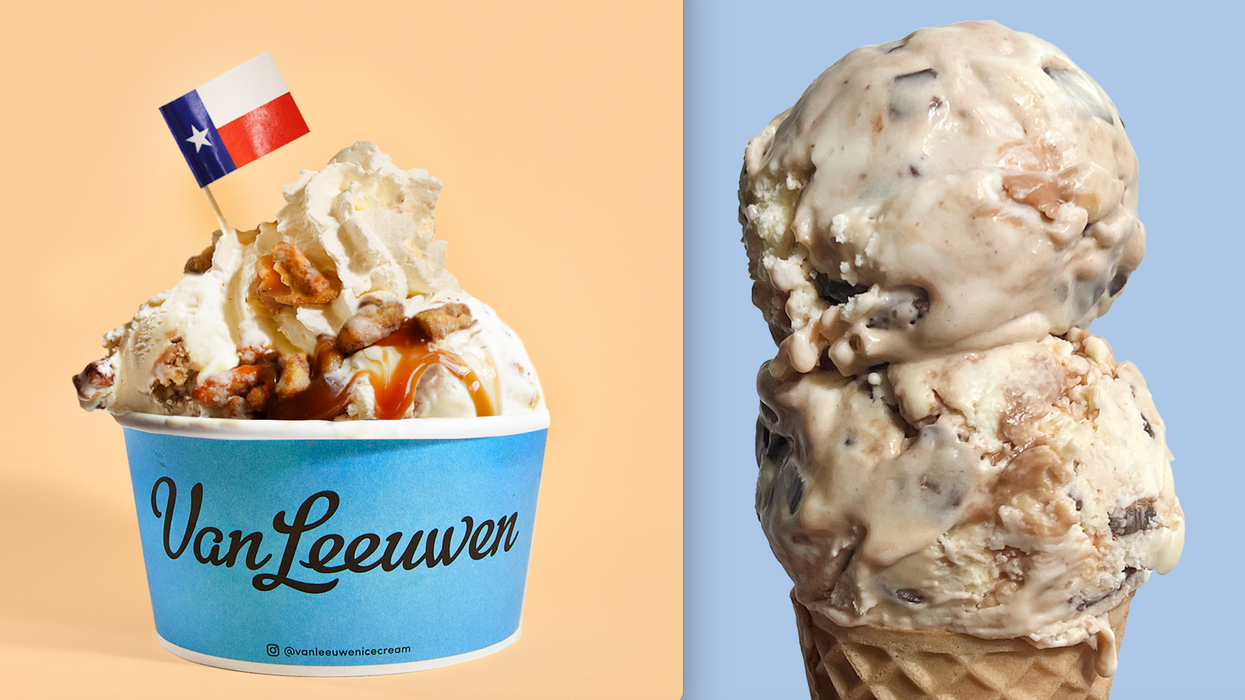 NOW THAT THE sun is finally shining, we can start screaming about ice cream. Van Leeuwan Ice Cream is continuing its expansion by scooping up hot spots around Houston. The latest opening, and the first food establishment in the new Montrose Collective, includes a collaboration on a new flavor, Bananas for Cheese, with Masterchef winner Christine Ha. Chef Ha, who is legally blind, was recently picked as a Best Chef (Texas) semifinalist with partner Tony J. Nguyen of Xin Chao for the upcoming 2022 James Beard Awards.
---
This will be the company's third Houston scoop shop, joining the original in Rice Village and recent Uptown Park location. "We're so happy to be partnering with one of the most talented chefs in Houston. Chef Ha shares our passion for the culinary innovation process, it was so much fun and delicious coming up with this flavor together," said Ben Van Leeuwen, co-founder and CEO of Van Leeuwen, in a statement.
Ha, a best-selling cookbook author and acclaimed chef-owner of Xin Chao and the Blind Goat, created Bananas for Cheese inspired by a childhood snack that she grew up eating: Laughing Cow cheese with banana slices. "In order to get me to eat fruit as a child, my mother would pair it with cheese, which I loved!" Ha explains.
The decadent new flavor blends a smooth, slightly tangy cheese base of gouda and mascarpone swirled with house-made banana jam and loaded with milk chocolate chips — think rich, banana-chocolate cheesecake. Bananas for Cheese will be offered at the Montrose Van Leeuwen while supplies last, as well as in Ha's two restaurant locations, Xin Chao in the Heights and The Blind Goat in Bravery Chef Hall. "We love experimenting with unique flavor and taste profiles that complement our creamy, chewy unctuous ice cream bases, so working with Chef Ha on the opening was a natural fit," added Ben Van Leeuwan.
Out-of-the-box flavors like this and 30 other inventive creations have gained Van Leeuwen a cult following with foodies and ice cream lovers. Can't do dairy? The progressive company has become a favorite for vegans and non-dairy lovers, thanks to its list of 20-plus oat milk and cashew milk-based ice creams. With unique flavor combos such as churros and fudge and cookie crumble strawberry jam, you'll never miss the dairy.
Besides its famous French-style ice cream flavors like honeycomb, hazelnut fudge cookie, and marionberry cheesecake,Van Leeuwen scoop shops offer sundaes, ice cream sandwiches, root beer floats and milkshakes. Additionally, its 25 locations across the U.S. unveil limited-time flavors each month. In Houston right now you'll find blue jasmine tea, blood orange creamsicle, fior di latte chip, and vegan yuzu with sake.
Naturally, there's a Rodeo Sundae with praline butter cake ice cream, praline pretzels, salted caramel sauce, and whipped cream — all topped with a Texas flag. It's available through March 20 at all locations. Let's rodeo!