Very Merry Island
Christmastime on Nantucket brings new meaning to White Elephant gift.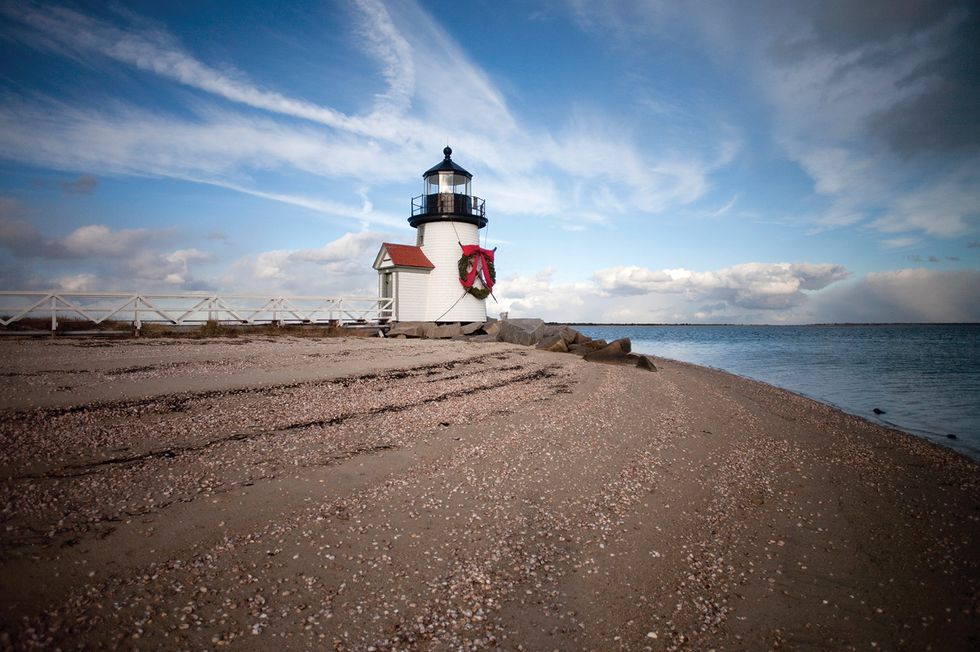 Nantucket often conjures images of yachts, preppy attire in a certain shade of red, and clapboard siding aplenty. A friendly rivalry with Cape Cod and the Hamptons enhances the fun-loving, frat-party-for-grownups vibe, especially in the busy summers. But on the first weekend of December, that party is attended by reindeer-ear-clad carolers, mulled cider in hand, who await the arrival of none other than Santa Clause via the Coast Guard.
---
Santa then joins the crowd — non-locals are bundled to withstand the frigid winds off the water — and walks to the island's storybook Main Street, where he rides an antique fire truck to an iconic local hotel and greets delighted children. The festive tradition, known as the Christmas Stroll, or simply "Stroll," turns 45 this year. And while it's one reason to take the (at times precarious) puddle-jumper from Boston in the winter, Nantucket offers many others.
One is the array of comfortably lavish accommodations available at the White Elephant (50 Easton St., 508.228.2500). Its original waterfront hotel has a lush green lawn and a homey, relaxing vibe, with fireplaces and a library. The White Elephant cottages that line the Nantucket Boat Basin, which celebrates its 50th anniversary this year, include a new one designed by Lilly Pulitzer with a quintessential New England vibe. And the nearby White Elephant Village (19 N. Water St., 508.228.1500) has both a 20-room hotel and two-dozen apartment-style residences with a full kitchen — plus a resort-style pool.
The White Elephant also owns a couple of new, high-end apartments in the heart of town, which each come with access to a sleek BMW for the duration of the stay. One has a two-sided fireplace and a loft area with a ceiling of 20-plus skylights; the other, located on Main Street, proffers perfect views of all the Stroll hoopla. 
Festivities extend beyond Stroll. The cobblestone streets are dotted with hundreds of Christmas trees, many adorned by local businesses; White Elephant strung one with garlands made of room keys. More are found inside the Nantucket Whaling Museum (13 Broad St., 508.228.1894), which in conjunction with the Nantucket Historical Association puts on the annual Festival of Trees every December. The surprisingly enthralling museum is worth a visit, with or without the 80 professionally decorated trees. 
A seasonal home tour, usually the Friday night before Saturday's Stroll, offers peeks inside some of the island's oldest historical buildings, all lit up and decked out for the season. In passing at restaurants or in bars, island residents are likely to regale visitors with nostalgic stories of Festivals and tours and Strolls past, as folks are clearly proud of the heritage.
The cold can be a little bitter, but beyond-charming cafes and shops enable Houstonians to warm up quickly. The Culinary Center (22 Federal St., 508.228.2665) — owned by Greg Margolis, who may bring to mind a New England version of Chris Shepherd, and his wife Joy — is a unique landmark located on the corner of Broad and Federal Streets. The historic 1870s-era building, built as a four-story home, is now a three-story restaurant/coffeeshop, grocery and cooking school. 
Each of its three parts warrants a dedicated visit. The Corner Table Café's scratch-made sandwiches and soups — take some to cook at home! — warm you up from within, and chef Greg's evening demonstrations and classes are fun for families, couples and bachelorette parties alike. Returning at some point for a matcha latte is encouraged.
Meanwhile, the quaint Dune (20 Broad St., 508.228.5550) eatery is emblematic of Nantucket itself: intimate, hyper-local and high-end, but decidedly not stuffy. Must-tries include the crispy pork belly atop sweet corn puree, and anything with scallops — that's scaaah-lops, by the way. If you can find it — and fit through the miniature door — pop by the Afterhouse speakeasy for a craft cocktail.
Tiny storefronts sell everything from homemade fudge to Christmas-light-adorned reindeer ears (in case any Stroller forgot his), but an instant favorite is Current Vintage (4 East St., 508.228.5073), which sells wine, cheese and quirky vintage and new clothing — so basically, everything one needs on a vacation. And at two locations of Sylvia Antiques, Nantucket's oldest and largest dealer, fun finds include iconic basket handbags, and other marine antiques.
And as those "on Island" say, happy Strolling.
AT TOP: Holiday season on Nantucket includes festive decorations on picturesque lighthouses 
Food+Travel