We Were Soldiers
Suited up in military inspired styles, amid the ruins of a sunswept urban wasteland, Alley Theatre actors Michael Brusasco and Jay Sullivan report for duty.
Julie Soefer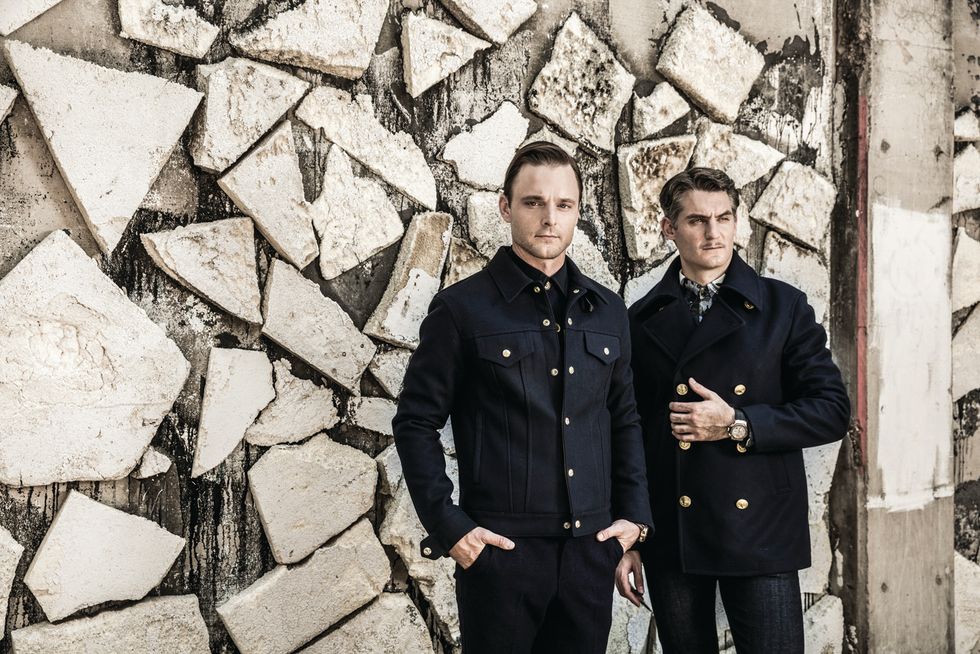 THIS FALL TWO of the city's most admired leading men — Michael Brusasco, 39, and Jay Sullivan, 35, both New Yorkers still fairly new to the company — will costar in the Alley Theatre's highly anticipated and sure-to-be frenetic production of A Midsummer Night's Dream, a funny-sexy love letter to its playwright, William Shakespeare himself, on the 400th anniversary of his death.
---
Rumor has it the Bard's greatest comedy, running Oct. 7-Nov. 5, is to be retold with revealing costumes and an edgy, steampunk vibe. But the heart of the story is, well, the heart of the story. "When you're in love, you're f***ing crazy," says Brusasco, who plays the romance-challenged Demetirius in the production. "I think that's one of the beautiful things about Midsummer. You get to watch people fall in love and go a little crazy."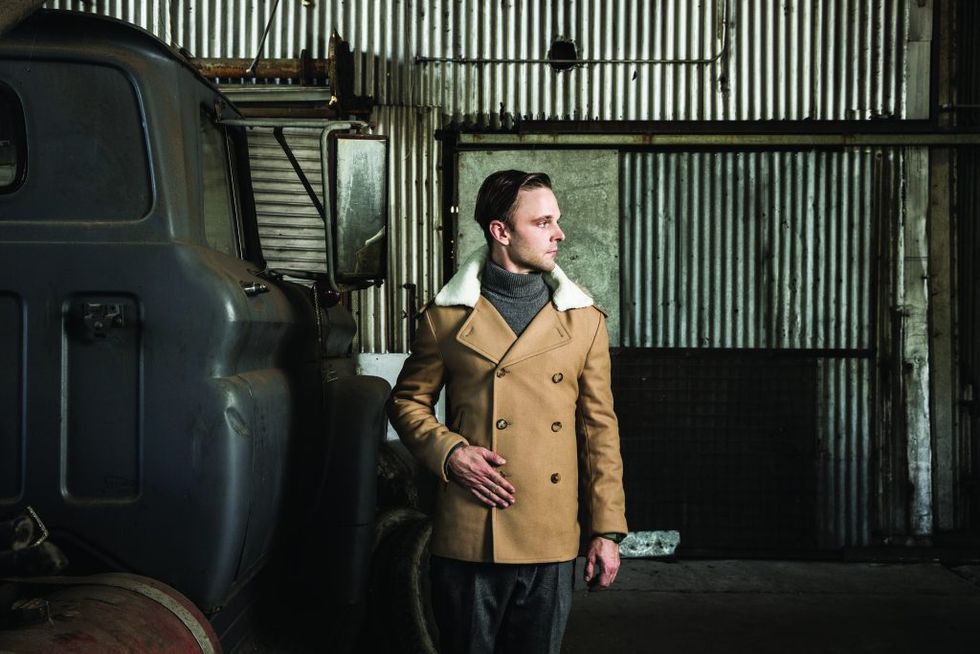 Jay wears Michael Kors Melton fur-trimmed anorak peacoat, $995; cashmere pullover, $395; and flannel hiking pant, $295, all at the Michael Kors boutique. Ceramic military type watch, $4,500, by Bell & Ross at Zadok Jewelers.
This fashion shoot — made in and around a vast, artfully decaying former rice mill and automotive graveyard in the Greater Fifth Ward — also channels a steampunk sensibility. And, like Shakespeare's play, is largely set outdoors. The actors slip in and out of military-inspired looks by Ferragamo, Brunello Cuccinelli, Bottega Veneta and others to deliver winning shots, with few complaints about the late-summer heat. "You know Houston," laughs Brusasco. "It's like being in a nice bowl of soup, a nice bowl of pho. New York is hot, but it's not hot like this." It's the first time Sullivan — Midsummer's mischievous elf Puck — has ever tried his hand at fashion modeling. But he thinks he might already be a pro. "Changing clothes is the easiest part of my job," he laughs. "I've got that down to a science."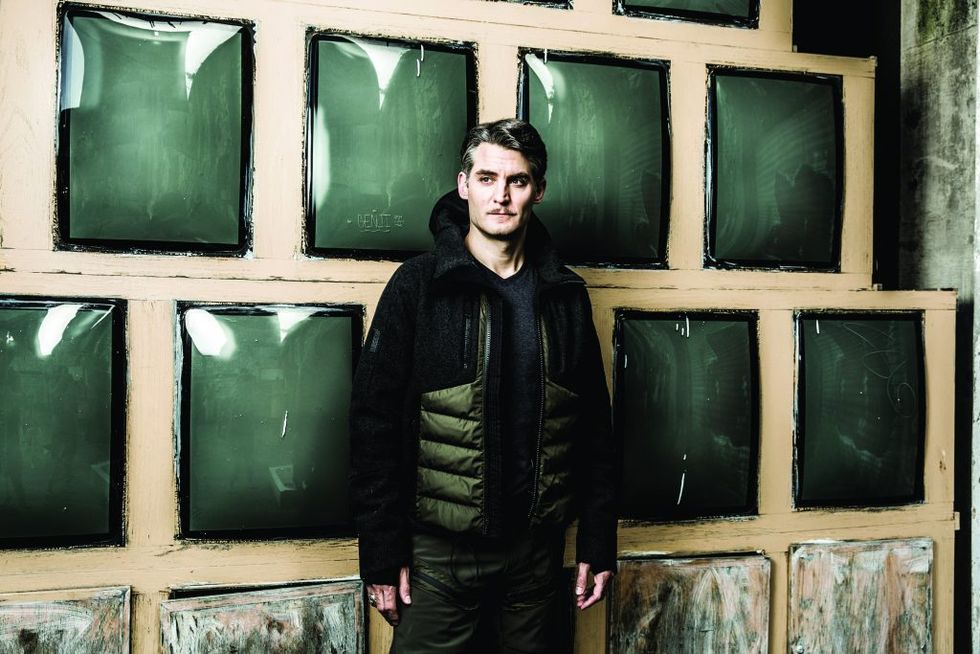 Insulated ski jacket, $4,995, and insulated ski pants $3,995, at the Ralph Lauren boutique. Vintage handmade Mexican souvenir biker ring, $575, at Manready Mercantile.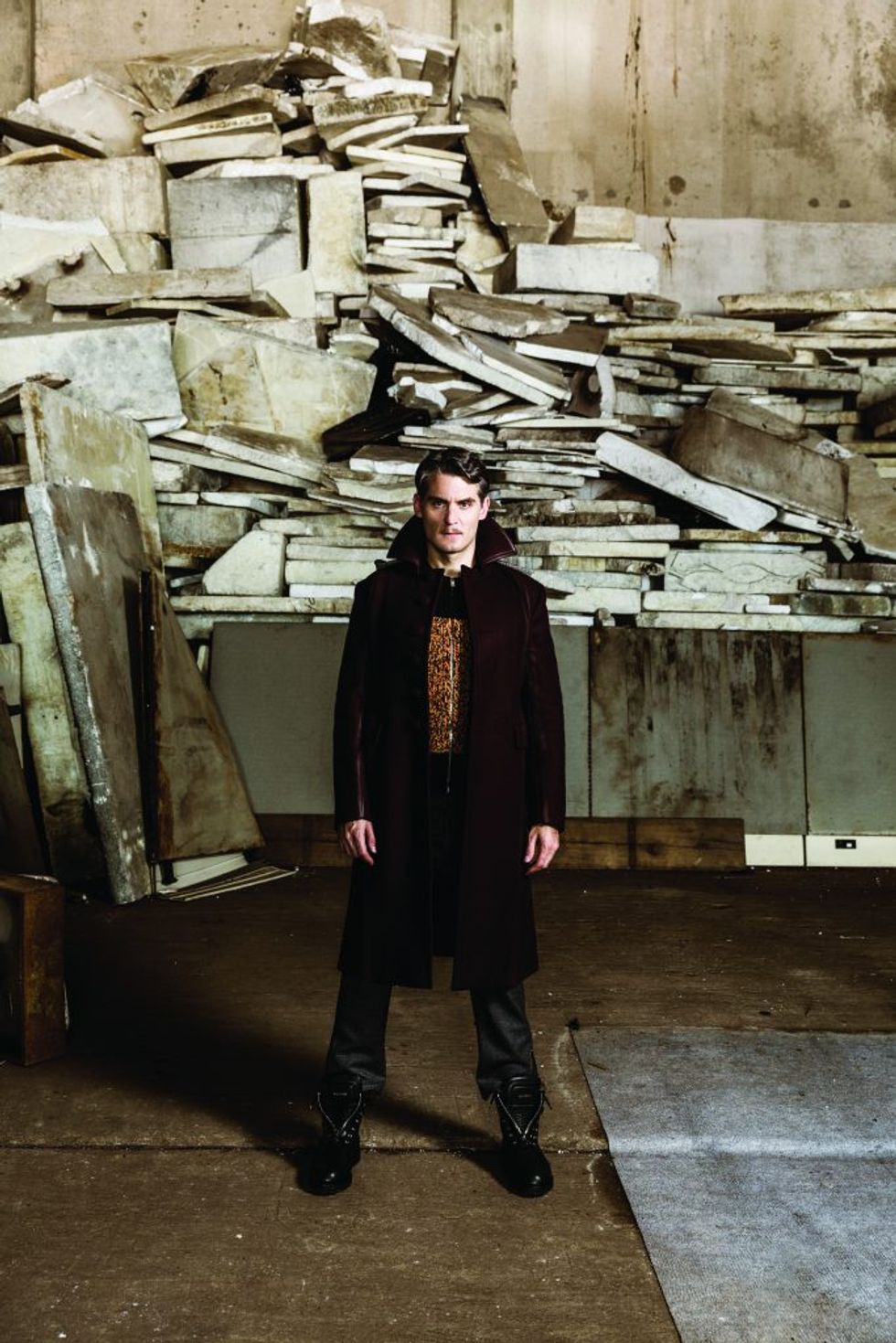 Coat, $4,730, sweater vest, $1,260, and pants, $1,400, at the Prada boutique. Balmain boots, $1,300, at The Webster.
Shirt, $370, and trousers, $1,100, at the Salvatore Ferragamo boutique. Woven belt, $185, by Andersonn at M Penner.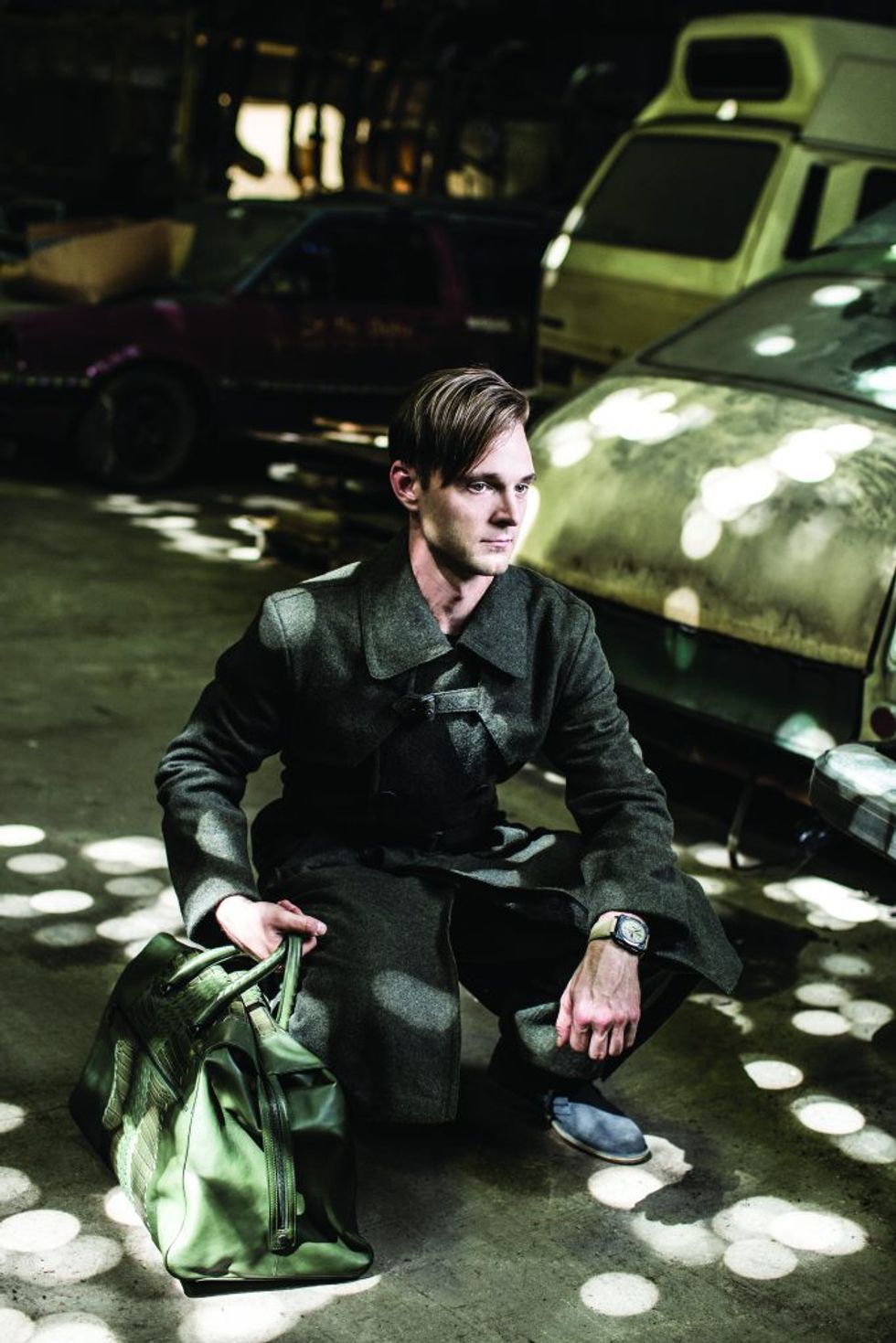 Dark Sergeant Smoky Loden wool coat, $3,300; matching pants, $950; lace-up boot, $820; and Croc Club Fume duffle, $13,700, all at the Bottega Veneta boutique. Ceramic military 42MM watch, $5,900, by Bell & Ross at Zadok Jewelers.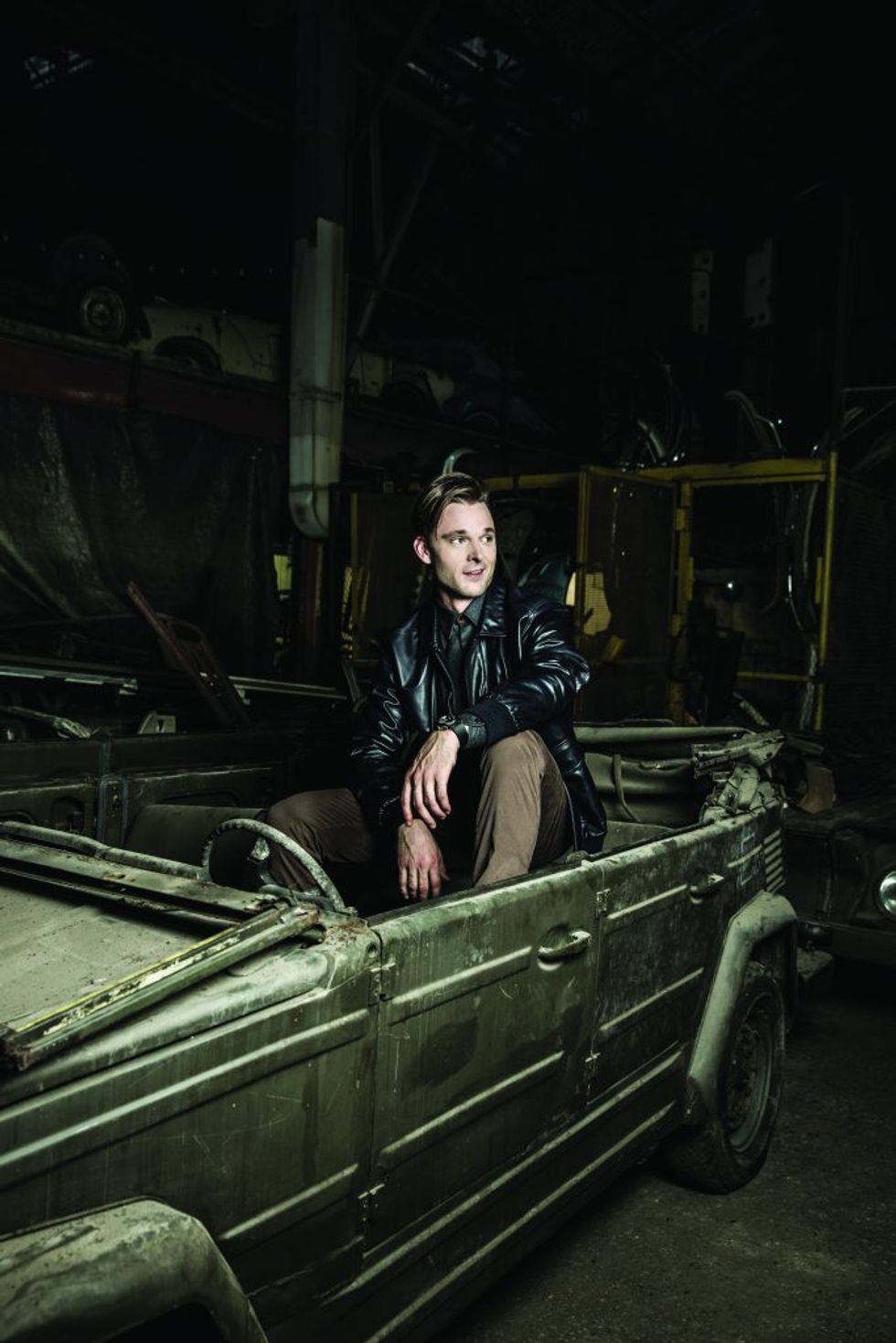 Luciano Barbera gray wool shirt, $795; Ermenegildo Zegna navy lamb plonge aviator leather jacket, $3,395; and Eledenty brown pants, $295, all at M Penner. Panerai Luminor Submersible timepiece, $11,000, at Zadok Jewelers.
Art+Culture