'Wild' Summer
Arturo Oimos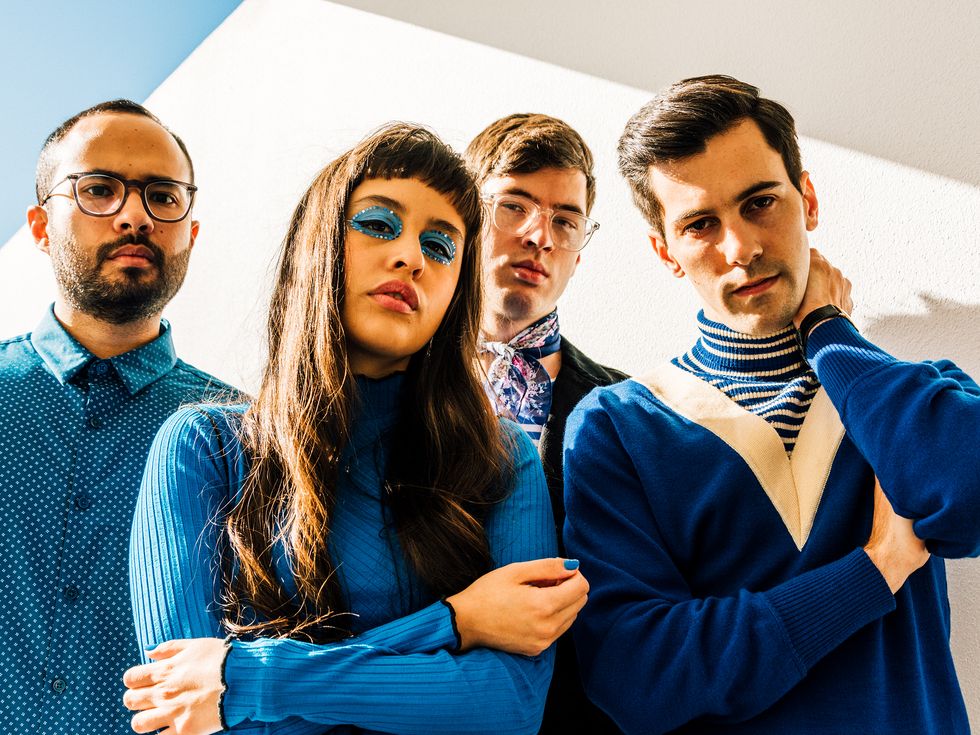 Inside a nondescript warehouse, 29-year-old singer Zahira Gutierrez of Wild Moccasins is bouncing around her bandmates with total abandon while delivering the clarion call chorus of "Longtime Listener," the insanely catchy second single from the group's new album, Look Together, which drops on Friday. Resplendent in powder-blue eye makeup and nail polish to match, Gutierrez rests an arm bassist Nicholas Cody's shoulder, waves an accusatory finger at singer-guitarist Cody Swann, and manages to crack up drummer Avery Davis as she shimmies and hams it up for the camera.
---
They're filming the video for "Longtime Listener," co-directed by Gutierrez and Swann, longtime friends and writing partners, whose romantic relationship came to a painful end shortly after the release of the band's second album 88 92. Out of that emotional turmoil, Gutierrez, Swann and their fellow Moccasins, with the help of producer Ben H. Allen (Gnarls Barkley, Deer Hunter, Animal Collective), have crafted one of the most exuberant indie-rock/pop albums of the year.
"I'm extremely introverted," admits 29-year-old Gutierrez, a born performer who started singing as soon as she learned to talk. "I don't really like leaving the house if I don't have to." Though she is comfortable with this duality, like many performers, and unfortunately many young women, Gutierrez admits she has always suffered from a lack of self-confidence. However, in the wake of her breakup with Swann, Gutierrez was emboldened to take on more of a leadership role for the recording of Look Together. "I was so sick of people telling me I couldn't do things, or not taking me seriously as a songwriter," says Gutierrez, who contributed several songs to the new album. "Considering the political climate right now, I think a lot of women are feeling this way."
Gutierrez also took charge of directing the video the album's first single, "No Muse," a song about how creative women are cast in a subservient role to the desires and needs of men. In a voice that manages to sound both vulnerable and scathing she sings, "I'm no use to you / unless I'm undressed / I'm no muse to you" over a dense texture of Swann's guitars and Cody and Davis' bubblicious groove. Filmed by cinematographer Rachel Bays, the video features Gutierrez wrapped in tube of blue stretch fabric, and a multi-ethnic tableaux of women and trans women, all close friends of Gutierrez, who lip-sync along with the song.
In addition to video, album art is another mode of visual expression for Wild Moccasins. Gutierrez and Swann collaborated with renown Houston artist Dario Robleto to create Look Together's striking cover. "He's a very vulnerable artist," says Gutierrez of Robleto. "A lot of his work has to do with love and the heart. So when he agreed to do the album cover, it was such a big deal for us. He fell in love with the record and he loved the lyrics." Gutierrez hopes to see more collaborations among Houston artists from the worlds of music, visual art and other artistic mediums. "I think a lot of great things would be happening if more musicians and artists got together." Gutierrez, Swann and Robleto will present a talk about their collaboration at Inman Gallery on Saturday.
As things ramp up in anticipation of the album release, including a performance at White Oak Music Hall July 7 and summer tour dates across the U.S., Gutierrez the introvert keeps herself grounded by regularly checking in with close friends. "I don't ever want to be disassociated from the people who care about me," she says. For inspiration, she logs onto YouTube to study performances by and interviews with such multi-faceted artists as Bjork and David Bowie, performers with whom she feels a certain kinship.
"Prince is really fascinating to me," says Gutierrez. "He's another introverted person I've always felt connected to."
Art+Culture