Ben Berg's Latest Bows: What to Know About Benny Chows on Wash Ave
Norton Creative
THE MAN BEHIND some of the city's most successful restaurants in the past decade is at it again — or at it still? Either way, this week brings the grand opening of Benny Chows, Benjamin Berg's 10th concept, located next to his OG on Washington Avenue, B&B Butchers & Restaurant.
---
Expect his signature blend of classic and fun cuisine, with a Texas twist — this time applied to Chinese food. The restaurant's menu and interiors are designed to bring to mind Chinese restaurants in Berg's native New York, home to "some of my first and favorite dining memories," he says. "I want to give Houston those same moments but put a Texas-touch on it with a localized, ingredient-rich menu that they can experience in a luxe and exciting atmosphere."
Executive Chef Shirong Mei steered the menu; the Chinese-born chef has more than three decades of experience cooking in Cantonese restaurants across Asia and the U.S. Some dishes will be very familiar to patrons by name, but less so by appearance: The General Tso's chicken, for example, is served as a tempura-fried half chicken. And the Peking Duck at Benny Chow's takes three days to prepare. It's a seven-pound, specially sourced Jurgielewicz duck, and one of the restaurant's private dining spaces offers a front-row view of the process.
Berg's commitment to local is shown in plates like the Smoked Brisket Egg Roll and the Holy Trinity Fried Rice, both starring Truth BBQ, another Wash Ave neighbor. The diverse menu also includes comfort foods like dim sum and cold sesame noodles, and even more indulgent delicacies like foie gras and white sturgeon caviar. Cocktails are equally diverse: There's the Ruby Foo's Teardrop with gin and butterfly-pea-flower tea (yes, really). Then there's the ultimate tiki drink experience called Mr. K's Scorpion, brought to the table in a towering crystal decanter and garnished with scorpion lollipops, meant to serve several.
As for the interiors, Berg Hospitality's VP of Design & Experience, Sam Governale, partnered with Gail McCleese of Sensitori to create the "experiential design." They procured authentic Chinese artifacts and architectural antiques, and set them among materials like wood, stacked stone and black lacquered furniture. Motifs of cherry blossoms, bird cages and accents of red and gold can be found throughout the inside, while outside on the patio, diners are transported to New York's Chinatown thanks to ornate lanterns dropping from patio light strands, recreated Chinese storefront signs, and an intricate water feature.
The rest of this year should also bring several additional Berg Hospitality projects, including Turner's Cut steakhouse, Annabelle's brasserie, Buttermilk Baby diner, Dune Road seafood, and the rooftop patio bar Canopy Social, situated atop Benny Chows.
2-pound lobster noodles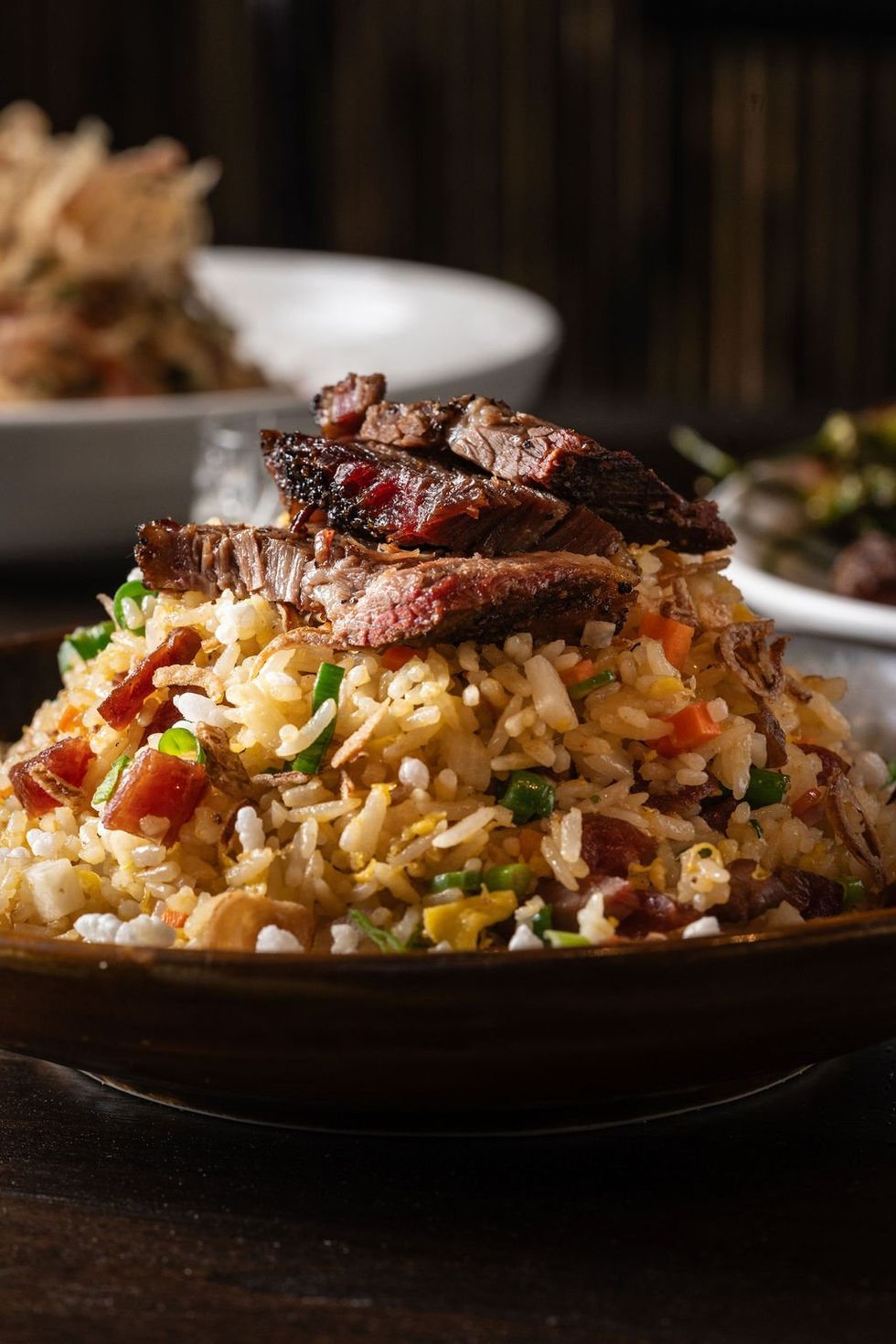 Brisket fried rice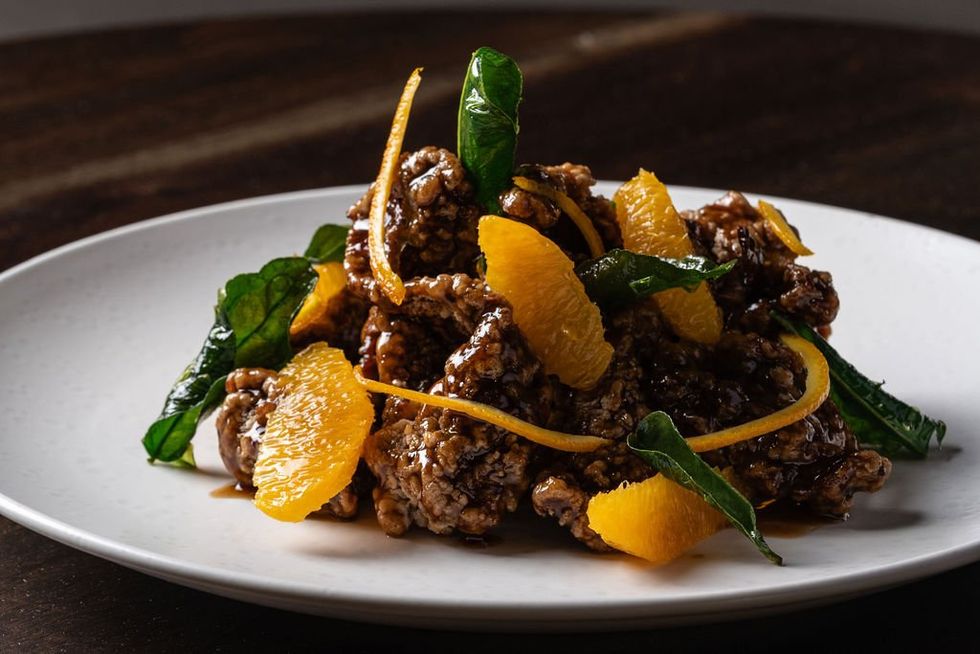 Orange beef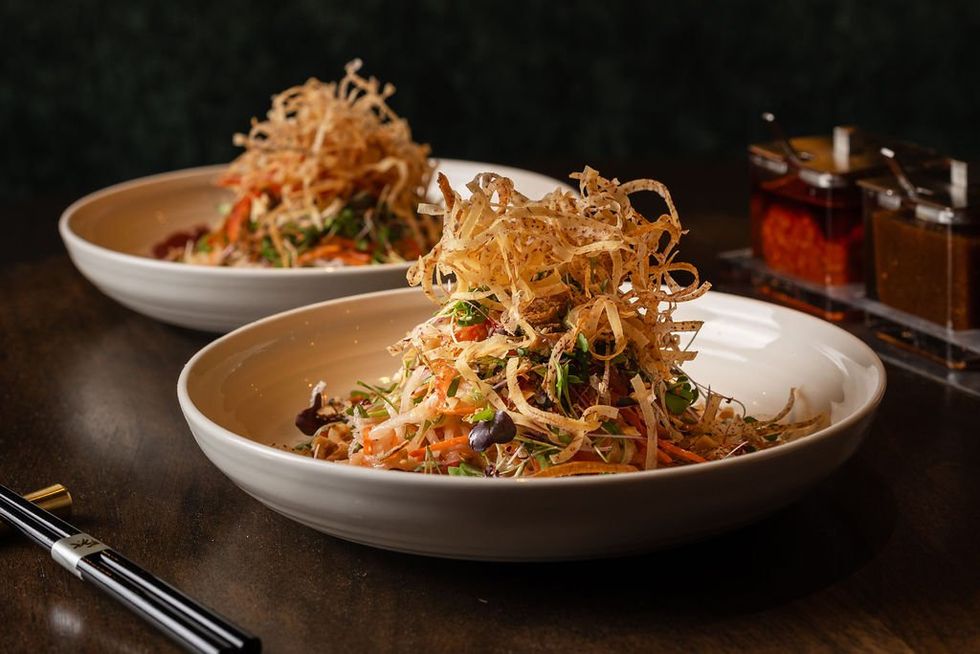 18-vegetable salad
Food