The Late Bert Long Jr., Towering Figure in Houston and Beyond, To Be Celebrated at Colton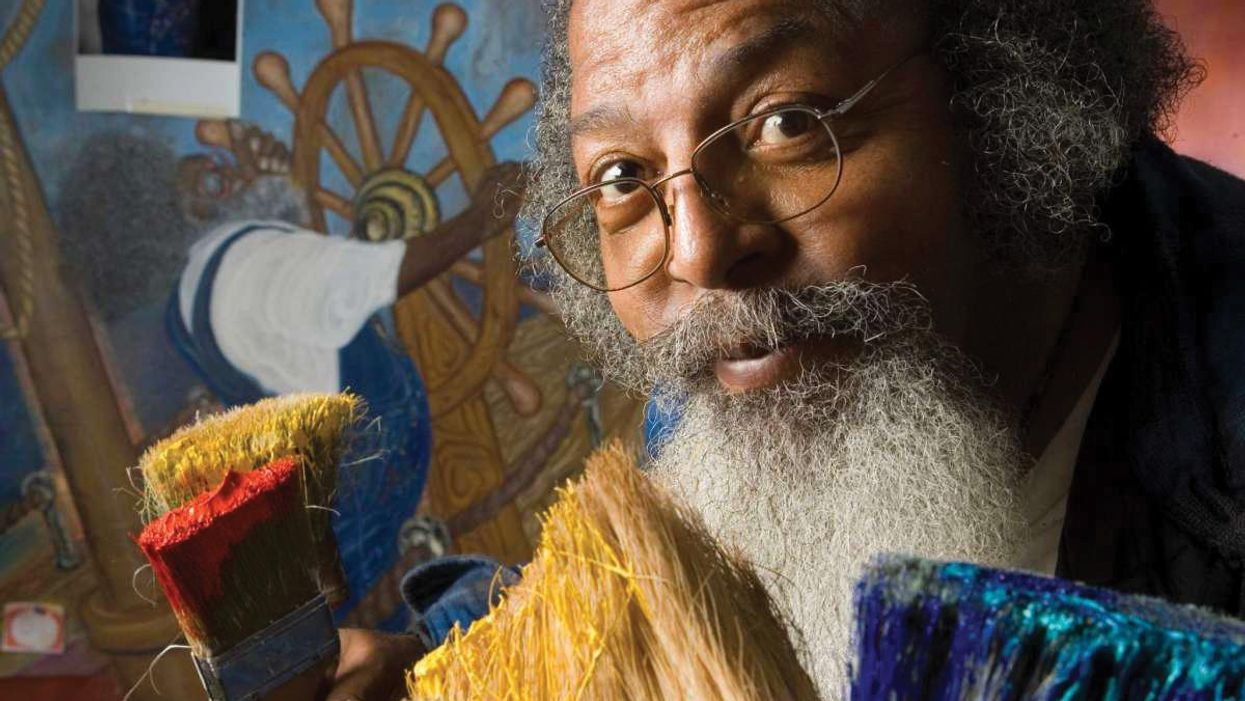 A NEW SHOW highlighting the storied 33-year career of one of the Houston art world's most towering and intriguing figures — Bert Long Jr. — is shaping up to be a must-hit for the city's culture vultures. The Strength is from Within will run through Nov. 20 at Deborah Colton Gallery and will feature more than 30 of his best works, including paintings, drawings, sculptures and assemblages, as well as screening of a documentary about his amazing life.
---
The Black artist, whose bio includes turns as a cotton-field hand, a Marine and a chef, died of pancreatic cancer in 2013 at age 72, co-founded the arts-and-housing initiative Project Row Houses in Houston. He left behind a unique legacy and body of work respected by collectors, museums and numerous art institutions throughout Texas and the United States.
"He was at the forefront of helping make positive change by creating awareness of issues that affected himself and so many others," says gallerist Deborah Colton. "Much of his art is very fun-loving," she explains, even though some of it speaks to the struggles of African Americans, and, especially of African American artists.
Pieces in the exhibition include his famous "Riding the Tiger" from 2000. It's acrylic on canvas with a frame made of acrylic, gold, silver, bronze and foil. Long himself told the Texas arts journal Glasstire the painting — a self-portrait of a naked Long riding a particularly fierce-looking big cat — is a metaphor for life. "Life is not easy," he said. "Life will chew you up, claw you up, set you on fire, toss you off a ravine and pound your ass. And what you have to do every day is wake up and say, 'Okay, I'm ready to get on that tiger!'"
'Happiness' from 2010
Long was born in 1940s Houston, in the historic Fifth Ward. His father, a steel mill worker, tragically died in a workplace accident when Long was just three. Long picked cotton in the summers to help his mother provide for him and his three younger siblings, and at the age of 19, in 1959, he joined the Marines and served for four years before becoming a chef.
After a long, successful career cooking for banquets at luxury hotels like the Ritz Carlton Chicago and the Hyatt Regency Houston, he started making colorful, whimsical, folk-inspired art in the late 1970s. He described his work as "a quest to help people diagnose their inner self," and, over more than three decades, he became the unofficial dean of Texas' artist community. He was lauded with some of the world's greatest arts prizes, including a 1987 National Endowment for the Arts Grant and a rare and coveted Prix de Rome fellowship in 1990. Today his work can be seen in more than 100 collections worldwide, including the MFA in Houston, the El Paso Museum of Art, New York's Metropolitan Museum of Art and the Dallas Museum of Art.
Long's curious journey to art stardom was so intriguing to John Guess Jr., CEO of the Houston Museum of African American Culture and longtime patron of the arts, he made the documentary BERT about him, which will be screened Oct. 9 from 7-9pm at Deborah Colton Gallery as part of the exhibition. "Bert's story is compelling as an example of how our lives can be changed by sheer will, determination and talent," Guess says, praising the late artist's "ability to establish warmth with those he encountered even as he single-mindedly pursued his dreams."
Guest adds: "And in the end, with his recognition and acclaim, he became a heartwarming figure accessible to emerging artists and friend to many others. Bert's life inspires anyone who becomes familiar with it."
Art + Entertainment