Chef Driven
Married into Houston restaurant royalty, a daring celeb chef with bicoastal cred goes Third Coast cool at his eponymous new must-hit hotspot.
Julie Soefer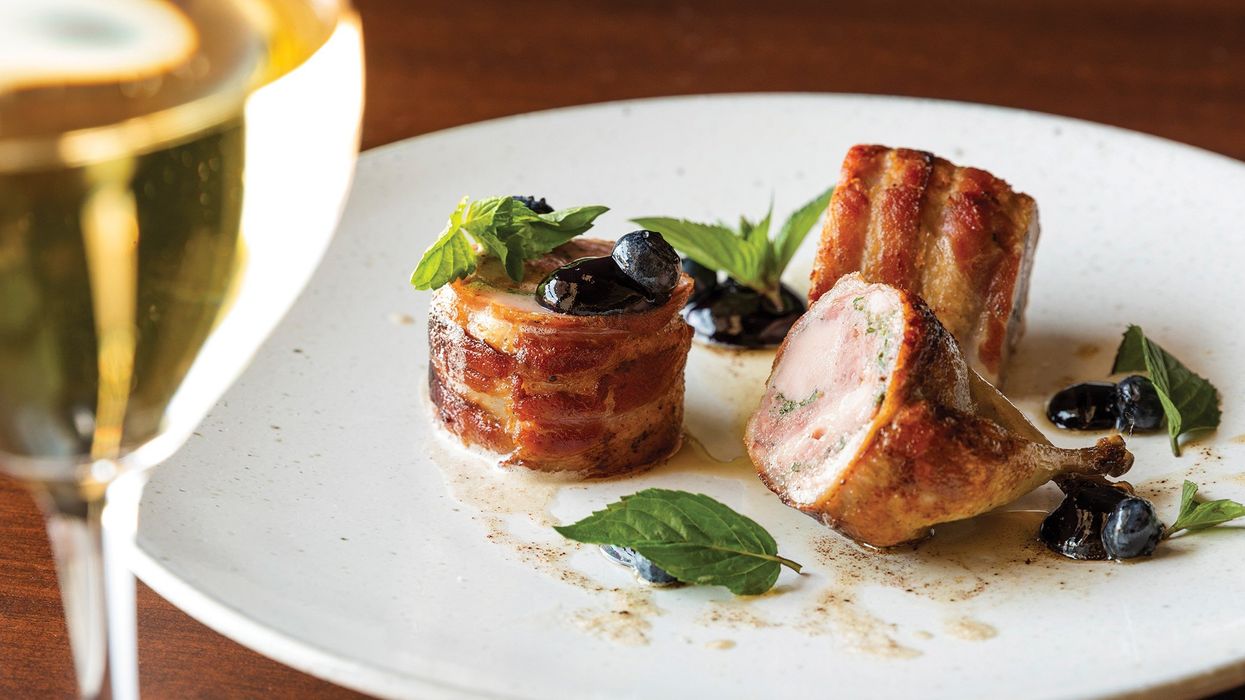 "Terrifying." That's how handsome celeb chef Aaron Bludorn describes opening a fancy new restaurant in a pandemic. He says he'd just begun gutting the space for renovation — the former Pass & Provisions on Taft, near Allen Parkway — when all hell broke loose in the spring. To add to the pressure, his wife and business partner, Houston restaurant royalty Victoria Pappas Bludorn of the Pappas dining empire, is pregnant.
---
But the seafood-savvy, Gulf South-celebrating, brasserie-esque restaurant Bludorn seems to be a great success so far. On a recent Friday night, every socially distant table is full, with reservations hard to come by. The boisterous energy — noisily wafting through the mirrored and hardwood-hued environs, with their accents of blue velvet and clubby mid-century chic — recalls The Before Times. The long narrow barroom, marble-bedecked and paneled in shiny polished wood, tinkles and twinkles softly across the foyer from the dining room.
Is Bludorn restaurant ushering in a return to normal life in Houston? If so, it'd be interesting to note that many of the key players here aren't Houstonians but rather "newstonians." In true H-Town style, risk-taking newcomers with drive and vision are setting the pace and making their mark.
Chef Bludorn is a Seattle native who rose to prominence at chef Daniel Boulud's famous Daniel and Café Boulud eateries in New York, and with his turn on Netflix's The Final Table. Other newbies to town with central roles include pastry chef Alejandra Salas, originally from Spain and lately of Thomas Keller's The French Laundry in Napa — and Cherif Mbodji of Senegal, a fellow Café Boulud alum who runs the floor.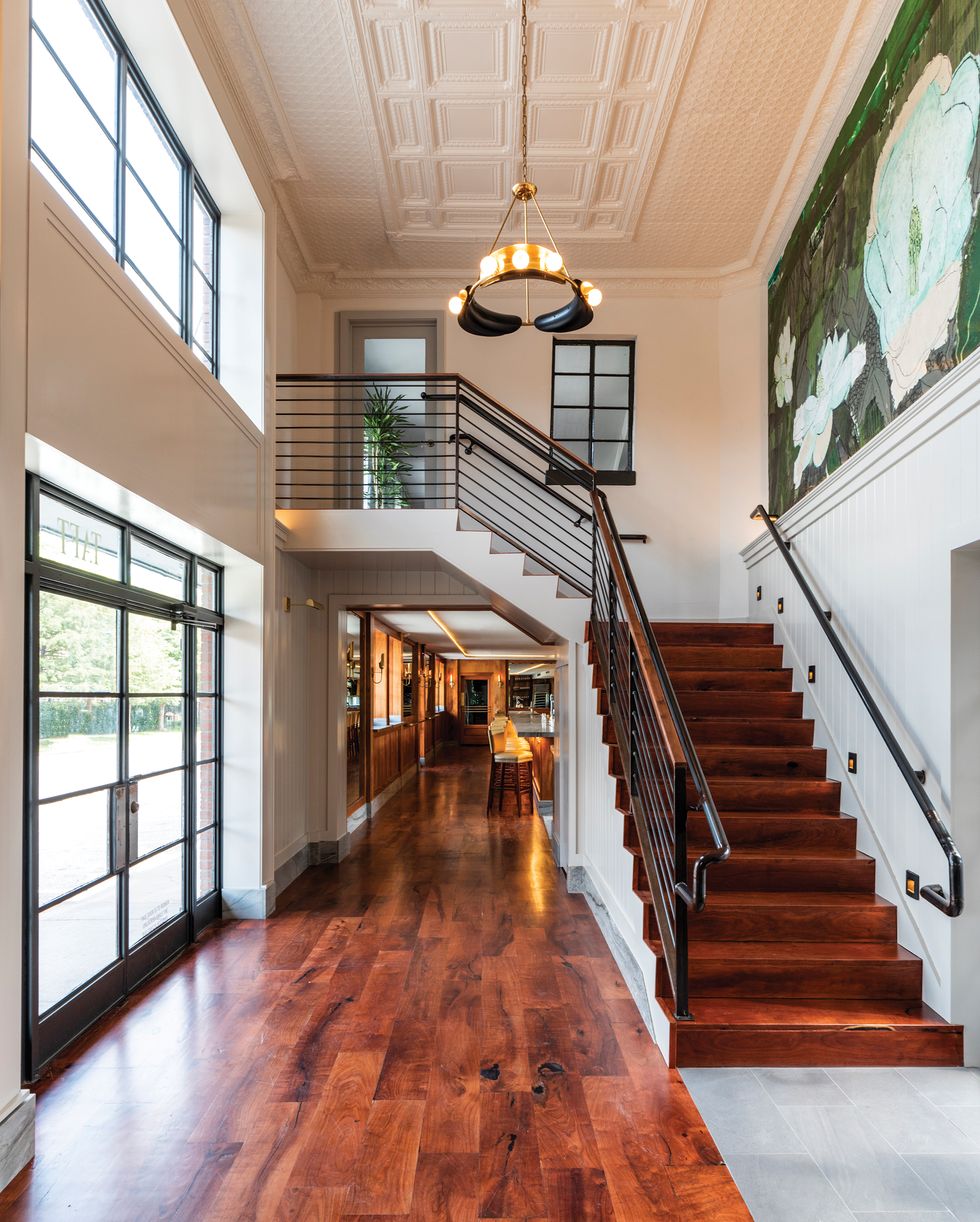 Bludorn's entryway features a mural of magnolias and a stairway leading to a private dining room upstairs
It's Mbodji who might perform a tableside trick that's sure to be a signature of the hot new restaurant. He peels back the croissant-like lid of the lobster pot pie — the filling includes a whole tail — and stirs in lime-infused crème fraiche, enriching the bisque-like sauce inside, which Bludorn regionalizes with the mild zing of hatch chile. Other memorable menu moments include the ricotta-stuffed and deep-fried squash blossoms appetizer, and the shortrib ravioli, which comes with charred figs and a sprinkling of blue cheese.
Smart diners will partake of the well-considered oyster options, all sourced from small artisan farms in Alabama. In fact, the best bet is to get at least a half-dozen each of the raw, with bright house mignonette; the fried, which comes dolloped with creamy-tart gribiche, a cousin of tartar sauce; and the roasted, each succulent mollusk encased in its half-shell in bubbling, overflowing Parmesan and watercress.
Among Salas' desserts, the sometimes-available, barley sweet chocolate soufflé — pierced and filled with cool cream anglaise — is a standout. And here's a scoop: The corn ice cream, calling to mind the decadent creamed corn you get at the best barbecues, is a cool winner.
It may be that chef Bludorn's initial fears were unfounded, as dining out, in a buzzy new restaurant, and welcoming a talented new team of culinary stars to Texas, isn't scary at all.
AT TOP: Bacon-wrapped quail with seasonal berries
Food