Confidant to Fashionistas Like Beyoncé, Egypt-Raised Armanious Doesn't Take Christmas for Granted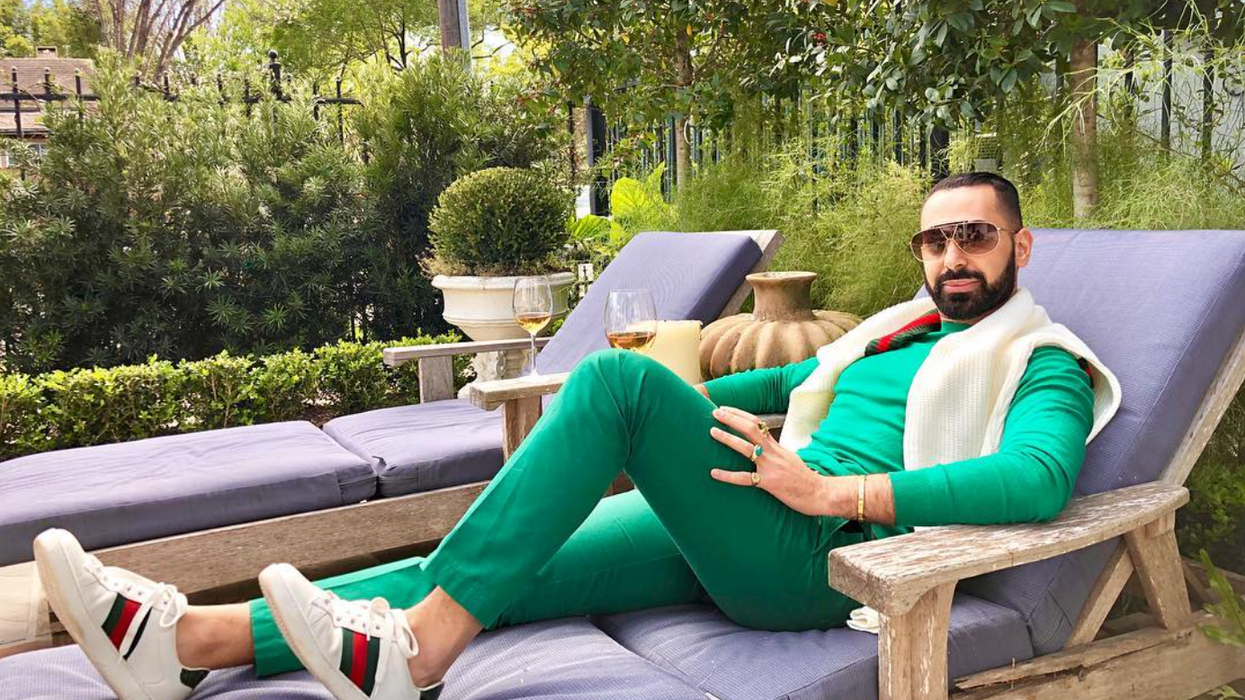 JET-SETTING MAN about town Fady Armanious, creative director of Tootsies, is to Houston fashionistas as Santa Claus is to good little girls and boys. He's the guy with the goods. Apart from his notoriety as confidant and consultant to the city's most well dressed women — not to mention his own penchant for throwing together a head-turning ensemble for himself — the Egyptian-born longtime Houstonian Armanious is widely beloved for his amiable, approachable disposition and eagerness to give back to charitable causes. Here, he sounds off on the true magic of Christmas — and that day he spent with Queen B!
---
What accomplishment are you most proud of? I'm proud that I have started from the bottom up and worked hard to get where I am. But I'm most proud when I see a client walk into a room, smiling, confident, beautiful and powerful. That's an accomplishment I'm proud of.
When you were a child, what did you want to be when you grew up? I wanted to be a flight attendant so I could travel the world. Then I wanted to be a chef, but decided to peruse fashion. I had my own line and then went into retail.
What's the best gift you've ever received? My partner Bill Baldwin [owner of the Boulevard Realty boutique real estate firm]. We are completely opposite but we complete each other.
What's the best gift you've ever given? An experience. A six-course dinner that I cooked for my best friend, Hallie Vanderhider, for her birthday — and Rory Pearce's engagement dinner party for 30 people, and also Calvin Azzam's birthday dinner. Also treating friends with trips. I think memories, laughter and friendship is the best gift money can't buy.
Favorite holiday tradition? Christmas, I think its magical. I grew up in Egypt in a Christian family. Christmas was not a given holiday. On my mom's side of the family, with cousins and aunts, we always celebrated with each other at my grandmother's house. When I moved to the USA and really got to celebrate Christmas freely, I cried for the first time on just how magical Christmas can be, especially when its a white Christmas. Then as an adult, I have always traveled for New Year's, and now I get to do it with my partner and family.
Name-drop time: Who's the most famous person you've ever met (and how did that happen)? In the line of work I do, we meet a lot of celebrities. The one that really stood out is Beyoncé. I was at Nordstrom's at the time during the Super Bowl. I know her stylist through a friend. She came in, and we closed the designer salon. I spent the day with her shopping throughout the store, with lots of security. I remember a point when we were in the dressing room and I looked up to her and said, "You are so nice, fierce, and down to earth, and I can't believe I'm in the same dressing room with you!" I still remember her voice. She is theQueen B. To top it off, we styled some looks for her next video. I remember getting on the phone and calling the buyers and telling them that I needed 12 or 15 pairs of those shoes with different sizes and 12 to 15 pairs of Pucci shorts. It was an experience to remember, for sure.
Santa already knows, so you might as well tell the truth. Were you naughty or nice this year? Nice always, but naughty is never boring. I think after the pandemic, everyone realizes the importance of family and friends and the power of people and interaction. It was a good wakeup call to slow down, don't take things for granted. Appreciate what you have, and love and respect one another. Life is too short.
Best way to warm up on a cold winter's night? A glass of Bordeaux, fireplace, blanket and cozy slippers.
Finish this sentence: I'm gonna get me some mistletoe and… Go to our nearly remodeled lake house to unplug, relax and recharge.
Your elf stripper name — of course, that's a thing, duh — is a beloved childhood toy plus a dessert your grandmother used to make. Go! Apparently, it's Sparkle Twinkle Toes. I loved playing with this blue pull-back motor car that my uncle got me. And my sister's Barbies, and yes, I used to completely restyle them and sometimes I even redid their hair. And I even had a crush on Ken — there you have it. My grandmother used to make these sugar cookies stuffed with dates around the holidays and it always remind me of Christmas.
Where's the best place to find holiday cheer in Houston? Maybe a restaurant or a pub? We honestly have so many Christmas parties, so we barely go out to eat in the month of December, but I think Turner's.
Tell us about your closet. Something old you love, and something you hope gets stuffed in you stocking? That's a tough question. I have been in fashion for 19 years. I have collected amazing treasures throughout my journey, and I love them all. They are all my babies. I clean my closet every year to make room to keep it updated. But I guess if I have to pick, it would be my Birkin's and an Alexander MacQueen runway coat with crystal stars. And I love shoes.I really didn't ask for anything this year.
What destinations are on your bucket list? The Maldives, Galapagos Islands, Bora Bora, Petra, Australia, Scotland and Marrakech.
What's your most useless talent? Mastering how to do something you will ever only do once.
If you were arrested without explanation, what would your friends and family think you had done? They would think it was a mistake!
What would you choose as your last meal? Start with simple bibb lettuce salad. Then caviar and Lay's chips. Then oysters, crabs, lobster tower with grilled octopus. Then seared foie gras. Then white truffle tagliolini. Then fried chicken with French fries and ketchup, please.
What's the closest thing in life to real magic? Love and happiness.
What's the worst movie you love? Elf.
Is there a charitable cause you support? LGBTQ+ Caucus, Houston Ballet, Children's Memorial Hermann Hospital, Legacy Community Health, R4S, Freedmen's Town Conservancy, Houston Heights Association, Blackwood Educational Land Institute, Your Houston and many more.
What's something about you people would find surprising? I used to be very shy, believe it or not.
In five words or less, what's your advice for living a happy life? Be yourself.
Style