In an Exhibit of Compelling Self Portraits, a Photographer Explores His Complicated Origins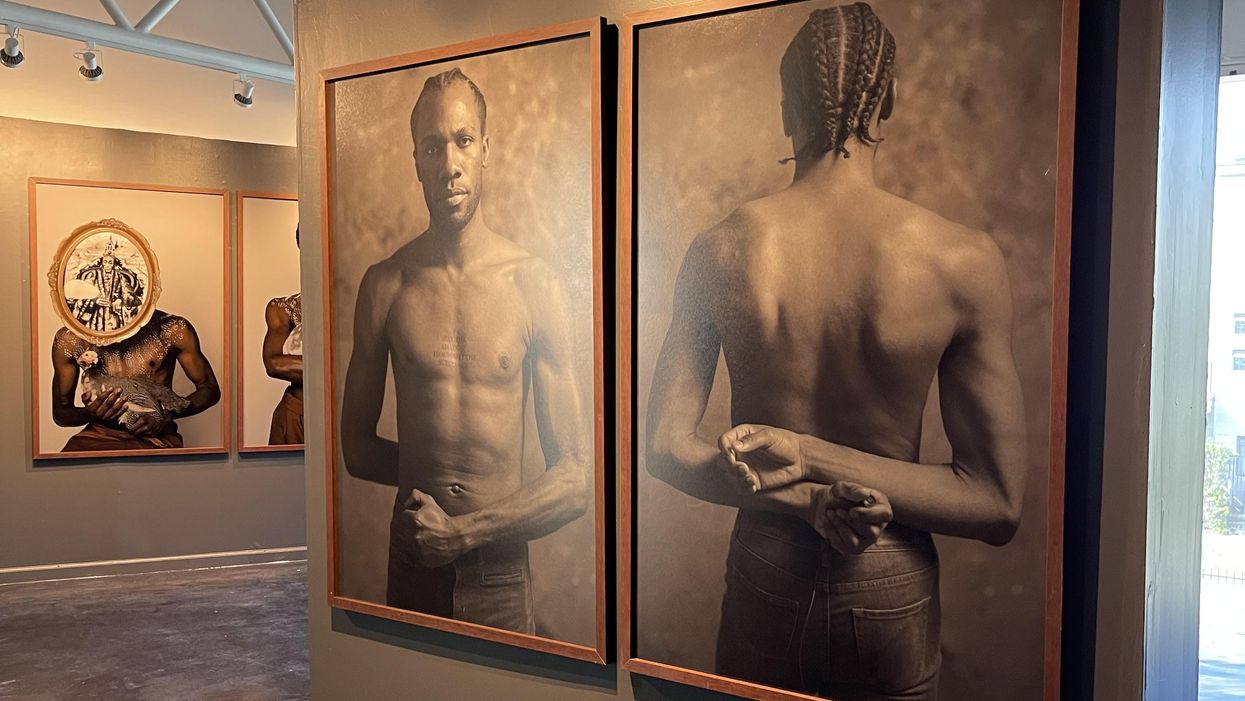 "WHO ARE YOUR people?" It's a very Southern question Dallas-based photographer Hakeem Adewumi has heard since childhood, when he would visit his mother's family in rural Texas. There, he'd see horses, cows, pigs and chickens — different sights than he and his friends usually saw in the city.
---
For Adewumi, a gay black man whose parents divorced shortly after he was born and whose biological father is Nigerian, art — especially the art of photography and self-portraiture — is a means to address that question in personal, historical and existential terms, without necessarily providing any final answers. "My work is continually answering and asking questions," says Adewumi. His exhibit Bastard of the Diaspora, a collection of photographic self-portraits inspired by his Nigerian heritage, African storytelling and black American history and activism, just opened at the Houston Museum of African American Culture.
"That question of what it means to be Nigerian was the starting point for me to explore what it means to be anything," says Adewumi regarding the impetus for the exhibit. "What it means to be Black, what it means to be Nigerian, what means to be from Texas, what it means to be gay, and where does my voice really originate from all of this?"
Origin is the subject of a photo titled "The Next Kingship Belongs to Us," where Adewumi poses with a guinea fowl, a symbol of protection, and an ornately framed photo of his paternal great grandfather, who was a king in Nigeria. "Animals are a large asset to understanding where I'm from," says Adewumi, who fills his photos with symbolically loaded props and relics. "The work is very tactile, but also very imaginative."
For a long time, taking pictures was more of a hobby than an artistic practice for Adewumi. He describes his mother as a "candid photographer," who filled albums with family photos, and created an eight-foot-long visual of her son's family tree. While enrolled at the University of Texas, Adewumi began to imagine a career for himself as a photojournalist, and took classes with Ellis (Eli) Reed, the first full-time Black photographer employed by Magnum Photos, and the award-winning journalist Donna DeCesare. But it was his Black Studies courses that inspired him to consider photography as a personal form of expression, and a way to explore and connect back to Black American and African history and his familial roots.
Danny Clinch's 1993 portrait of Tupac Shakur for Rolling Stonemagazine, the equally iconic 1864 photograph of abolitionist Sojourner Truth, and a chilling photo taken in 1899 of Frank Embree just before he lynched for a crime he did not commit inspired another self-portrait in the show, titled "Angel of Desolation." Shirtless and staring stoically at the viewer, Adewumi's chest bears the words, "I SELL THE SHADOW TO SUPPORT THE SUBSTANCE." The quote, which Sojourner Truth added to her photo, is a play on early photography's advertising slogan, "Secure the shadow, ere the substance fades," which implored folks to photograph their family members before they died.
"Sojourner's quote speaks to me as a photographer," says Adewumi. "I'm thinking about what this portrait will mean 25 or 50 years from now, just as Sojourner Truth did. I feel like I'm building this work around that particular sentence."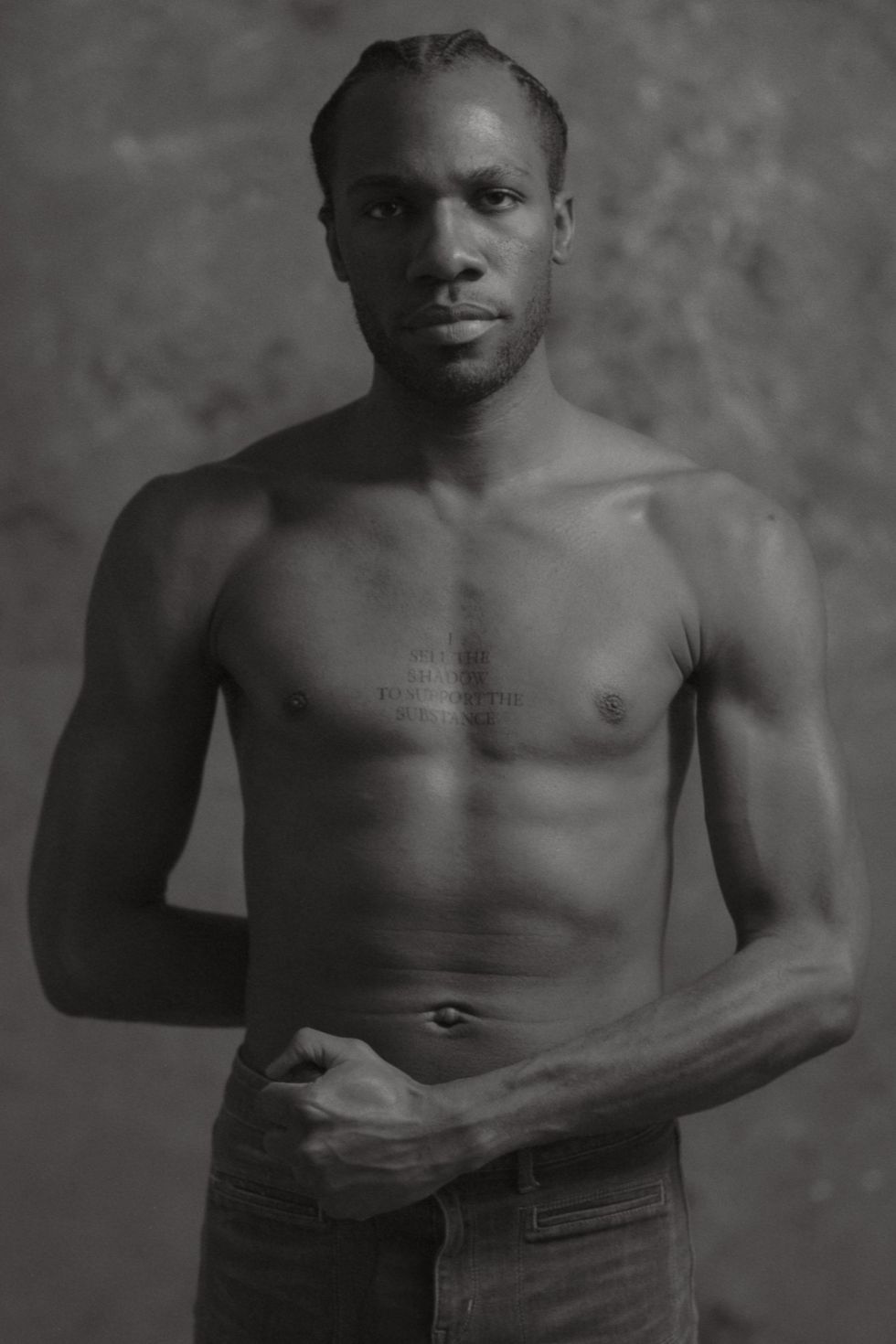 'Angel of Desolation'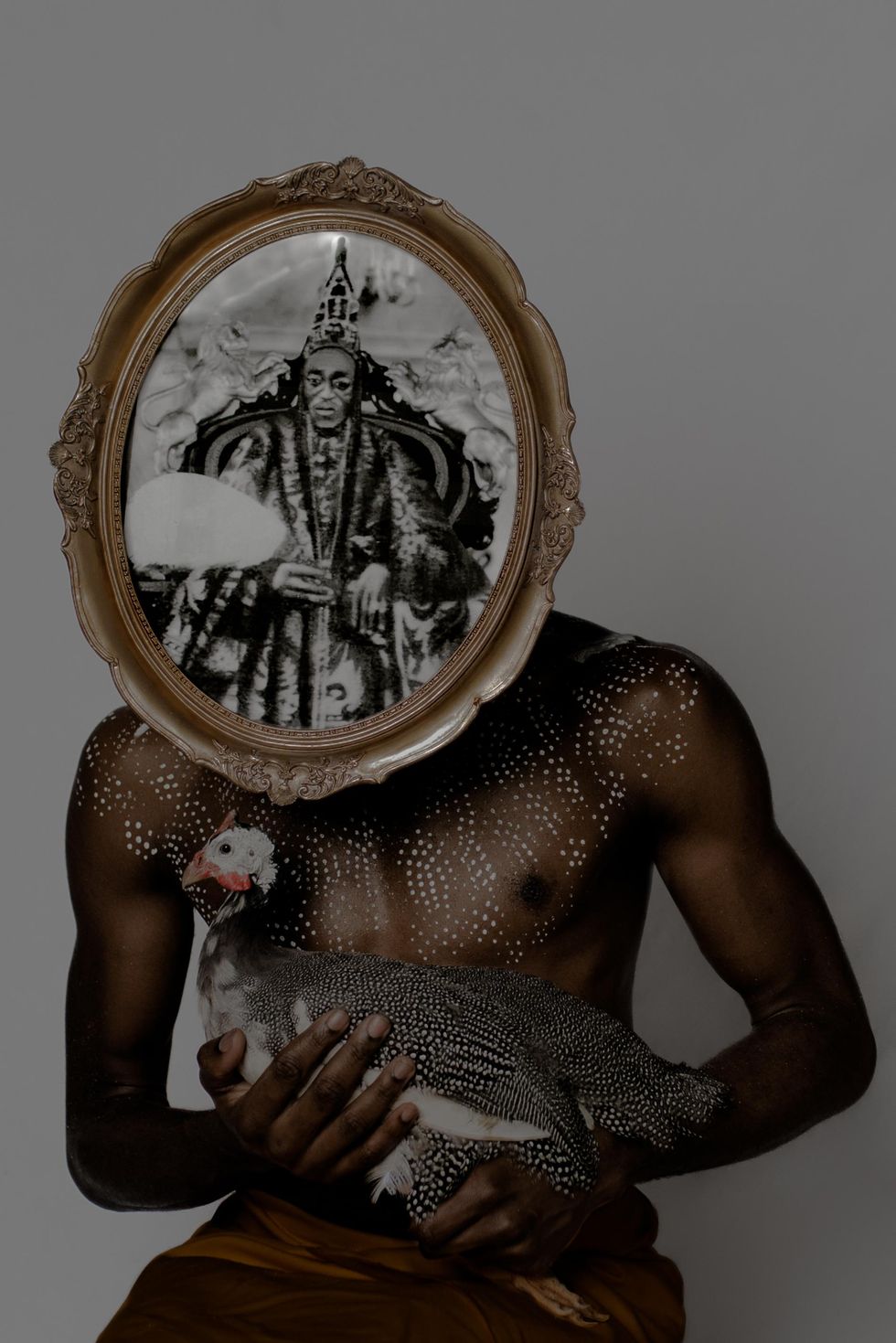 'The Next Kinship Belongs to Us'
Art + Entertainment