Historic Hotel-Mansion Celebrates Centennial with Extravagant Staycation Packages, Menu Offerings and New Art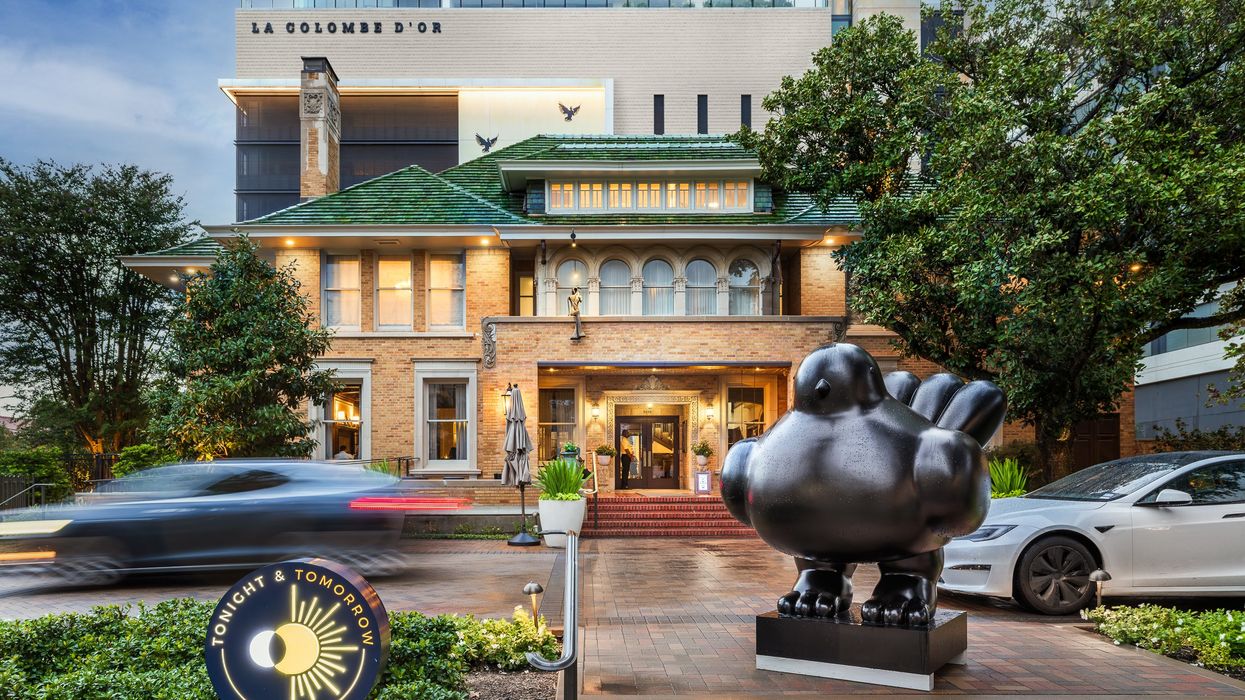 THE FINE AND famous La Colombe d'Or hotel in the Museum District is approaching a big birthday — so big, in fact, that the 32-room boutique hotel flaunting more than 425 pieces of art and sculpture will celebrate all year long. Who's invited? You, of course!
---
"The Fondren Mansion has been an iconic landmark for Texas for 100 years and beckons to an architectural style rarely persevered in our community," said Steve Zimmerman, owner of La Colombe d'Or, which underwent a massive renovation and expansion a couple years ago. "My family is humbled to be stewards of this historic landmark and to celebrate its centennial with a collection of unique and exciting activities and events that open our hotel's doors to locals and out-of-town visitors, alike."
To kick-off the year-long celebration of the milestone, a collection of indulgent offerings will be available at the hotel, bar and restaurant. As gratitude to the neighborhood, a monumental public sculpture installation of the late Fernando Botero's Bird has been installed in front of the Mansion driveway facing Montrose Boulevard.
In collaboration with Art of the World Gallery, the sculpture dubbed 'Botero's Dove,' is an iconic symbol for peace, unity, and prosperity. The famous bronze sculpture made its most prominent appearance in Medellin, Colombia, during the aggressive struggles with cartels and guerilla fighters between the 1980s and 1990s.
Additional 100-year celebrations are many. The "1923 Staycation" package includes a two-night stay in a Mansion suite, a generous food and beverage credit, sparkling wine at check-in, and complimentary valet.
Even bigger, its "100-Year Food & Art Staycation" includes a one-night stay in a Mansion suite, a four-course chef-hosted dinner for two with hotel owner Steve Zimmerman, wine pairings from Steve's private cellar, an art tour of the Mansion and Tower, a private art tour of the Museum of Fine Arts Houston with transportation, a nightcap at Bar No.3, and breakfast for two in bed, plus complimentary valet. Prepare to be wowed!
Hungry for more? The restaurant's Extravagance Menu showcases specialty entrée items available at Tonight & Tomorrow featuring a selection of premium ingredients including rare cuts of meat, white alba truffles, caviar, and other hard to acquire ingredients. Each menu item featuring these ingredients is available for $100.
"Giving-Back Art Philanthropy Cocktails"includes two craft cocktails available at both Tonight & Tomorrow and Bar No.3, through Oct. 2024. A percentage of proceeds raised from each of these cocktails will be donated to a variety of art-based Houston philanthropies.
"We are thrilled to celebrate 100 years of the Mansion at La Colombe d'Or and are excited to unveil many more exciting activities to commemorate a unique Houston gem over the next year," said Dan Zimmerman, principal of La Colombe d'Or. "By completing the restoration and renovation of the Mansion and expanding our room offerings to include the Tower and Garden Bungalows in 2021, we've been able to preserve the history and grandeur of the mansion while modernizing the overall experience to meet the demands of our discerning clientele for another century to come."
Originally designed by noted Texas architect Alfred C. Finn and built in 1923 as a personal residence for Walter W. Fondren, the Mansion was a fine study of exemplary architecture. Fondren was one of the founders of Humble Oil & Refining Company. The Mansion's styling is characterized by elements including the original roof with Ludowici tiles, window bays, chimneys, Sullivanesque stone friezes, as well as original windows, and a mosaic tile porch with an adjacent hundred-year-old magnolia tree.
The Mansion was acquired in 1979 by Steve Zimmerman, who transformed it into an artful boutique hotel featuring suites, a restaurant and bar, an art gallery and notorious Le Grand Salon de la Comtesse. The hotel has since been a draw for politicians, celebrities, artists, and international travelers seeking a unique experience.
Located a few minutes' drive from Downtown, the Texas Medical Center, and world-renowned art institutions, La Colombe d'Or hotel drops you at the doorsteps of Houston's most coveted destinations.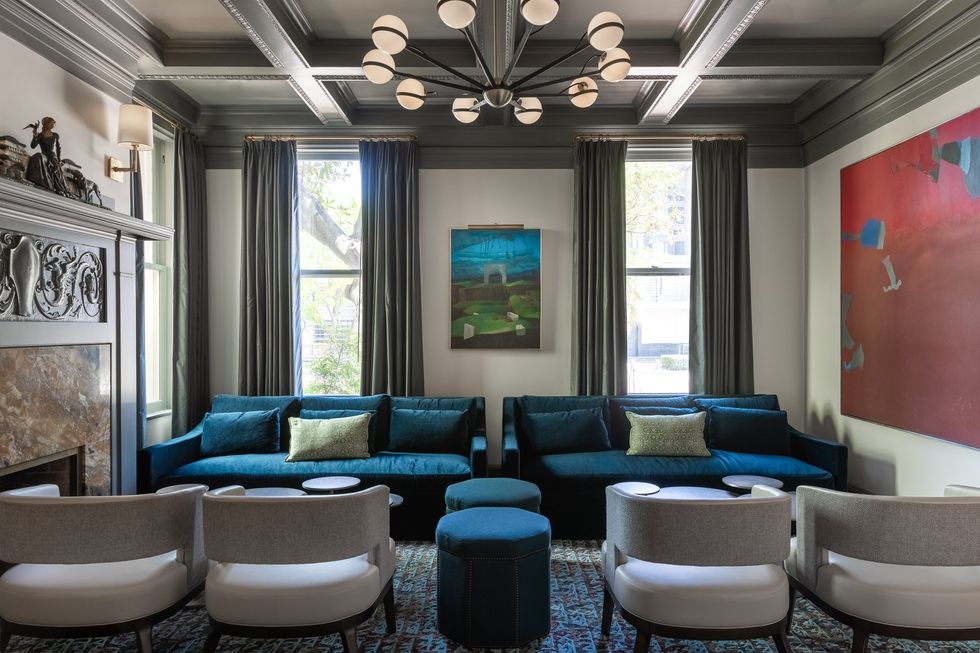 The library of La Colombe d'Or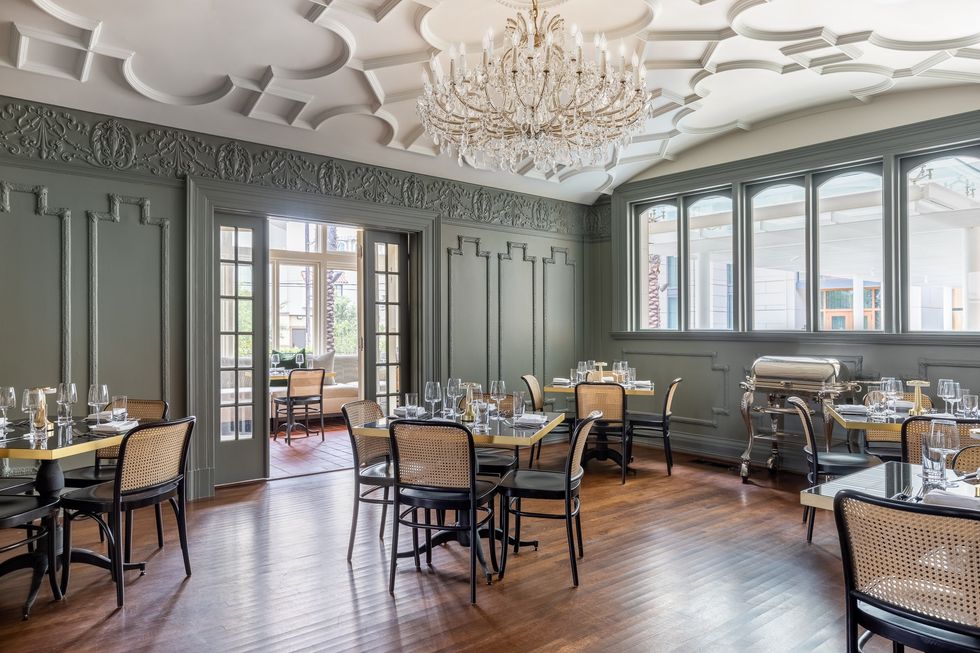 Tonight & Tomorrow
Art + Entertainment