MFAH's Le Jardinier, La Colombe d'Or and Gatsby's Highlight What's Hot in Montrose and Museum District Now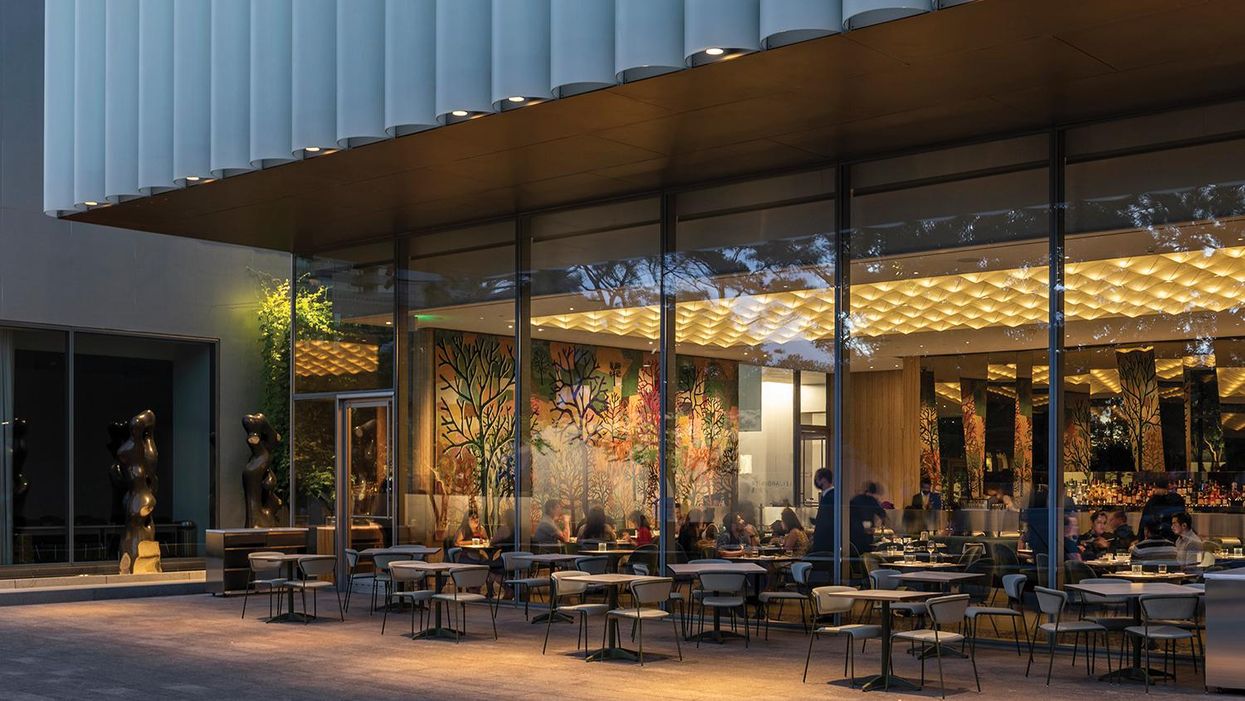 THERE'S A SECTION of Montrose that brushes up against the Museum District, where historically funky meets artistically austere. It's here that some of summer's most exciting possibilities lie.
---
In fact, MFAH is ground zero for what's new and spectacular. The museum will offer the Impressionism to Modernism exhibit, a vast collection of French masters such as Monet, Matisse, Cézanne, Degas and Renoir. The most anticipated show, however, is homegrown: Three Centuries of American Art. In the latter, Houston philanthropist Fayez S. Sarofim's personal pieces will be presented for the first time; the long list of mostly U.S. featured artists includes Edward Hopper, John Singer Sargent, Georgia O'Keeffe, Willem de Kooning and Robert Motherwell.
Elsewhere on the MFA campus — which is named for Sarofim, a major donor to the museum — the art is edible. Le Jardinier, French for "the gardener," is a masterpiece of crisp architecture, with floor-to-ceiling windows peering out into the Isamu Noguchi-designed Cullen Sculpture Garden and the verdant museum grounds.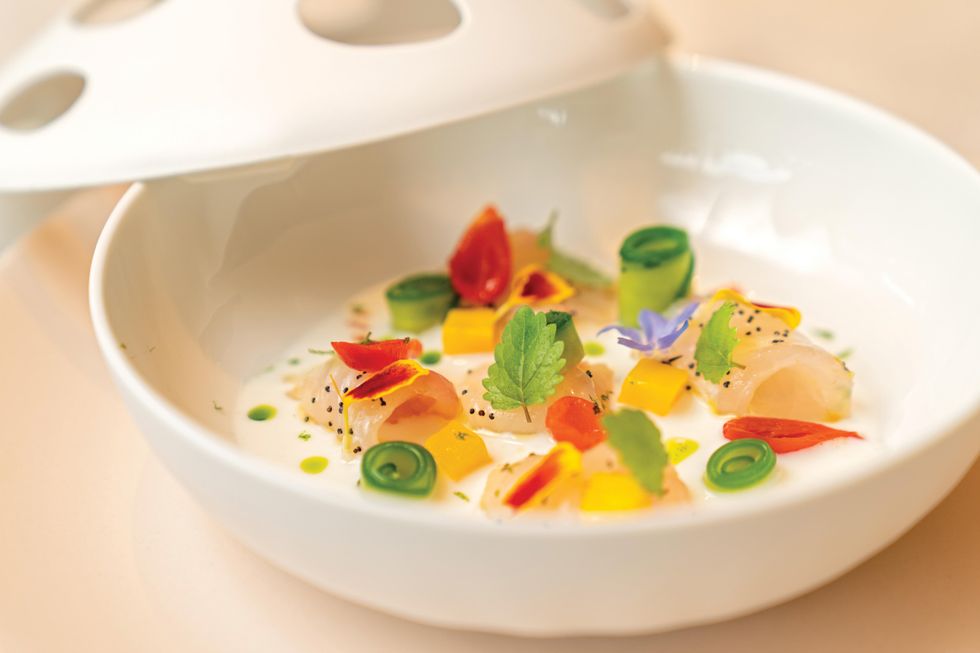 Cured snapper with buttermilk and cucumber curls at Le Jardinier
The concept here, in this new gem in the Nancy and Rich Kinder Building, is to provide a highly, ahem, curated experience for guests. From the large forest-scene tapestry by Houston favorite Trenton Doyle Hancock, to the ceiling's mod lanterns, also by Noguchi — and even to the unique crystalline lamps on the tables, and the dainty little drinking glasses — no detail in this space, wrapped in tones of natural wood and sage green and backed by a mirrored bar space, has been overlooked.
The theme of refinement, and reverence for the garden, spills over to Michelin Star chef Alain Verzeroli's studied French menu. Note the first course on the current optional tasting menu: a kind of ceviche of red snapper in buttermilk, with meticulous little curls of Persian cucumber, mango cubes, flower petals and, on the side, a quenelle of caviar. There's an entrée of seared scallops with an artful, vividly orange splatter of carrot emulsion Jasper Johns could appreciate, and a dessert of green yuzu mousse served upon a ring of shortbread the French call sablé.
A few blocks north, on Montrose Boulevard, new 1920s-inspired sister concepts have gone in. Gatsby's is a steakhouse that leans into its old-school sexy, with Dean Martin on the stereo, black lacquered walls, cherry-red ceilings and a few unique, rich menu items that are as much statement pieces as dishes. Deviled eggs dolloped with bacon jam and garnished with fried shrimp, anyone? Next door, Daisy Buchanan has a late-night bar menu, tinkling live piano, and updated Jazz Age-inspired cocktails, like the Bull in a China Shop, with whiskey, peach brandy and Earl Grey, served in an antique tea cup.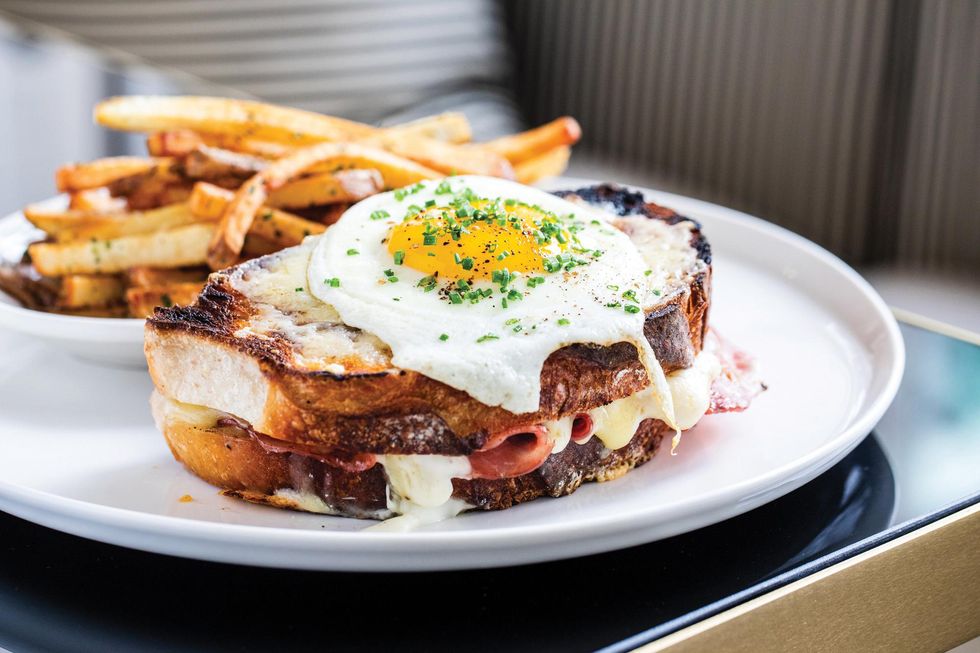 Tonight & Tomorrow's brunchtime 'croque madame'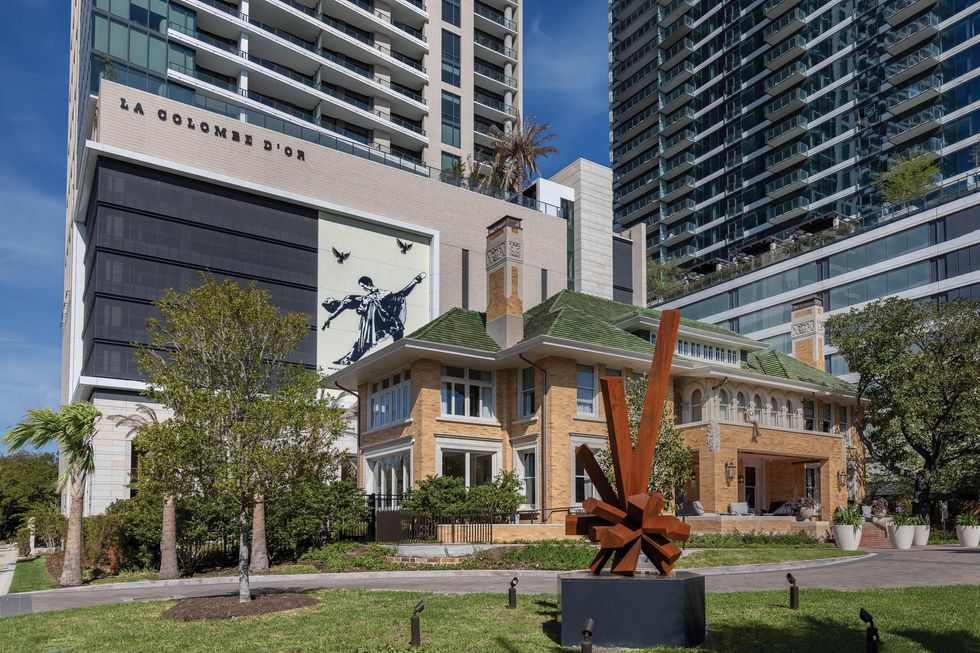 The renovated La Colombe d'Or, flanked by new skyscrapers
And the neighborhood is still buzzing about the renovation and expansion of La Colombe d'Or. Besides the polished redo of the old boutique hotel, and the erecting, in partnership with Hines, of a slick high-rise in the back yard, encompassing both residences and urbane new hotel suites ideal for a sophisticated staycation, a fabulous new restaurant and bar has opened here.

At Tonight & Tomorrow, your dinner of steak frites with bordelaise might be served in the lovely, nearly century-old dining room filled with grand art, or in the more private sunroom, or out in the sculpture garden. Brunch is fast becoming a tradition, thanks to the bright, friendly vibe — and a menu of can't-lose options like a classic croque madame breakfast sandwich, exceptional chilaquiles, and a burger with caramelized onions. Cocktailing at the hotel's clubby Bar No. 3 — or on the hotel's gracious Southern-style front porch — is just cool.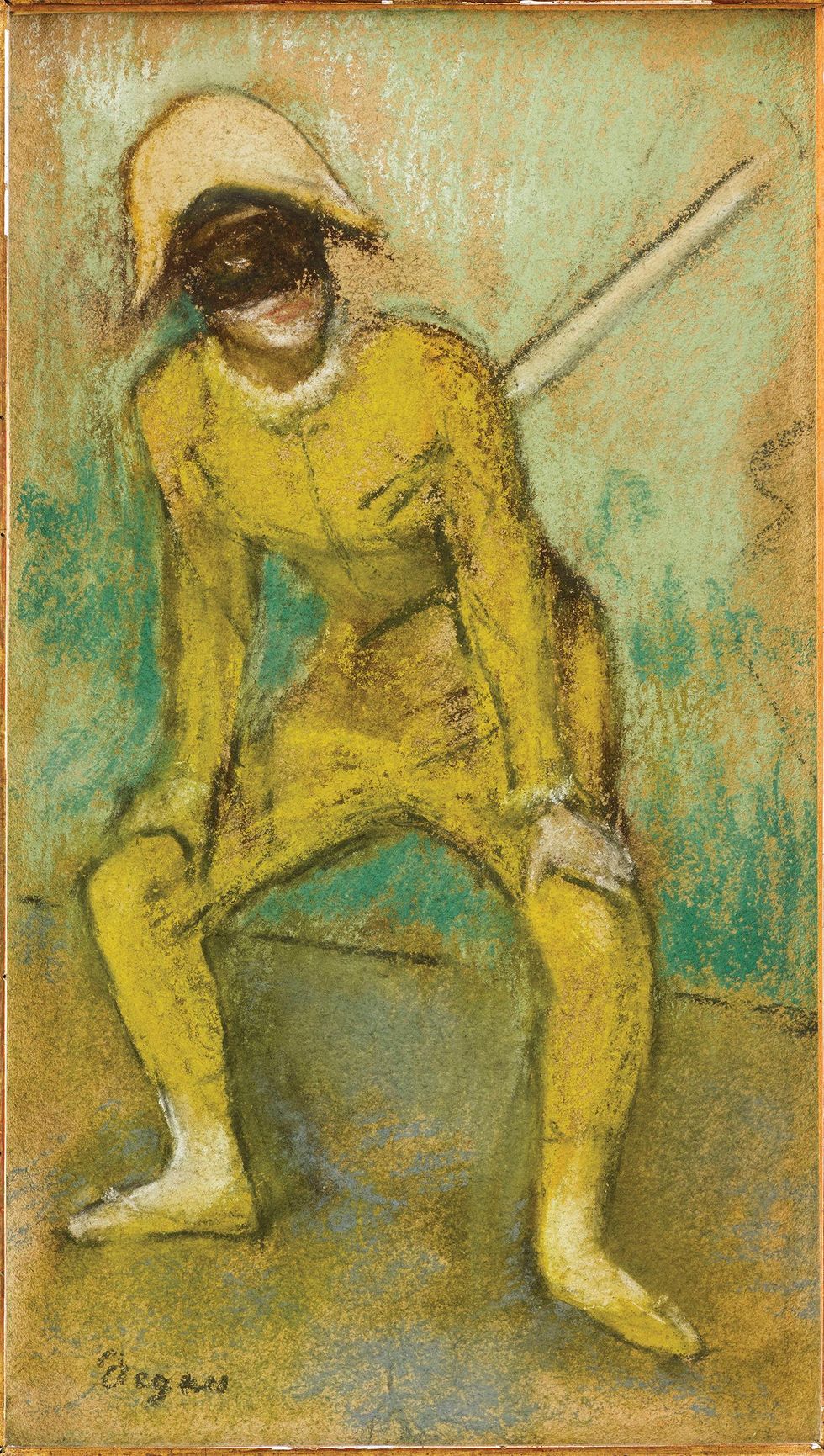 Degas' 'Harlequin' on display at MFAH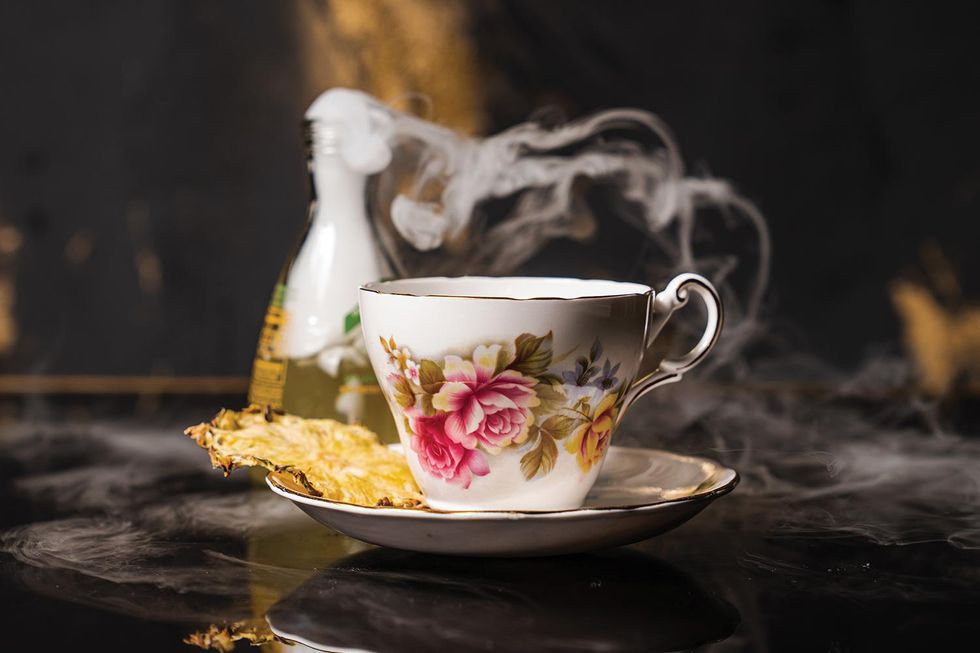 The Bull in a China Shop cocktail at Daisy Buchanan
People + Places