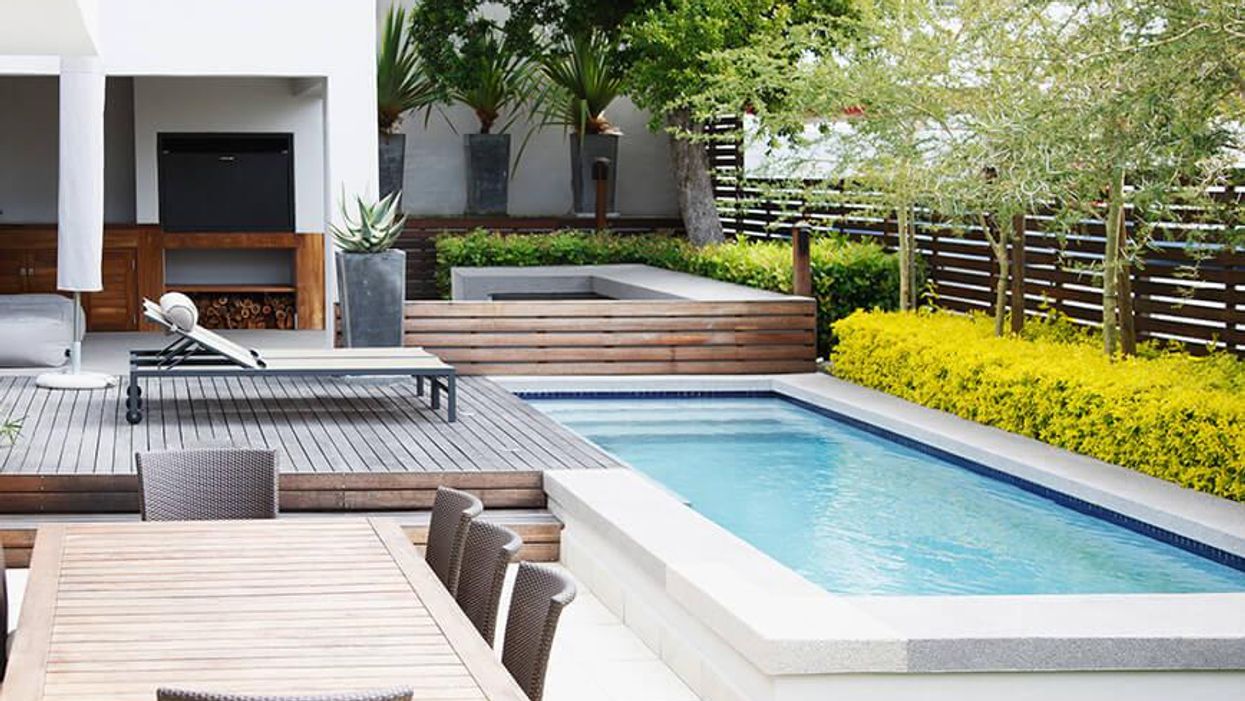 READY TO MAKE some changes to your outdoor space? Want to create the backyard paradise you have been thinking of? Refresh your spring and summer setting with Brixos.
Whether it's remodeling your home, adding an outdoor kitchen or sunroom, designing a pool and deck area from start to finish, or anything else related to remodeling and home improvement, Brixos can do it for you.
Brixos works with vetted professional contractors to ensure every job is frictionless for homeowners. After receiving your project request through app.brixos.com, their team reviews your request, works with you directly to understand your project, and sends a project bid based on average industry pricing.
From there, Brixos works closely with homeowners on the design of their space, then manages the remodeling and construction work from start to finish. All you have to do is share your vision and trust Brixos to complete your project.
Brixos custom software and database builds quotes for home improvement projects, ensuring standard industry pricing so that you never overpay. The Brixos team uses the highest quality materials on all remodels and new project builds — ensuring your project is of the highest quality while staying in your desired budget.
With the ability to call, email or text with their team about your project - you have 24/7 access to the Brixos team for anything you need or questions you might have.
Submit your project today at app.brixos.com or give the Brixos team a call or text at 713-331-1064 to discuss. They love hearing about your home improvement projects!
Learn more at brixos.com and let Brixos do it for you.
HOUSTON, WHICH WAS just last week named by Rolling Stone as the "Hot Scene" of 2021 in an article highlighting the city's resurgent rap community, seems to be making it onto a lot of "best of" lists recently, and yesterday we made it onto another one. TIME revealed yesterday its annual list of the "World's Greatest Places," and Houston made the cut.
The list, now in its third year, is curated from editor and expert nominations from around the world and recognizes 100 unique destinations — from small towns to big cities across the world — that offer visitors unique and extraordinary experiences.
"The challenges of the past year and a half have transformed our world, and few industries have been as affected as travel, tourism and hospitality," wrote the TIME editors. "In many ways, our third annual list of the World's Greatest Places is a tribute to the people and businesses at the forefront of those industries who, amid extraordinary circumstances, found ways to adapt, build and innovate."
The editors, who also included U.S. cities like Napa Valley, California; Santa Fe, New Mexico; and international cities and locales like Lijiang, China; Sicily, Italy; and Lake Kivu, Rwanda; on the list, had lots of good things to say about Houston. The Houston blurb, which highlights the city's diversity, includes mentions of Project Row Houses, Musaafer and Top Chef finalist Dawn Burrell's soon-to-open restaurant Late August.
"Houston — which welcomed around 100,000 new residents in 2019 — has emerged as one of the most diverse cities in the American South," wrote Kayla Stewart. "It also boasts a plethora of exciting dining options, including Musaafer, which offers a menu inspired by two chefs' 100-day journey through India. Downtown, POST Houston, a concert venue, food and market hall, and work space, will open in a former post office this fall.
"Meanwhile, Late August, a highly anticipated restaurant led by Top Chef finalist Dawn Burrell, will soon open in the city's new innovation district," she continues. "Nearby, further cultivating the city's creativity, is Project Row Houses, a community-­based arts organization that restored a group of row houses to provide art studios and exhibition spaces for local artists and affordable housing for young mothers."
You can check out TIME's full list of this year's iteration of the "World's Greatest Places" here.
People + Places
POSTINO WINE CAFE, the beloved, Arizona-headquartered collection of beer and wine-focused restaurants with buzzing Houston outposts in the Heights and Montrose, just rolled out its first-ever cocktail menu. And although all of the cocktails on the refreshingly low alcohol content menu are spirit-free — think cocktails crafted from fortified wines, aperitifs and exotic beers instead of the usual, throw-your-afternoon-off-track fare — the spirited menu is bold in both vision and flavor.
The new menu, which will be offered to the professional brunching crowd on Saturdays and Sundays starting at 9am, features three different riffs on the classic Aperol Spritz, a beer-spiked take on the mimosa, and a bloody Mary made from sherry that won't force you into a midday coma nap like its more liquor-logged cousins are known to do.
"As a beer and wine establishment, we felt we'd done everything we could to showcase the great diversity of those offerings, from proprietary wines and boutique producers to local and nationally beloved craft beers," said Brent Karlicek, Postino's beverage director, in a statement. "But we felt we were leaving a particular guest out to dry and made a commitment to better serve those who are passionate about craft cocktails.
"Launching a brunch cocktail menu built around spritzes and other lower alcohol beverages is a great way to let guests continue to sip and savor and keep the party going, compared to more robust spirits-based cocktails that may take your afternoon off-track," he continued.
For the new menu, the Postino team started with a list of 20 potential cocktails before they slowly, through a series of careful tastings, honed the list down until they ended up with five final cocktails that made it across the finish line and onto the menu. The final result of their efforts is list of sip and savor cocktails designed to keep the party going.
Included on the new menu is the Sherry Mary, Postino's take on a bloody Mary, made from an umami-forward mixture of Oloroso Sherry, Rainwater Madeira and bloody Mary mix. The menu, which launches this weekend, also features the Sure Shot, a refreshing and bubbly concoction made from Cocchi Rosa, sparkling rose, grapefruit juice and soda.
Food