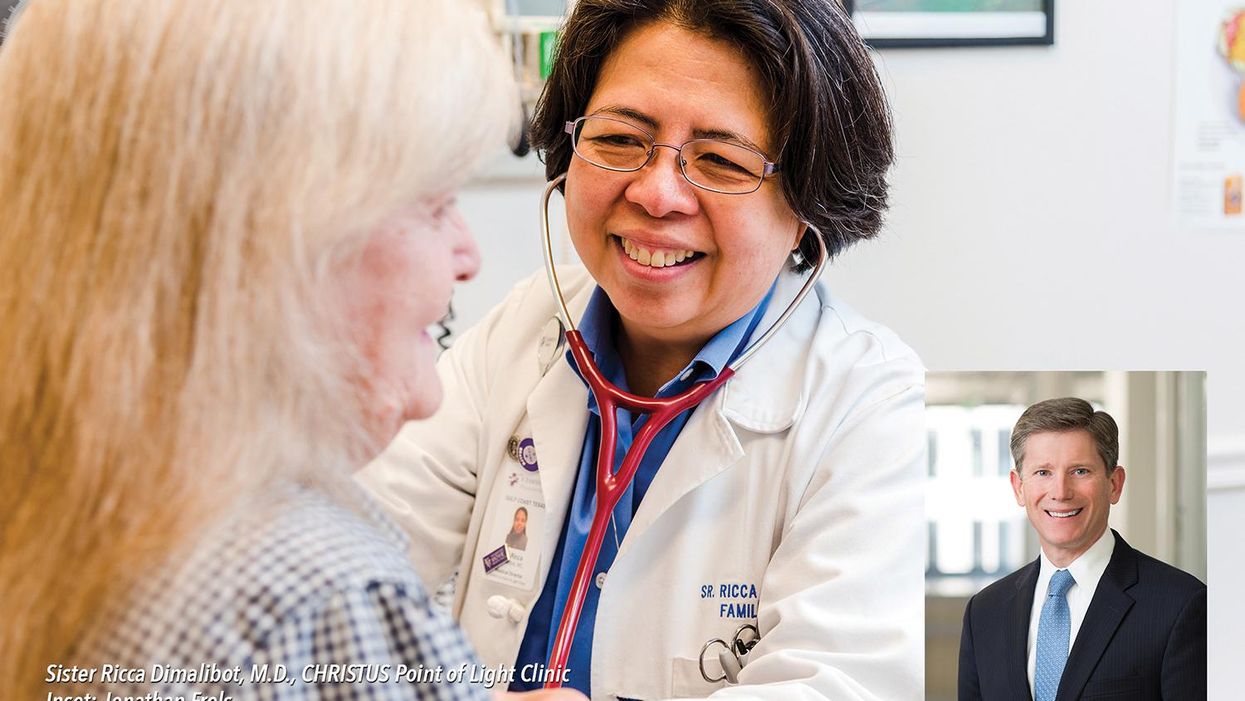 AN INTERVIEW WITH Jonathan Frels, Board Member of Christus Foundation for Healthcare
Tell us a little about your organization. In 1866, the Sisters of Charity of the Incarnate Word came to Galveston with a mission to heal "the sick and infirm of all kinds." In 1887, they expanded their reach with St. Joseph's Infirmary, Houston's first general hospital. While the focus has shifted from hospital care to primary healthcare and related services, CHRISTUS Foundation for HealthCare continues the original mission by serving the needs of underserved and uninsured communities of all faiths, ages, and cultures in the Greater Houston and Galveston areas. Our seven programs include stationary clinics, mobile clinics, and school clinics, in addition to our Galveston homeless outreach.
What have been your biggest challenges since the COVID pandemic began? In addition to the challenge of adapting our programs to keep our staff and patients safe, we have seen an influx of patients suffering physical and mental health challenges related to the pandemic. A number of the low-income families we serve are experiencing trauma and stress due to both job loss and the loss of family and friends from the virus. About 50-60% of the people we help aren't working at their usual jobs due to the pandemic. In addition to helping clients with their medical needs, we've focused on connecting them with counseling and mental health support. The sharp increase in those seeking healthcare and mental-health support during the pandemic has made our work even more critical.
How did you adjust and overcome obstacles? At our two stationary clinics, CHRISTUS St. Mary's Clinic in Houston's East End and CHRISTUS Point of Light Clinic in Dickinson, we are working with patients on managing conditions such as diabetes. Access to healthy foods has proven difficult to many, as has the ability to afford prescriptions. Our prescription assistance program and education on how to access food through area food banks are essential tools for promoting health during the pandemic. While the indoor facilities at CHRISTUS Our Daily Bread may be closed to homeless clients, we are still supplying medical care, two to-go meals a day, hygiene and clothing supplies, and temporary outdoor restrooms and hand-washing stations in the parking lot. Our CHRISTUS Healthy Living Mobile Clinics continue to administer care to hard-to-reach segments of the city, providing adult and children vaccinations to keep this at-risk community protected.
What's the secret to staying forward-looking in tough times? The focus on our mission. As Sister Rosanne Popp, M.D., Medical Director at CHRISTUS St. Mary's Clinic, says, "We are here for people who fall through the cracks of the cracks." For over 150 years, we have served those who otherwise would not have received care, including through other health crises such as the Yellow Fever Epidemics in Galveston and the 1912 Smallpox epidemic in Houston. Every member of our community deserves access to healthcare, and we will continue to be there for them for another 150 years.
THE COVER STAR of CityBook's latest issue, chef-activist Chris Williams, is also the star of a Netflix show that debuts next week. High on the Hog is a hotly anticipated and already-celebrated four-part docuseries focused on how African American cuisine transformed America's culinary landscape.
In the show, adapted from food historian Jessica B. Harris' book of the same name and directed by Oscar-winner Roger Ross Williams, food writer Stephen Satterfield sets out to discover the meaning behind and the modernization of centuries-old traditions. African American cuisine, as viewers learn alongside him, is "much more than stews and soul food." Satterfield meets with chefs, food activists and historians on a journey that begins in Benin, Africa, winds its way through Charleston, New York and Philly, before ending right here in the heart of H-Town.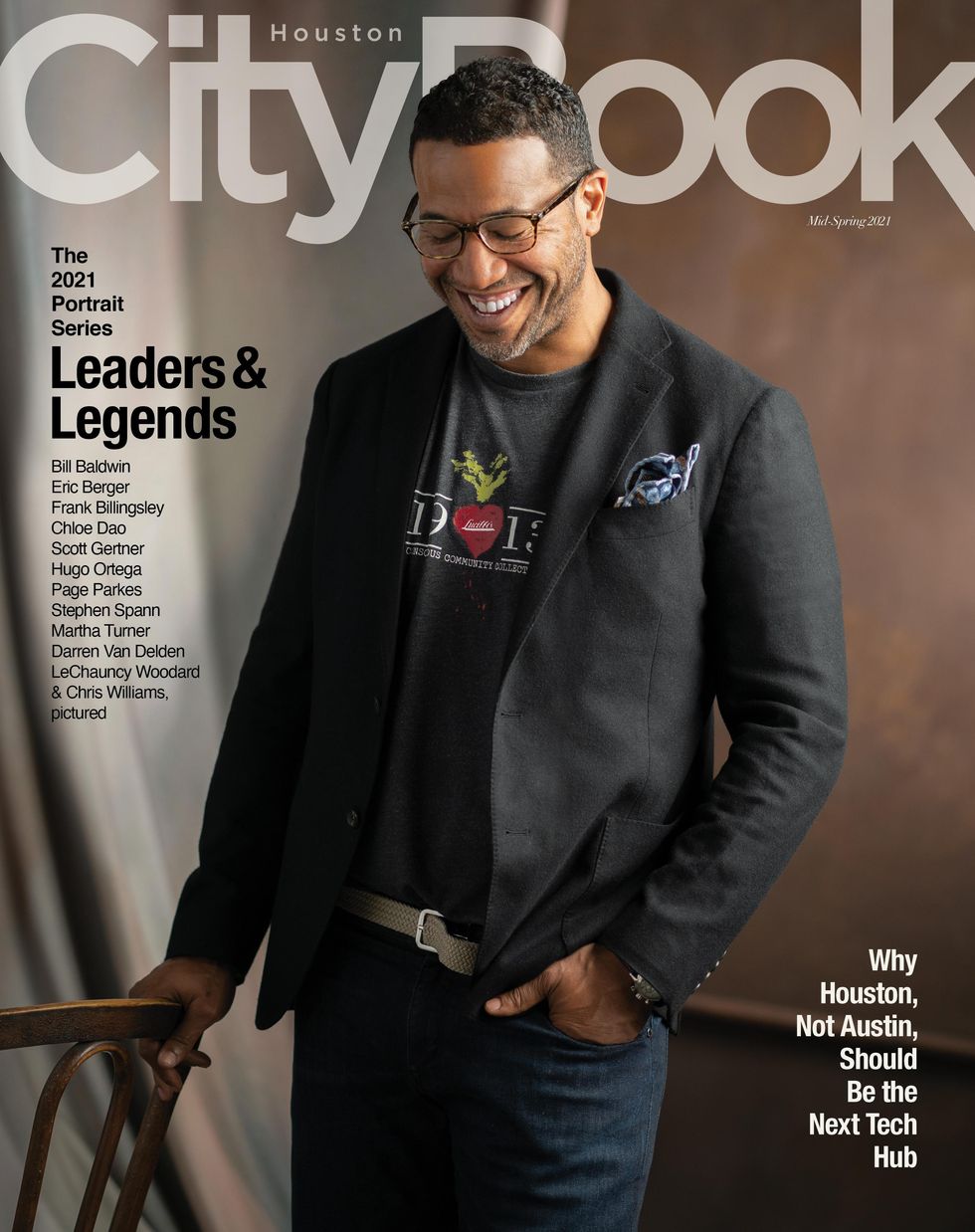 Chris Williams on the cover of the Mid-Spring 2021 issue of Houston CityBook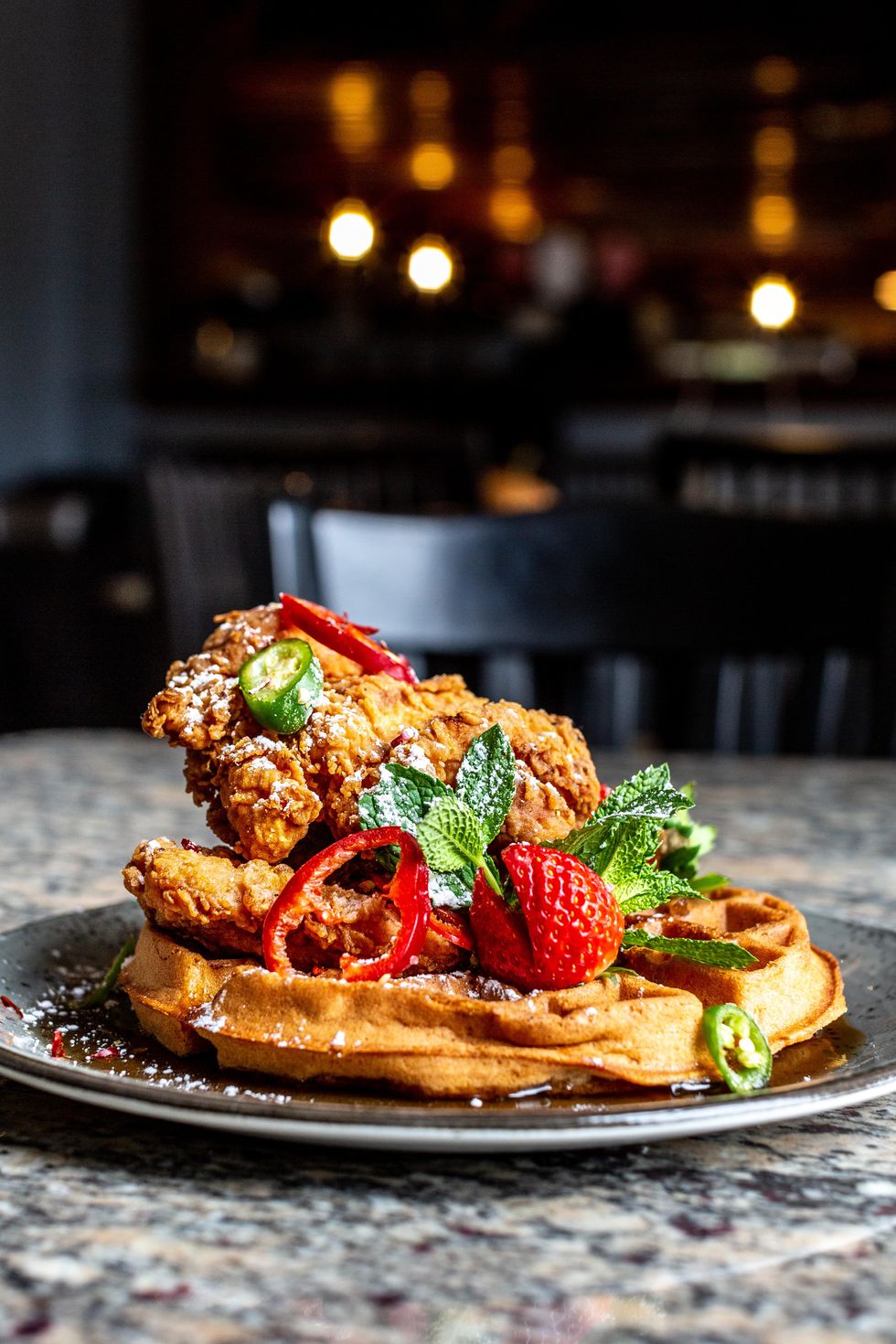 Chicken & waffles at Lucille's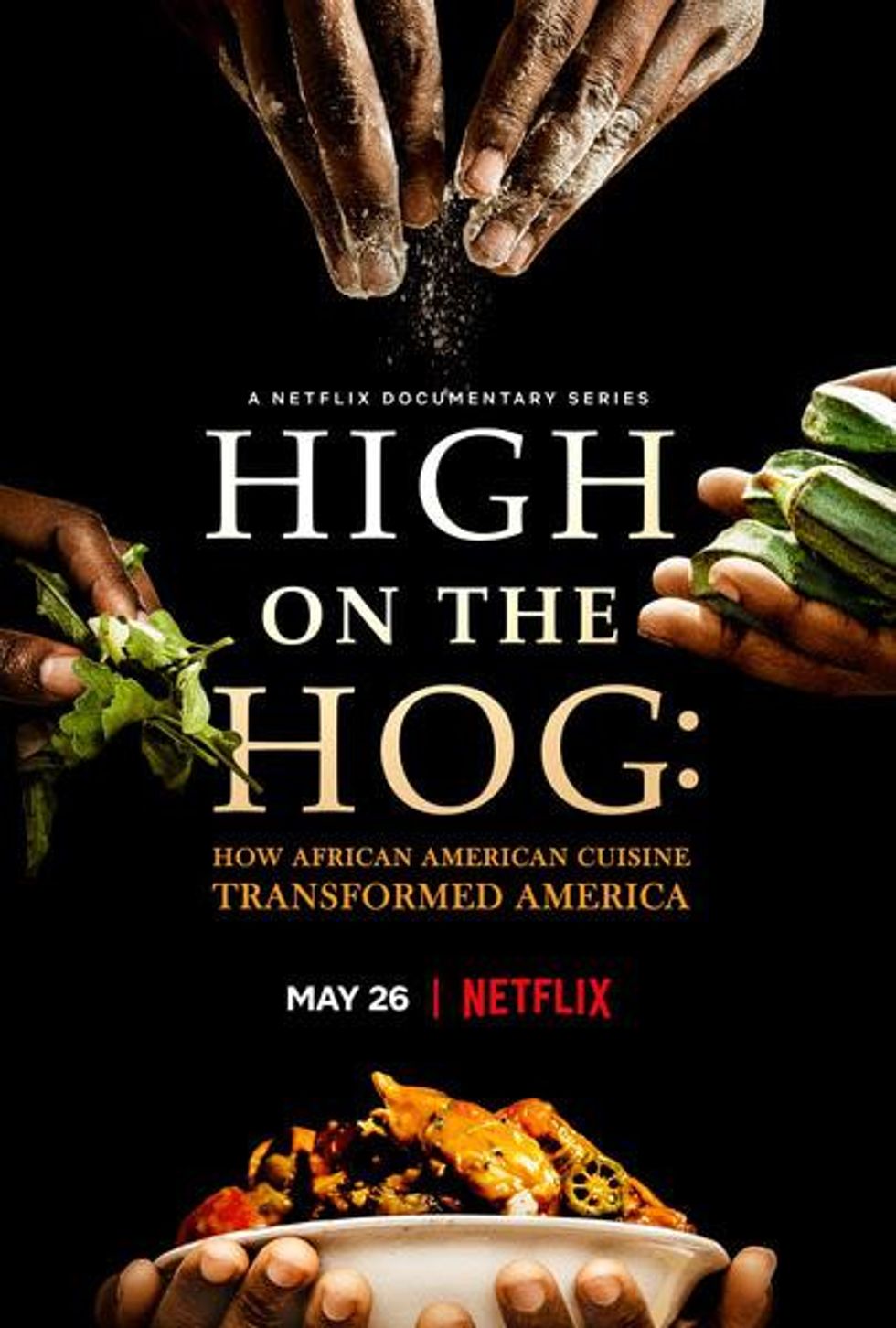 The show's final episode, called "Freedom," focuses on the ongoing influence of slavery on American cuisine and culture. Satterfield learns about Juneteenth-inspired fare, as in desserts by Dallas-based James Beard finalist Jerrelle Guy, author of Black Girl Baking. He heads south and hops on horses with the Northeastern Trailriders, a group of Black cowboys, before venturing into the delicious and multifaceted world of East Texas barbecue — a culinary scene pioneered by the enslaved.
The episode — and the series — concludes in Houston, where Williams prepares dishes from Toni Tipton-Martin's book Jubilee: Recipes from Two Centuries of African American Cooking for Satterfield and Tipton-Martin herself, at his Museum District-area restaurant Lucille's.
As Williams told CityBook last month, the flagship restaurant of his newly formed Lucille's Hospitality Group "is a tribute to my great-grandmother and culinary pioneer," Lucille B. Smith. "We've been feeding the future while serving the past for almost nine years," he said. "I've realized that as a chef, I'm uniquely equipped to tackle these larger issues that surround food. It's no longer about me creating a dish or restaurant concept. Instead, I want to be folding the community into the intended purpose of everything I create. It's about getting everyone involved in every part of the process to get there collectively. I also want to be actively changing the conversation of who can do what and what that looks like."
All four episodes of High on the Hog drop May 26.
Food
Priscilla Dickson and Quy Tran
STAGES, WHICH YESTERDAY announced its return to in-person performances at its still-new campus, celebrated a return to normalcy with a black-tie gala at The Gordy. Nearly 200 supporters raised a glass to surviving the tumultuous year, which included plentiful pivots to digital programming and livestream performances by the troupe.
The evening kicked off with entertainment by singers Teresa Zimmerman and John Ryan del Bosque, who serenaded guests as they entered the beautiful building, decked out by Bergner & Johnson in greenery and elements like paper lanterns from floor to ceiling.
Originally scheduled to take place in January of this year, the gala was successfully rescheduled, thanks to the hard work of event chairs Cabrina and Steven Owsley, underwriting chairs Vicki West and Ralph Burch, and auction chairs Jo Dee and Cliff Wright. Speaking of the auction: Packages included trips to Marfa and Costa Rica, and even a walk-on role in Stages' upcoming holiday season's Panto production.
Before dinner, patrons mingled with Stages actors and board members, catching up on the wild year and chatting about the season ahead. The meal of chinois salad and chicken and shrimp with duck-fat-fried rice, courtesy of Wolfgang Puck, was stellar, as was the encore of key lime pie and espresso tiramisu. Guests then made their way outside to The Gordy's Brown Foundation Lawn — the site of a handful of socially distant performances this spring — for cocktails.
The evening raised an impressive $670,000 for Stages, and certainly marked an exciting moment for Houston's fine-arts scene.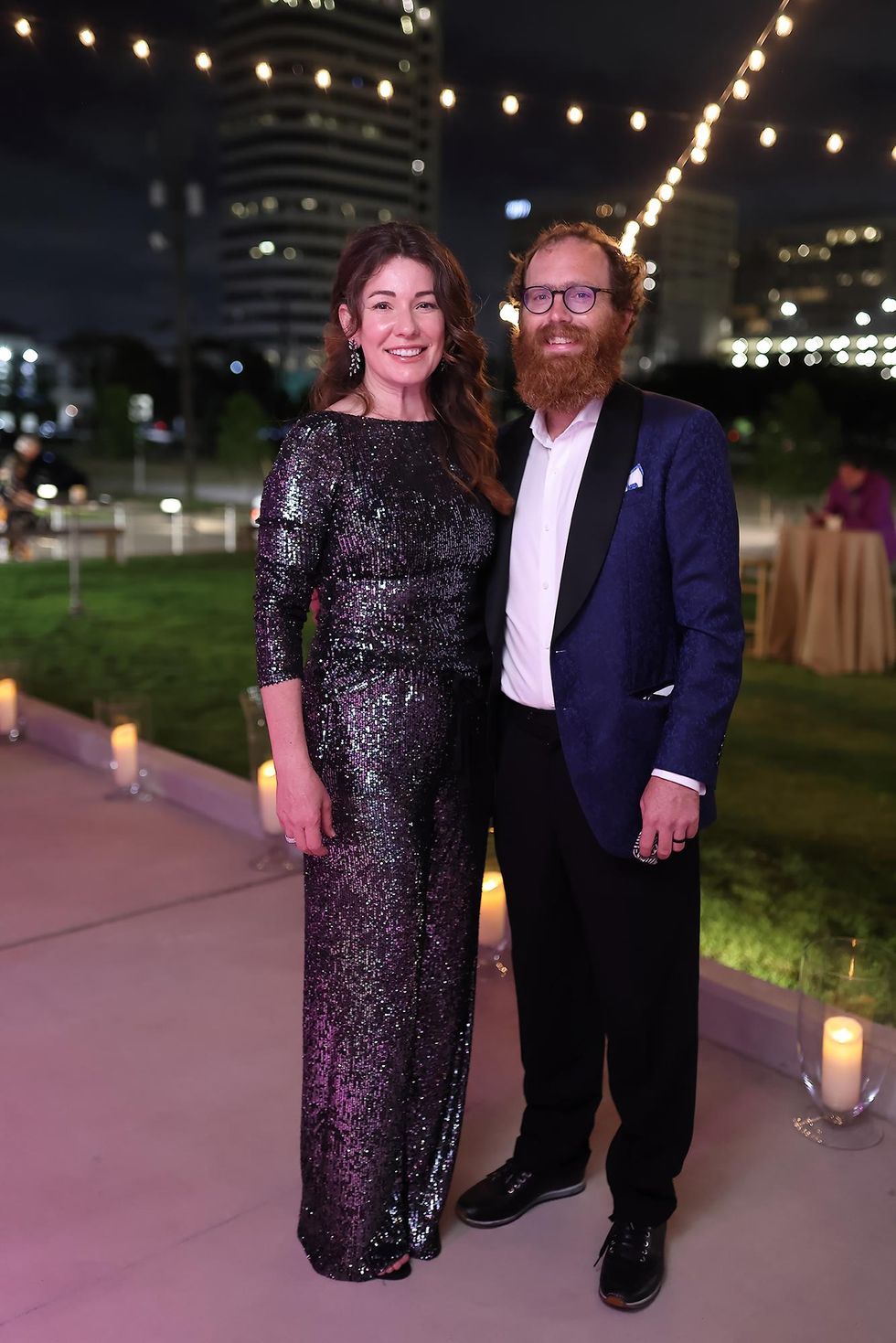 Alicia and Garrett Gordy
Brandon McClendon, Ashley Jackson, Chase Brooks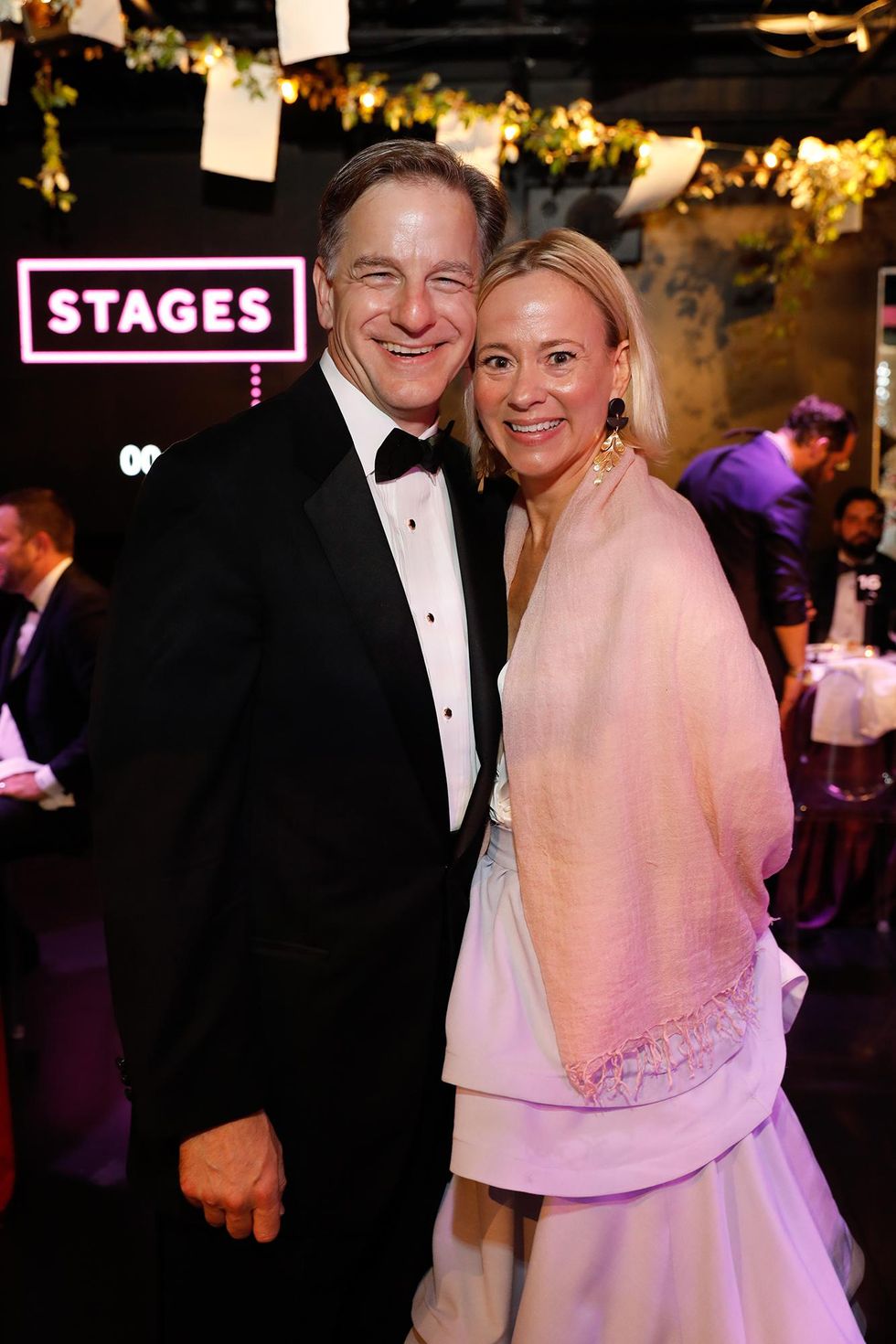 Charles and Kerry Walker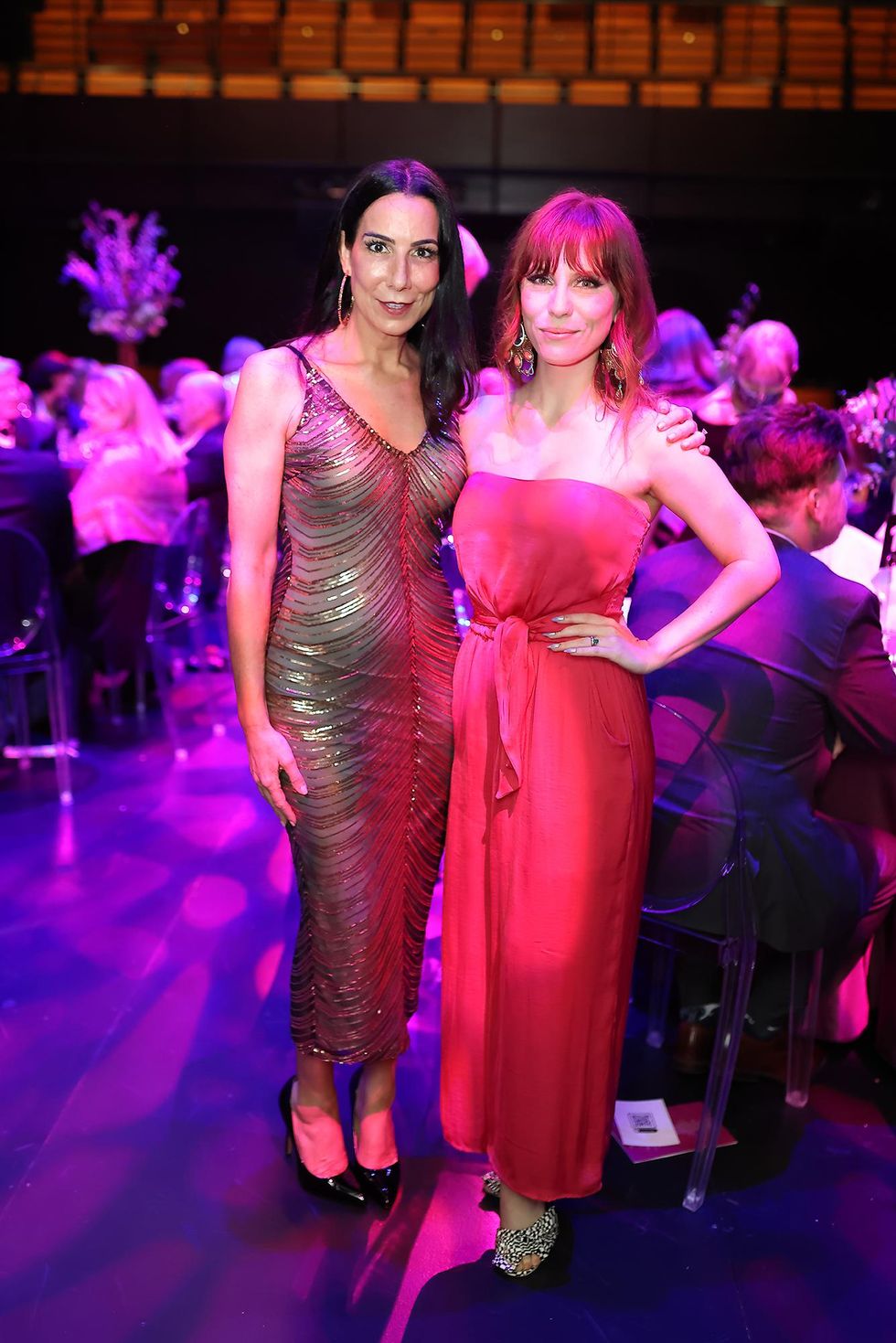 Denise Fennell, Teresa Zimmerman
Dominic Cellitti, Steve Breyfogel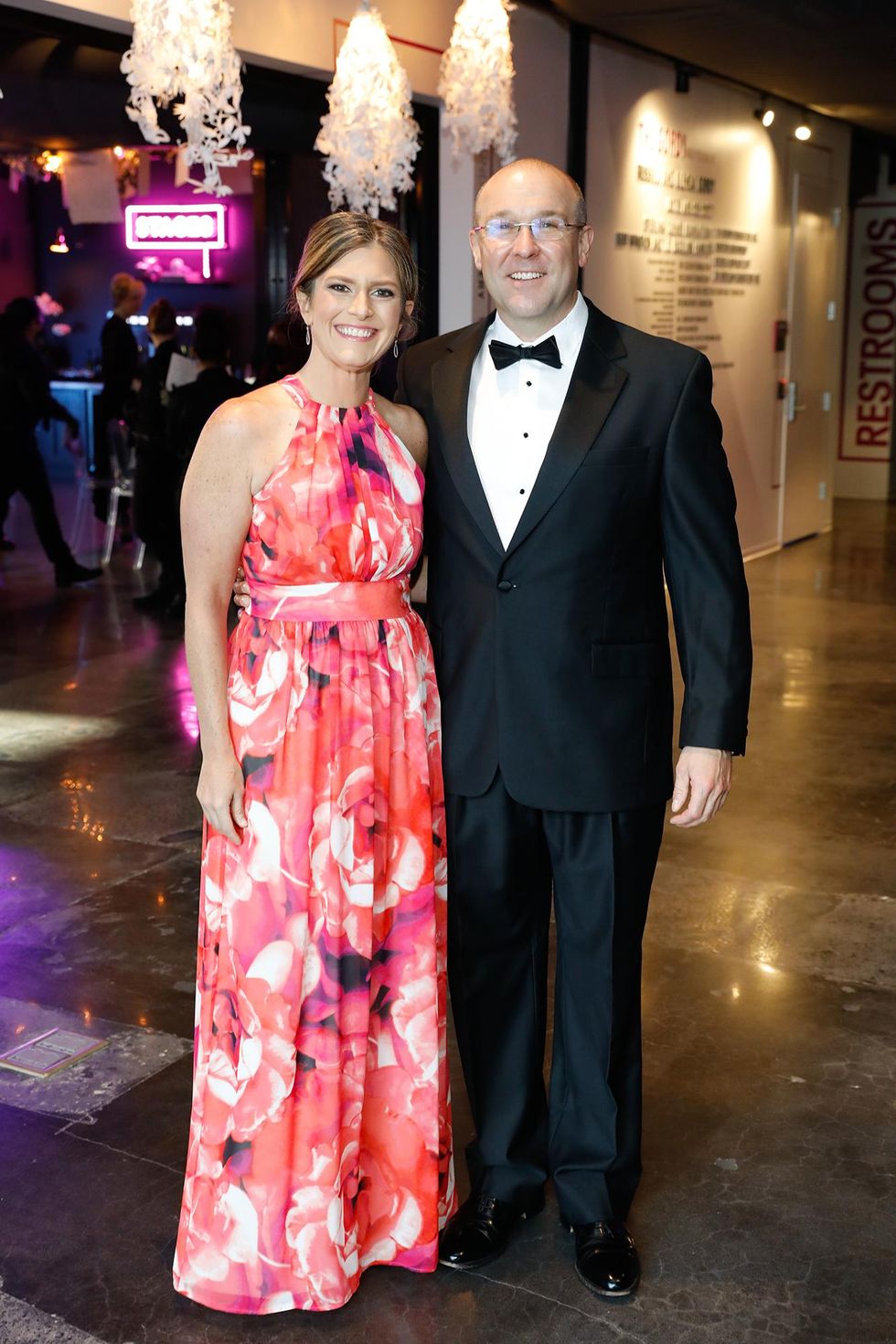 Erica Noll, Mike Cardigan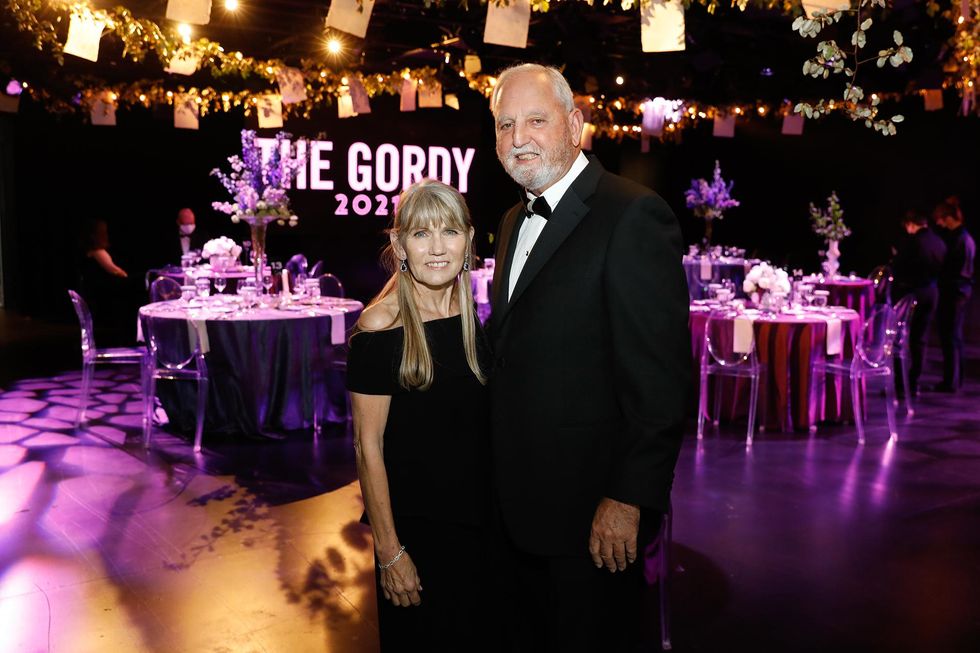 Glenda and Russell Gordy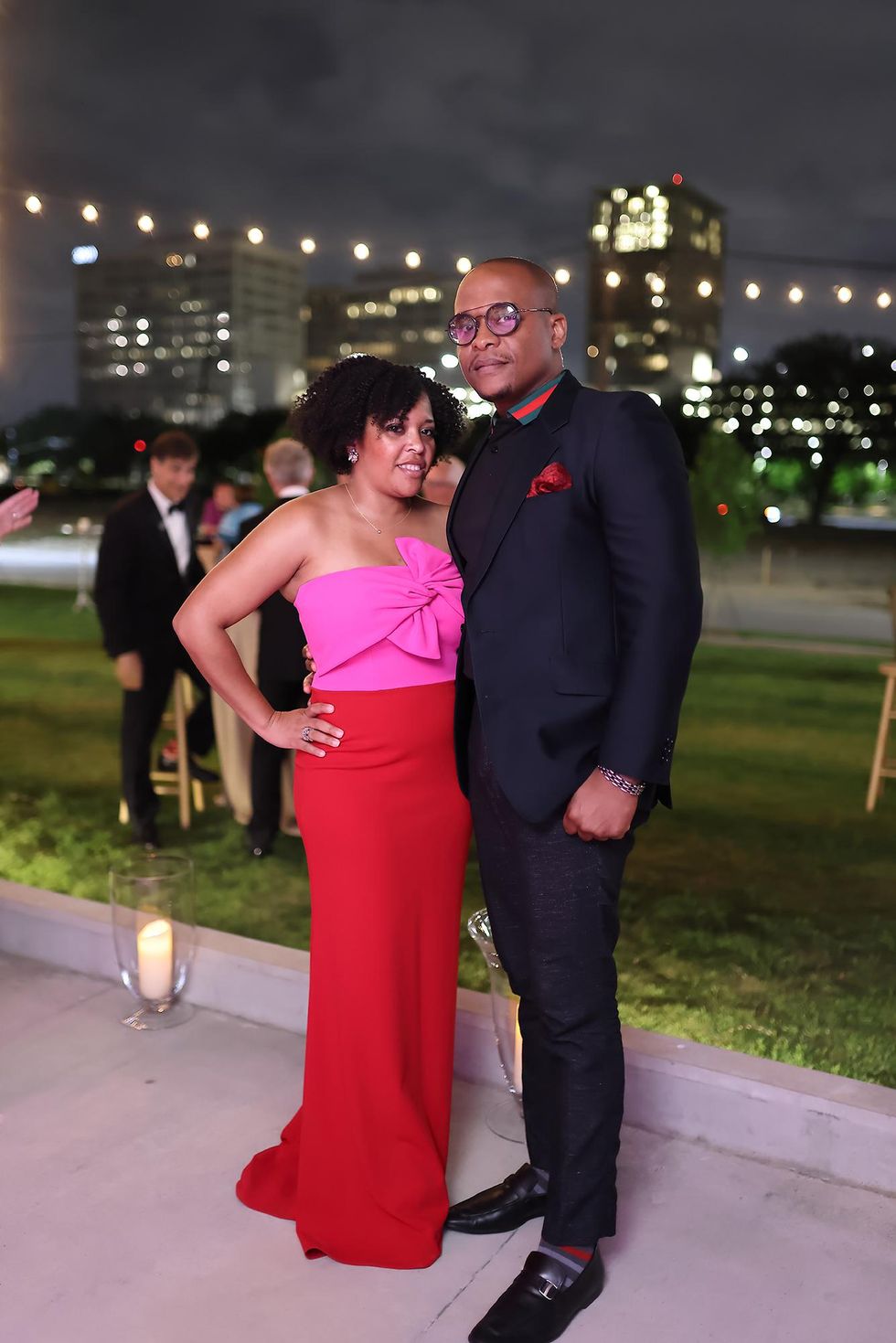 Kalinda Campbell, Sledge Leonidas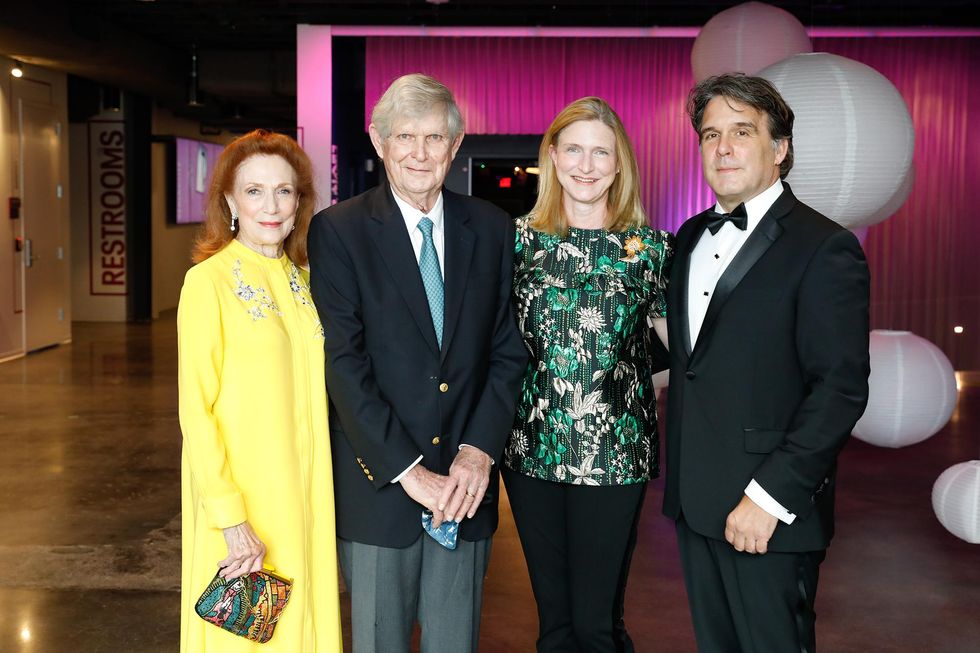 Isla and T.R. Reckling, Carroll Goodman and John Wessels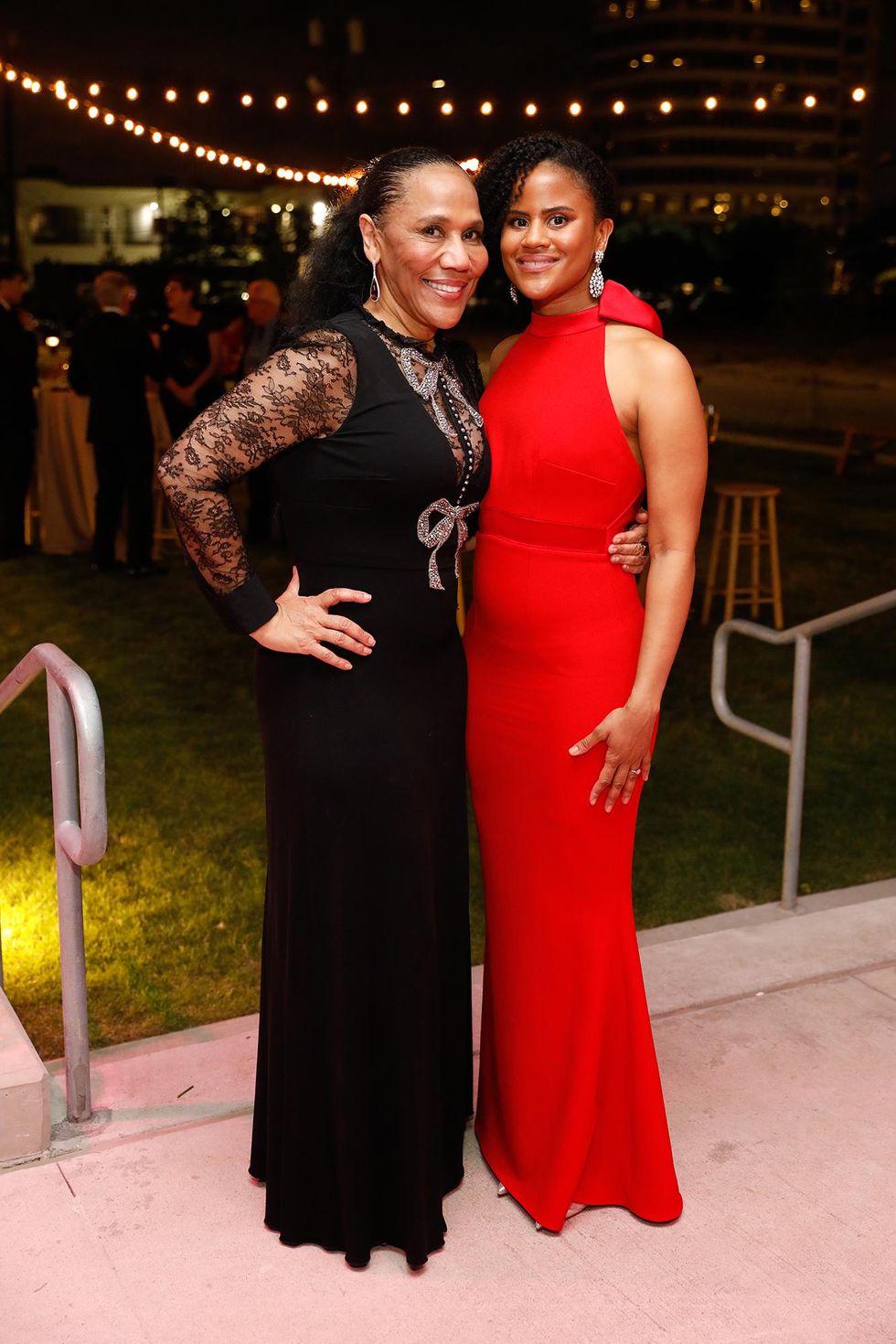 Mrytle Jones, Candice Penelton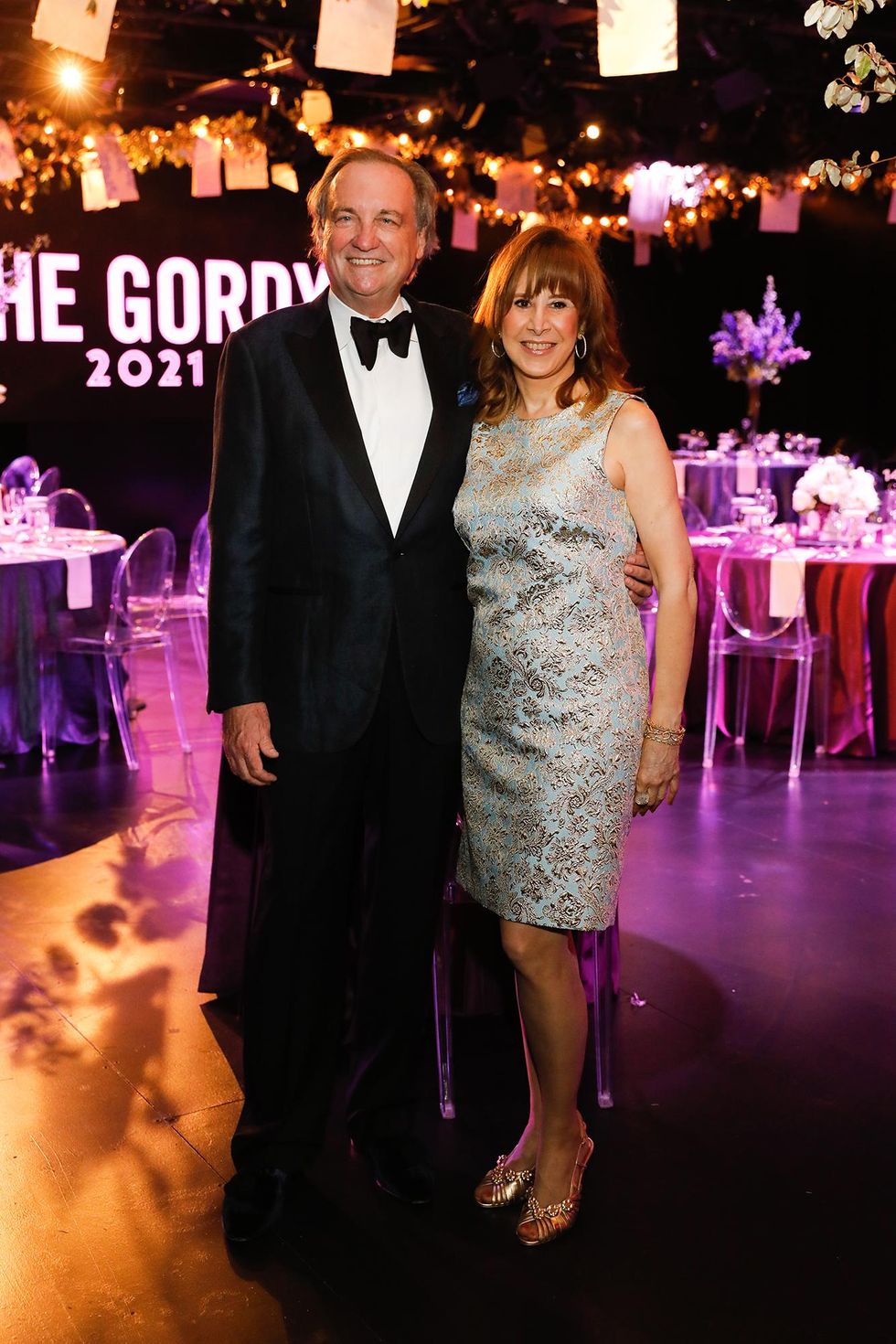 Ralph Burch and Vicki West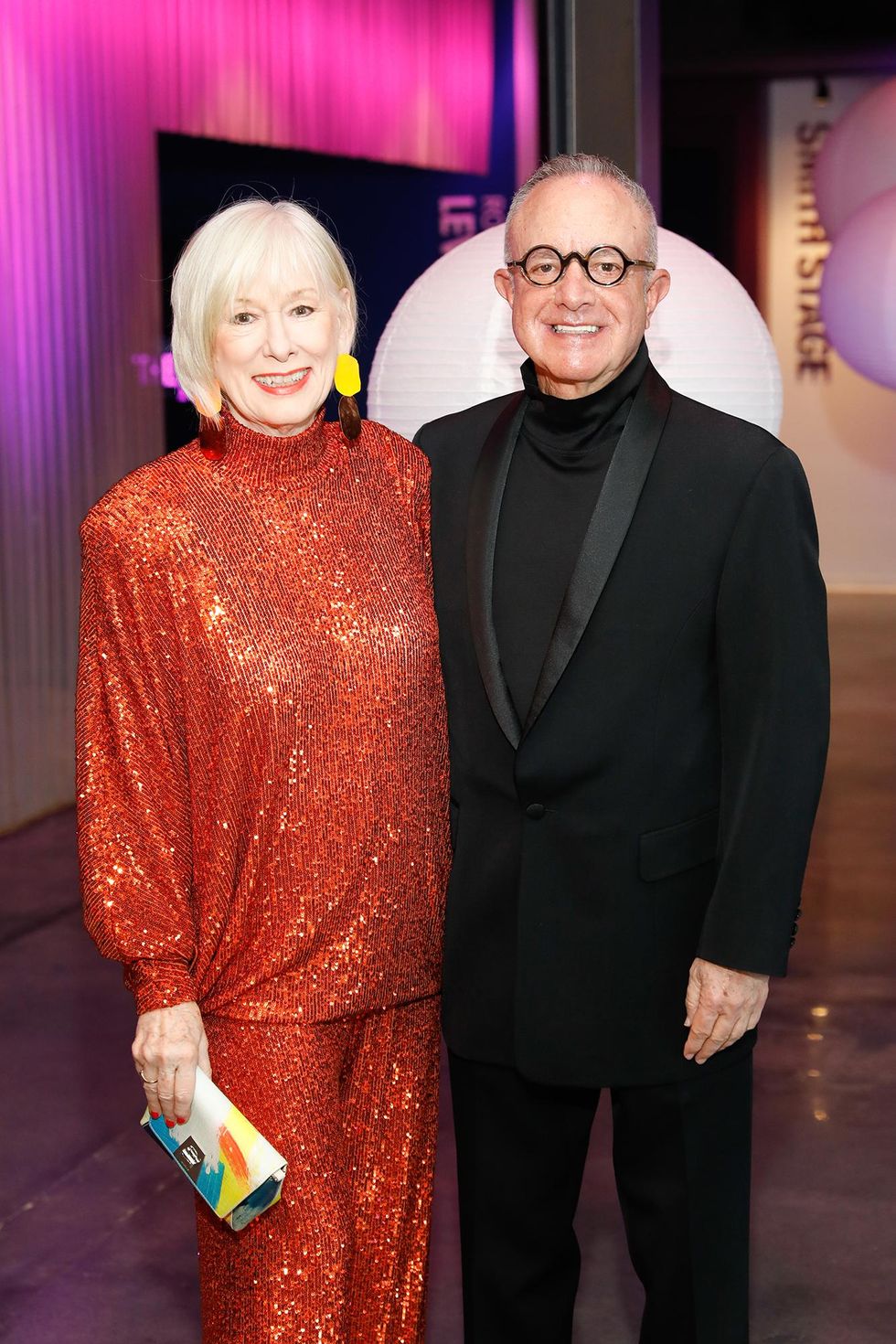 Susan and Neal Hirsch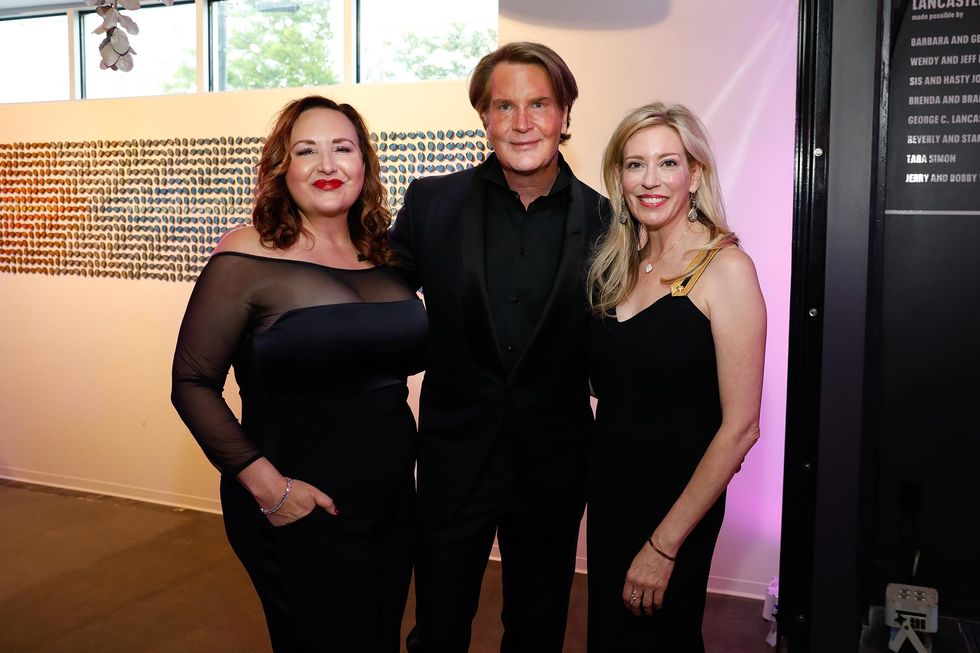 Tara Simon, George Lancaster, Mauri Oliver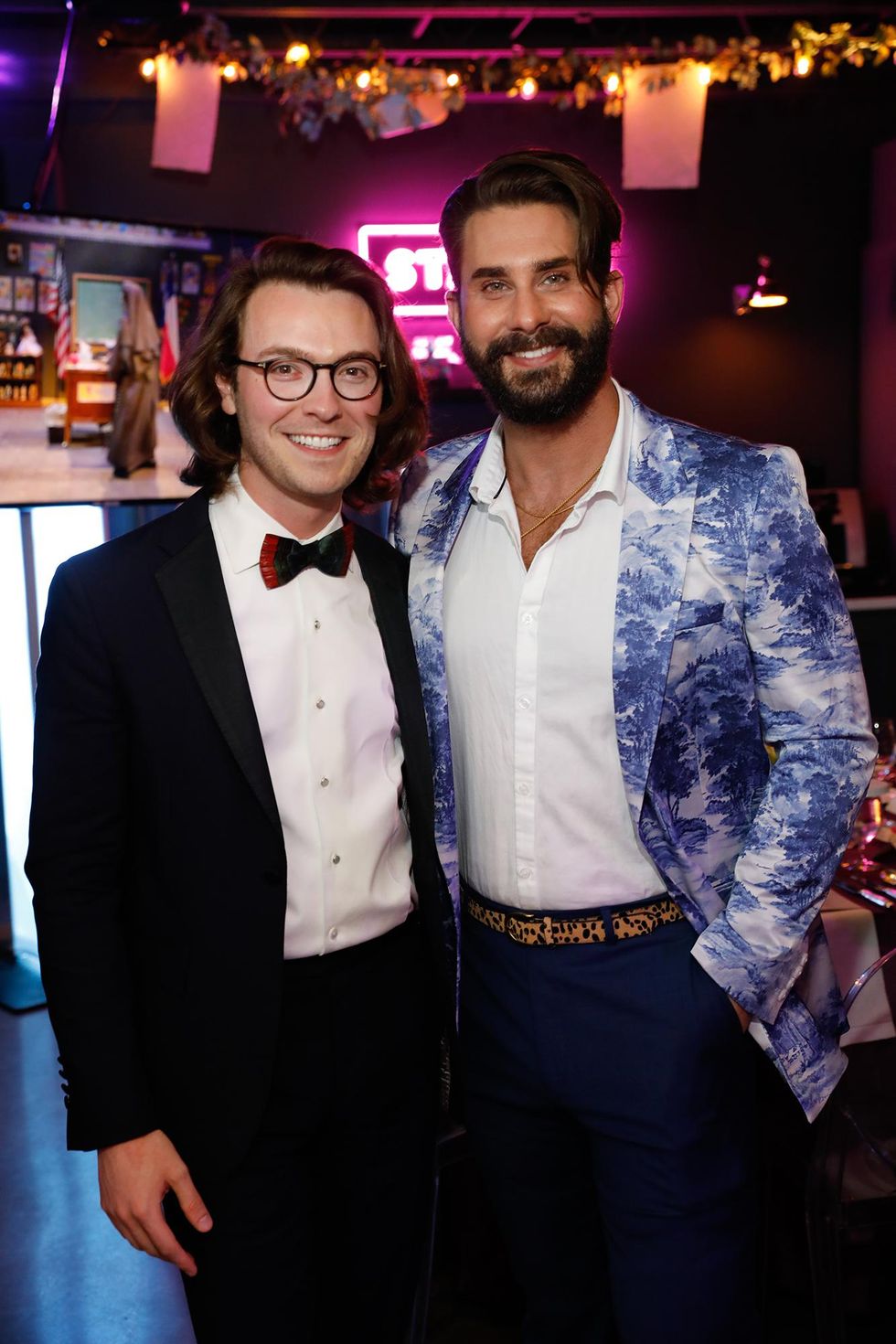 William Finnorn, Cabe Miller
From Your Site Articles
Related Articles Around the Web
People + Places