Make It a Double
These duos, from power couples and tenacious twins to best buddies pairing up to take care of business, are proving the immortal '80s poet right. Sometimes, it really does take two to make a thing go right! Portraits by Jhane Hoang, Text by Evan W. Black, Select Makeup and Hair Styling by Atelier Isabelle Rose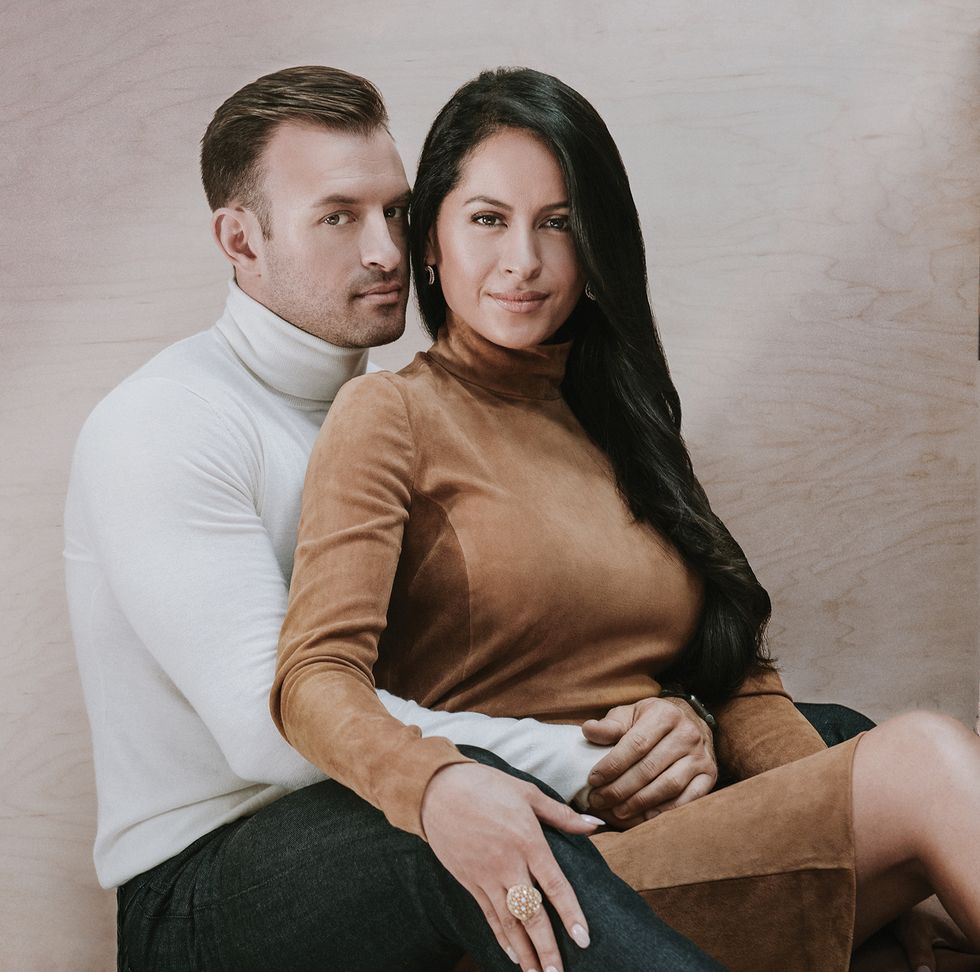 ---
Lashondria Simpson-Camp & Shalondria Simpson
General surgeon and breast surgical oncologist LaShondria Simpson-Camp says there are times she can read her sister's mind. That's convenient, since she and her twin, pharmacist Shalondria Simpson, recently went into biz together. "We have a better understanding of what each of us is going through and needs to be successful," explains Simpson-Camp. But partnering with your twin brings its tests. "We both have type-A personalities, so it can be challenging when we don't agree on things," admits Camp. But the Texas City-born sisters, 40, have found a sweet spot with their new Tru Essence Cosmetic & Medical Spa in Midtown, which addresses changes associated with aging — chronic pain, hair loss, sexual dysfunction — to restore overall health. "We realize how blessed we are to be working with each other while doing something we both love," says Camp.
Shot on location at Tru Essence.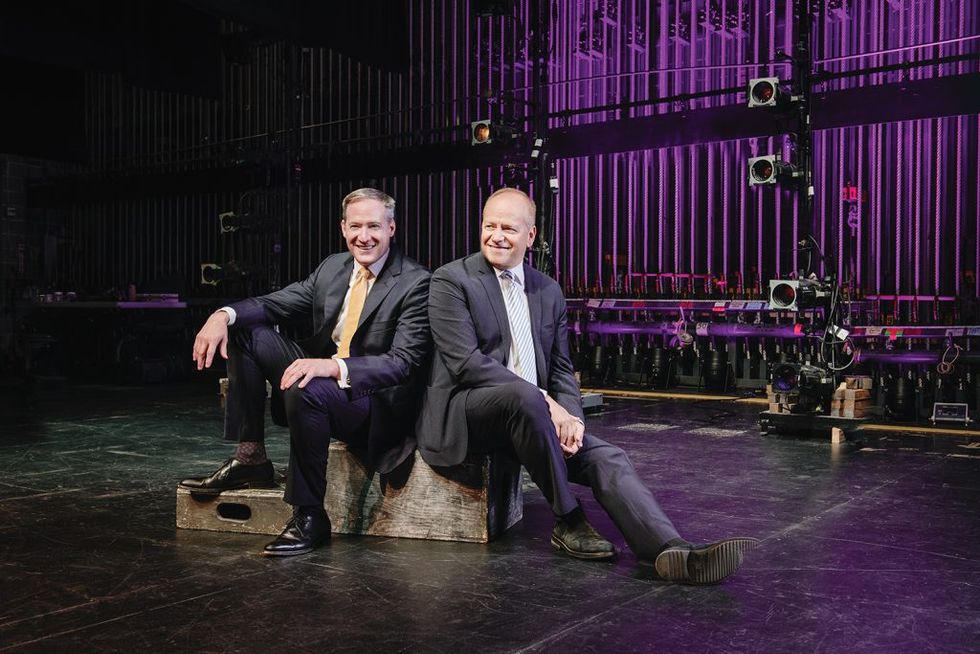 Beau Miller & Patrick Summers
Patrick Summers, 56, HGO's artistic and music director, is readying for the company's 65th season, which opens this month with Verdi's classic Rigoletto. "As we do every season, we have combined repertoire favorites like Rigoletto ... with opera gems that deserve to be programmed more often but aren't — often because they are difficult to perform and we have to wait for just the right casting," he explains, citing the American premiere of Saul this fall. Meanwhile, his husband Beau Miller, 46, has picked up a gavel, having been elected a Harris County judge last year. Music is in Miller's blood, too, as a self-proclaimed band geek who was drum major of LSU's Tiger Marching Band. He's an avid college football fan to this day. "So the fall is football, law and opera," says Summers, "and precious time with friends."
Shot on location at Wortham Theater Center.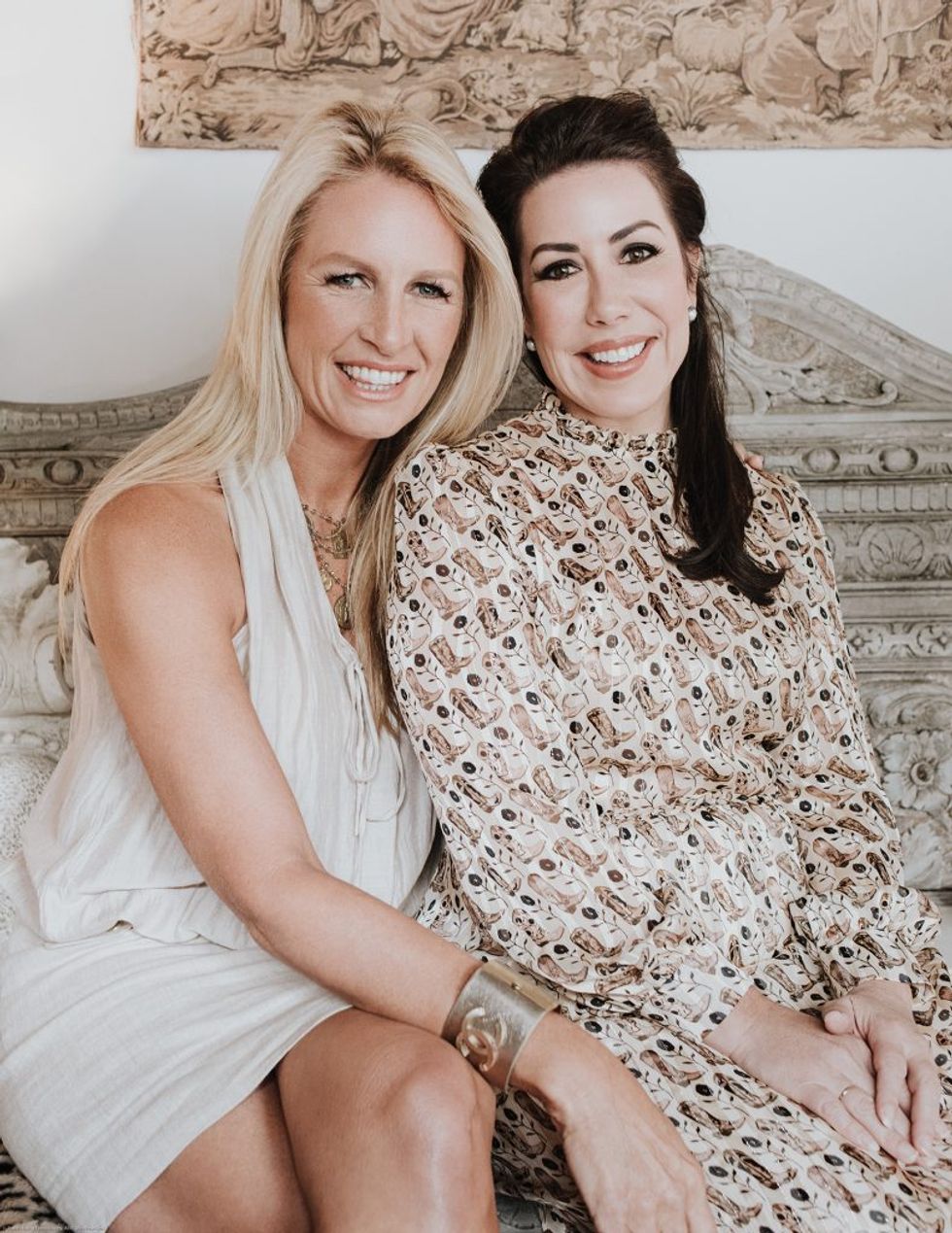 Suzanne Coppola & Julie Dodson
In the interior-design community, the month of October is synonymous with Round Top. It was here, at the Marburger Farm Antique Show, that businesswoman Suzanne Coppola, who owns Southampton's Laurier Blanc showroom, became acquainted with both interior designer Julie Dodson and Dallas-based Dwell with Dignity a couple years ago. The nonprofit provides dignified living spaces for underprivileged families, a mission Coppola, 45, "very much wanted to be a part of." Dodson, 43, recruited Coppola for the org's first Houston project, a home for a single mom and her two sons, last year. "Something I'll never forget," says Dodson, who, along with Coppola, is on the planning committee to establish a Houston chapter. The pair hosts two events benefiting Dwell with Dignity Houston at Marburger Farm on Oct. 2 — a fundraising happy-hour followed by an al fresco seated dinner.
Shot on location at Laurier Blanc. Hair and makeup by Atelier Isabelle Rose.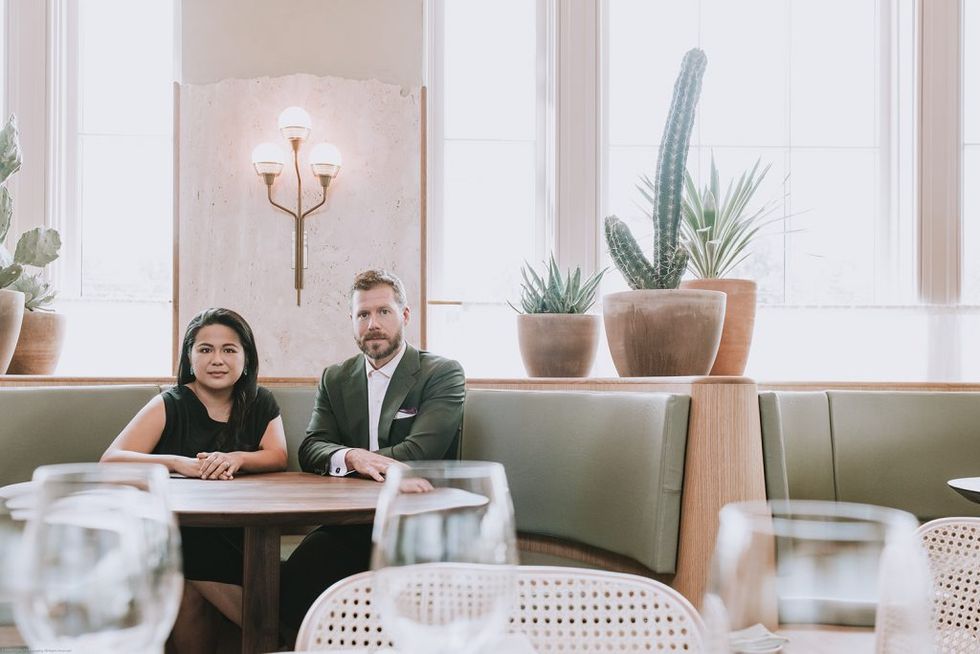 June Rodil & David Keck
Master Sommeliers June Rodil, 39, and David Keck, 38, have good reasons to raise a glass. The pair met nearly a decade ago at an annual wine conference, and stayed in close touch until the Philippines-born Rodil, who contributed several notable restaurants to Austin's foodie scene, moved to Houston earlier this year to partner with Keck at Goodnight Hospitality. With Goodnight's latest openings — the pizza-savvy European restaurant Rosie Cannonball and the adjacent Montrose Cheese & Wine shop — these best friends and business partners are promoting growth in Houston's wine biz, and infusing Montrose with a little whimsy and a lot of flavor along the way. "It is extremely comforting to work with someone that I can trust implicitly," says Keck of partnering with a fellow Master Somm, "and who has such profound knowledge in this industry." (For more on Goodnight Hospitality, see "Out of the Oven," in this issue.)
Shot on location at Rosie Cannonball. June's hair by Atelier Isabelle Rose.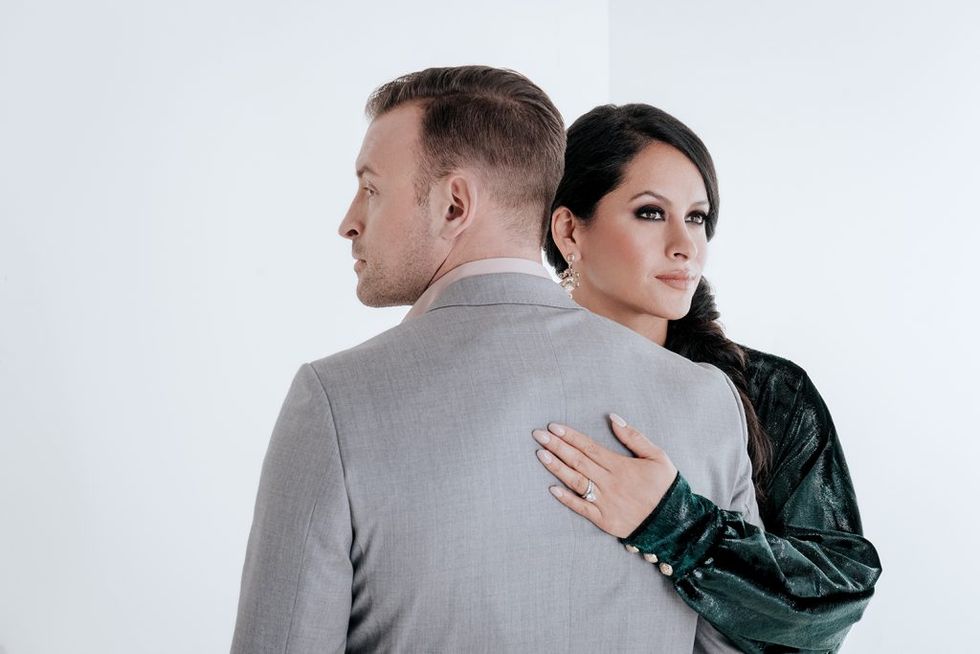 Jordan Strouse & Ana Barron Strouse
One look at Jordan Strouse and his wife Ana Barron Strouse reveals a lot: They're the impossibly good-looking founders of SWEAT 1000 in the Heights, a workout phenom combining treadmill, floor work, weights and boxing. Makes sense. But something a single glance won't reveal? "The last three years has been a bit of a wild ride," says Jordan, 36, who's also an international corporate attorney, of opening the gym with Ana, 32, in late 2017. "Working together is an interesting dynamic. It's really easy to be loud; it's very hard to communicate your thoughts in a way that strikes a business and personal balance. Although Ana is better at this than me!" The couple, who lived in South Africa, where they were first exposed to the SWEAT concept, for two years, love traveling the globe. In fact, a "special international partnership opportunity" is in the works. But Jordan and Ana remain committed to developing their business and community in Houston. Their classes, says Jordan, are just like the city: "Big, powerful, fast and diverse." 
Shot on location at Forth and Nomad. Styling by Todd Ramos. Jordan wears a Hugo Boss suit and Theory shirt, both at Saks Fifth Avenue. Ana wears a Balmain dress, at Saks Fifth Avenue, and earrings from Deutsch Houston. Hair by Rian LaFleur and Bianca Zamarripa and makeup by Cori Aston for Atelier Isabelle Rose.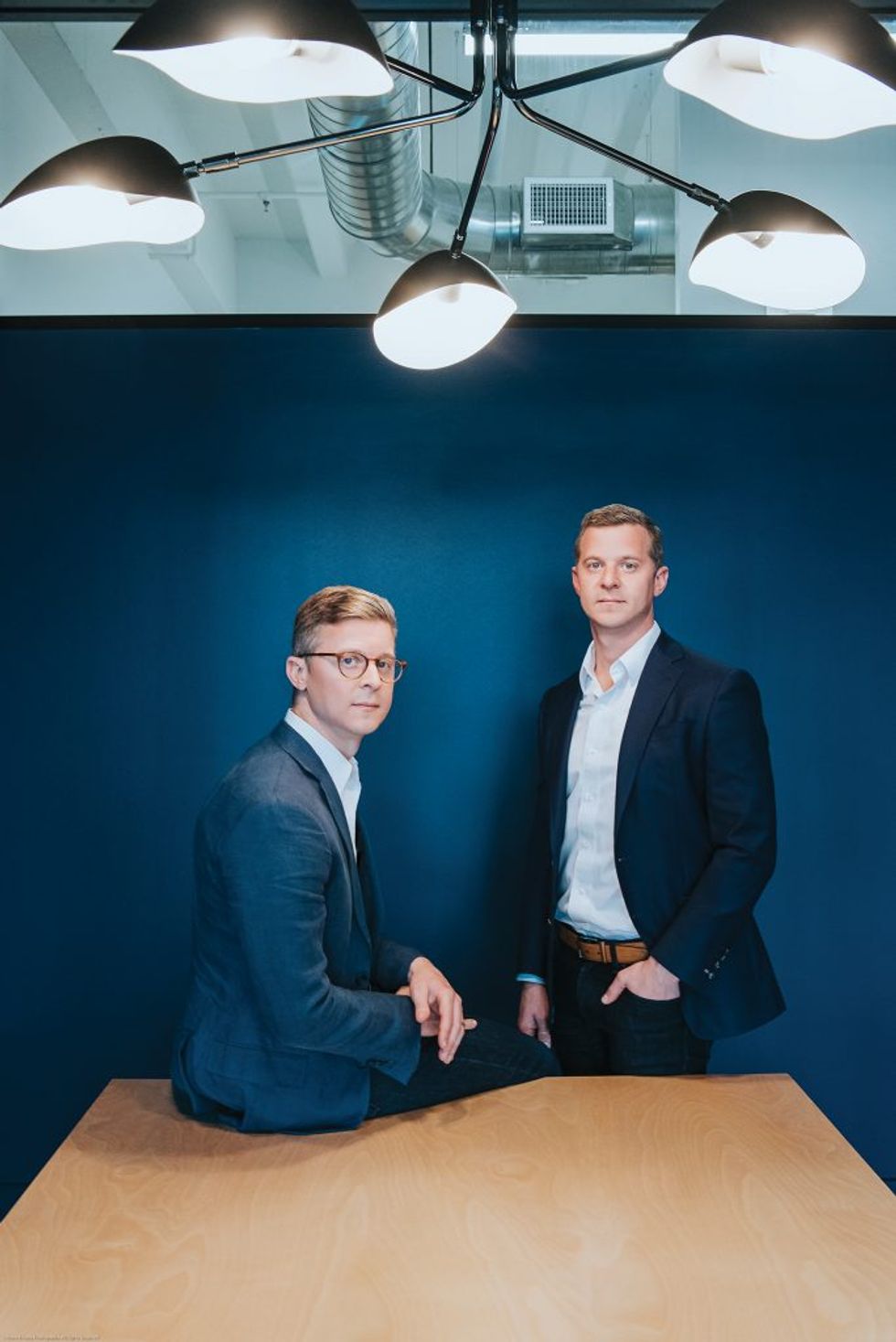 Alex Robart & Chris Robart
D.C.-area natives Alex and Chris Robart received matching undergrad and graduate degrees from UVA and Michigan (same fields), went into biz together, and relocated to Houston a decade ago. But here's the sitcom-worthy tidbit: The twins, 38, just moved in next-door to each other in Montrose, and their wives —  who have "fortunately become quite close," says Alex — each gave birth earlier this year. Suffice to say, the brothers are close, both personally and professionally. Together they run Ambyint, a leading company in oil-well optimization, with Chris as president and Alex as CEO. "We collectively rely on each other regularly for support across all facets of life," says Alex, noting it's always been more about driving each other to be better rather than competition. "Being a solo entrepreneur is a lonely road, and having a business partner, whom you implicitly trust to walk down that road with, has been a major built-in advantage."
Shot on location at Ambyint.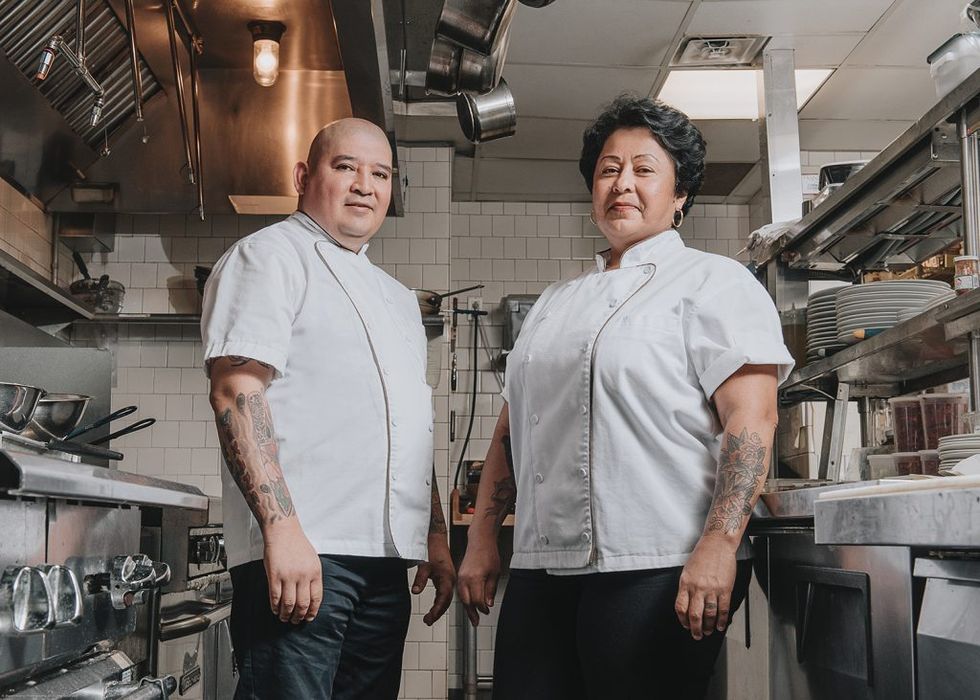 Adrian Del Angel & Ana Amaya
Married chefs Ana Amaya, 50, and Adrian Del Angel, 40, met at the Hotel Derek's restaurant, then known as Maverick, more than two decades ago. She was a line cook; he, a dishwasher. They worked under Philippe Schmit at the Derek's Bistro Moderne, then continued cooking in kitchens across town, perfecting Mediterranean and Indian and French and Southern techniques. And in their new posts as executive chef and executive sous chef, respectively, of Radio Milano in CityCentre's Hotel Sorella, the tattooed and hardworking Amaya and Del Angel plan to infuse the seasonal offerings of the previously Italian fine-dining restaurant with accents from those cuisines, as in bison bolognese. What else is on the menu this fall? "Keep working hard," they say. 
Shot on location at Radio Milano. 
Art+Culture