More Than Peachy
Branching out beyond the fruit for which it has become known, Fredericksburg is a welcome weekend getaway for Covid times.
Houstonians think they know Fredericksburg: the land of peaches, wine and bed-and-breakfasts (and, most importantly, less humidity). And while it's true that — for good reason! — the Texas Hill Country recently came in at No. 5 on USA Today's list of best wine-centric destinations, a new generation of entrepreneurs aims to expand Fredericksburg's rep beyond the vine.
---
Take, for example, a near-impossibly trendy concoction found at Chase's Place: the Woodstock Mule, made with Colorado High Hemp Vodka, Cherry Indica CBD and pineapple-ginger-oolong-tumeric Kombucha. Just opened in April, Chase's Place is currently the town's only craft cocktail bar, owned and operated by Chase Guthrie. With long hair and an acting degree with a concentration in Shakespeare from NYU, Guthrie — the nephew of Nina and Edd Hendee, the owners of Houston institution Taste of Texas — designed the bar and cocktail menu himself, both with an old-meets-new sensibility. The marriage of tradition and modernity is a perfect parallel for what Guthrie and a new class of small-business owners are hoping to accomplish in Fredericksburg.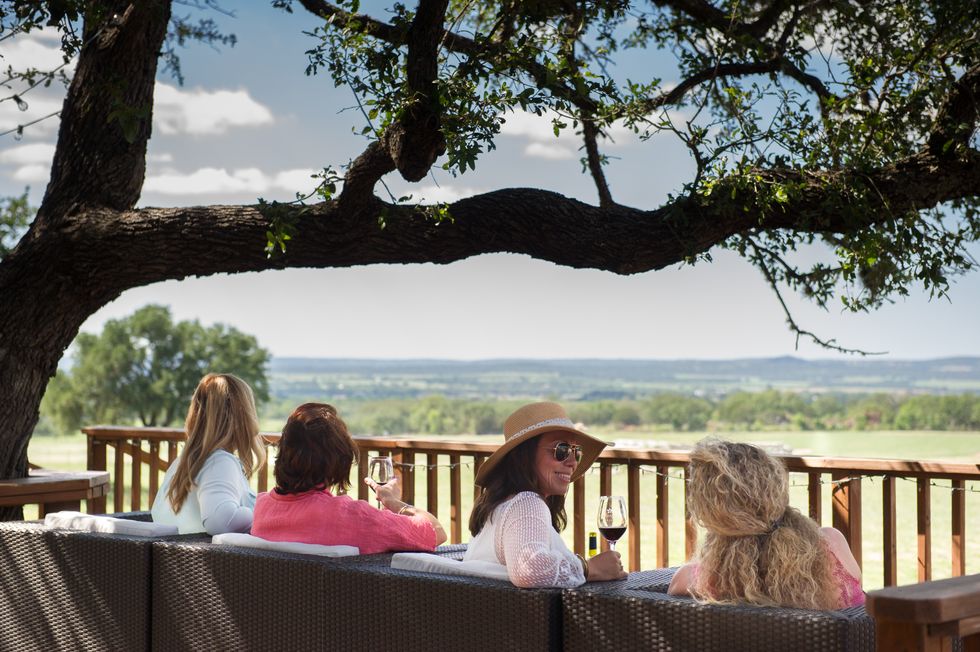 Wining and relaxing in Fredericksburg
A block away, at the independently owned Elk Store Winery & Distillery, there's wine, of course. But lining the walls are metal barrels containing brandy, gin, rum and moonshine — which is used in the shop's Pecan Pie Moonshine ice cream! Nearby, the adorable Caliche Coffee and Espresso Bar serves top-notch caffeinated treats and locally sourced small plates in a historic building on the main drag. The store is thoughtfully designed as a picture-perfect modern twist on Southwest-chic. Here, visitors can taste another twist on classic Fredericksburg culture: Wild and Well's Peach Kombucha.
Tradition still looms large in the historic town, but even places like Grape Creek Vineyards, the oldest winery in Fredericksburg, are rethinking how they do business. It recently added Heath Sparkling Wines to its portfolio, opening a separate, dedicated tasting room for the new line. The massive, mod building — seemingly carved out of concrete to create different tasting areas — boasts a three-story wall of floor-to-ceiling windows overlooking the vineyard.
Another Hill Country mainstay, Das Peach House offers a traditional experience with wine tastings and fresh peaches on a beautiful deck overlooking a small lake. But the fare is anything from ordinary. Hailing from Mexico City, chef Fernando Herrera takes patrons on a "culinary adventure," pairing meals inspired by food from Beirut to Tokyo with Texas wines. Inside the shop, readymade goods from Das Peach House's label Fischer & Weiser include peach preserves, and a line of new Thai sauces by Austin's Dr. Foo Swasdee (also now available at Central Market here in Houston — might we recommend the Thai Peanut Coconut Sauce?).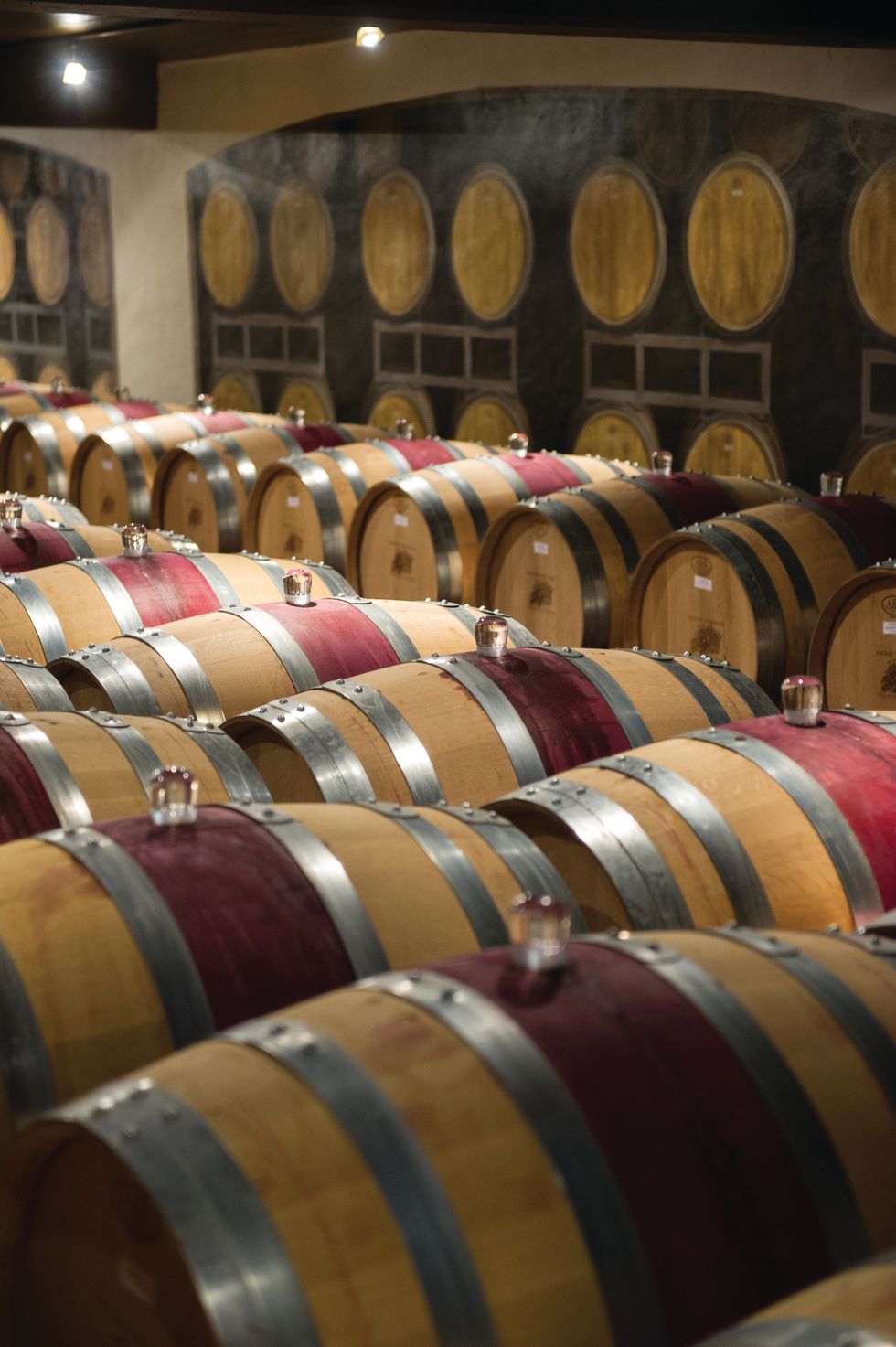 Becker Vineyards, one of 40-plus wineries in the region
As Covid continues to dictate travel plans, a social-distance-friendly oasis awaits at Hoffman Haus. Walking distance to Main Street, the boutique hotel is comprised of cabins, all tucked into greenspaces and accessed by narrow little vine-covered pathways. The staff here tries to make sure that guests don't have to leave their room more often than they comfortably want to: Each morning, a picnic basket is left on the doorstep containing a warm and delicious breakfast.
While the four-hour drive to Fredericksburg is definitely made worth it by the peaches and wine alone, the CBD cocktails, craft Kombucha and Insta-worthy accommodations are welcome, thoroughly modern touches.
AT TOP: The Woodstock Mule at new Chase's Place
Style