Musaafer's New Winter Menu Takes You On a Journey Through India
Raydon Creative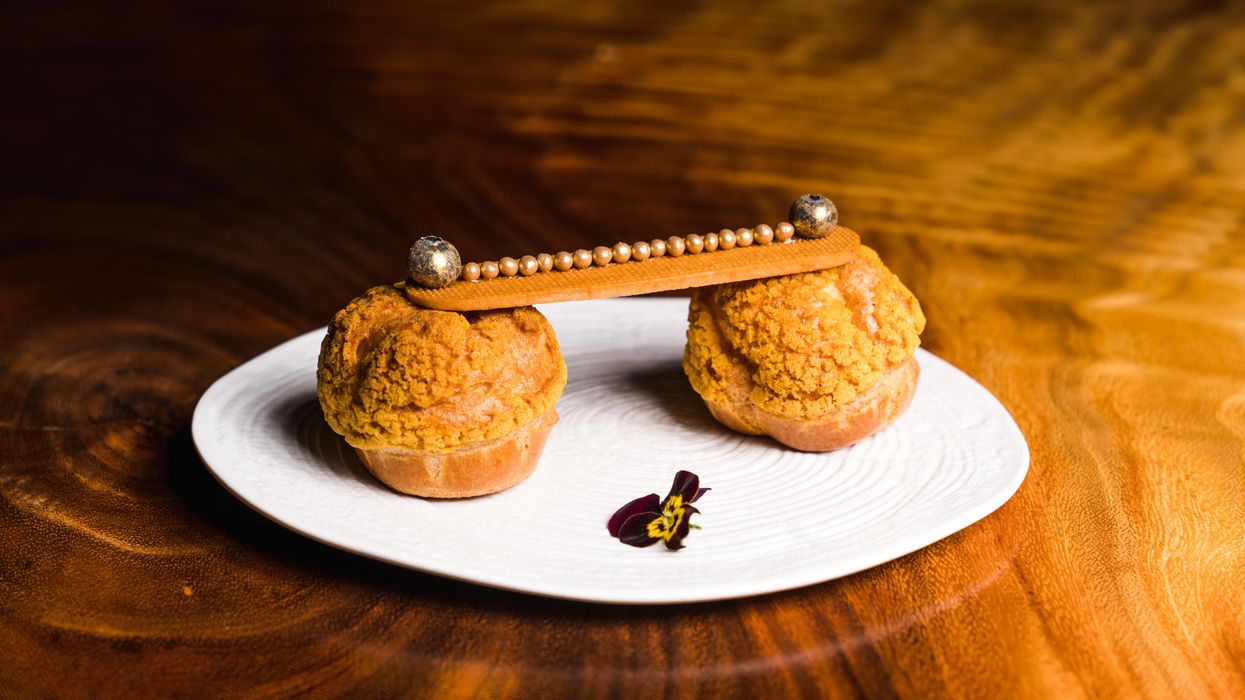 DID YOU KNOW that hot noodle soup is a thing in Northern India? One of the most surprising dishes to debut on the new winter menu at Musaafer — the luxe Indian restaurant in the Galleria by restauranteurs Mithu and Shammi Malik — is the Thukpa, a famous Himalayan noodle soup is made of clear sesame broth, tomato, peanut, ginger, spring onions and timut pepper.
---
It's one of 21 new dishes that were rolled out this month, just in time for the cold weather. "This new menu showcases how eating seasonally is a part of our culture. The produce, spice blends and culinary techniques change in accordance with the requirements of the body seasonally and our eating habits are a reflection of that," says Mithu. "We want our guests to take away a feeling of warmth in every element of the experience, from the warm service to dishes with warming spices to the fresh winter local produce, which ultimately celebrates the joy of the season."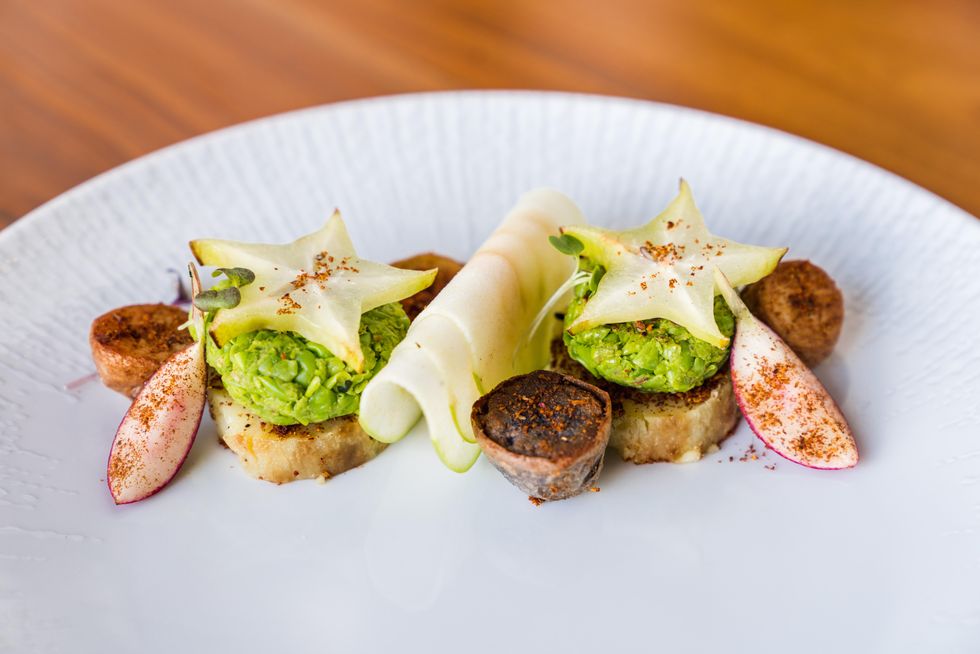 Winter Chaat
The thukpa itself is popular dish enjoyed in the North and Northeastern belt of India due to its close proximity with Tibet, Bhutan, and China, explains Musaafer executive chef Mayank Itswal. Itswal drew inspiration from his childhood for many of the new winter dishes, and the thukpa is something he remembers for its heartiness and simplicity.

Another dish from his childhood? The Winter Pomelo Salad, an ode to his grandmother made with supreme slices of pomela, papaya, and radish cress, with orange dressing. To make it extra special, when the salad hits the table, liquid nitrogen is poured around it so that a wintery cloud of white smoke spills across the table.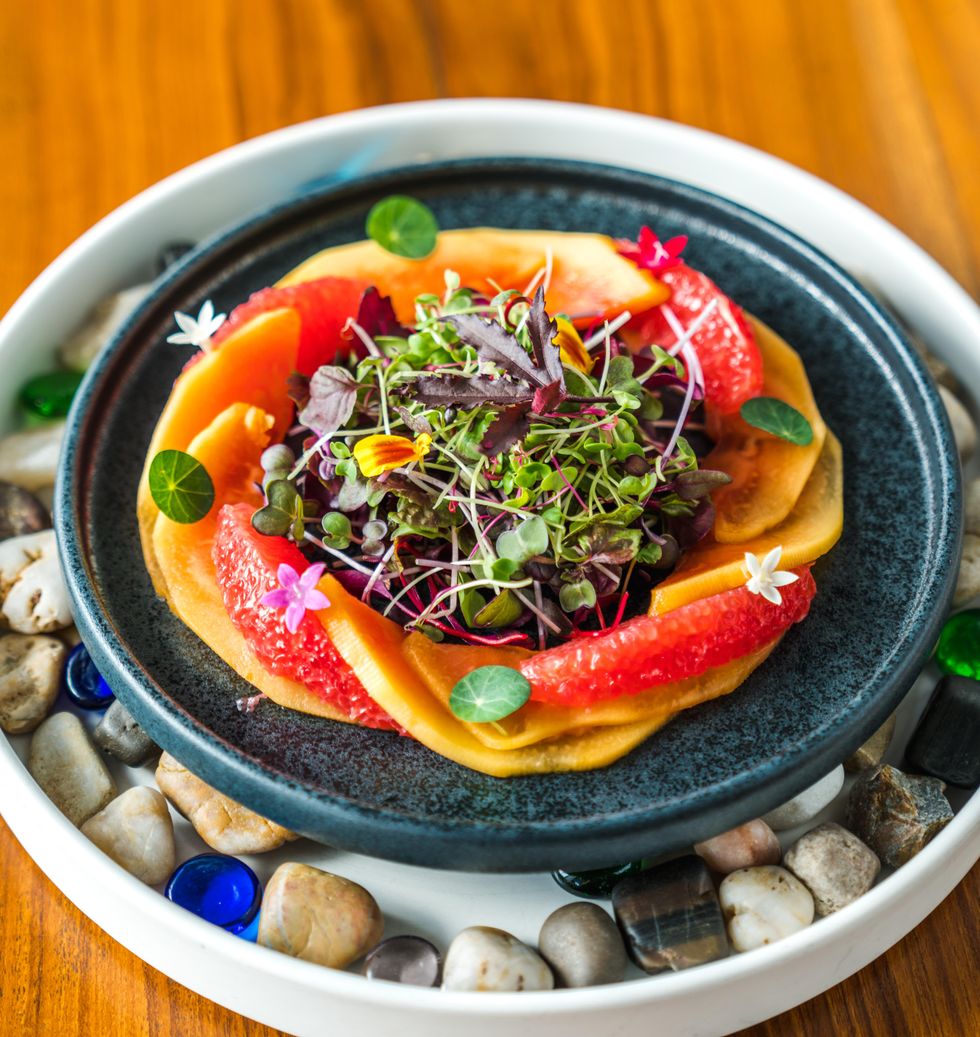 Pomelo Salad
There are so many new dishes — from a Til Diya Murgi Black Sesame Chicken to surf-and-turf — that you'd have to visit several times to enjoy them all. But standouts include the Malai, a deceptively simple dish of spiced, house-churned cream, with malai crisps, burnt malai sand, malai sabzi and broccoli; as well as a bold and beautiful hot pink-colored ceviche made of black carrot kanji-cured scallop, finished at the table with a green apple and cilantro jus.

Pastry chef Ruchit Harneja's new dessert offerings — a Badam Halwa warm almond pudding with toffee almond cake, milk chocolate crunch and chili guava ice cream; and the Doodh Jalebi Fermented fritter with saffron and almond milk, date cake, stewed rhubarb, orange and lime — invite further exploration as well.
Food