Greg Norman Opens His New Golf Course at Chic Resort in Cabo San Lucas
Greg Norman has a theory about designing golf courses: Accessibility equals favorability; golf courses should be challenging but not impossible. And, he adds, challenges can be manifested in different ways.
---
His most recent course is the centerpiece of a still-new, high-end resort and residential community in Cabo called Rancho San Lucas. Here, the "challenge" Norman employs is beauty that causes a player's eye to wander throughout all 18 holes. The first time he played the course, when it opened at the beginning of the year, he recalls that a family of whales romping in the ocean distracted him mid-swing. Spanning three ecosystems, the golf course features huge windswept dunes at the start, climbs through a thick cactus forest through which winding streams babble, and ends near the beach. "This is the most spectacular piece of property I have seen in a long, long time," gushes Norman, who has designed courses on six continents.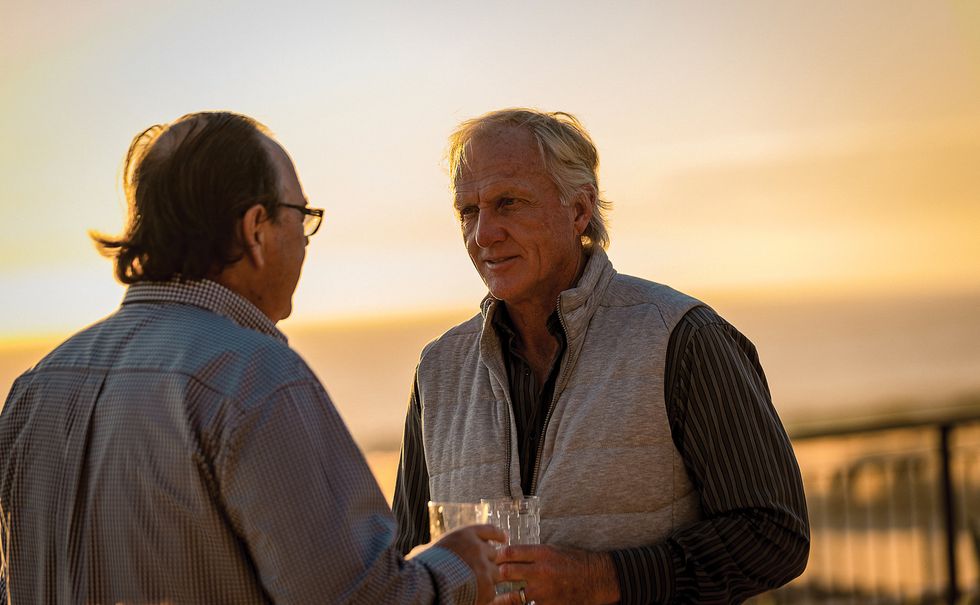 Rancho owner Paco Bulnes and Greg Norman at the ribbon cutting of the golf course
Located about 40 minutes from the Cabo airport, Rancho San Lucas boasts beautiful scenery — along with plenty of other top-of-the-line touches that elevate the experience beyond a standard Mexico getaway of cocktails and lazy rivers (but rest assured, those are here, too). Once inside the gated property, it's another 10-minute drive before the edge of a cliff drops off and the Pacific Ocean presents itself as the backdrop of Rancho's resort-style hotel, Grand Solmar.
This land was purchased by tourism pioneer Don Luis Bulnes in the '60s, when Cabo was a sleepy town with around 400 residents. It stayed in the family until his son, Francisco Bulnes, who goes by Paco, began developing the land in 2015. A dedicated conservationist, Paco says it has always been the family dream to develop with care the 834 acres that descend from rolling desert foothills to 1.2 miles of virgin beach.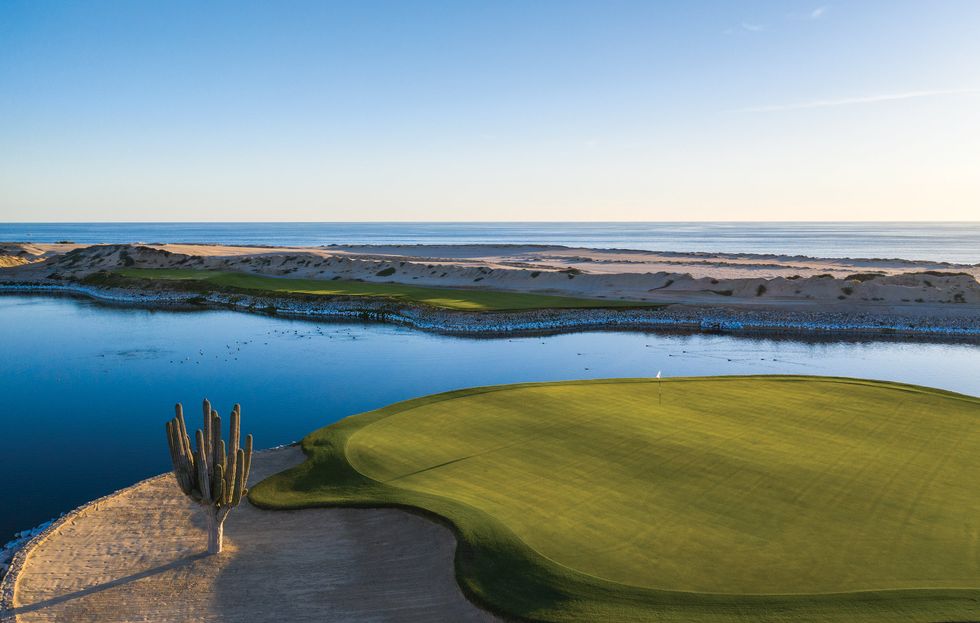 The golf course
The interiors of Grand Solmar are stunning in their own right. They blend effortlessly with the natural beauty of the desert landscape, melding earth tones with traditional Mexican touches such as barrel tile roofs and dramatic archways. "The inspiration comes from our extensive travels throughout Mexico, but it also comes from simple things, like a piece of driftwood or a shell on the beach, a piece of talavera tile or even a comfy chair," explains the designer, who happens to be Paco's wife, Holly.
Holly and Paco are only a small part of the diverse, engaged staff at Rancho, who deliver a flavor of familiarity that prompts many to decide to call Rancho home. There are villas (from $650K) and the new luxury Norman Estates (from $3.7 mil) for sale; Holly works with each buyer individually at an on-site design studio to customize every inch of the home.
An army of talented chefs from around the world man the kitchens here, including the handsome and personable Christian Ricci, who hails from Rome, where he studied Italian gastronomic techniques at Michelin-starred restaurants. Ricci is now the executive chef at the resort's newest restaurant, Picaro.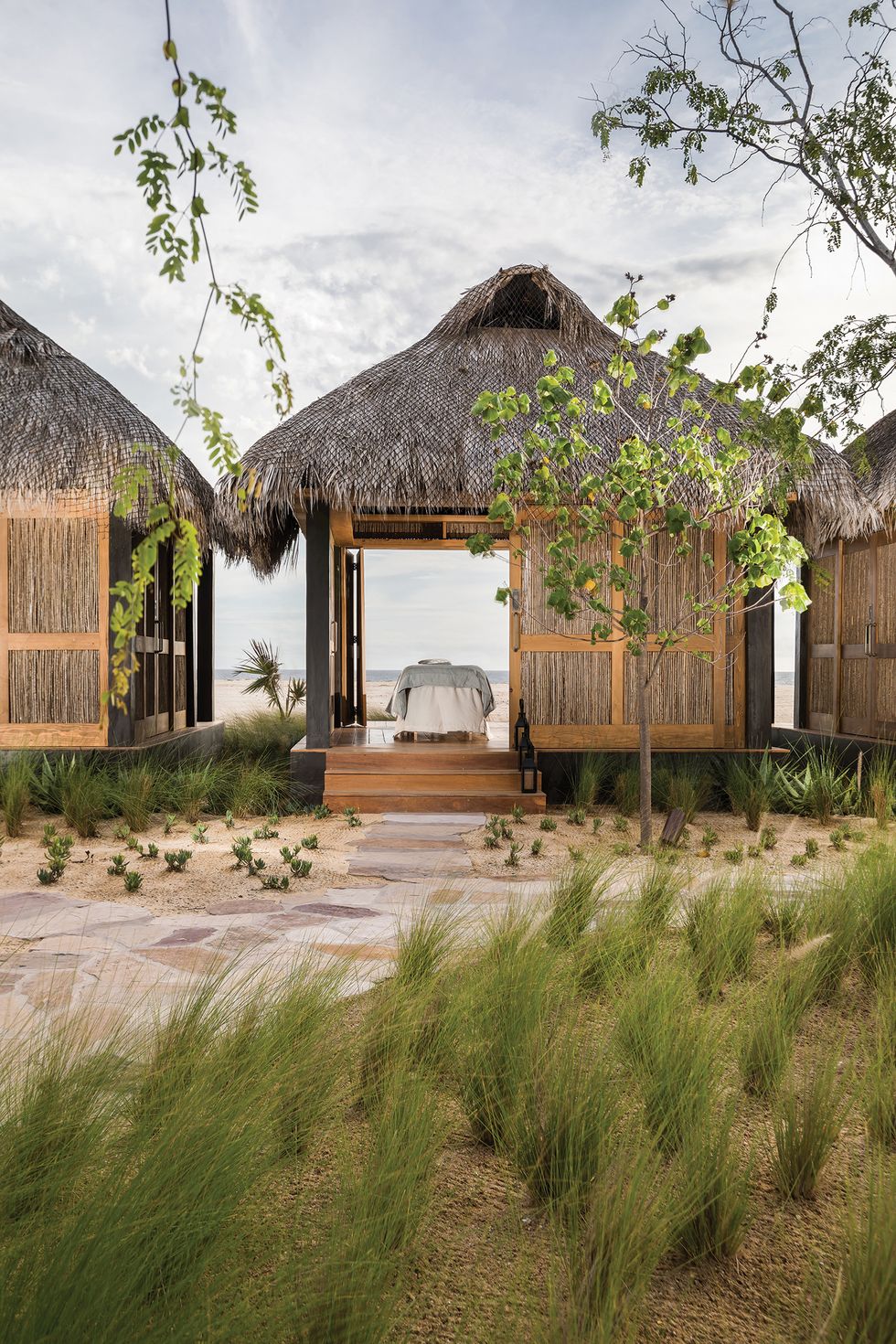 The spa
With a top bar program and locavore-chic menu — think octopus and shrimp from local fishermen, and a riff on Mexican street corn using produce from a nearby garden — Picaro is a prime example of the Rancho mentality. With smaller, more unique restaurants than the average Mexico resort, guests can enjoy a handful of dining experiences usually reserved for major foodie cities without leaving the Rancho gates.
The accurately named Spa by the Ocean also channels this mindset. Treatments are inspired by the healing techniques of the Cochimies, a tribe native to Baja California Sur. Massages, facials and body treatments incorporate indigenous methods for healing and detoxing, and all services are performed in outdoor bungalows to a soundtrack of ocean waves. Afterward, another tried-and-true technique for relaxation — a margarita, obviously — can be employed in an outdoor hot tub.
The beauty at Rancho San Lucas begins outdoors and flows through the design, the food — and especially the people. Those seeking a distraction, from life or a golf swing, can certainly find one at Rancho.
People + Places