Repurpose-Driven Life
When ExxonMobil moved out, a smart developer moved in. Now the oil behemoth's former Energy Corridor digs are going mixed-use. Tech incubators, artist studios and a farmers market are just the beginning.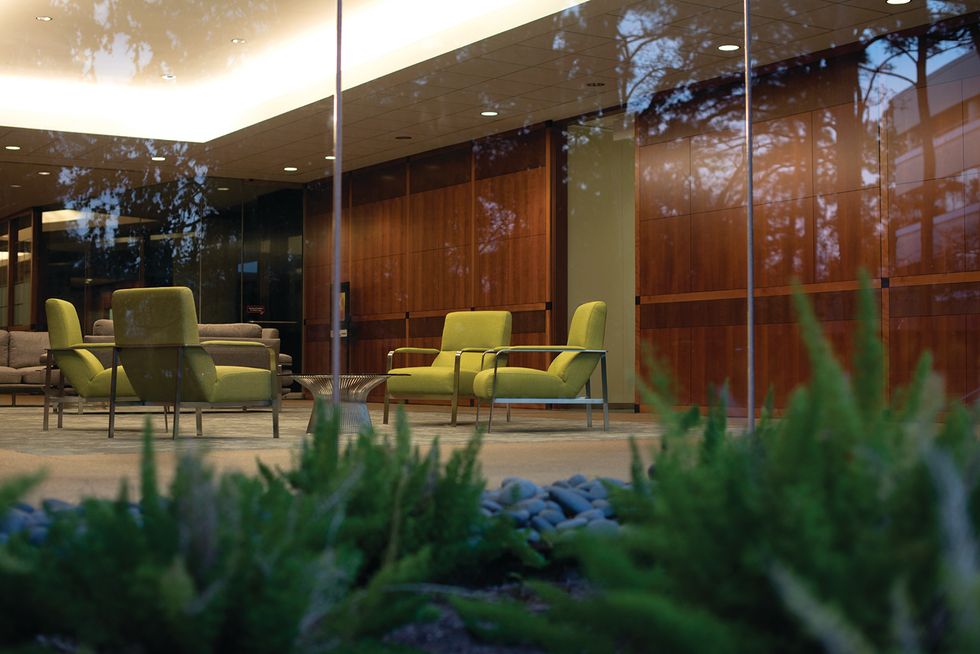 Republic Square is the type of quirky, hidden gem you might only discover on Atlas Obscura, a website of off-the-beaten-path destinations for curious, urban adventurers. It's a wooded 35-acre business park off Interstate 10 that sits in the Energy Corridor between CityCentre and Katy. Prior to it having been purchased by Third Palm Capital, a development company out of Dallas, in 2013, it served as the global headquarters of ExxonMobil's chemicals division. The purchase was risky, coming just as the oil-and-gas business took a turn for the worse and shed some 70,000 jobs.
---
"Initially, we'd planned to rent it all out, add 2.5 million square feet of new office space, and build a couple of hotels," says Randall Tuller, executive manager with Third Palm. But, with the highly cyclical energy business, and tens of thousands of layoffs, the time wasn't right for a big, pricey build-out. Instead, Tuller's firm opted to try something different: They decided to "do something interesting in a part of town not necessarily known for interesting stuff."
And so, today, the public is invited in to play and, soon, will enjoy curated "experiences." Meanwhile, the existing office building — a three-story crescent-shaped quasi-brutalist edifice with more than 320,000 square feet of space — is offered not to a single big client, but to multiple smaller companies and start-ups. The Houston Technology Center moved its West Houston Technology Incubator into the building, and Pink Petrol, an advocacy group for women in the energy business, has joined them. Leases are available at a rate of $25 per square foot, and co-working space is also in the works.
Tuller points out the former executive suite, which boasts Mad Men-esque features like wood paneling, gold accents and a private bathroom, is also available. "But we might just turn that area into a nightclub," he says.
Seriously? A nightclub? In an office building? (Where are we? Hong Kong? Dubai?) "Yes, a classy nightclub. It's one of the ideas that's we're kicking around. Another is to turn part of the building into artist studios. There are currently none available on the west side of town."
As for those "experiences"? We're not talking the occasional food truck showing up, but rather an authentic several-hundred-seat German beer garden and an artisanal food court and market (in the old cafeteria), as well as farmers markets, festivals, concerts and community gatherings. The first such event, the Art Is An Outdoor Market festival, is scheduled for March 25.
"We had a choice: Do something or let the grounds go fallow. This is a much better way of doing things. Sure, if the demand for office space here on the west side skyrockets, we might change our plans. But for now we want to keep it flexible and fun and maintain a kind of 'pop-up' feel to the place," says Tuller, who is making at least a few permanent changes to the development. They've torn down the fencing to allow access from all sides, manicured the parkland, and are upgrading the existing 20,000-square-foot events hall, which fronts onto a lake and a plot of mature trees, so it can host conferences and weddings.
Another permanent change will be the addition of bike-sharing facilities on the grounds, which abut Terry Hershey Park. "We've already purchased the bikes," says Tuller. "We'd love for people to come here, get a bike and go explore." He notes that one day, he hopes people will "make a wonderful day" of Republic Square's forthcoming facilities.
"Before, everything here was closed off and corporate. It was intimidating from the outside," he notes. "Today, it's all about inclusiveness and democratizing the space for innovation."
Uncategorized