Rock the Restaurant
Vintage tunes set the mood for 'wow factor' food at an Upper Kirby bungalow hideaway.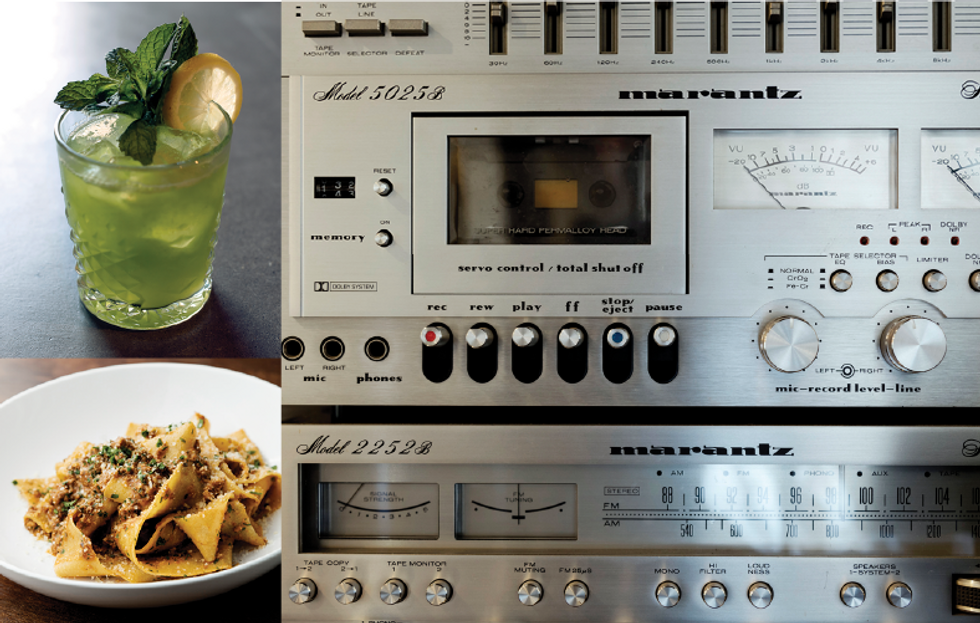 The faint sound of traffic shuttling down Shepherd in the distance is nearly drowned out by the rustling of leaves on the tree-lined street just outside. A 1930s bungalow home-turned-restaurant touts fragrant herb planters on the front patio, and a dimly lit entryway. Welcome to six-month-old Nobie's, one of the best-kept secrets of Houston's dining scene.
---
Named after chef-owner Martin Stayer's grandmother, Nobie's is equal parts contemporary American and vintage chic, with a lot of heart. Stained glass panels and paintings made by family members add to the otherwise warmly sparse décor. And the senior staff is a family affair, too, as Stayer's wife Sara, a sommelier, curates the wine and cocktail program — the latter featuring a rotating menu of craft cocktails served in antique glasses.
Texas native Stayer, 35, spent most of his culinary career in Chicago and honed his skills at Michelin-starred L20. "After a few years, I wanted to work in restaurants where my friends could afford to eat," he laughs. He channeled that desire into a stint with Revival Market and Coltivare in Houston before opening Nobie's, where he says he loves to "up the wow factor" in dishes inspired by vintage cookbooks. To wit, "Old Fashioned" chicken liver mousse mimics the classic cocktail with cherry jelly and a hint of orange; the new Sunday brunch menu includes the "$100 Steak & Eggs," pairing a wood-roasted then pan-seared rib-eye with French fries and duck eggs.
The sourcebooks aren't the only fun vintage items; there's a throwback sound system, replete with record player and tape deck, cranking out a wide range of tunes to match the menu's eclecticism. Imagine everything from Outkast to Johnny Cash, with healthy doses of disco and funk in between, all carefully curated by the staff. "They decide what goes into the cue by feeling out the energy of the room," says Stayer.
Uncategorized