Technicolor Nights
The best new players in the Downtown-bar melting pot are kitschy-cool, tiki-terrific and a wheel good time.
Daniel Ortiz and Shannon O'Hara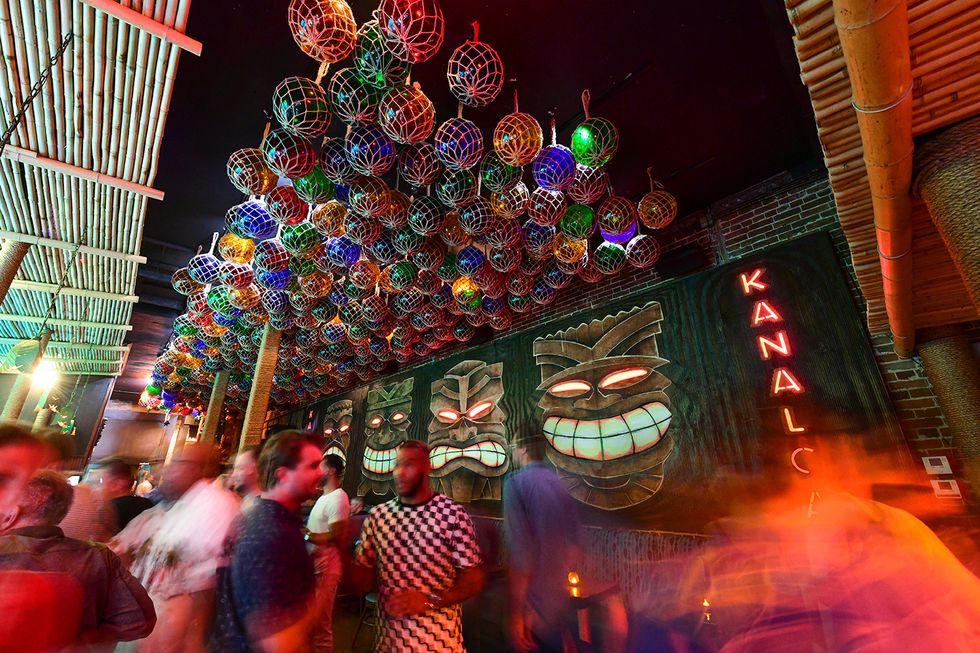 I'm on fire … My emotions run so deep … You vowed to love me … Is that the vow you keep … go the emo lyrics of the obscure '80s freestyle hit "Silent Morning," by Cuban-American singer Noel, as a normally vinegar-and-water mix of gothed-out hipsters and men in business suits girate to the swarm of staccato synths hailing down from the ceiling-mounted speakers of Etro Lounge's new Downtown digs (114 S. Main St.). 
---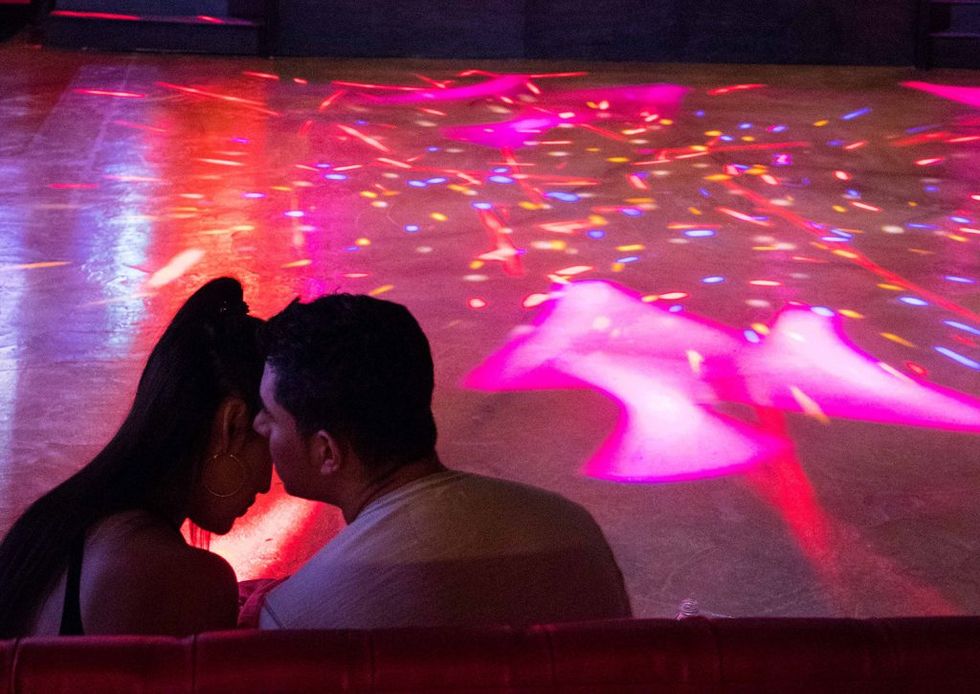 Etro's disco-savvy Downtown digs
Awash in a swirling and neon-hued bath of geometric lights projected onto the dance floor, it's easy to look down at the bizarre spectacle from the bar's mezzanine and think, "What the freak?" That is, until you remember that you're in Downtown Houston, whose eclectic mix of bars means people from every social class and subculture are part of the weekend crowd. To borrow upon Houston's increasingly threadborne melting-pot metaphor, Downtown is like a party-size punch bowl from which everyone gets a sip.  
Etro relocated in early August to a historic building located next to craft-cocktail favorite Lilly & Bloom, after the king of craft cocktails himself, Bobby Heugel, snatched up the lease on Etro's original Montrose home for a new concept. The new Etro is perhaps one of the best testaments to the uniquely amalgamated culture of Downtown's bar scene. While in other cities or other parts of town, bars and clubs are often grouped together by specialty, here in Downtown, patrons get a unique mix — a cocktail, if you will — of outfits.
"We're definitely getting faces that I've never seen before," says longtime Etro owner Antonio "Geronimo" Villalobos, of his club's ever-evolving crowd. "We're still getting the Montrose regulars, but we're also getting a mixture of people from other parts of Houston."
Another unique face that has just popped up nearby is Kanaloa (311 Travis St.), the neighborhood's first tiki bar. Managing partners Tyler Barrera, Roland Keller and Keith Doyle, the trio behind the humble yet haute Wicklow Heights, have turned the historic, 1880-built building, formerly the home of Market Square Bar and Grill, into a bamboo-clad Polynesian oasis so convincing you almost want to check the back door to see if it backs up to a beach. (Spoiler: It actually backs up to a sizeable and thoroughly charming New Orleans-esque courtyard.) 
The tiki-reggae the bar is known to pipe through its speakers — yes, that mashup of music conveniently exists — coupled with the Japanese-glass-fishing-buoy-adorned ceiling and the monstrous and neon-eyed faces of the four tiki gods, who hold watch from the main wall, create a decidedly tropical ambience. 
"I love to travel, and having a piña colada in Downtown Houston is not normal," says managing partner Barrera of why he and his partners decided to bring their tiki sensibilities to the 'hood. "I think it's one of the coolest things to be able to provide that to our customers."
There are few things in life more enjoyable than a well-made and well-deserved piña colada at the end of a long day of work, and the colorfully dressed ones at Kanaloa — served in cute tiki mugs, of course — along with other killer renditions of tiki classics like painkillers, hurricanes, mai tais and zombies, will not leave you disappointed. (Although if you're not careful, they might leave you having to call in the next day.)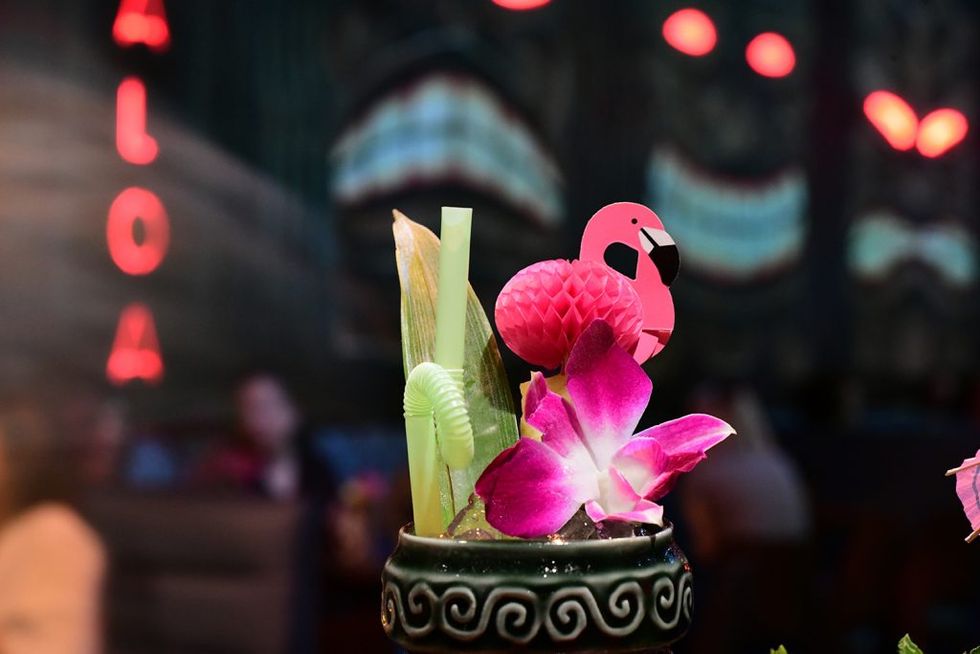 Tropical-chic craft cocktails, served in ceramic tiki mugs, at brand new Kanaloa.
If tiki drinks are too sweet for your palate, then Truck Yard (2118 Lamar St.), a new bar with Dallas roots situated in the same center that houses Rodeo Goat and Chapman and Kirby, just might be your thing. The newly opened bar, which straddles Downtown and EaDo, could also double as a filming location for a dystopian circus movie. Although the kitschy beer garden has a long list of craft beers, cocktails and frozen adult treats — in addition to an in-house restaurant that dishes out delectable Philly cheesesteaks — the real selling point here is its smattering of Orange Show-esque furniture and decor.
There are a few beer-garden-requisite picnic tables on the spatious patio, but benches that the owners created out of the desiccated beds of old, rusted pickup trucks are the hot seats. There's even a working Ferris Wheel, and tipsy patrons can be amazed for just $10 dollars a pop. Once on board, riders are greeted with a skyline view and a peek into the "treehouse" made of shipping containers that holds court above the patio.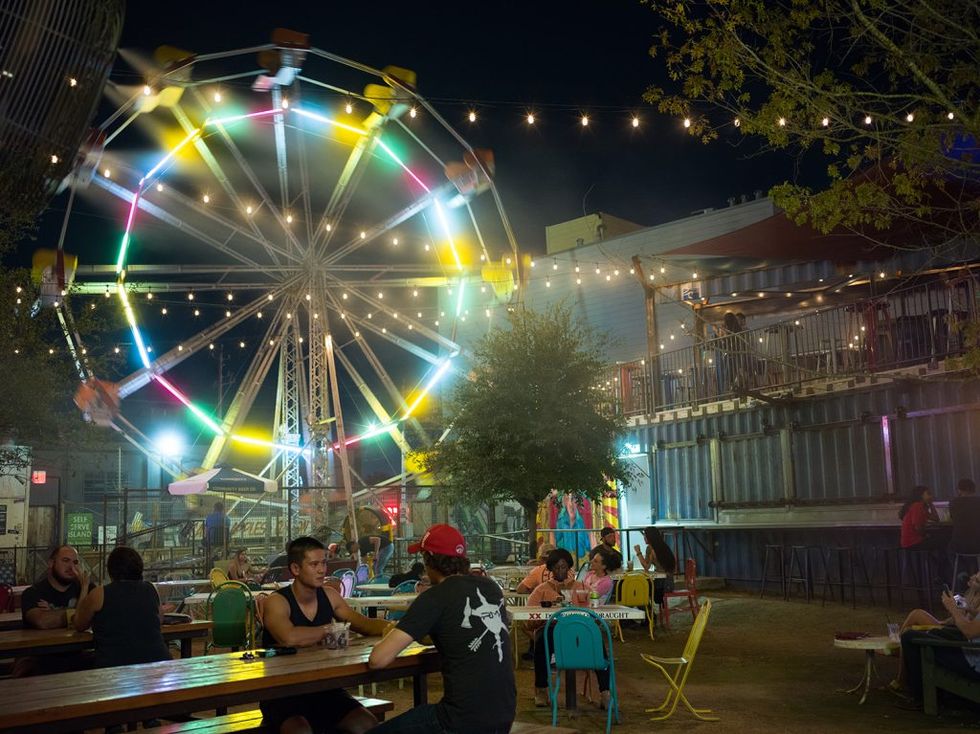 The eclectic Truck Yard beer garden
And opening this month is The Rustic (1836 Polk St.), located nearby, right next-door to the GRB. Pat Green's bar-restaurant-concert venue is decked out with a retractable roof and a huge stage, on which both local and touring musicians will play nightly. The 25,000-square-foot entertainment metropolis also plans on bringing approximately 250 jobs to the Houston area, which will be a major boom to the local service industry. 
As they say in Texas, "Go big or go home."
AT TOP: The ceiling of Downtown's new Kanaloa tiki bar is adorned with Japanese glass fishing buoys.
Food+Travel