The Hero Next Door
In Harvey-era Houston, stars like JJ and Mack make us proud — and our own loved ones and friends astound us with heroism, generosity and second-nature selflessness.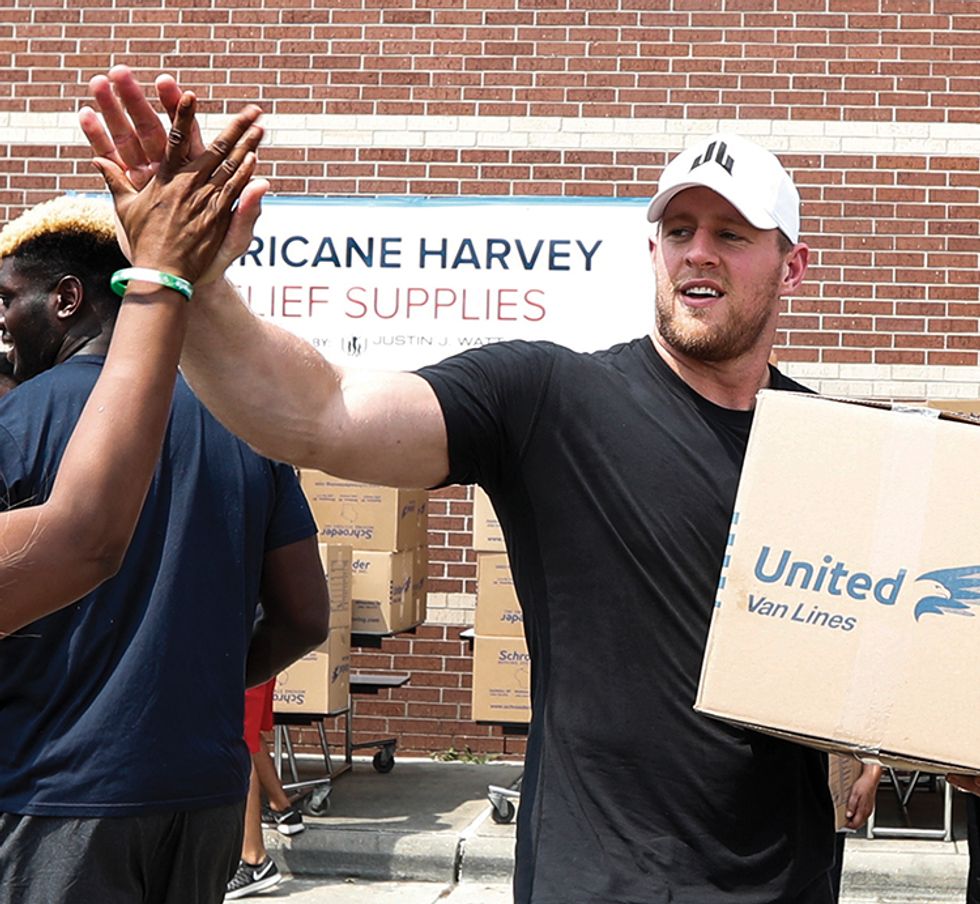 For hours, my husband and I watched from our second-floor parking garage as Harvey rushed in and quickly engulfed the neatly landscaped Midtown streets in front of our home. We weren't alone; others from our building watched, in awe, as cars, trucks, even Metro busses, tried navigating through the quickly rising waters. A mid-size Audi SUV slowly trekked by; it wasn't going to make it. Without hesitation, my husband and a slew of other men leapt into action, wading through thigh-deep waters to help keep the frightened, young female driver from panicking. In minutes, the group pushed her car out of danger, up the ramp to our garage. One car saved.
---
Dripping wet, the men returned to their homes, climbing flights of stairs because the garage elevator was no longer functioning. There was no chatter, no high-fives among them. The reality was setting in. The potentially life-saving acts of heroism I was seeing on television from first responders were also happening right before my eyes — executed by neighbors, friends and family. By my own husband. They had no reason to risk their safety in order to save another; nobody told them to. Furthermore, what they were doing didn't even feel heroic. It felt like the obvious thing to do.
But these were heroes — the army of Houstonians, who took small steps that were really huge strides, to offer assistance in any way that seemed possible. And in the days and weeks ahead, the onslaught of heroes would span beyond our city limits, as athletes, celebrities, business owners and "regular people" would step up.
"The most difficult times bring out the best in humanity," says JJ Watt, the Texans' defensive end, who initially watched the devastation unfolding in Houston from a Dallas hotel room, soon turning to his almost three million social media followers for help. "It was a fluid situation, obviously very difficult to coordinate so rapidly." But coordinate he did, blasting past his fundraising goal of $200,000 on YouCaring.com/JJWatt in mere hours, eventually raising nearly $35 million — funds he guaranteed would go "directly to the people."
And if his gut reaction as Harvey hit seemed heroic in its own right, his actions in the weeks to follow were even more so. Watt and his teammates took to the trenches, loading cars and semi trucks with food and essentials and hand-delivering items to flood victims, lifting spirits along the way. "It's humans helping humans," he says. "It doesn't matter rich, poor, black, white. It doesn't matter." With pride and a whole lot of heart, he says he wants the people of Houston to know that he is with them for the long haul. "We're not here just for one quick fundraiser, we're here to help until we get this city fully back on its feet."
If it seemed comforting that one of our own — a local athlete and leader on and off the field — would take such measures to help in the relief efforts, it was that much more astounding to hear from a celebrity that seemingly had no connection to the city. Actor and comedian Kevin Hart, witnessing the destruction on TV along with the rest of the nation, immediately got the sense that the storm would have an epic impact on Houston, and he challenged his industry friends — actors, singers and comedians — to donate to the cause. The funds came rolling in. Celebrity couple Jennifer Lopez and Alex Rodriguez gave $50,000, singer Chris Brown pledged $100,000, and the Kardashian clan followed up with $500,000. And on it went.
Leading up to a star-studded telethon on Sept. 12 that raised $44 million, Hart and celebrities including Jennifer Garner, Janet Jackson and Houston's own golden child Beyoncé raised awareness as they joined volunteer efforts at area churches, the Houston Food Bank and George R. Brown.
In the wake of such monster efforts, Houston's new normal has become everything but for local restaurants — many suffered costly damages and a large chunk were affected by the city's mandatory curfew immediately following the storm. But they fought through for a greater good. B&B Butchers proprietor Ben Berg, while displaced along with his own family, made certain that the restaurant was open to serve first responders in the days after the storm, even going so far as creating a three-course menu specifically for "Houston heroes" so they could relax and enjoy a proper meal with nice service.
"Although I am exhausted trying to move forward after my own family's losses, I am dedicated to feeding these brave men and women who have risked their lives for Houstonians, including myself," says Berg. A number of restaurants (almost too many to count) followed suit. Killen's BBQ provided free plates of 'cue for first responders; Hugo's, Wooster's and Bosscat Kitchen accepted donations on site; Roka Akor donated a full night's proceeds to the American Red Cross; Frank's Pizza delivered complimentary pizzas to the Houston Police Department. And the list goes on.
One inspiring Houston hero did not have a restaurant to open up to the public, but he did have all of the comforts of home. Houston icon and all-around nice guy Jim McIngvale, aka "Mattress Mack," made the quick but fateful decision to transform two of his Gallery Furniture stores into shelters, taking in nearly 1,000 evacuees. "I knew it was going to be bad when I was driving [to work] on 610, and I could see cars coming the other way," he says, recounting his own experience to CityBook. He says that, upon reaching the store, he discovered hundreds of voicemails from people asking for help. "The city was overwhelmed, and we have these great big 24-foot-high furniture trucks. So we sent them out to rescue people — from the street, from bridges, from homes."
Using Facebook Live to announce that Gallery Furniture was "open as a shelter for as long as people needed," Mack didn't give a second thought to the rooms of pricey showroom furniture, as he spent the next seven days managing a team of sales people who kept the store safe and secure, comforting and dining with evacuees, and raising awareness using his familiar voice on social media and TV.
"People ask me, how could I open up my furniture store?" he says with great emotion. "What am I going to do, let my people drown? These are my people."
The store soon transitioned from storm shelter to relief headquarters,  a destination where flood victims were welcome to eat breakfast, lunch and dinner, and pick up cases of water bottles and cleaning supplies to begin the process of rebuilding. When I visited him at Gallery Furniture's north Houston location two weeks after the storm passed, I found him standing alongside the hundreds of people lined up around the building waiting for his help. He had an unwavering focus on the goal at hand.
"We are here for the long-term relief effort," he promises, echoing JJ Watt's sentiment, and noting an ongoing, overwhelming response from the community — from volunteers working shifts, to restaurants like Brennan's and Steak 48 donating food. To my surprise, when I asked how people could continue to help moving forward, he laughs and says, "Register online, or better yet, call me on my cell phone. I gave my number out across the country and will continue to give it out!"
Just call the cell, he says. It's not complicated. You do what makes sense, to help someone in trouble. Like my husband and my neighbors did, making sure that scared young driver was safe and calm. Harvey dished it out, and Houston just did what came naturally. It was nothing much. And yet it was everything.
"This was a horrible event for Houston," says Mack, "but the silver lining is, it speaks volumes of the solidarity of all Texans. This is who we are."
Photo by Brett Coomer/Houston Chronicle via AP, pool, file
Uncategorized