The Mother of All Spas!
Inspired by her great-grandmother, late cosmetics icon Mary Kay, an ambitious Friendswood entrepreneur has opened Texas' largest spa, stuffed with Zen accents and state-of-the-art bells and whistles. Massage on a high-tech waterbed, anyone?
Trevor Gerland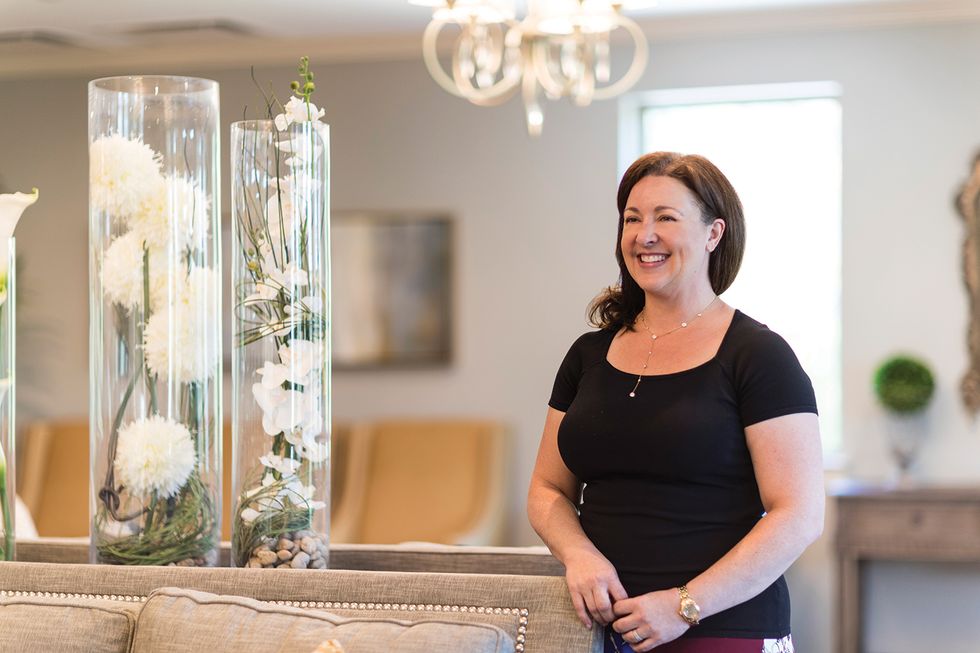 Many are familiar with the late Mary Kay Ash, founder of the iconic, eponymous makeup brand. But they may be surprised to know that the spirit of the bold female entrepreneur who made pink Cadillacs famous — and who would've turned 100 this year — lives on here in her native Houston.
---
Ash's great-granddaughter Marylyn Reed, 46, has owned the Friendswood-area spa, Bergamos Retreat, since 2001. But over the summer, the spa went through a remarkable renovation, transforming from a modest 5,000-square-foot space into an extraordinary 20,000-square-foot retreat. It's now the largest independent day spa in Texas.
Drawing inspiration from Bergamo, an Italian city northeast of Milan, the spa hints at Renaissance-era Europe, with earthy shades, rustic furnishings and marble and granite throughout the two-story facility. "Our clients are local but we want them to feel like they've stepped into an international retreat," says Reed, whose travels have been the inspiration for the spa.
Tall windows, high ceilings, classic ivory walls and white-and-gold honeycomb floor tiles combine to create a bright and airy space in the reception area. Steps away from reception, clients can take advantage of a brand-new service: a six-chair blow-dry bar, offering everything from braids to blowouts, which happens to be adjacent to the new bar and restaurant. How about some bubbles with that blow?!
The spa's other services and attractions — besides a vast new posh relaxation room — include a skincare apothecary, a Jentry Kelley cosmetics kiosk, anti-gravity pedicure stations, spray-tan and waxing rooms, and a new fitness studio offering yoga classes. Male and female changing wings tout separate therma-wellness pools, as well as access to steam rooms; guests will also find the more unusual "snow" room, a 14-degree response to the saunas.Speaking of quirky, only-in-Friendswood amenities, Bergamos also has a Himalayan Salt Cave, where one can bask in the tranquil glow of the orange floor-to-ceiling salt bricks and gently inhale salt air. "The purpose is to help disinfect the respiratory system," says Reed, adding that it's great for asthma sufferers. For those simply wishing to breathe fresh air, there's a relaxation balcony upstairs.
But the real draw of the newly expanded spa may be found in the 18 treatment rooms. No expense was spared on state-of-the-art equipment. Quartz-sand massage tables — you lie directly onto heated sand and quartz draped in soft linens — are used in decadent body treatments involving warm oil-enriched compresses, or poultices. Tibetan singing bowls may also be involved.
Meanwhile, therapeutic and Thai massages are performed using the limber table, an import from Germany and the only one of its kind in the United States. The table allows the massage therapist to position the client's limbs independently via the table's adjustable padded segments. Body scrubs are also offered on the limber table; they conclude with a Vichy shower, a 10-head shower system suspended above. Other Bergamos-exclusive massage treatments include the Spa Wave, which entails lying on an LED-lit water bed listening to a specially designed "binaural" (both ears) soundtrack.
As it happens, the innovative thinking at Bergamos also extends to the hours of operation: Besides having multiple couples' treatment rooms, the spa hosts couples-only Spa After Dark events on Friday and Saturday nights.
It all may seem particularly ambitious to some, but it's to be expected in the Mary Kay clan. "My great-grandmother was such a pioneer and broke many glass ceilings in her time, paving the way for others to go after their dreams, no matter how big," Reed says. "In our family, whether it's a business or life decision, we always ask ourselves: 'What would Mary Kay do?' She would take the risk, even if that risk could be failure, and push upwards."
Wellness+Giving Back