The Sun Will Rise: The Gallery World's New Normal?
Inspired by his 2019 global travels, Archway artist Robert Straight prepares a new show to be viewed digitally and by-appointment.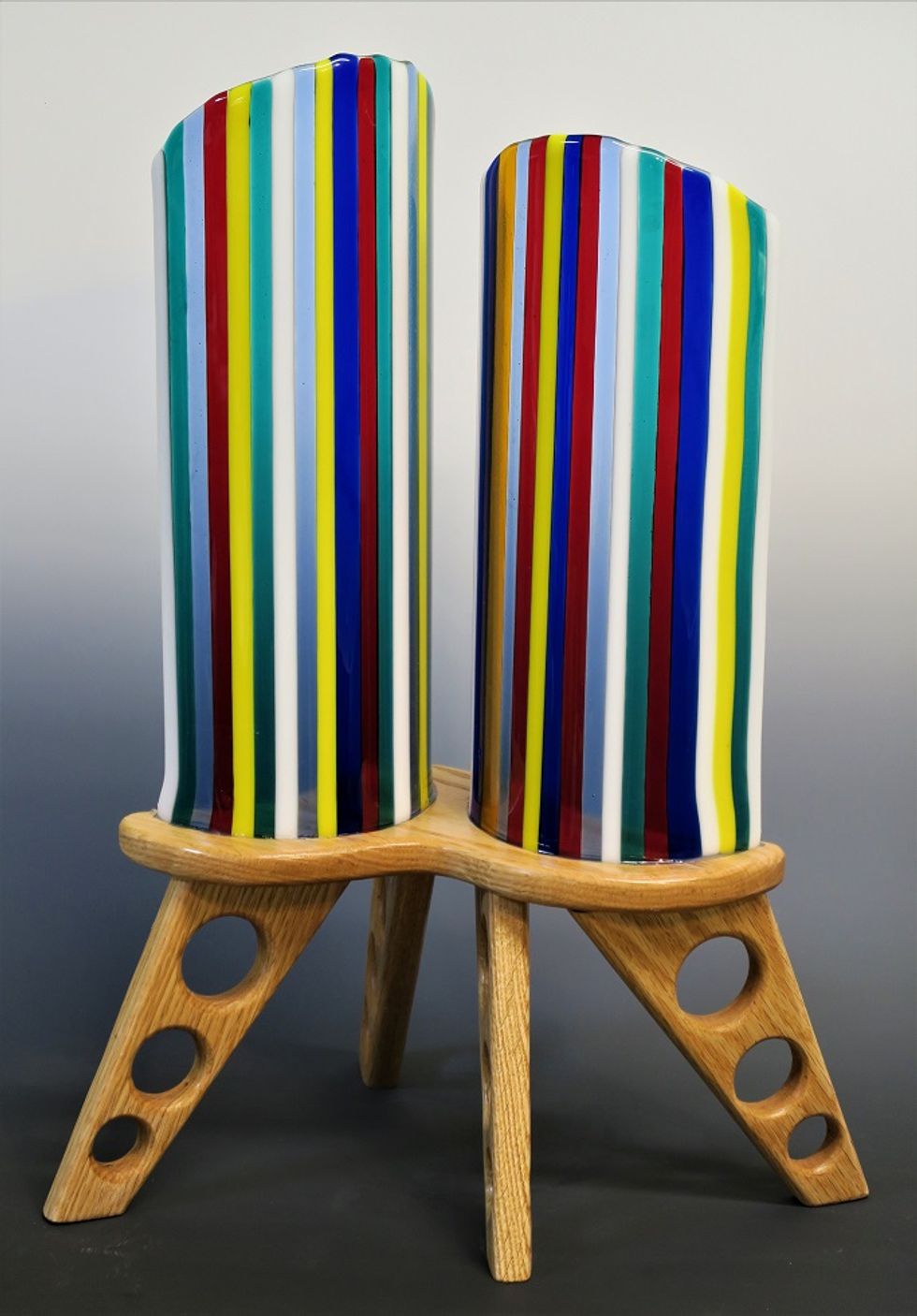 In November, Robert L. Straight emerged one morning to witness the most beautiful sunrise of his life — orange and yellow blending into the blue sky. He looked down and saw saturated earth, where rain had fallen overnight, green grass sprouting through sand. Later that night, he watched as the sun set and stars blanketed the sky for as far as the eye could see. Straight, along with his wife, Margie, and a group of twelve Rhodes Scholars, was on safari in Africa. He is bringing his interpretation of what he experienced on the other side of the world to Houston, with a virtual tour of Fusion 2, his latest show at the co-operative artspace, Archway Gallery, now through July 1.
---
Combining wood, metal and glass, Straight is able to bring his visions to life in 3-D works of art. "Fusion is the process I use," explains the energetic artist, who received his Masters of Fine Arts from Houston Baptist University in 2016 at the age of 75. (The former foundry pattern maker laughs as he recalls being the oldest graduate in a class of 5,000 when he received his Bachelor's degree years earlier at UH.) "A lot of pieces you see are doodles that I make in my sketch book. I'll make doodles, scan them, blow them up and create glass that mimic the doodles."
Art lovers will have a chance to take in Straight's work online or in person. "My gameplan is to have the virtual show be as close as possible as being in the actual gallery, standing in front of it," explains the artist. Archway director Joel Anderson says that the gallery will be "getting more experience as we go. The pieces will all be hung, and a video tour of the space will be provided with commentary to assist the viewer with their understanding of each piece."
"I will do video blogs in order for viewers to truly learn from each piece," Straight elaborates. "This type of learning made a huge impact on me. I had to study a piece for hours when I was in school."
And while the show has gone virtual, the gallery is working with all 30 artist-owners to decipher best practices for moving forward with in-person viewings. "We've decided, at least for the next few weeks, to remain 'by appointment only.'" Anderson is quick to emphasize the safety of the gallery's guests and the resident artists as his main priority.
But he also says that finding new and different ways to stay in touch has been a nice result of the COVID-19 crisis. For example, Archway used to keep a communal log of daily sales and gallery visitors; now, if someone was scheduled to work a shift at the gallery, he or she instead sends out an email "log" of what they were up to that day instead of working. "It has definitely brightened up out days a lot," says Anderson.
As for Straight, who has worked independently since his days making foundry patterns, his daily routine has stayed much the same throughout the pandemic. "I work every day," he says with gratitude. "I'm fortunate that I've always worked by myself, so this social distancing thing isn't a big deal." He chuckles. "I've always been socially distant."
And while he longs for the days of typical gallery viewings, Straight is choosing to see the bright side in the situation. "We have a Christmas card list, and I can mail out cards for my show to everyone on that list, and they can tune in to view my show from all over the world. And that's pretty special."
AT TOP: Robert Straight's 'multi-color towers'
Dispatches