'Nomadic' Artist Group Arrives in East End for the Holidays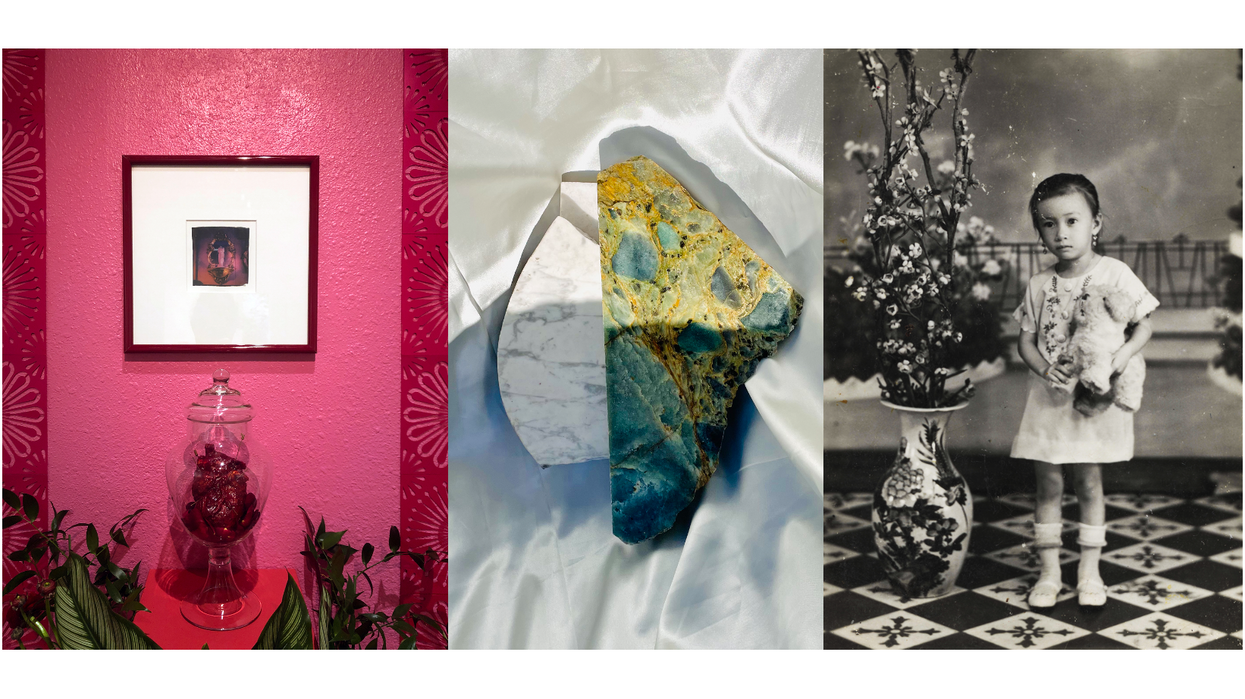 ON SATURDAY, NOV. 5, the Houston "nomadic photo exhibition series and a community arts space" FLATS premieres Where They're At, an exhibit of experimental photo-installations by local artists Debra Barrera, Theresa Escobedo, Brandon Tho Harris and Emily Peacock.
---
FLATS founder Jessi Bowman curated the show, the title of which is pulled from the refrain "It ain't where you're from, it's where you're at!" heard on Eric B. and Rakim's classic hip-hop track "In the Ghetto." It also refers to our current cultural moment, post-pandemic, and how each artist in the show uses the medium and tools of photography to take stock of the past and present. "They explore their personal histories," says Bowman. "But they're also exploring where they currently are in time."
Bowman, 34, who graduated from UH with a degree in Art History and Photography, was inspired to form FLATS after a visit with a collective of photographers in New York who had banded together to form a non-profit and create a tight-knit, mutually supportive network. Meanwhile, back in Houston, her photographer friends were distraught about the lack of venues available for showing their work. Bowman, who at the time was the Manager of Exhibitions at the Houston Center for Photography, decided to curate a grassroots exhibit of local photographers, including friends alongside artists who were new to her, and show the work in the first two rooms of her apartment.
"I picked some people that I knew, and reached out to people that I didn't know, just to make that gap smaller and get the community a little more tightly knit," says Bowman. She chose the name FLATS as a reference to an apartment or "flat," and for the next three years, Bowman continued to curate a series of one-night events in apartments, choosing a different area code for each exhibit. For Where They're At, FLATS is collaborating with The Plant/Second Ward to present its first large-scale, longer-term exhibition.
For Bowman, where the art of photography is at now is especially exciting, with the tired debates regarding the superiority of digital over analog images (or vice versa) now laid to rest favor of a more holistic attitude toward technology, and an embrace of a high degree of experimentation with the medium.
"In this show, you'll see a lot of photography as sculpture," says Bowman. "You're going to see a wide range in how the photos were shot, how they were printed, and how they were installed and used in the space."
One example is the work of Theresa Escobedo, who explores her family history and ancestral heritage through large, elaborately realized ofrendas (or "offerings"), and draws inspiration from religious practices and celebrations in Mexico, including Día de Muertos. "She's been doing one ofrenda a year," says Bowman, who notes Escobedo expands upon this traditional practice through the use of modern wallpaper and 3D-printing technology.
As part of Where They're At, on Nov. 20, FLATS is hosting a Where They're At Feast, a family-style, five-course Thanksgiving fundraising dinner, prepared by chef Thomas Stacy of ReikNa and served in the center of the exhibition. The event also includes a live "one-of-a-kind mariachi performance" by Houston musician Andrea Daniela. "It's going to be a pretty cool and yummy event," says Bowman who, along with the exhibiting artists, contributors to FLATS magazine, and other members of the FLATS team will be in attendance. In addition to enjoying an incredible meal, the feast gives Houstonians the opportunity to experience and appreciate first-hand the DIY spirit of the city's artistic community.
Art + Entertainment