You Don't Know Jack
Jack-o'-lantern, that is. Three top Houston cooks put a fresh new spin on the quintessential ingredient of October: pumpkin.
Kirsten Gilliam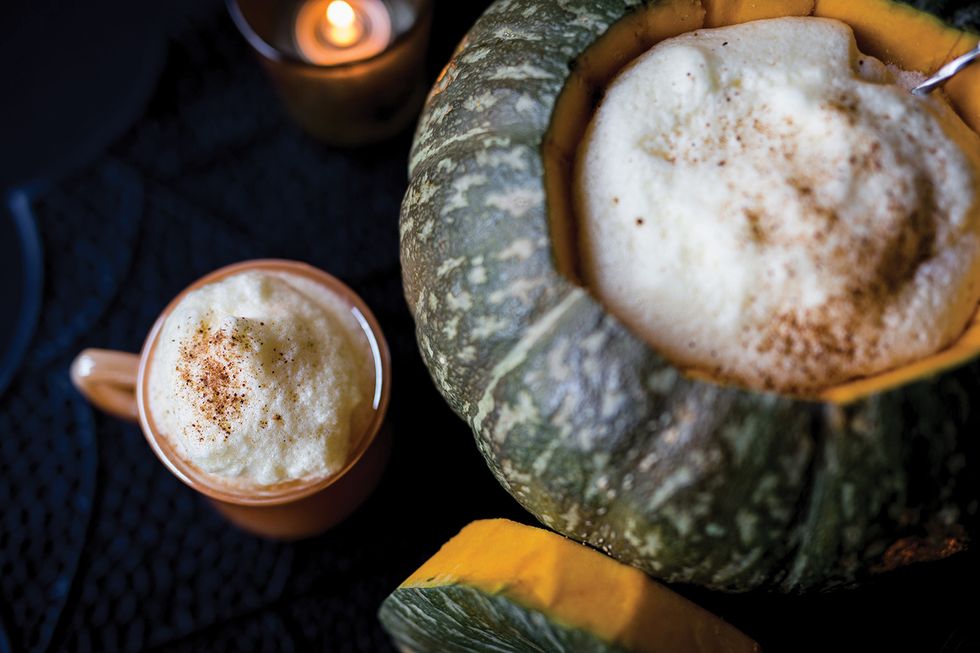 Packing a Punch
Cocktail connoisseur and resident mixologist at Downtown's Reserve 101,Leslie Ross combines the spicy flavors of the fall season with dark, rich spirits in her version of a Tom & Jerry punch, aptly called Sleepy Hollow. "It's warm and buttery and a really fun mix of a lot of different cocktails," says the seasoned bartender. Layered with decadent ingredients, the adult beverage is complex in flavor and makes a festive addition to fall gatherings as Ross recommends using a hollowed out pumpkin as a punch bowl!    
---
Sleepy Hollow, a Tom and Jerry Punch
Ingredients
12 eggs, separated
1 cup brown sugar
3 cups Pierre Ferrand 1840 cognac
3 cups dark rum
2 cups apple cider, piping hot
8 tbsp. pumpkin butter*
*For Pumpkin Butter
3 ½ cups fresh Thai pumpkin
¾ cup apple juice
2 tsp. ground ginger
½ tsp. ground cloves
2 tsp. ground cinnamon
1 tsp. ground nutmeg
1 ½ cups white sugar
Directions
1. To make pumpkin butter, carefully seed and then scoop the flesh from a large pumpkin. (Refrigerate the emptied shell to use as a punch bowl later, if desired.)
2. Continue with the pumpkin butter. Combine about 3 ½ cups of the pumpkin flesh, apple juice, spices and sugar in a large saucepan. Stir well and bring mixture to a boil. Reduce heat, simmer until pumpkin is soft enough to be mashed up and incorporated into the mixture, about 30 minutes. Stir frequently. Chill until ready to use.
3. In a bowl, beat egg whites into stiff peaks. Set aside.
4. In another bowl, beat egg yolks with brown sugar and pumpkin butter until creamy and smooth. Gently fold in egg whites with yolk mixture until well incorporated.
5. Transfer mixture to a punch bowl or pitcher and add cognac and rum.
6. Add hot cider, and stir until foamy. Top with grated nutmeg. Serves 16.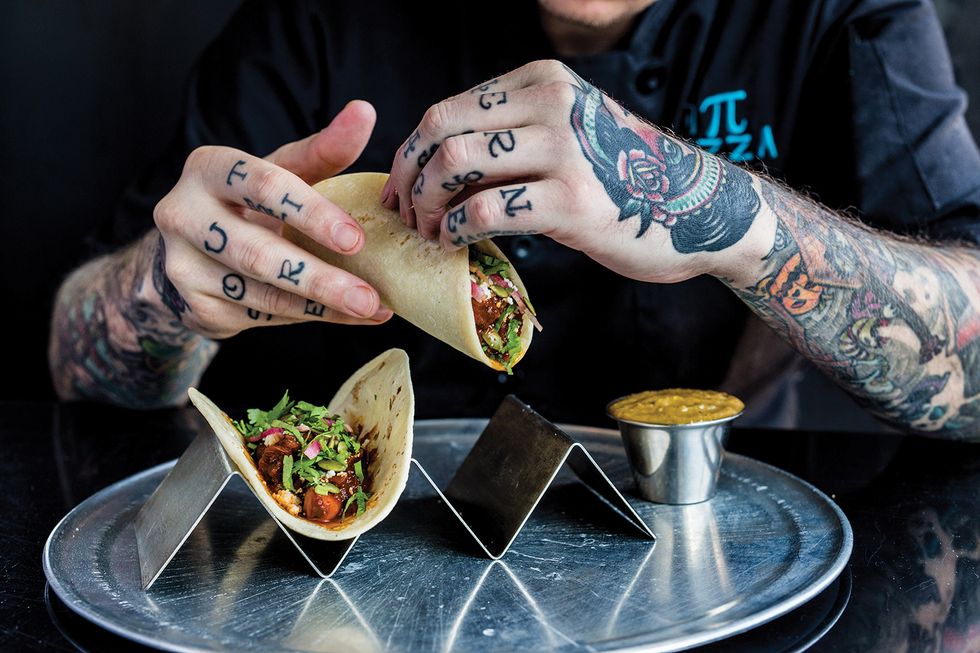 Tempting Tacos
Anthony Calleois no stranger to churning out sensational — and unexpected — slices at his Heights pizza parlor Pi Pizza. Combinations like mac 'n' cheese with bacon, and wild Texas venison sausage with cherries, are complemented with fire-roasted jalapeno ranch dressing and mint pesto. He brings this adventurous approach to his Achiote Pumpkin Tacos, pairing the popular fall ingredient with a variety of hot peppers for a "sweet, but fiery" take on a Houston fave, he says. Citing Houston's unpredictable weather, Calleo laughs, "Just add some salsa on the side, enjoy eating outdoors with friends, and take advantage of the fall season while we have it." 
Achiote Pumpkin Tacos
Ingredients
3 dried ancho chilies, stemmed and  seeds removed
2 dried guajillo chilies, stemmed and seeds removed
1 onion, quartered
2 jalapenos, seeded
4 Roma tomatoes
½ cup canned chipotle peppers in adobo sauce
1 cup wild mushrooms (shiitake, oyster, etc.)
1 cup golden raisins
3 cups raw pumpkin, cubed
1 cup water chestnuts
1 ½ cups orange juice
2 tbsp. liquid annatto
1 tbsp. apple cider vinegar
2 tsp. cumin
1 tsp. Mexican oregano
1 watermelon radish, julienned
Toasted pumpkin seeds
Cotija cheese
Water, olive oil, salt and pepper
Flour or corn tortillas
Directions
1. Preheat oven to 500 degrees. While oven is pre-heating, toast dried chilies in medium-sized saucepan over medium heat on stovetop, about three minutes. Add three cups water and boil peppers until fully softened, 15-18 minutes. Strain, set aside chilies and reserve liquid.
2. Coat onion, tomatoes and jalapenos in olive oil and roast in oven until skin is charred, about 10 minutes. Remove from oven and set aside.
3. Put chipotle peppers, roasted vegetables and softened chilies in food processor. Slowly add in reserved cooking liquid and process until smooth and about the consistency of porridge. (You may not use all the liquid.)
4. Heat olive oil in medium-sized pan (ideally a Dutch oven) over medium heat. Add mushrooms, sauté until soft. Add golden raisins, stir.
5. Pour in processed chili mixture and reduce heat to low-medium. Add water chestnuts and cubed pumpkin, stir. Add orange juice, liquid annatto, apple cider vinegar, cumin and Mexican oregano. Stir, then cover to simmer, about one hour, until pumpkin is soft and liquid is reduced by half. Add salt and pepper to taste.
6. Spoon heated taco filling into warmed tortilla. Top with watermelon radish, toasted pumpkin seeds and Cotija cheese. Serve with a sweet or spicy-sweet fruit-based salsa such as pineapple. Serves four to six.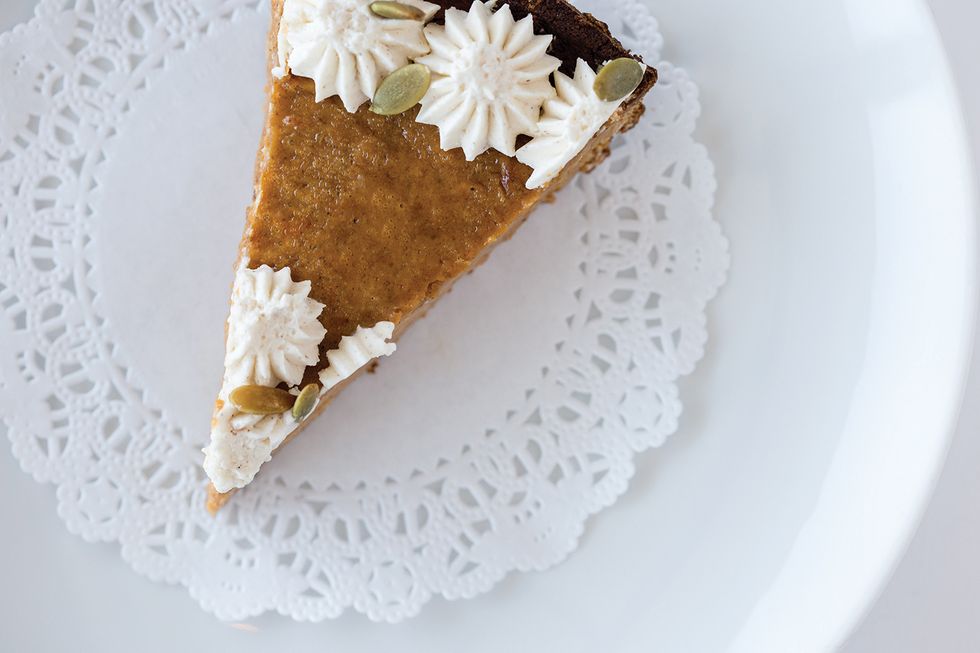 The Classic, Reimagined
Executive pastry chef Otto Sanchez is a master at his craft, presenting polished plated desserts and patisserie year-round at elegant Uptown restaurant and bakery La Table at BLVD Place. While Sanchez doesn't have much of a sweet tooth himself, his passion for pastries has been a life-long affair. And in the autumn months — aka "pie season" —  he opts to bake scratch-made pumpkin pies for family and friends using a recipe which combines a traditional filling with a not-so-traditional graham cracker crust.
Pumpkin Pie with Graham Cracker Crust
Ingredients
6 tbsp. butter, melted
1 ¾ cups of fresh Baby Pam pumpkin
¾ cup sweetened condensed milk
2 large egg yolks
1/8 tsp. salt
½ tbsp. spice mix (cinnamon, ginger, cloves, nutmeg)
1 graham cracker pie crust*
*For Graham Cracker Crust
1 ½ cups graham cracker crumbs
1/3 cup melted butter
1/3 cup sugar
Directions
1. To prepare pumpkin, cut one small pumpkin in half and remove seeds. Wrap each half with foil and roast at 350 degrees for one hour. Scoop out flesh and puree in a blender until fine. Line a sieve with cheesecloth and pour puree in, allow to drain in the refrigerator for at least four hours (preferably overnight).
2.To make graham cracker crust, combine ingredients and press evenly across the bottom of an aluminum pie tin. Bake in preheated oven at 350 degrees for about 10 minutes. Let cool.
3. In a bowl, whisk together pumpkin puree, condensed milk, egg yolks and salt until well blended.
4. Pour filling into pie crust and bake in preheated oven at 350 degrees until set and beginning to brown on top, about 30 minutes.
5. Let cool to room temperature, then chill until ready to serve, at least one hour. Top with whipped cream if desired.
Food+Travel