A Passage to India
Once considered a rarefied ethnic cuisine — and probably too spicy — Indian cooking is emerging as a new Houston favorite.
Shannon O'Hara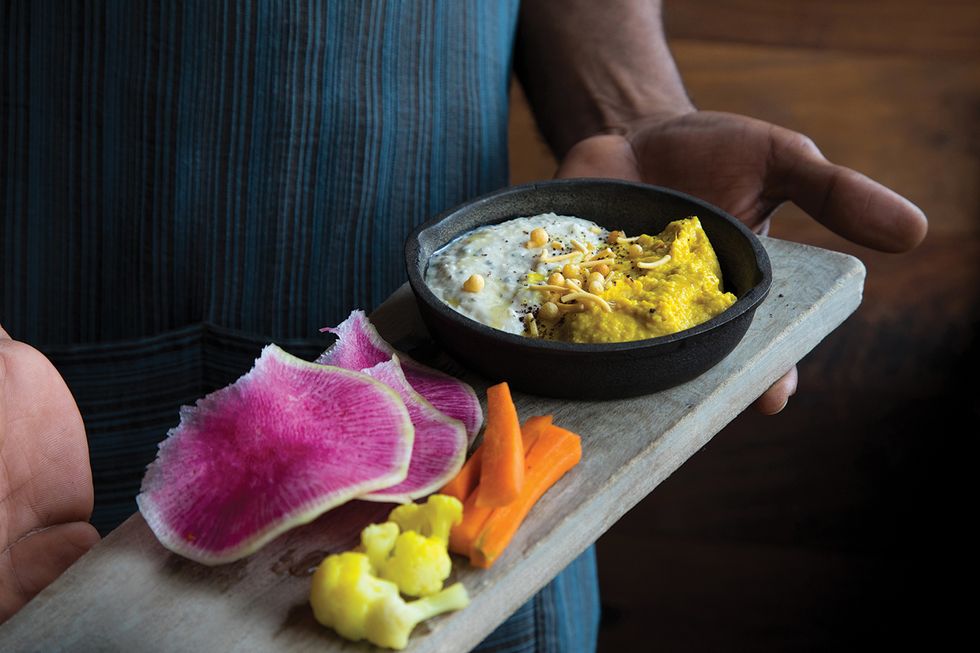 It's hard to remember a time in Houston when chicken tikka wasn't offered as a topping on a pizza or a filling in a taco. Rewind further back though, and Indian cuisine was grouped in the "too spicy for me" category by many, left out to dry along with Thai food and ghost-pepper salsa. Thankfully, the city's culinary landscape has broadened to reveal an increased demand for spice — or, rather, for many spices.
---
As fragrant rubbed meats bathed in garam masala and turmeric and spicy curries have become more identifiable and palatable among Houston diners, these dishes are simply scratching the surface. Indian cuisine is layered and complex, varying regionally — and South Asian chefs and restaurateurs are bringing it all to tables across Houston.
Anita Jaisinghani, recently namechecked by the James Beard folks for her work as chef-owner of Pondicheri Café, was raised in India. She came to Houston in the early '90s and has been a trailblazer in the Indian food scene since opening Indika in Montrose in 2001 (which she later sold), along with the critically acclaimed flagship location of Pondicheri at West Ave in 2011, and a smaller one inside the Museum District's Asia Society building last year. Sharing time between Texas and New York, where she operates a Gramercy outpost of Pondicheri, she observes that Indian cuisine is "blossoming all over the country."
The success of her trendy, fast-casual eatery comes in part from the desire to create "out of the box" dishes. ("I don't like the word fusion," she says. Instead, she prefers "Indian food with other influences.") Her method incorporates modern cooking techniques with traditional dishes in an effort to make Indian food more approachable and less fattening — another stigma of the sometimes over-indulgent cuisine.
The menu at Pondicheri does list hearty dishes — Bombay Benedict, Madras chicken wings — but wholesome items like the chickpea roll-up with cashew spread are ones she says guests can't get enough of. Her mission to offer a healthy alternative to the dosa — a savory pancake made from fermented rice and lentils, then stuffed with spiced potatoes — was a challenging one. "I wondered, 'How can we make a dosa so that you don't want to take a nap after you eat it?'" she laughs. The result? The much healthier green dosa, made with ragi grain and filled with sautéed spinach and arugula. "First, I make sure it tastes good. Without taste, nobody is going to eat anything. But, if it's good for you too, then I've achieved something in food."
This approach has transformed Indian food as Houston knows it, as Jaisinghani is joined by other innovators who share a similar perspective. Bright and cheery chef Kiran Verma has been a major player in Houston's culinary scene for 40 years. She opened Ashiana in 1995 — "People had no concept of what good Indian food was," she says — followed by her prized namesake restaurant, which recently moved to a new space at Kirby Grove adjacent to Levy Park. Verma credits the rise in awareness to Indian flavors being used in food truck-inspired eats, street foods and in fine dining. "I don't meet anyone now who has never once tried it."
For inner-Loopers, Kiran's and Pondicheri may feel safe and familiar, but the city offers a sea of options hidden in plain sight. Midtown's Indian-and-Portuguese affair Oporto Fooding House & Wine shares owners — and Euro-fusion concepts — with the famous Queen Vic in Upper Kirby, which highlights a uniquely British take on Indian food. At the latter, the Queen's Curry combines ground lamb with a Scotch egg. Meanwhile, new-ish Heights-area hideaway Surya India is earning good word-of-mouth with its trendy, industrial space and authentic eats. Chef-owner Sheel Joshi brought the revamped version of his restaurant to Houston after a successful 10-year run in Beverly Hills. "The cost of doing business in L.A. was getting to be too expensive," he says.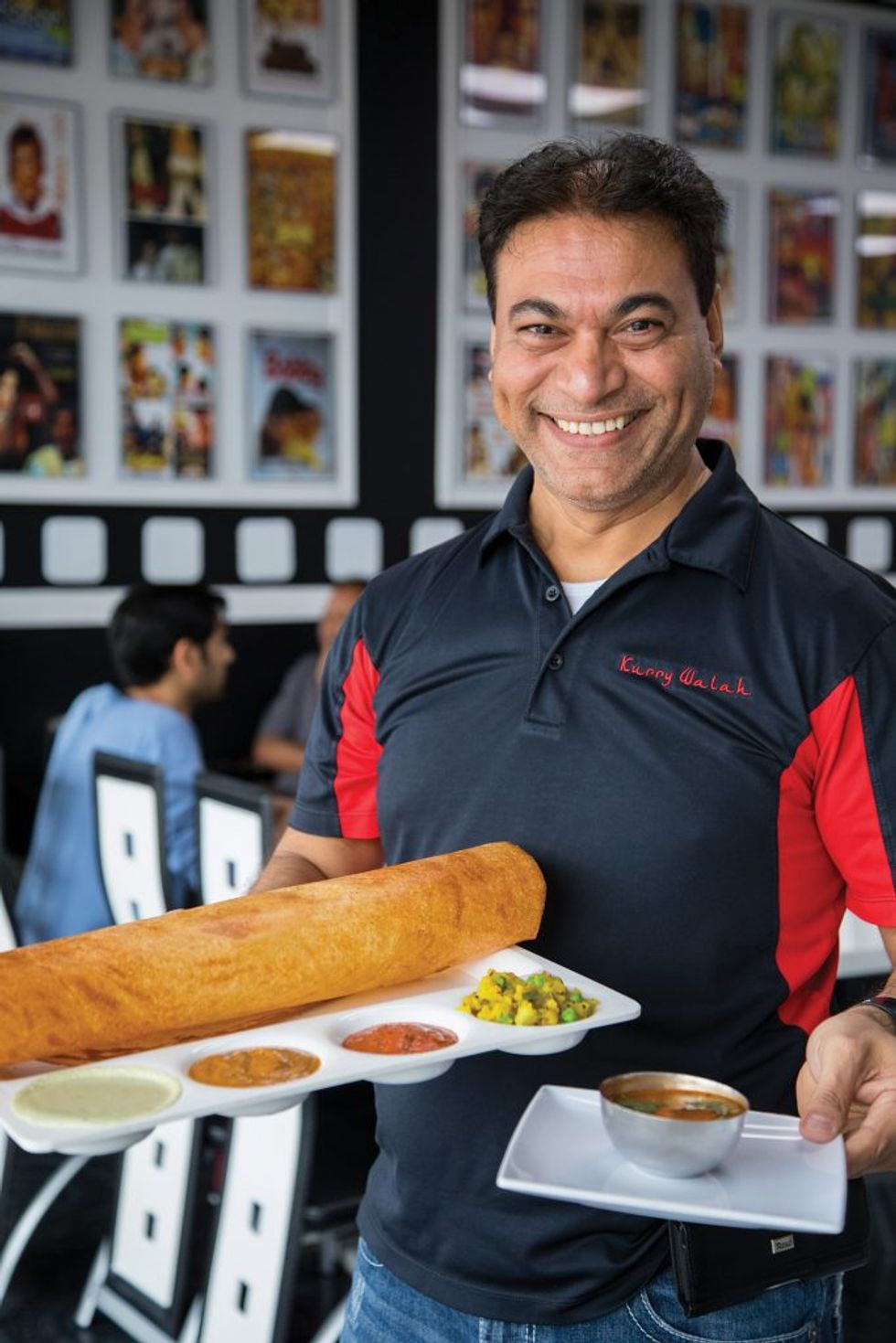 Chowpatty Chat owner Kurry Walah
While many chefs, near and far, are adopting the Indian-fusion trend, Joshi elects to embrace tradition. "Indian food is so complex. It ranges from region to region and is impossible to get right all under one roof," he says. His approach to Surya's primarily North Indian menu? "Dishes are made to their merit. I do not believe in adjusting the spice level because it does an injustice to the cuisine." But, he adds, there are safe bets for people wary of too much spice, like Tandoori chicken and chicken korma.
When it comes to the vast variety of the cuisine, Little India — a pocket of Indian fabric stores, grocers and boutiques at the intersection of Hillcroft and Harwin — manages to pack it all in. Neighboring restaurants like London Sizzler, Sri Balaji Bhavan, Raja Sweets and Shiv Sagar offer clean, casual dining spaces with plenty of tasty finds, all distinguished by North or South Indian menus. The most significant differences? North Indian cuisine boasts a variety of rich and non-vegetarian items like kebabs, butter chicken and mutton, served alongside wheat-based breads like roti and naan. And South Indian fare features primarily vegetarian options, often made with rice as the staple grain. Idli, savory biscuit-sized cakes, and uttapam, a pancake-like dish similar to a dosa but with all the ingredients cooked right into the batter, are both made with fermented rice and served alongside hot sambar for dipping.
At Chowpatty Chat, also in Little India, the funky Bollywood-inspired décor is a nod to India's booming multi-billion-dollar film industry, and offers convenient counter service for its menu of fast-casual street eats. The menu spans from "Bombay bites" like pav bhaji — spicy mixed vegetables served with toasted buns, often found in Indian street markets and cafes — to Indo-Chinese, a sub-category of Indian food which fuses Indian and Chinese flavor profiles to create dishes like gobi (cauliflower) Manchurian and vegetable hakka noodles.
Since a large percentage of the Houston area's 50,000-plus South Asians live and work in Fort Bend County, it makes sense that Stafford would be home to a huge traditional Hindu mandir, or temple, the first of its kind in North America — and that nearby Sugar Land would be a sort of capital of Indian cuisine. There are dozens of popular and tasty Indian restaurants here, but many residents opt to get their takeout from a different type of kitchen. There's a network of seasoned home chefs in Sugar Land who cook and package ready-to-eat meals. Such an option is becoming increasingly popular among a new generation of Indian diners — and non-Indian ones — who may not know how to cook traditional Indian food or simply don't have the time to. Select parathas, which is fried bread stuffed with spiced potatoes or mashed cauliflower; black or yellow daal, lentil soup; and even desserts like kheer, a sweet rice pudding — all for a family of four or more.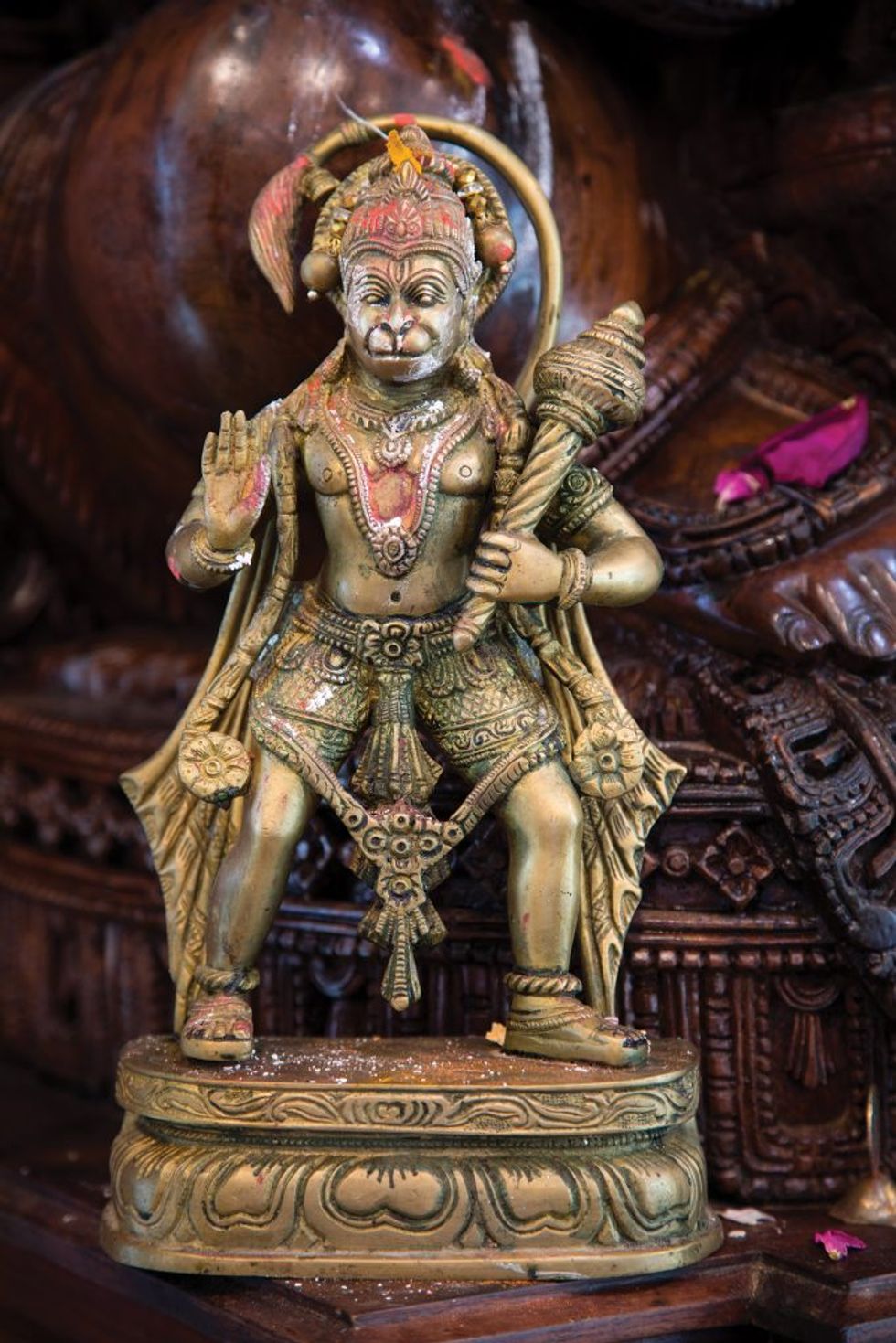 Inside Sugar Land's Madras Pavilion restaurant
Longtime restaurateur Michael Shah, owner of Madras Pavilion in Sugar Land, who moved his existing concept from Chicago to Houston in 1996, says he has seen a wave of change in the last two decades. Having since expanded to Dallas and Austin, he also operates as one of the cuisine's largest catering businesses, and believes that millennials are helping to change the Indian food trend in more ways than one. "They are well-traveled, they know food," he says. And when it comes to catering, the rise in inter-racial weddings allows him to break free from the boundaries of traditional Indian foods and fuse flavors — think mini tacos stuffed with spiced garbanzo beans, and gulab jamun cheesecake — in an effort to please all parties.
New generation or not, he observes that all his customers are evolving. "Diners have become a lot more sophisticated," he says. "They ask for a lot more transparency. They ask about what kinds of ingredients are in the dishes, and where the food comes from. There is a conscious effort to eat better." But, he laughs, "samosas and fried foods have not gone out of style."
Corresponding with Joshi's outlook, tradition is still very much "in style" when it comes to Indian cooking, though the culinary landscape in Houston is indeed evolving with the times. As a passionate chef and "Newstonian," Joshi shares a common goal with Jaisinghani, Verma and Shah — to spotlight Indian food in the best possible way. "I want to offer people a different education on Indian culture through food," he says. "It is time Indian food gets its proper recognition."

AT TOP: Oporto in Midtown offers Portuguese-Indian fusion food, like these hummuses of white bean and yogurt, and sumac and yellow moong lentils.
Food+Travel