Big News in Big D
After Houston's smashing Super Bowl spectacle, it's tough to admit that Dallas has its own thing going. But, truth is, Big D has never been better!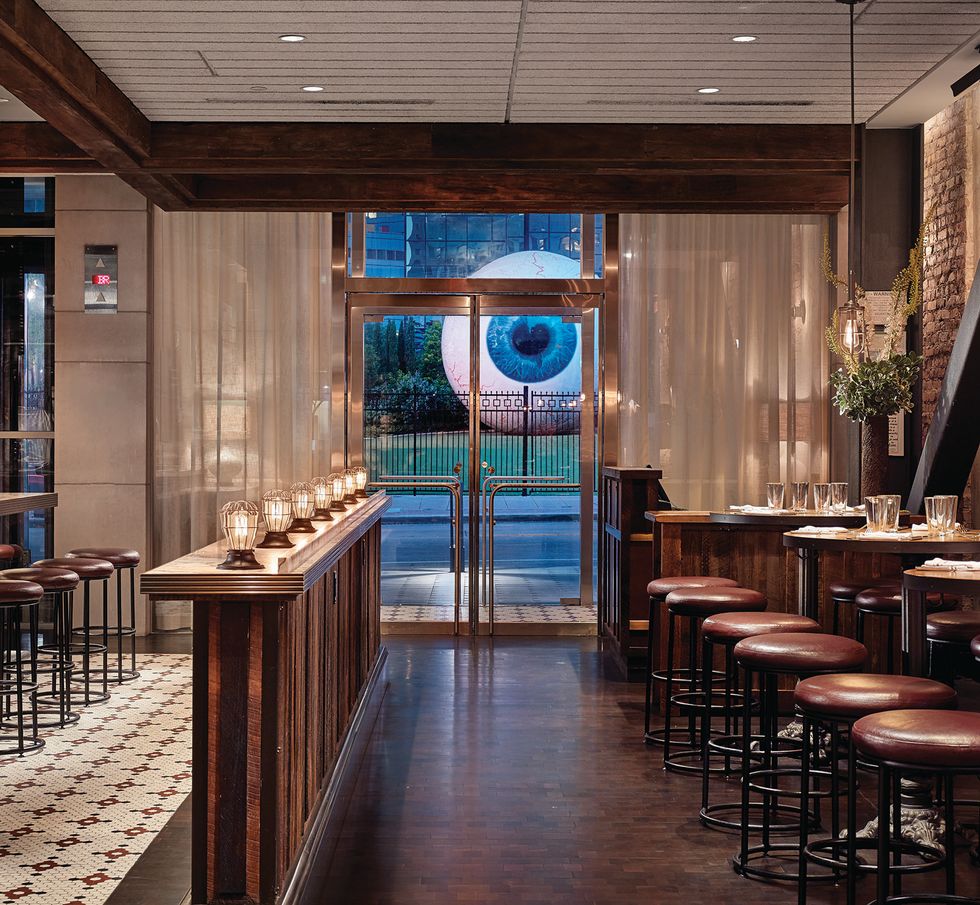 There may always be a rivalry between Houston and Dallas. For so long Dallas was seen as glam and thriving — thanks JR and Sue Ellen — while Houston quietly grew in population and prestige. Now it seems H-Town may have finally come into its own — over the last decade or so, and especially leading up to the Super Bowl last month, when the city was spectacularly on display. And yet Dallas is also flourishing, as the downtown and Design District neighborhoods add to an already impressive roster of businesses.
---
Downtown, near the Joule — the quintessential boutique hotel named after the international unit of energy — ongoing development includes a half-dozen more hotels. A handful of mid-market options, like an AC by Marriott hotel and a Curio by Hilton property, join forthcoming luxury numbers like one from New York-based Thompson Hotels Group going up inside the new downtown skyscraper, The Drever. The new Westin Dallas Downtown hotel just opened in the 34-story One Main Place Tower, which is part of a larger mixed-use development on Main and Elm Streets.
Meanwhile, the Joule itself — developed by Dallas mogul Tim Headington and filled with art from its chic lobby to its 10th-floor rooftop pool — recently added Americano, one of the complex's five restaurants. Guests enjoy boards of cured meats and cheeses or rustic pasta plates in the coolly retro space, a design inspired by the mod-chic scenes found in 1960s Italian cinema which incorporates sculptural furnishings and hexagonal tiling throughout. Back to the future, the 160-plus neatly appointed guestrooms are contemporary, but cozy, applying soft neutrals with bold color accents. Outfitted with modern conveniences like sleek, mounted flat screens and Apple TV, the sophisticated space serves as a cocoon of rest and relaxation from the day's stresses.
Outside the Joule, a watchful eye is kept on Main Street. Literally. The Eye art installation stands 30-feet tall in an open lawn used as an exhibition space, drawing attention from all corners of the neighborhood, including the new flagship location of retail emporium Forty Five Ten, which was recently acquired by Headington. The multi-level space is separated by men's and women's garb while the main lobby is reserved for sparkly jewels and accessories. The onsite coffee bar offers a pretty place to rest your feet — it even opens out to a shaded patio where you'll find the Eye staring back at you — but a visit to fourth-floor Mirador restaurant overlooking Main Street is a must.
With floor-to-ceiling windows and an extra-long wrap-around terrace on which guests are welcome to dine, the upscale Mirador offers sweeping views of the city. And while seats on the terrace are highly sought after, a spot in the main dining room is just as fun. Pristine white walls are splashed with vibrant, oversized food photography, and colorful fabrics used for the dining chairs and drapes draw from a palate of bright pinks and yellows. With its new residency atop Forty Five Ten, the restaurant currently offers lunch and lounge menus, catering to those visiting the boutique while its open. Dinner coming soon.
Another region where business is booming — and another on which billionaire tycoon Headington has set his sights — is the Dallas Design District, where a slew of fashion and design retailers have set up shop. The coveted area dotted with upscale apartment homes and restaurants is where the new Virgin Hotels Dallas will open its doors in 2018. Dallas-based Gatehouse Capital (The Joule, The W Dallas) is partnering with Virgin to bring to fruition the $80 million project, with feature restaurants, a rooftop pool, and meetings and events space. In the meantime, Headington has also brought two new dining concepts to the flourishing area. Sassetta, an Italian restaurant with a serious pizza program, and Wheelhouse, a mod-ish gastro-pub open for both lunch and dinner, will join Design District staples like Meddlesome Moth and Ascension Coffee this season.
Nearby, Dallas celeb chef Stephan Pyles has opened his new Flora Street Café with "elevated Texas cuisine." The restaurant itself is simple but elegant with a spacious dining room that offers views into the open kitchen. An oversized art installation on a back wall is the eye-catching focal point of the main dining room with its striking range of rainbow-colored hues. The three dimensional silk tapestry is an addition by fiber artist Tim Harding, and offers a curtain-like backdrop for guests who have their phones out. While your phone is out, swap to video mode and order dishes like the chilled Nantucket scallops with chipotle buckwheat groats and jasmine sea essence that, when served tableside with hot water, begins to give off smoke.
If an itinerary calls for something more casual, any Dallasite will advise a visit to Deep Ellum, a district all its own with graffiti walls and pedestrian paths leading from street to street. The eclectic 'hood is home to Stirr, a brand new restaurant by Milkshake Concepts — seasoned night owls with the popular Uptown nightclub Citizen — that attracts both diners and drinkers with an industrial-chic design and cozy second-floor lounge. Windows throughout the main dining room offer great views of the neighboring shops and street traffic, but the upstairs lounge is where the action is — craft cocktails flow until 2am, and there's a great view of the downtown skyline. Not a bad way to end a long, fun day of exploring what's new in Big D.
Uncategorized