Thrive + Inspire: Christus Clinics Serve Those Who 'Fall Through Cracks of the Cracks'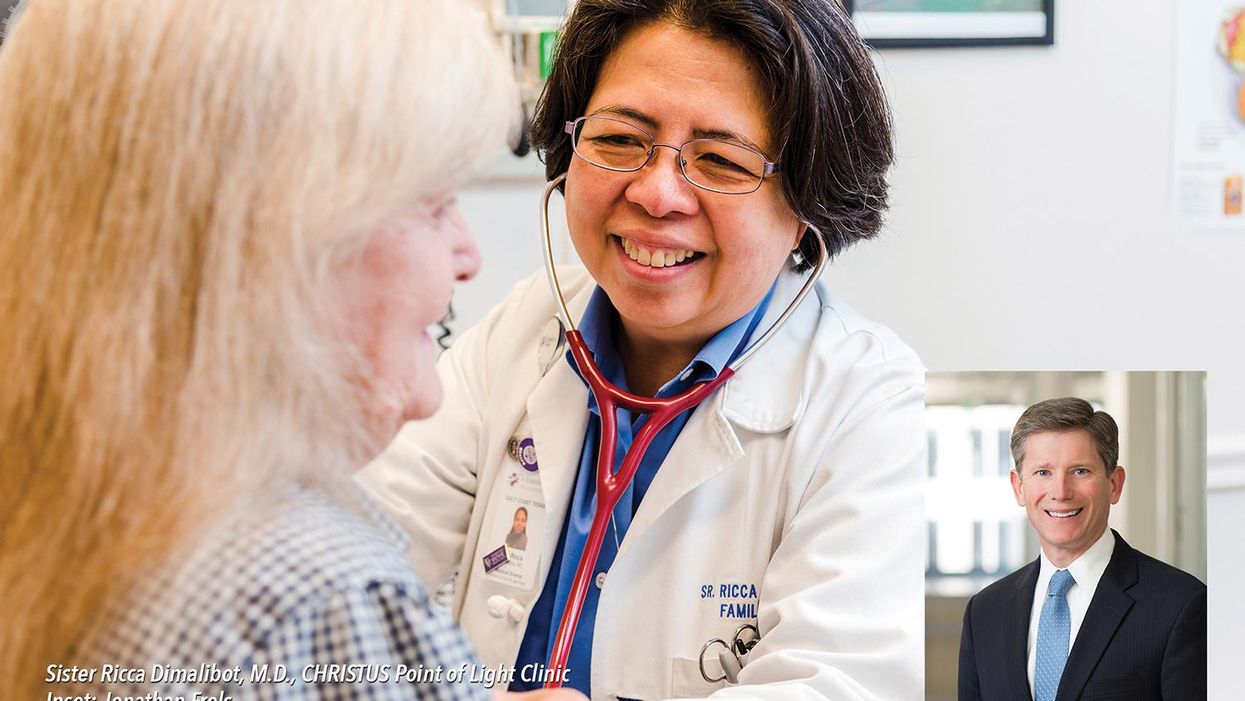 AN INTERVIEW WITH Jonathan Frels, Board Member of Christus Foundation for Healthcare
---
Tell us a little about your organization. In 1866, the Sisters of Charity of the Incarnate Word came to Galveston with a mission to heal "the sick and infirm of all kinds." In 1887, they expanded their reach with St. Joseph's Infirmary, Houston's first general hospital. While the focus has shifted from hospital care to primary healthcare and related services, CHRISTUS Foundation for HealthCare continues the original mission by serving the needs of underserved and uninsured communities of all faiths, ages, and cultures in the Greater Houston and Galveston areas. Our seven programs include stationary clinics, mobile clinics, and school clinics, in addition to our Galveston homeless outreach.
What have been your biggest challenges since the COVID pandemic began? In addition to the challenge of adapting our programs to keep our staff and patients safe, we have seen an influx of patients suffering physical and mental health challenges related to the pandemic. A number of the low-income families we serve are experiencing trauma and stress due to both job loss and the loss of family and friends from the virus. About 50-60% of the people we help aren't working at their usual jobs due to the pandemic. In addition to helping clients with their medical needs, we've focused on connecting them with counseling and mental health support. The sharp increase in those seeking healthcare and mental-health support during the pandemic has made our work even more critical.
How did you adjust and overcome obstacles? At our two stationary clinics, CHRISTUS St. Mary's Clinic in Houston's East End and CHRISTUS Point of Light Clinic in Dickinson, we are working with patients on managing conditions such as diabetes. Access to healthy foods has proven difficult to many, as has the ability to afford prescriptions. Our prescription assistance program and education on how to access food through area food banks are essential tools for promoting health during the pandemic. While the indoor facilities at CHRISTUS Our Daily Bread may be closed to homeless clients, we are still supplying medical care, two to-go meals a day, hygiene and clothing supplies, and temporary outdoor restrooms and hand-washing stations in the parking lot. Our CHRISTUS Healthy Living Mobile Clinics continue to administer care to hard-to-reach segments of the city, providing adult and children vaccinations to keep this at-risk community protected.
What's the secret to staying forward-looking in tough times? The focus on our mission. As Sister Rosanne Popp, M.D., Medical Director at CHRISTUS St. Mary's Clinic, says, "We are here for people who fall through the cracks of the cracks." For over 150 years, we have served those who otherwise would not have received care, including through other health crises such as the Yellow Fever Epidemics in Galveston and the 1912 Smallpox epidemic in Houston. Every member of our community deserves access to healthcare, and we will continue to be there for them for another 150 years.